Haejinality vs. Reality (RDD Review)--Reddcoin-- 75% LOSS in 2018--
Haejinality vs. Reality.
In all fairness, the idea of this came from @just2random whom did some excellent coverage on the previous BTC calls of @haejin
That said, he did an excellent job scoring the results of his predictions in unbiased fashion. However, in reading through the article, the greatest complaint in the comments section was that he only evaluated BTC and did not evaluate the ALT coin calls of @haejin. I will also say that in the comments I stated that I did not want to steal the "mojo" from @just2random in his coverage of BTC and the predictions of @haejin; accordingly I will stick to the ALTS as it seems to be a requested review and no one else appears interested in undertaking this massive task.
In reading through the numerous articles on the site and the plethora of comments made by @haejin in defense of his ridiculously high post payouts, his greatest defense and the one shared by his groupies is that during 2017 his market savvy helped make them make massive profits.
I will concede that during what was likely one of the largest Bull Markets in history, a time when you could put on a blindfold and throw darts at a printout of every available ALT coin and make money on whatever you hit, he was on point with his calls.
In fact he was relatively accurate right up until the beginning of the correction in mid December at which point his accuracy began to diminish precipitously. In spite of the obvious shift from Bull to Bear demonstrated by BTC, he continued making extraordinarily bullish calls on a variety of ALT coins, regardless of the fact that BTC was well on the way to dragging the market down. I am certain that a great many of his followers whom had failed to invest in themselves through knowledge were led like lambs to the slaughter by what I consider to be extremely irresponsible recommendations based upon the size of his follower base. I say irresponsible as he should be well aware that his calls are blindly followed by a great many people, accordingly his advice can lead some to financial hardship.
I think on many days he may have been more concerned with scraping the barrel for content so as he could continue putting up 10 articles a day and collecting the extraordinarily high rewards than actually contemplating the accuracy and potentially damaging effects a lack thereof could have on his followers.
Again I will state unequivocally that during the majority of 2017 (largest bull market in history) his calls made people money.
I will also state that my Magic 8 ball returned massive profits during this time frame as well when I was trying to decide what Alt to buy on Bittrex.
In fact on the coin featured below, he was accurate and hit many of his targeted projections through November. It is clear that he can use the Fibonacci tool and that during a bull market he can point out obvious symmetrical triangles, descending wedges, fractals, and bull flags/pennants (so many of those during 2017).
What I take issue with is his calls made post the start of the correction that to me made no sense in light of what was occurring with BTC.
So enough dribble. Here is (RDD) RedCoin..
His Call With Chart Jan 13th
BTC Sell Off, following prior day sell off High:$14,400 Low: $12,800 Close: $13,500


https://steemit.com/reddcoin/@haejin/reddcoin-rdd-huge-bull-side-move-potential
---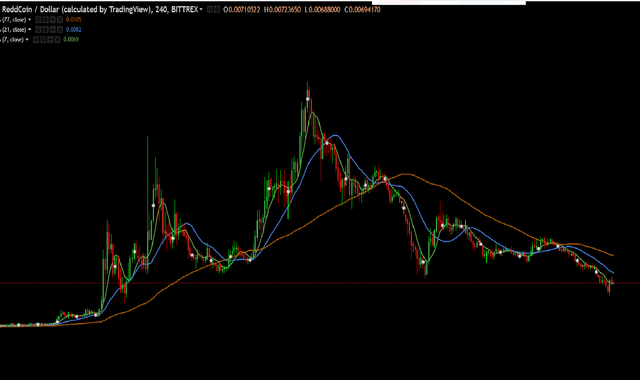 RDD Chart following that call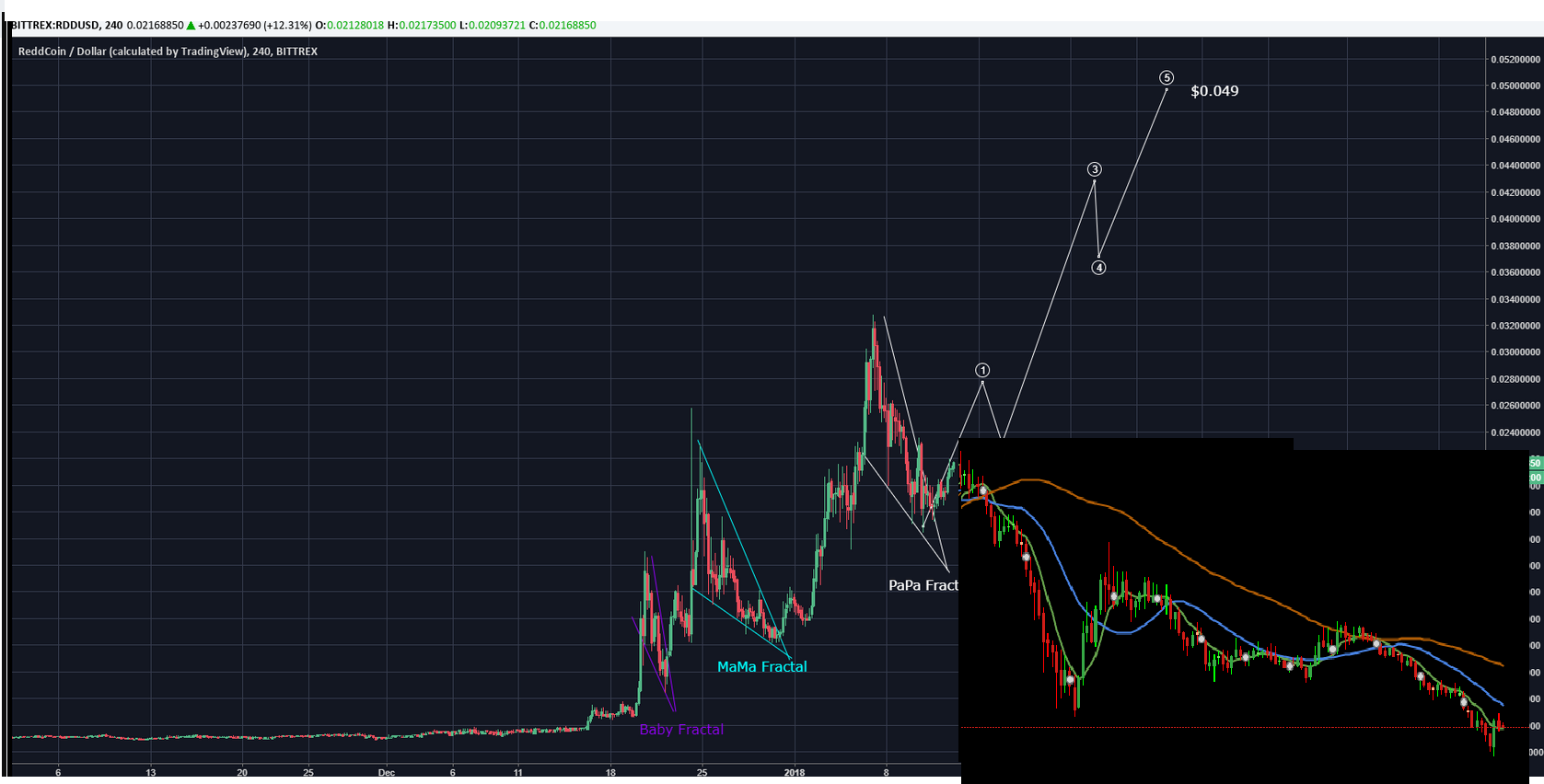 Simple overlay of Haejinality vs Reality
Conclusion:

Reddcoin Price at time of call .026 cents
Current Price: .0065 Cents

Result: 75% Loss
Not much else to add, the image kinda speaks for itself, roughly 500% difference between the call and reality on this one.
I will try to get one of these up every couple days. I grabbed this one as it is one he has hyped a lot with no less than 15 posts. Again during the bull market of 2017 he met most of his targets for this coin. If I pick one and he is right I will document it accordingly. Off the top of my head, I know he has done a lot on XVG, MANA, and a few others. I will try and go through the coins by the number of posts he had made about them.
---
Who Am I? STEEMIT INTRODUCTION
---