How to monitor Facebook group effectively?
Facebook groups are powerful to reach out new audience. You can use Facebook groups to monitor what people say about a given topic. You can use comments to get into conversation which are relevant to your company, and build a reputation of opinion leader. Furthermore last update of Facebook newsfeed algorithm is prioritizing group's content against pages content, making groups event more important for marketers.
However, there are 1000 of Facebook groups. News from groups can be lost in your newsfeed. This make Facebook groups monitoring very time consuming. And time is money, which makes the cost of Facebook group monitoring prohibitive for most use-cases.
Luckily there is a way to monitor Facebook group in an effective manner using social fixer: https://socialfixer.com/
What can social fixer do?
Social fixer is an extension for Chrome which allow you to filter Facebook's newsfeeds. Social fixer was initially designed to remove unwanted content from your newsfeed. Social fixer provides several pre-build filters to remove political content during election-time or Game of throne content to avoid spoiler.
But you can also use Social Fixer for Business purpose. You can create your own filters to extract relevant content for your business. Furthermore, you can mark the posts you already read to prevent them from displaying again.
For example, you can set up different filter for crypto keywords and get a result like this: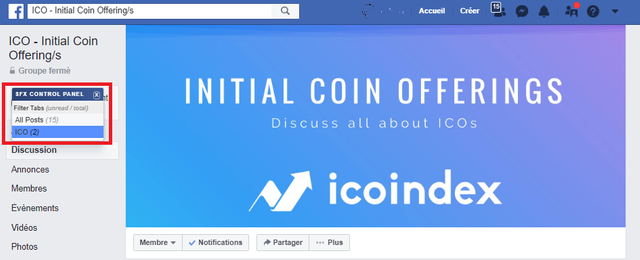 Every time you visit a group, Social Fixer allows you to quickly jump to the posts matching interesting keywords like "ICO" in this example.
How to set up social fixer?
First of all, you need add Social Fixer extension to your chrome:
After restarting Chrome, when you go to Facebook you should see a small wrench symbol: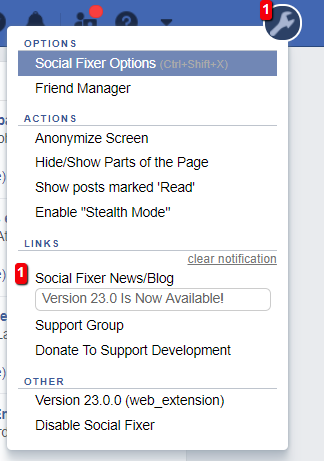 Click on this symbol to start setting up your social fixer: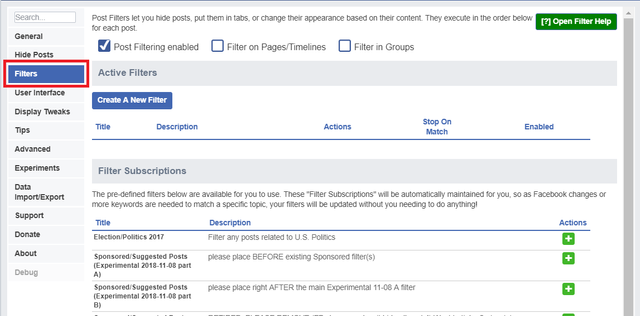 This will open social fixer configuration panel. Click on "Filters" in the left side menu.
There you can subscribe to the prebuild filter on the bottom. Election/Politics 2017 for example will remove all politics related content. Pay attention that you need to check the case "Filter in Groups" if you want Social Fixer to help you with groups. If you want to create your own filter click on the "Create A New Filter" button.
You can then setup the filter as follow:
Give the filter a name and Description to easily identify it.
In the IF condition you can type the keyword you want to match. If you want to match several keywords you need to use "|" as separator; for example : eth | Ethereum | ETH.
In action, I recommend you to select "Copy post to tab" and type the tab name you want the post to appear in.
Once you are done click on "Done Editing Filter" on the top right corner.

Final hacks to be on top:
When you read a post, you can mark it as read by clicking on the asterisk on top right corner of the post:


If you mark the post as read it won't be displayed again next time you visit the group. This feature enables you to save time if you wish to check the Facebook's on frequent basis.
Last but not least, if you wish to edit you current filter just go back to the filter settings and click on the pencil next to the filter name to edit it:


Happy social media marketing. 😉
PS: If you wish to get a listing of relevant Facebook group, I'm providing a service to mine Facebook according a set of keywords. It will provide you a list without duplicate and with various information like the group size and language. Something like that
You can request group extract here