Gridcoin Posters, Now in French (Affiches Gridcoin Français)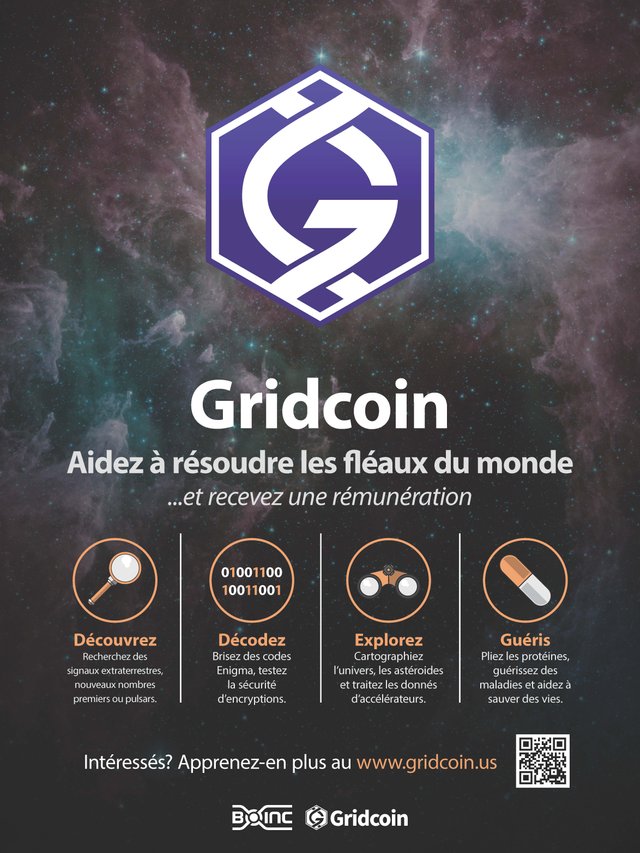 Sup y'all! Had a request from some folks in the community about getting the Gridcoin posters translated into other languages. Thanks to Reddit user Ragnarokdel, the posters have been translated into French and are available for the community to download at https://github.com/gridcoin-community/Gridcoin-Marketing/tree/master/Gridcoin_Posters
salut! Des gens de la communauté ont demandé qu'on traduise les affiches Gridcoin dans d'autres langues. Grâce à l'utilisateur de Reddit, Ragnarokdel, les affiches ont été traduites en français et peuvent être téléchargées sur https://github.com/gridcoin-community/Gridcoin-Marketing/tree/master/Gridcoin_Posters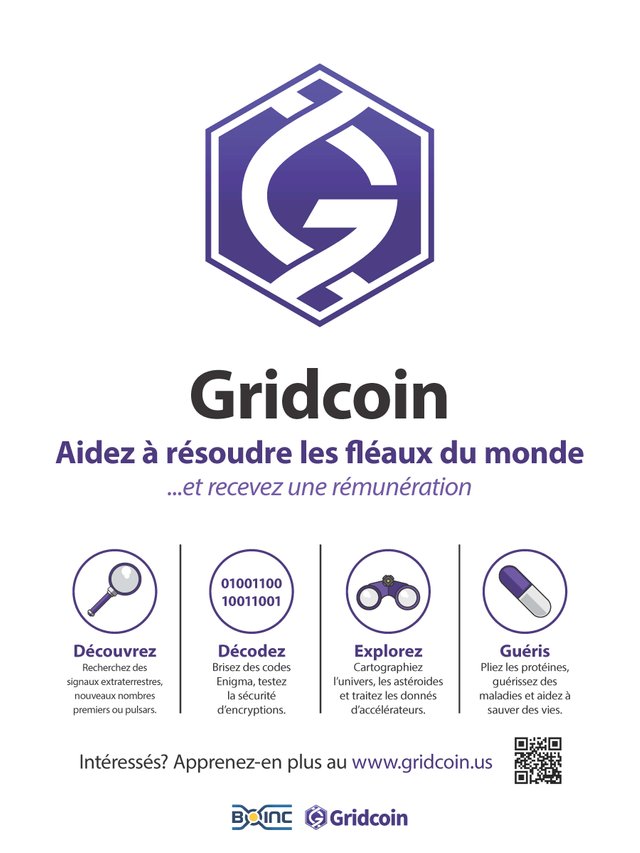 There are two pdfs. One is meant for commercial printing and has 1/8" bleeds with crop marks. The other has the bleeds and crops removed so you can print at your house. They're small posters, 18"x24". I'll see if I can't get some other sizes done later.
Il y a deux pdfs. L'un est destiné à l'impression commerciale et a des saignements de 1/8 "avec des marques de culture, l'autre a les saignées et les récoltes enlevées pour que vous puissiez imprimer chez vous, ce sont de petites affiches, 18" x24 ". ne peut pas obtenir d'autres tailles plus tard.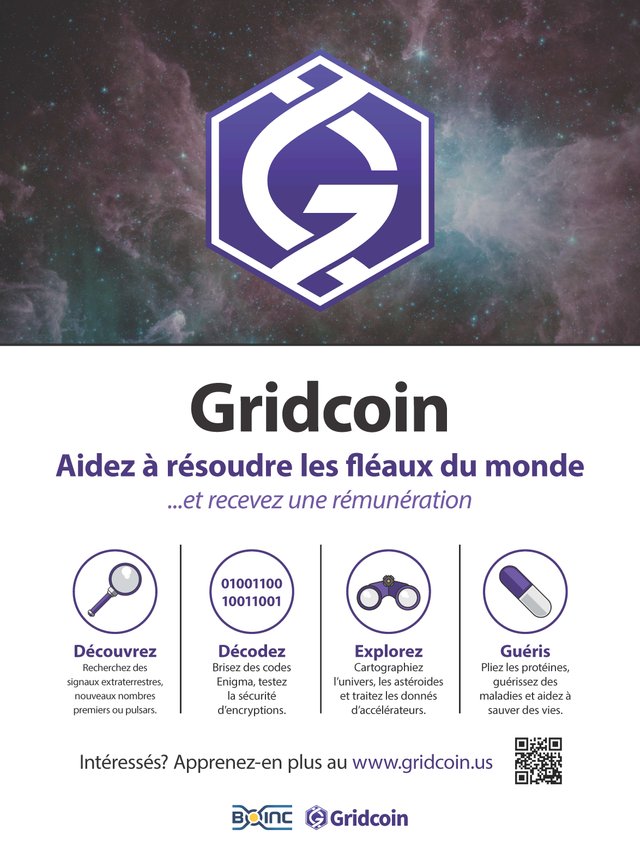 All French text in this post was translated via Google Translate. Hopefully, I don't sound like an idiot. Posters were done for the community, so I expect nothing in return. However if you would like to donate some Gridcoin, my address is S17PMuR4boSTAwjrudyggmcx4sCz9ugBQx. Ragnarokdel, if you want to put an address in the comments, I wouldn't be opposed since this wouldn't be here without your assistance translating the posters.
Tout le texte français de cet article a été traduit via Google Traduction. J'espère que je ne ressemble pas à un idiot. Des affiches ont été faites pour la communauté, donc je n'attends rien en retour. Toutefois, si vous souhaitez faire un don de Gridcoin, mon adresse est S17PMuR4boSTAwjrudyggmcx4sCz9ugBQx. Ragnarokdel, si vous voulez mettre une adresse dans les commentaires, je ne serais pas opposé car ce ne serait pas ici sans votre aide pour traduire les affiches.