To go viral, get personal… You are the guts behind what you say and do on the internet.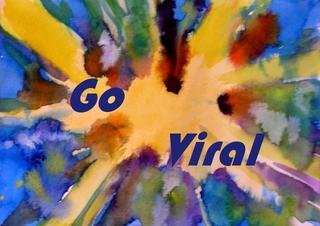 Look deep into yourself:
Your life must have been exciting in some way or other, surely! Done somethings no one else has experienced or seen. 
Okay, perhaps not in the terms of someone who is famous and how they got famous. But stop and think about how it happened for them. 
Most times it is through something they loved doing. 
And it was something little, a tipping point, that turned their lives around. 
And how they went about it, is the clue to their fame. 
It's personality ethos:
Your inner spirit is what counts. All it needs is an awakening, to turn your posts into something that will go viral! 
Full it with hope, love and happiness. Think exciting, look at life in a more dynamic dramatic way. 
You need that power to push you into doing fantastic things.
Don't worry about those niggling negative things. Treat them like flies. Swat them away. 
Prepare yourself to walk onto the stage of real life. 
Your behaviour and character counts! 
Play it big time. Throw your charm into the mix. 
Be sensational in the way you dress, speak and perform. 
Be decisive. Think big and bold. Way-out there `beyond the breakers' (negative opposition). 
Your experiences:
What have you done in your life, that you could write about?
What talents and skills do you have that you could use? 
Have you traveled or lived in different places? 
What are the funny things that happened in your life? 
What funny or shocking things do you see happening around you? 
How will you express that?
Look back on how you felt about those things that happened. 
Transmit those feeling into your writing. 
Use powerful emotional words to express what happened. 
Make them more powerful, by cutting out useless words in your sentences. 
Be inspiring. Write with enthusiasm and delight. 
You're really a cool dude!
Think it. Act it. Promote it in the way you write and post your blogs, etc. 
Don't worry about the mistakes you've made in life. In fact tell people how you overcame them. 
Often it's the same mistakes other people make. And by your positive action, they feel they too can achieve things like you have. 
A confession goes a long way in people trusting you. They will see the funny side of it and have a good laugh.  
But seriously, they take note of how you achieved your goals in spite of all the opposition you had to go through. 
Popularity comes through your honesty and projection of what makes you tick. 
Those inspiring experiences touch people like no other, because it gives them hope.