Missandei [#14]Game of Thrones
Missandei was originally a slave who served as an interpreter to the masters of Astapor, until she was freed when Daenerys Targaryen took the Unsullied army and used it to overthrow the slavers. Missandei now serves Daenerys as her trusted advisor and Handmaiden. After Daenerys flees Meereen on the back of her dragon Drogon, Missandei remains in the city as part of her Small Council along with Tyrion Lannister and Grey Worm while Jorah Mormont and Daario Naharis search for the missing queen.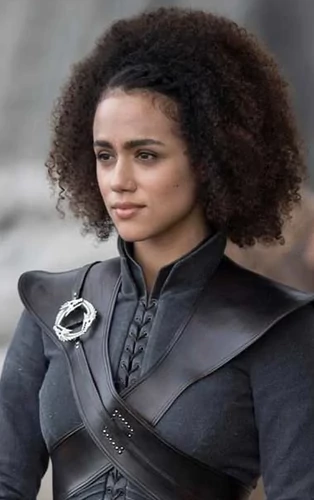 Lorsque Daenerys Targaryen vint à Astapor afin d'acheter une armée d'Immaculés, Missandei traduit les paroles de son maître tout en évitant de répéter les insultes de ce dernier.
Avant que Ver Gris ne participe à la bataille de Meereen, elle lui donne des leçons pour lui apprendre à parler la langue commune et lui raconte un souvenir de son enfance avant d'être esclave. Daenerys vient ensuite le chercher.
Après ces événements, elle accompagne Ver Gris jusqu'à la Salle du Trône dans la grande pyramide où Tyrion, Daario et Jorah attendent pour se mettre d'accord sur la marche à suivre. Ver Gris tente d'abord de faire partir Jorah mais Daario lui tient tête en lui disant que sans lui, Daenerys ne serait plus ce que Missandei lui confirme et l'informe également que sans Tyrion, elle ne serait plus là également. Elle corrige ce dernier lorsqu'il essaie de parler en Haut Valyrien. Daario décide du rôle que chacun devra jouer durant l'absence de Daenerys. Elle reste ensuite avec Tyrion et Ver Gris dans la salle silencieuse.