🏆 #GooglyPrize 👀 This Week's Winners - Issue No. 59 👀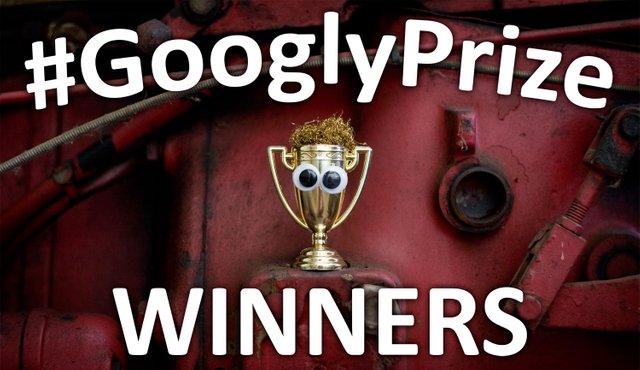 making the blockchain better with #GooglyEyes.
What a crazy week that was, the steem blockchain was halted for almost half a day due to a small code conflict with the new HF20 code. Apparently the issues have been fixed and the final activation of the HardFork on the network is still scheduled for the coming Tuesday. I'm excited to see that come around.
One thing that will change is the SBD print rate coming back up to 100%. The SBD-debt-ratio currently stands at 7.1%, that's well below 9%, so if nothing super drastic happens on the markets we'll get liquid SBD back for the next issue of the award already.
But regardless of the SBD shortage resolving itself with HF20, as outlined in last week's award we'll make sure to have permanent "cash" prizes available to our winners by treating any liquid rewards as such. That means we'll no longer add the liquid STEEM to the delegation pool but instead treat it similar to what we've been doing with the SBD-cash-pool.
I've toyed with the idea of including some @steembasicincome shares with the prize scheme to encourage long term investment in the platform, but I am still not fully convinced about the idea of using the community funds for such a scheme. Luckily the recent Balance Sheet post has been upvoted very generously, so we have some extra cash to spend and that means we'll again give an SBI share to each winner today as a bonus prize again.
100% of SP rewards are going into the delegation pool, 100% of STEEM rewards are going into the liquid prize pool, SBI shares are sponsored as a bonus prize. Enjoy!
I welcome your feedback on the matter! Does it make sense to use the community funds for SBI shares in the longer term or should we stick with just paying out the STEEM to the winners directly? Leave your comment or join the discussion on Planet Googly.
---
The Prize Pool:
the liquid-prize pool is currently empty
0.000 SBD and 0.000 STEEM
we're starting the new liquid prize emission with a blank sheet!
but we have an available delegation-prize of 214.196 SP
plus
100% of all rewards on last week's winner announcement:
0.000 SBD and 6.938 SP and 6.938 STEEM
so that's 6.938 STEEM in the cash-pool:
40% will be used for next week, 60% will be paid out today!
3rd - 10%; 2nd - 20%; 1st - 30%
plus three @steembasicincome shares!
one for each winner, sponsored by @googlyeyes
and
221.134 SP for delegation to our googly winners!
 
Need more details and numbers about the Prize-Pool? There's a whole spreadheet for you!
---
We had a bunch of awesome entries during this week. As usual friends and family on Planet Googly got together today and selected their three personal favourites amongst them to determine today's winners.
this week's qualifying posts were submitted by:
@julieabbi2, @yo-yo, @hazel420, @bucipuci, @kaerpediem, @detlev and @stanestyle
today's guest judges were:
@bucipuci, @drakos, @hazel420, @hopehuggs, @niko3d, @okkiedot and @warrkin
disclaimer: guest judges were not allowed to vote for their own entries!
drumroll please...
🥁 HERE ARE THE WINNERS: 🥁
🥉 Today's 3rd winner is: 🥉
@hazel420 with
"Busted knee"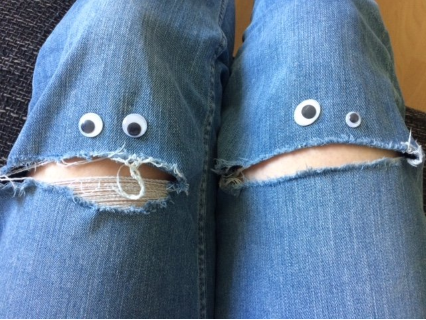 These fellows came in with three votes from the guest judges and I'm happy to see @hazel420 back on the show again with such a novel idea.
🥈 The 2nd winner is: 🥈
@bucipuci with
"Stories of Ordinary things – Roll "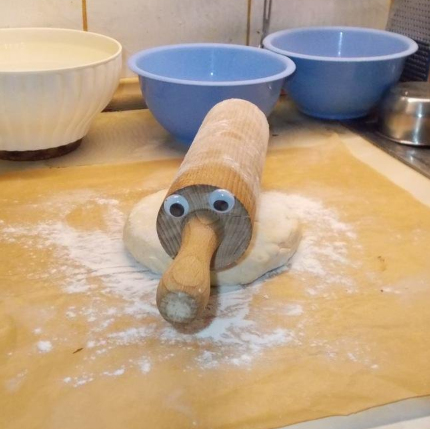 And @bucipuci is back on the pedestal with his not so ordinary ordinary things again. Endorsed by three judges, the GIF that's only reachable through a link in the comment section of the original post gave it the edge over hazel to land on a 2nd rank today.
🥇 And Our Grand Winner is: 🥇
@kaerpediem with
"The Bawler"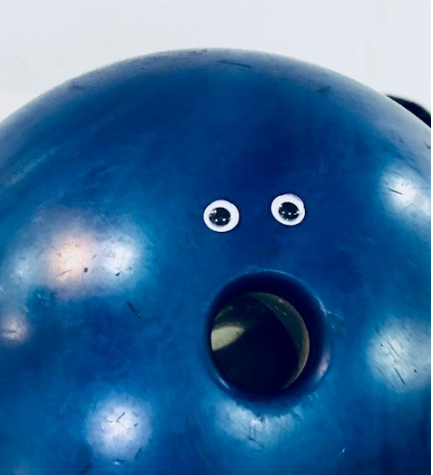 What can I say, @kaerpediem's amusing googly poems are taking this show by storm. Being voted in by all seven guest judges today we have a very very clear winner. Kudos!
aaaaand
another drumroll, please
🥁 this week's Googly-Delegation-Winners are: 🥁
you'll receive a delegationf of 110.576; 66.340; 44.226 SP for a week.
None of our winners is neither filthy rich nor self-voting in any excessive manner, all of them are actively voting for content they like on steem and thereby qualified for a share of this week's delegation pool. We're doing the usual 50/30/20 split.
---
prizes are being awarded every 7-8 days
No-Conditions Policy:
No mandatory resteems, upvotes or follows are required!
just:
- get some #GooglyEyes -
- stick them onto something -
- take some pictures -
- make a post with the tag #googlyeyes -
- post original content and don't spam -
- this is a creative contest and not a lottery -
- show us something special and post with passion -
More Winners Every Week!
The prize-pool for the next issue contains:
a liquid prize-pool of 2.775 STEEM
and a delegation-prize of 207.040 SP
plus
100% of all rewards on THIS POST!
Want to learn more about this contest? Read:
A brief History, some Updates and a few Tips for Winning
Have more questions or just want to hang out? Join:
Planet Googly on Discord
---
bonus image: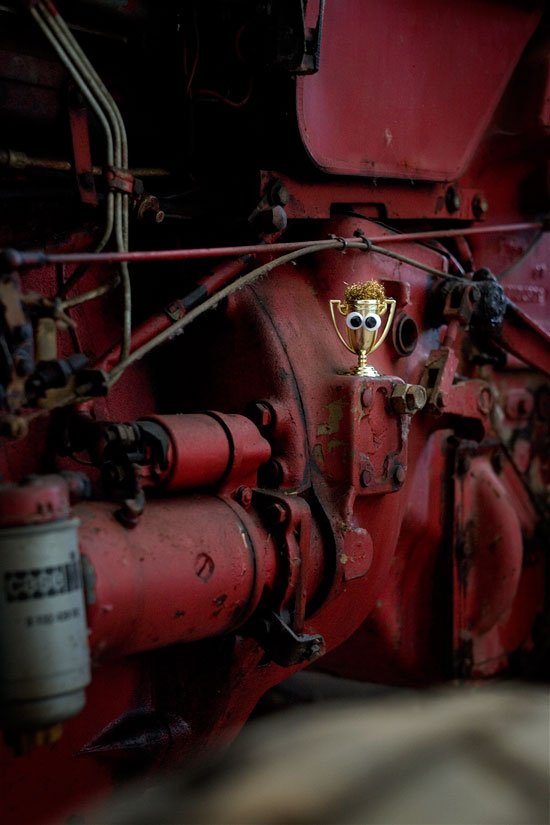 looks a bit like a steampunk scene, but it's actually 100% filthy diesel
---
My special appreciation goes to these googly patrons:
@krystle, @ausbitbank, @reggaemuffin and @drakos!
They are bootsrapping this contest with their ongoing support!
@ausbitbank, @reggaemuffin & @drakos are also running as witnesses,
show them some love by giving them your approval!
More shoutouts go to @reggaemuffin, @drakos, @abigail-dantes, @kamikaze, @ew-and-patterns, @okkiedot, @minnowsupport, @thecryptodrive, @cryptomancer, @jerome-colley, @ruth-girl, @sbi10, @fraenk, @marty-art, @mathowl, @dedicatedguy, @kaerpediem, @steemseph, @mistakili, @ninahaskin, @literaturkritik, @jasonbu, @davor27, @kingsofa, @krystle, @warrkin, @improv, @googlyeyes, @apsu, @legato, @bucipuci, @weirdones, @dexterdev, @robofox, @glitterbooster, @bubbleburst, @gohba.handcrafts, @gweern, @niko3d, @ewkaw, @sparkesy43, @thomasgift, @hazel420, @soundworks, @upgoat, @creepyturtle, @googlyprize, @wildtrader, @tonygreene113, @mileidy10, @mariabarreto, @cuddleme, @loveprevails, @mandysp, @resheep, @funlands, @linkerstinker, @arsadulislam, @upcroak, @timemaster, @youngogmarqs, @thefunfactory, @someonefun, @funbox, @funanime, @funkyfun, @funnyfun, @dmonia, @goldrym, @qeoddrir, @dodrorth, @themuffinman, @iedot, @steemitbuzz, @changeangels, @anthive, @badham, @cryptorunway and @samlee2018 for upvoting last week's post and funding this award!!
---
everything is better with #GooglyEyes
Your upvote on this post is funding next week's prize!