The impressions of the Acer Chromebook Tab 10, and the significance behind it.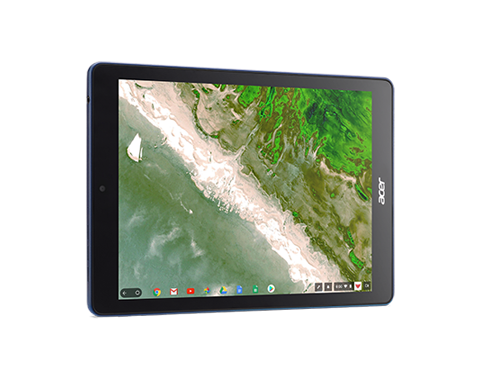 On March 26, Acer announced the Chromebook Tab 10 in San Jose, California. It is designed to be a tool in the classroom running Chrome OS.
Specifications
From first impressions, it looks like a pretty solid deal at $329. It boasts a 9.7 2048 x 1536 IPS screen and comes standard with a Wacom stylus, which would be great for note taking and any interactive apps the classroom decides to utilize. It has 32 gigabytes of storage with an SD card slot to use more space when the need arises. There are dual speakers and two cameras; a 2MP front HD camera and a rear 5MP camera that should be adequate for anything needed for the classroom. The ports on this device include a USB type-c port and a separate headphone jack (Pretty great for a 2018 device!)
What is powering this device is a OP1 processor that utilizes a mixture of a dual core Cortex-A72 and quad core Cortex-A53 processors. There are also 4 gigabytes of RAM that are used to support the upcoming augmented reality feature, which would be useful for science applications. The device comes with 2x2 MIMO 802.11ac Wi-Fi and bluetooth 4.1 to ensure stable, quick connections in the classroom.
The harbinger of a better tablet experience?
Lets face it,
Android tablets need a quite a bit of work in the UI department
. We haven't had a tablet focused interface in a while and if you looked at the current
Google Pixel C

, you will see an interface that is bereft of the smart layout implementation that a tablet running Android 3.0 honeycomb had, such as the
2011 Motorola Xoom

. In the article presented by Ars Technica regarding the Google Nexus 10, they noted how the layout that mimicked phones required
"some serious thumb-stretching".
As a result, most third party app developers kept the status quo by not making tablet-optimized app layouts which were easily seen on completing platforms. Heck,
even Google to this day doesn't offer a suite of software that has tablet focused interfaces on its own platform
.
Therefore, I am strangely optimistic with this new device by acer. If you look at the press release photos, the homescreen is utilizing the screen real estate much better than current tablets are with a means to reach notifications easily with your thumb. Due to it being a Chrome OS device it can use multiple apps that were made with screen density in mind. This may incentivize developers to use the screen real estate more efficiently in the future. I see this tablet as a gateway to some great offerings by google this year.

Check out my other work related to android
Check out my merch
♤ https://etsy.me/2pD0qzW ♤