An open letter in response to @bunnypuncher's Story of Honest Steemian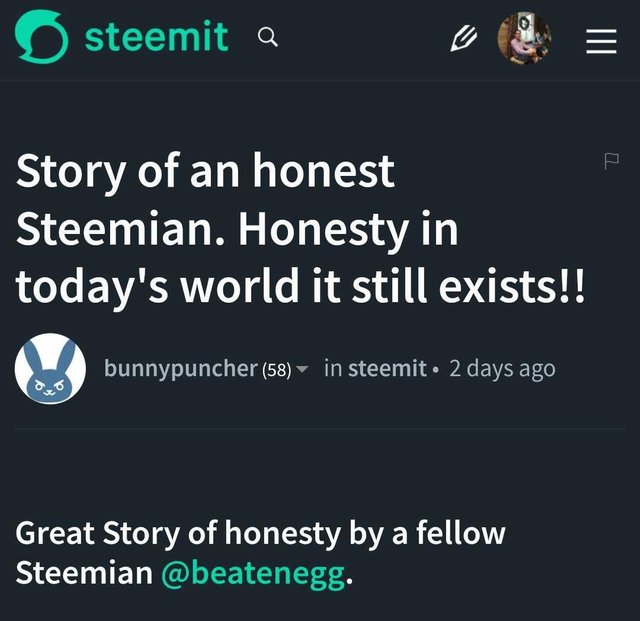 Greetings from the Philippines!
I just wanted to say thank you for all your help. I was very happy to see you were giving me 1SBD from the entry I made to your contest because that equals enough in Philippine Peso. That was why I immediately checked my wallet to see my balance. I didn't know John was looking at the wallet too same time I was. Probably planning on how we can get through until his next pay day. We instantly knew you made a mistake because it was too much and I saw no reason for you to give me such. I had to make sure you get them back. It took me a few minutes to learn how to do it. So, I'm sorry if I made your heart pound while waiting.
Our small family isn't rich but not too poor either. We get by. We live within our means and we try as best as we can to avoid poverty. We have ambition for our kids that's why we try so hard even when too many times we drown in trying.
People who know us from outside Steemit might be surprised to know we are not well off. Here in the Philippines, when you have a family member working abroad, you are perceived to be rich. John's mother is working in Paris, until now when she's supposed to be retiring. She's making good money but alongside that are sad experiences. She missed a lot of momentous events in her children's lives. They spent too many holidays away from each other. The worst part, cancer struck her while she was there, alone, without a family member on her side. Thank God she survived and has been cancer free for over a decade now. She has offered help with our finances but we refused. We are still young, and we know there's so much opportunity out there. She's almost 70, she should be enjoying what she's earned.
Life has been challenging. Last year, I left a good paying job because the stress, the workload (and getting along with horrible bosses haha) were starting to make an impact on my health. I used to work at night, from 9pm to 6am. I get up at 6pm to prepare dinner before I leave for work. I get home around 7am. Attend to everything at home until my bedtime which was 2 or 3 pm. The average time I get to sleep is about 2-3 hours a day. My kids are still young, they still need a mother. I've heard about working from home. So I gave it a shot. I got one, although it wasn't paying so well, the thought that I get to spend a lot of time with my family was ok.
The decision to choose health over career was also influenced by the death of my mother 7 years ago. All her life, she wanted to reach the top. I can't blame her, I mean, who wouldn't want to be up there? She succeeded and I know she did it for us, her children. But at 40, she developed diabetes, which eventually led to her kidneys failing. Everything that she hard earned went gone, cars, acres of land, jewelries, etc., All got spent on dialysis, medications and hospital bills. At 53, she passed on leaving us with few debts and a brother with cerebral palsy to look after.
I wouldn't want to leave my kids and my brother that early and in that way. I can come up with something to avoid that, or maybe not. Who knows.
Steemit came into the picture too, thanks to our good friend @watersnake101 who had been talking about it nonstop to John. We were getting payouts, not much but just enough to put in the kids' coinbanks.
Our life experiences taught us the value of money. Money that we earned ourselves. We are not wanting a lot. Just enough to get us by, have some on savings, and have some to lend someone if they need it. The SBD I wrongly received would have been helpful with the car repairs and a lot more. Since I left the corporate world, 7 months ago, it has never been checked for maintenance. But that wouldn't be fair. And I know that it sucks to lose such a big amount. It wouldn't be fair to you, @bunnypuncher and to every minnow like me who are feeding on winning at the contests you are running. It's not just you, I would have taken away that money from but the community.
You, @bunnypuncher and all the others who have recognized what we did have done so much to make our hearts happy. No amount of money can make a heart happy. Your kind words and encouragement will keep us smiling as we go through our lives as mr and mrs v. Thank you, if it wasn't for your mistake, Steemit world wouldn't know goodness still exists. It was all you and I was just your tool to let the world see that.
This is real talk. No videos that could validate this random act of kindness just like the viral ones from Facebook that God knows might have been staged or what. This, due to my very limited knowledge with how Steemit works can only be validated by timestamps in wallet history and comments exchanged.
I also wanted you to know, that I got the good karma I told you I needed. Last night, I received a call that offered me a full-time work from home job that will pay me more than what I was getting from the job I left complete with health and computer packages. Karma worked really fast!
Oh and btw, my son is now getting better. 😊
Thanks for reading!
Love,
Jonah (and John)