Hello friends!
I'm Shiny Forest from Warsaw, Poland, and this is my entry for the Slothicorn's #global-collage! :)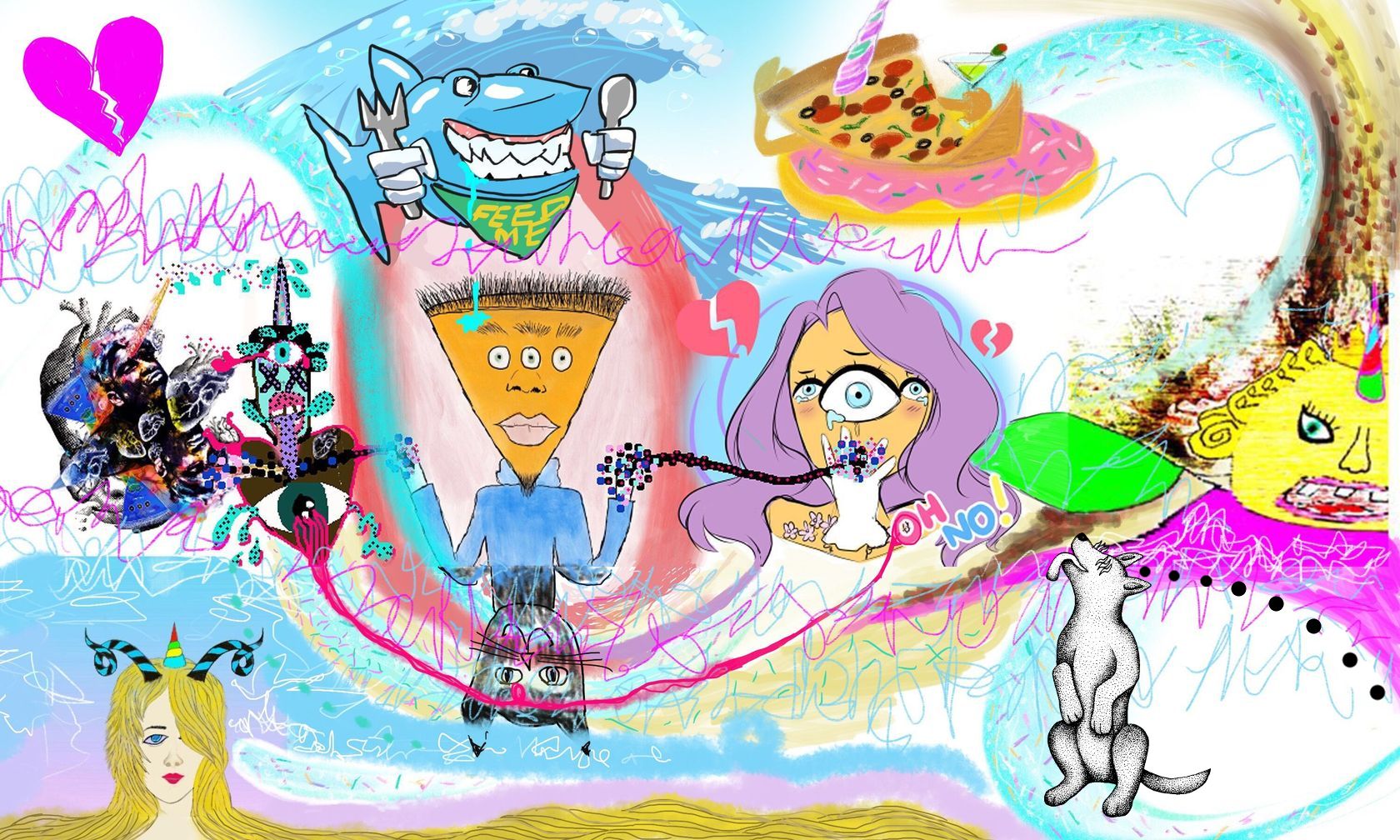 A Global Collage image - my contribution is the dog in the right corner
So here's how the Collage looked before I added my Dog. I had the luck to create my entry after @dflo, who did a simply fantastic job of furnishing and polishing the whole piece, making it all interconnected and unified.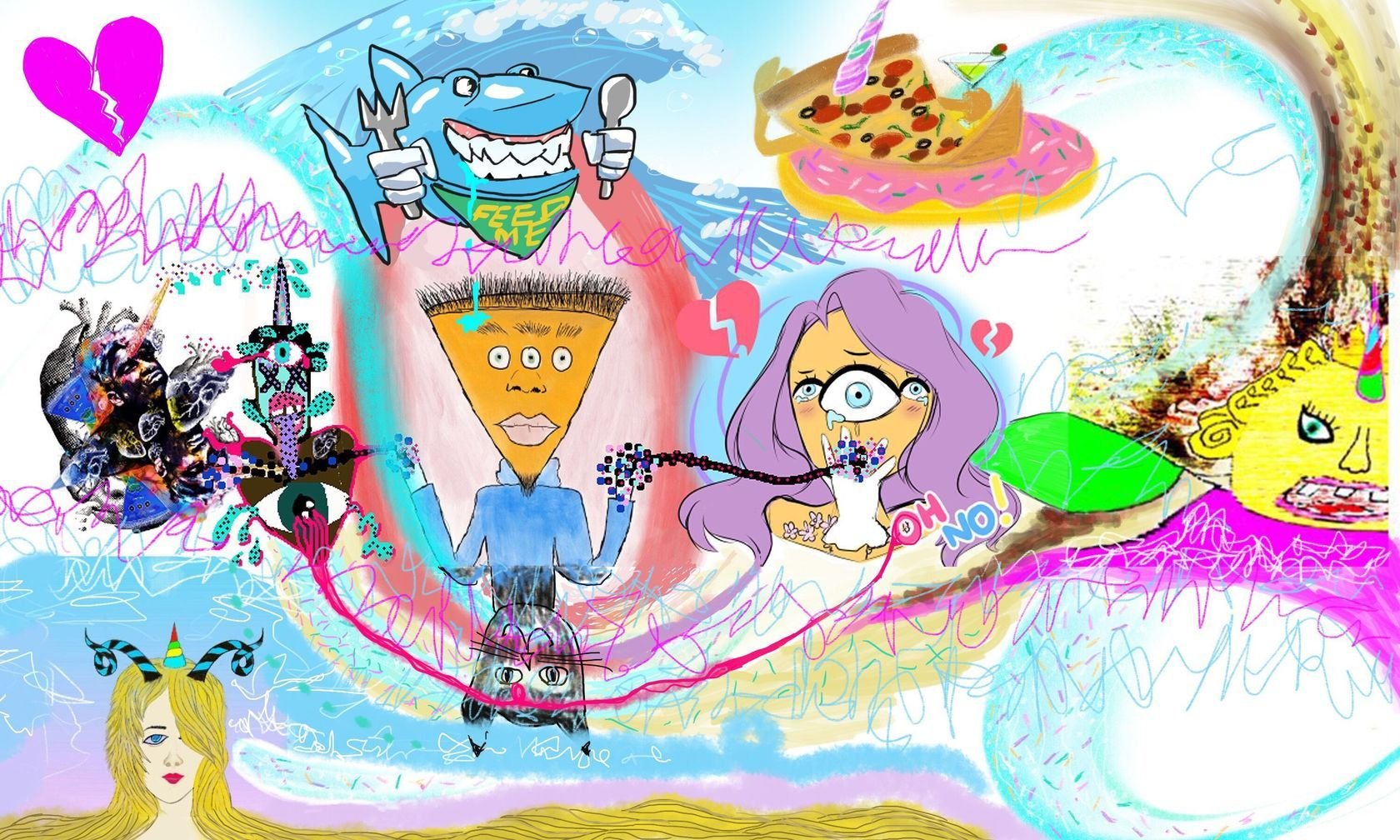 Well, what did I have exactly in mind that made me produce a mental image like the one below?
On one hand it was @storybird's tempting pizza on a donut (I haven't eaten pizza or donuts in quite a long time, so ... om nom nom nom). And on the other hand, I think I was referring to a scammy type of Internet ads showing cryptocurriences as a way of gaining instant, insane fortune and extreme success, all at once obviously, with one click! ;) SHOCK! hehe :)

Here's a process GIF of my artwork: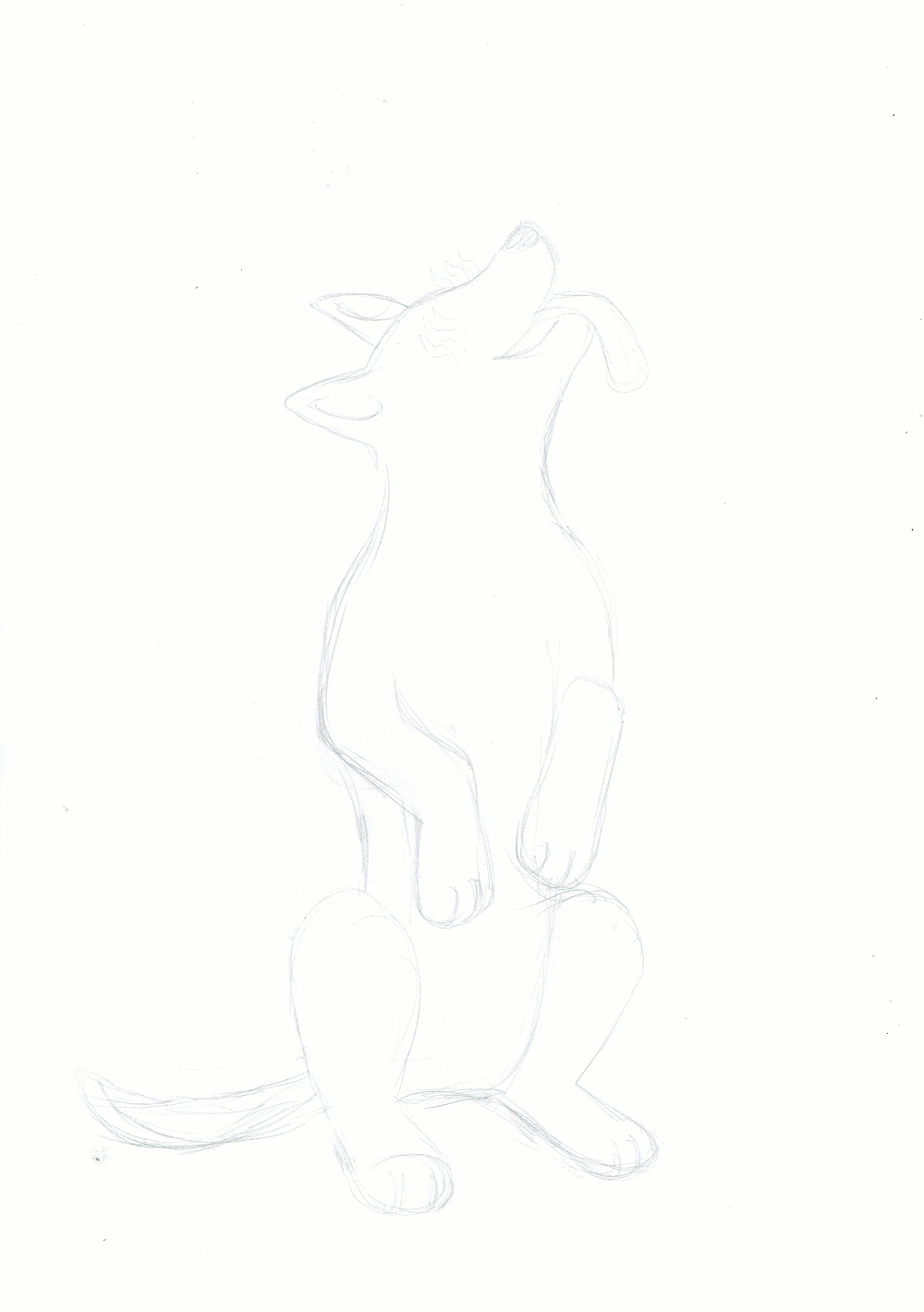 First I drew my Doggie Dog Dog by hand (pen on paper), then I vectorized it, switched it to PNG and finally put it on the Global Collage in GIMP.
Here's the Global Collage with my addition once again: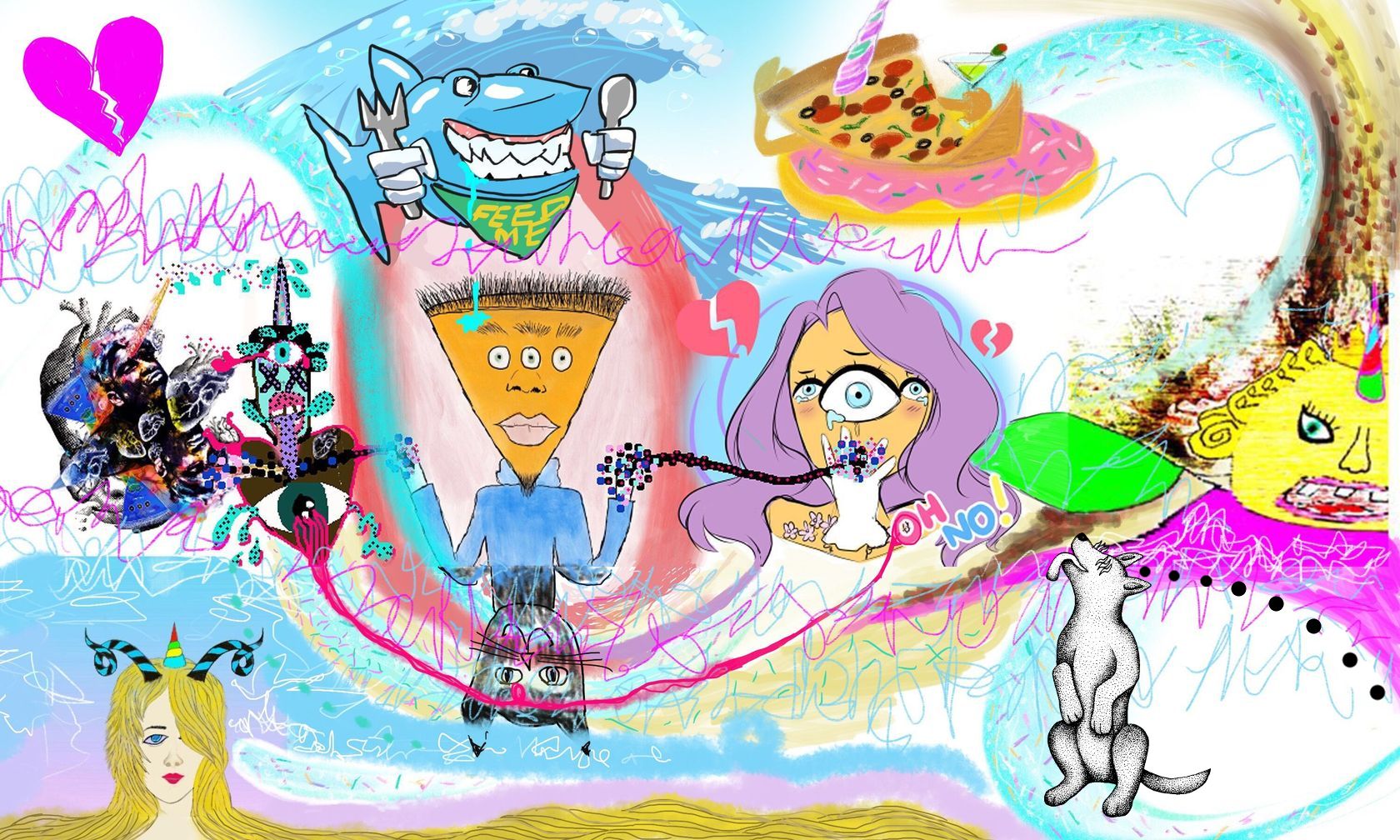 Would you like to participate in the Global Collage?
In order to join Global Collage, you should follow the steps as described by the creator of this wonderful initiative, @playitforward, in his explanatory post: Global Collage: A Steemit Arts Community Collage powered by Steem with @slothicorn:
Step 1 - Join the [Discord channel] (https://discord.gg/YrEj745)

Step 2 - Go to #global-collage.

Step 3 - Fill out the Google Form in the pinned messages of the #global-collage channel.

Step 4 - Wait until it is your turn on the list in #global-collage Discord channel.

Step 5 - Create your art in a way to connect or interact with other artists' work in chain!

The more seamless and each part connects, the better! Don't completely cover someone's work!

Step 6 - Post your art in a new Steemit post with Global Collage in the title.

Step 7 - Use the #global-collage tag!

Step 8 - Add your art to the image posted by the artist previous to you (This image is 10" x 6" and 300 DPI resolution).

Step 9 - Add your location as a pin to the Interactive Map!

Click add marker and enter the city and country that you are in!

Now let's watch the art piece evolve as we grow it together!
Besides, guys! If it so happens that you are artists on Steemit, Slothicorn is the right destination for you! Here's more on what exactly is Slothicorn. You can also follow @slothicorn's and @stellabelle's (Slothicorn's Creator) account to stay in touch with all the latest news and initiatives.
I hope you enjoyed my Global Collage contribution, guys! Personally I can't wait to see how this assemblage will develop! Looking forward to see all the art that's going to be added to the Global Collage :)
Are you going to participate, too? I would certainly love to see your entries!
I wish you a nice Sunday, and as always...

Love,
Klaudia
This work is licensed under a Creative Commons Attribution 4.0 International License.