Announcement - Winner of Weakly Steemit Faucet #10 post for Calendar Week 31
What's up guys and sorry for being late with the announcement! Here are the winners of the Faucet, the #10th round Faucet
---
BY NICOLAE PAVELEAN| August , 12th 2018
---
Few things that I know about the 3 winners of this round:
---
About the first winner, @funfortoday is one of my oldest followers who is posting funny things like memes and photos for entertainment. @funfortoday is one of the blogs administrated by one of my latest steemit friend. One of his last articles you can find Here.
@sorin.cristescu is one of the many Romanians who live abroad. In Luxemburg as far as we can see on his blog. He is writing on his blog mainly about blockchain technologies, social actions, politics or even economics. One of her last nice articles you can find Here.
@steemromania is a romanian girl who is impasioned about travelling around the world and discovering new amazing places and also as we can see on her blog, she loves Photography. One of her last articles you can find Here.
Check their blogs if you want to know more about them !
The full STEEM rework of the post which was 0.231 STEEM has been sent to @funfortoday, @sorin.cristescu and @alexandraioana26.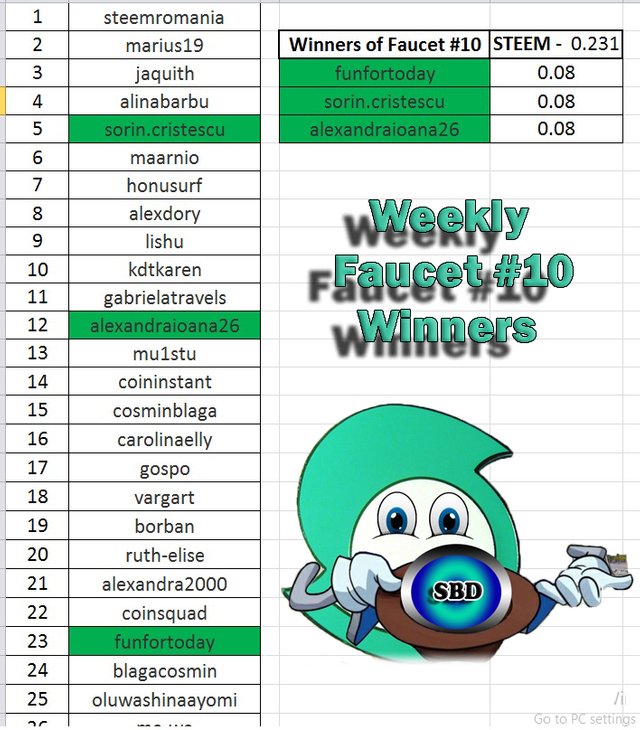 ---
To see the election of the winner click below to watch the video presenting the random determination of the winner of this first Faucet.
Thank you too all the voters and watch out for the next faucet !!

Click on any image to see its source
Similar content by the same author HERE
If you want to know more about me, you can find me and contact me, also on the following social medias by clicking the links below:

Facebook_Nicu Pavelean
Instagram_Nicu Pavelean
Twitter_Nicolae Pavelean
Linkedin_Nicolae Pavelean

Please leave a comment here if you share my opinion or disagree with it.



Thank you for reading to the end!
If you like this blog post, please do not forget to up vote, and follow me, @nicolaepavelean for more!
Are you a Romanian on Steemit? If so, join the Discord Channel of @steemromania
SteemRomania Discord Channel