Hello Friends ,
I have announced the winner list for 5 ethereum giveaway on my Mg Uncut Channel and i am giving the list of winners name here as well .
10 winners will each get 0.30 ethereum and rest 2 ethereum as i said are kept for charity purpose .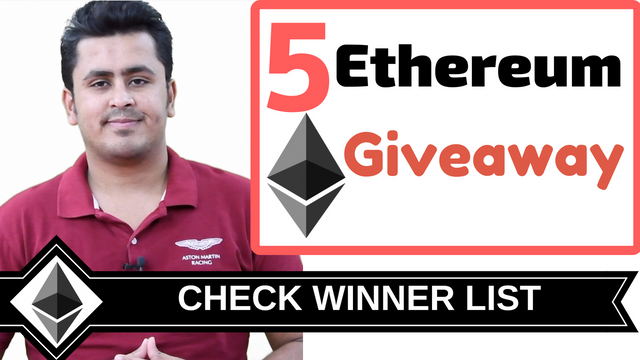 Here are the winners list Congrats to all of you :
1-
Winner: Baj Randhawa6655
"Sir pehle dubai blog
apka Nepal blog bhi bohat acha tha very beautiful place
0x588edA22753F75f0bf0de16b1B1d7c23d197cDcb"
2-
Cricket Fever
"Great work sir.
0x06fbedfe2e68e1cabdd0e92259b564c3fb4c18ed"
3-
Winner: Sandeep Kashyap
"Sir please help my ether adress 0x5DF253Fbf1B190b8aA475B5363D4A9E550582c33"
4-
cryptocurrency in hindi
"great video sumit , your affiliate marketing videos are really awesome
0x7CD51A854D54bF7F236aBC7813EeB3c75C7fA2eE"
5-
royal chejara
"Friend, you are doing a very good job, they are doing a very good job looking at them, they can also trade like you and who can teach you better than you for trading
0x97f91a7bf61c5930aac953e107b97ade13503f5b"
6-
Iqra Tech
"I love your all suggestion....0x895e6d9d56021C29e90d02F4AF098a9A2bC40bbb"
7-
Mayank Agrawal
"Thanks
0x33beC4CDfB99F10c90361b43D6BdCFeA57059392"
8-
Lali singh
"veera tusi changaa kaam kita si...
0x123D33B60655ddf46e9F80bdFe722dA0F924616C"
9-
CryptoArtist
"Thank you...looking forward to watch travelvlogs..!!
ETH : 0x179cb1baef5af9991aca919050732d25dab51049"
10
Digvij Borda
"ETH Address: 0xcc6a247d90c107d8295176986b122cc50df1d780"
Within 24 hours from now all these winners will get there 0.30 ether Each .
Wish You All Success, and soon we will be doing biggest giveaway of all time with you guys .
So make sure you follow and be there for support .
Thanks
Sumit Kapoor
(Money Guru)