Honolulu's Free SBD Giveaway #6 - 25.11.2017- Payoutreport !
---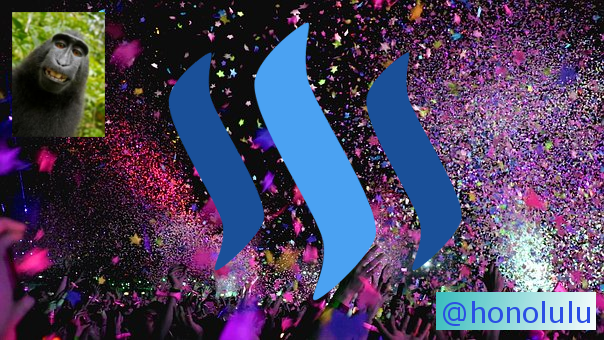 ---









Hellow fellows !
Another Giveaway finished and payed out ;)
I did the same to this post like I tried to explain to you on yesterday's report
So what I did: I spent $ 4.023 SBD in my wallet on this Giveaway post receiving a boost worth $ 7.208 - you can check my wallet.
I link you the blockchaintransaction for that:
I received $ 3.184 SBD and 3.031 SP which equals a worth of $ 6.215.
If I substract the $ 4.023 deposit there is a plus of $ 2.192 - a fine interest.
As I "misused" this giveaway to gain some interest on my SBD I deceided to keep the half which is $1.096 of the wins for me and put the other $ 1.096 to the payout of this giveaway (without boosting it would have been somewhere around $ 0.30 SBD) - apart from you already will have had benefit of a higher curation pool, right ?
I hope you understand and appreciate my way of handling this. People following and upvoting my giveaways earlier will remember that in the past I just boosted the payoutreports to give you good curation rewards.
But there was a time I stopped doing those giveaways because I had to payout up to 150 voters manually transaction for transaction.
Right now I found a man with coding skills to help me working on a automated payout. So we got back on trail again and right now are in starting phase until there is at least one giveaway and one payoutreport a day...
I hope you will understand that I share but right now I am not in the mode to shed SBDs - I have to reach ROI and make some good profit ;)
And some more good news: I will also treat the giveaways #6,#7,#8 in the same way until we are in track with at least one giveaway + one payoutreport a day !
And even more good news: the giveaways #9 and #10 will not be affected - their already high reward is not due to my boosts but due to some powerful upvotes ! So there the whole SBD will be distributed !!!
The list of upvoters you will find here !
I used my second account @upv4life for payout - please check my and your wallet for proof.
---
---
Payouts
---
---
---
---









Kind regards