You probably know already that we were the first to sell Steemit apparel here using crypto at check-out!   
The good news is that we accept now SBD (STEEM DOLLAR) payments in our store! We made the big announcement here.     
Our latest campaign winner was @lukestokes with this comment post! He made $0.31 with that comment!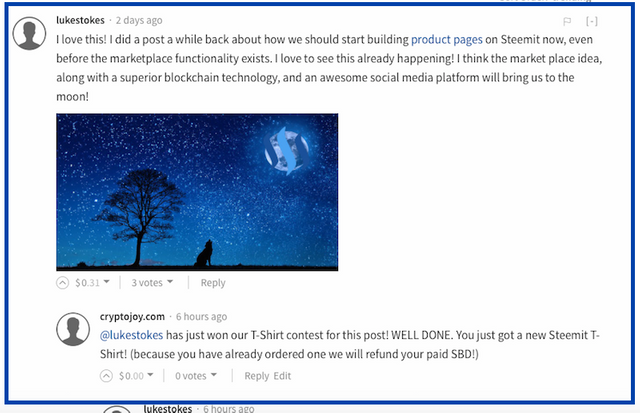 The funny fact is that he ordered his T-shirt before winning and that means that he got it for free at the end!
People really like our Steemit T-Shirts…you can see a lot of people wearing them on Steemit posts, but more than that, people like: 
THE FREE T-SHIRTS!   
Here goes another one shipped for free to the owner of the best comment to this post (judged by the sum of awarded $). 
If your comment has made the most $ at the time of the first payment just tell us where to send your new Free Steemit T-shirt, indicate the desired model and size and we will ship it right away! Yes, we ship WORLDWIDE! 
GOOD LUCK!
Slack: @cryptojoy.com 
Steem.chat: @cryptojoy.com   
With love for steemers 
Offtopic: It is possible that you will like our ROCKET LAUNCH! :)