The Legend of Jimmy Handplant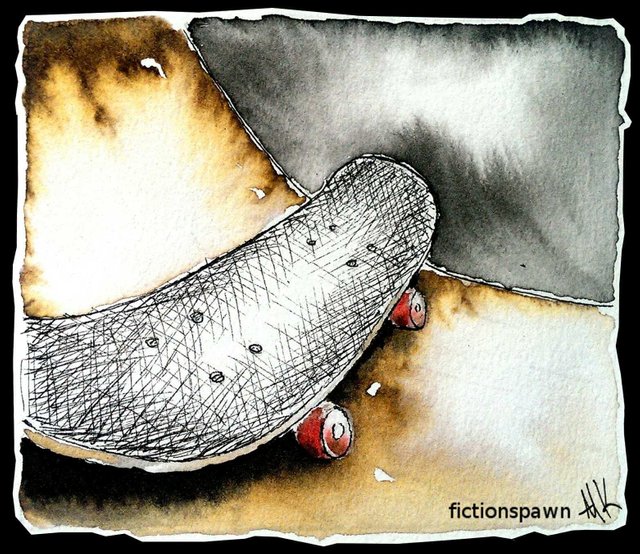 (Read or listen to the story. All work is my own)
Insane, man!
Rad!
Everybody was there. He did tricks they'd never seen, moves they hadn't even heard of. He was a star now, they all adored him. Little did they know.
It had been a dark, starless night. He had gone to the skate park when there was no one there so they wouldn't laugh at him. He skated carefully around, slowly so he wouldn't fall and get hurt.
Someone arrived, came skating down the road. Mick stopped, got off his board. Just stood there like an idiot. The other skater came rolling into the park.
He was the best he had ever seen. He was like a wind, did things Mick had never dreamt of. Impossible things. He didn't jump, he flew. He spun around in the air 900 hundred degrees or more like it was nothing, the board was spinning around underneath him as if it was attached by magic.
The mysterious skater came straight towards him at full speed, made a twist right in front of him and stopped.
-Hey man, he said. You want to learn? Mick swallowed. He could see him now. His neck was twisted in a strange way. His head seemed to be deformed as well, as if it was crushed.
-What… Who… are you?
-My name is Jimmy Handplant. Or it used to be.
Jimmy handplant. The Phantom. The best skater Lowcreek had ever known. They said he almost made it. A 720 double half wrap kickback flip upside down. Almost. He had landed on his head, broken his neck and died. He had been the greatest skateboarder ever, at least in this town.
Mick had heard the rumours. That he could be seen skating through the streets at night, jumping over cars, grinding on rooftops. He had thought it was just a lie. An urban legend. Here he was in front on him.
-I said, do you want to learn?
Mick swallowed again. He nodded.
Now he was standing on top of the half pipe. Everyone was there. His hot girlfriend. His cool buddies. Looking at him in awe.
He set out. He was going to be famous. He was already the coolest kid in town. World fame was calling.
He flew up on the other side. 360 backflip. 720. Backside air. A sigh went through the crowd. 900.
His head met the edge of the ramp.
The skate board phantom was standing by his side. They were watching Micks friends gather around his dead body.
-I was hoping it would last longer, Mick said.
-So did I back in my time, said Jimmy the Phantom. -I guess we all do.
-It was worth it though, said Mick. -It's been awesome.
-I know. Let's go skate.
Together they rolled off into unknown dimensions of the great beyond. The Phantom's words echoed through Micks head as they flew over roof tops and cars, through windows and walls.
-You will be the sickest skater in town… But one day it will it will be your death.
-I'm OK with that, Mick had answered. -Whatever it takes.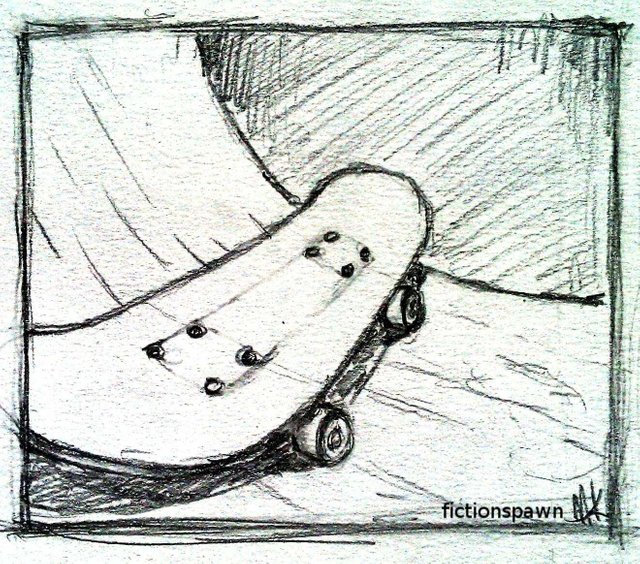 (Another version of this story has been published earlier on my blog fictionspawn.com. All rights reserved, please share)