Actifit and Appics recently announced a joint competition for participants to set a fitness goal and then track their progress using both apps. You can follow entries on the #getinshapechallenge tag!
I'll participate myself to see how much weight I can lift overhead at the end of the challenge! I also thought I would raise the stakes a little bit by inviting you to leave a guess in the comments of how much you believe I'll be able to lift. The user with the closest guess will then receive 100-300 STEEM when the challenge is done, based on where or not you also choose to participate or will invite a friend to join in too! More info on this at the end.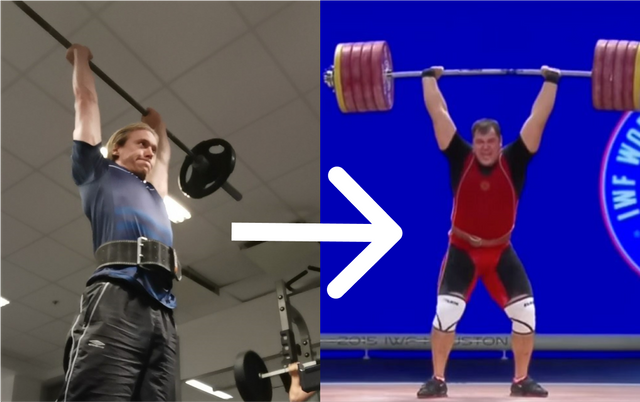 To the right is me performing a set of 5x5 overhead presses with 50kg. To the left is Aleksei Lovchev, holding an insane 264kg for the world record in clean and jerk + snatch total. Or maybe it was the other way around...
Steem dApp collaborations ftw!
First of all, I just want to add that I thought this was a tremendous idea for a handful of reasons. It's an effective way to grow each app's userbase by introducing users from one to the other. These apps are complementary and almost reminds me of PumpUp, a fitness app with a built-in Instagram that got viral fairly quickly and attracted massive investment. And finally, all of Steem benefits from a growing ecosystem, as one Apps growth adds new demand for STEEM and also new users who can cross over to your app or community.
So I think more Steem apps should follow this example wherever applicable and are thus happy to be a part!
My challenge!
My goal is quite simple: To lift as much weight as possible above my head by the end of the challenge (6 weeks from now). This will be the goal that I'll set for my own participation in the #getinshapechallenge, and also something I thought it would be fun for people to try and guess. It will also be my goal to increase general shoulder strength from my current workout of 50kg 5x5 overhead presses.
Some simple rules for my final lift:
I must finish a complete "lockout" of the barbell and be able to stand freely with it above my head for at least a second (No partial rep that just barely gets the bar over my head).
The barbell cannot be "supported" by the use of a smith-machine or balanced by a spotter, but must be a "free weight" that I carry all by myself.
I can choose any lifting method. (Practically speaking, this means either a standing military press, a power press, a push jerk or a clean and jerk.)
In other words: I just have to get the damn barbell above my head through any normal Olympic lift and keep it there for a second. I don't have any wish to either lose weight or gaining significant new muscle mass. However, with this challenge, I won't care if I gain some weight or body fat as I optimize my meal-plan for pure strength gains.
Background and motivation
While I've been in good shape most of my adult life, I have long thought about learning more Olympic style lifts, as well as improving my explosive strength! So this challenge is going to be a lot of fun, as I'll have to also learn some new techniques and train in a way that I'm not fully used to.
Current fitness
To help your guessing out quite a little bit, here are some details on my past weight-lifting experience and conditions:
Current Size:
Height: 183
Weight: 79 kg
Current weights on workouts:
Bench press: 85kg 5x5
Barbell squats: 110kg 5x5
Deadlift: 120kg 5x5
Over-head press: 50kg 5x5
(Most of which can be seen in my video on Appics yesterday here.)
As is probably clear from the above, I am already in really good shape and have been so for the past ~10 years. Working out has always been a natural part of my life, and I've kept it going since my late teens. As a result, I have been able to build and maintain what I consider the right balance between being muscular and athletic.
Obviously, for this challenge, the over-head press is the most relevant movement. That said, If I'm going to lift as much as possible, the clean and jerk is certainly my best option. Now, I've never performed this movement, and I also know that I will have to work a lot of shoulder mobility and technique in order to perform it with maximum weight.
Past injuries and its consequences
But perhaps the biggest obstacle I'll have to lift heavy is the fact that I've dislocated my left shoulder twice. This series of injuries began with a snowboarding accident where I fell 4 meters on a big jump and landed directly on my shoulder on blank ice, knocking it completely out of the socket.
The second time was less than two years ago, where I got into an awkward position in a wind tunnel and failed to consider the vulnerability of my left shoulder when attempting to pull myself out the door mid-air. The result of which you can see below: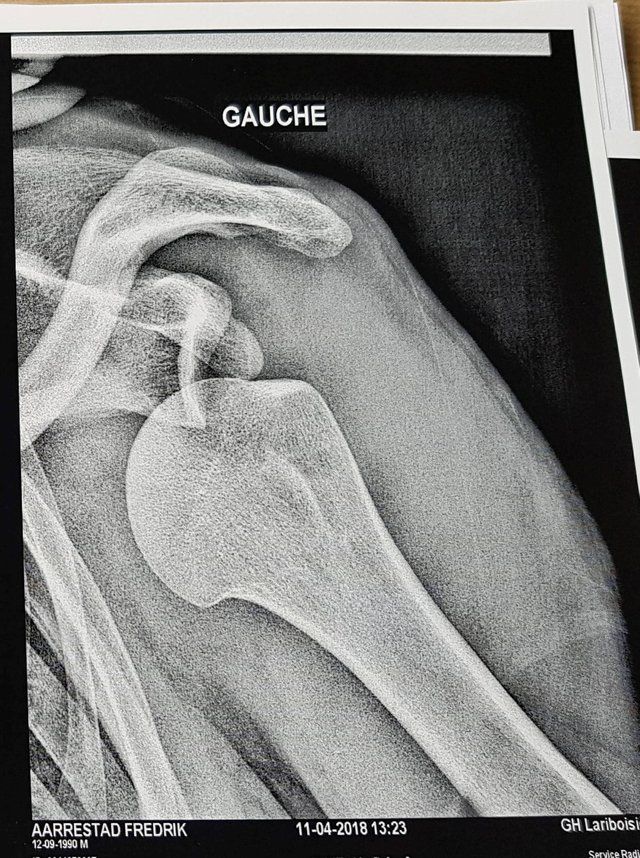 X-ray from April 11. 2018 when I dislocated my left shoulder again for a second time.
So I've been hesitant to put the shoulders at too much risk or under too much stress. Additionally, the shoulder's mobility is not quite where it ought to be. However, after having patiently carried out daily strengthening exercises, I feel ready to push the limits again. So I thought this would be a fun opportunity to get started and share the journey as I go!
I've even thought about how fun it would be to perform an impressive lift, or do a handstand pushup, on the two-year anniversary of my injury. Also, I believe strongly that one of the best traits anyone can have in life is the ability to turn frustration into motivation. Does it suck to be injured? Ofc! But it's also a chance to come back stronger and punch life even harder than before. So let's see how far I can turn this one around ;).
The Prize to the best guess:
Whoever makes the closest guess to the weight of my final lift will win! The guess must be made before this post reaches payout, aka in 7 days from now. To incentivize more participation, I'll raise the stakes a bit for those of you who choose to participate and who encourages others to do the same!
The final prize can then be:
100 STEEM To the winner with the best guess if they did not participate.
200 STEEM If they also participated in the challenge themselves.
300 STEEM If they both participated, and managed to invite a friend from outside of Steem to sign up and participate as well!
To finish, I'll therefore challenge @howo to show how many pull-ups he can do, and/or if he can perform a muscle-up, by the end of the challenge!
I'll also be doing my best to provide daily content on my strategy, workout-plan, meal-plan, etc. So stay tuned! And good luck to everyone else doing the #getinshapechallenge !
So how much weight do you think I will be able to lift over-head at the end?! Leave your best guess as a comment below! ;)