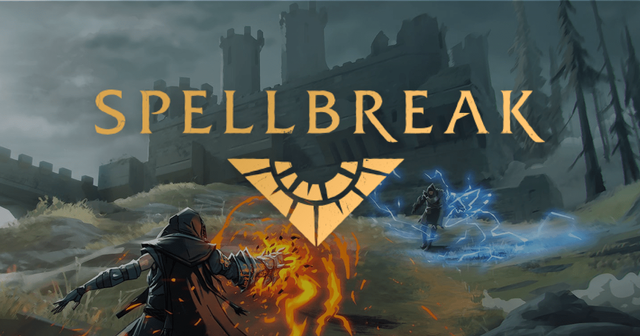 Image Source
Hi guys and welcome to another beautiful day, still on the festive season and 2019 just around the corner with 2 days or so to round up the year 2018, looking back am truly grateful to all what has achieved this past few months be it the little ones or the huge ones, am truly happy, grateful and glad to have joined the various communities I find myself today.
While others are trying to list their achievement for the past months or just simply making a list of things not to do and to do this coming year, went back and visited a game I did make a review about say few months back and also which I did a hunt on, the fact that the game actually has potential and actually presented something different from the regular battle royale based game we downloaded, played or simply watched these past few months, I just had to follow up and the game is none other than Spellbreak.
Still in its early development stage, already opened to beta testers in which users can simply apply to be one or purchase a game pack and gain instant access to earliest users or individuals who are currently engaged in the gameplay Spellbreak.
Meanwhile, if you can't get into any of the above, then you just stuck with watching gameplays that do come regularly compared to other game currently in early development stage, which is not that open to the public for all to try out.
Looking at the gameplays uploaded so far, one can only see potentials this game has to offer and from all what have watched from the little short clips say 2 to 3 mins that have been uploaded thus far, the hype about the game been officially released is high and real.
Before now, I did make a review about the game, although it was the little presented from short clips we saw and also write-up from other users and I must say, between now and then have been able to get more view into this game.
The landing pattern or simply how a player was distributed into the zone was not too clear back then, we know other games support players using a parachute to jump down or been teleported to various locations and what have you.
From the clip I watched today, it seems the method in which players will be distributed or dropped comes in a free fall mode, a few days back, we looked at a similar case where the game also came with a free fall mode and character would just jump from whatever transport used in transporting them and a free fall mode was activated, you could adjust your mouse to move your character or slow their fall mode to any destination of your choice and it seems such a move is rather very common now.
We saw the same mode been applied on the game Realm Royale, where players would drop down and allow to move from one location to another while still in the air by simply controlling and guiding the players via the mouse control.
When compared with other modes of dropping, I think the free fall mode is much better as it provides a better way of navigating when compared to players using parachute as the case may be on Fortnite, yea must times when I try coming down, it usually very hard and tasking, and also takes a more time when compared to free fall mode, although other users might differ in opinion, well you can't have everyone liking a particular aspect in gaming or even in life.
That been said, the game fight style and mechanics are rather still the same as we saw on previous look at the game, players are still able to move from a location to another by simply gliding on ice made by them or simply teleporting, but for this to actually be achieved, I think certain features would already be activated while in game.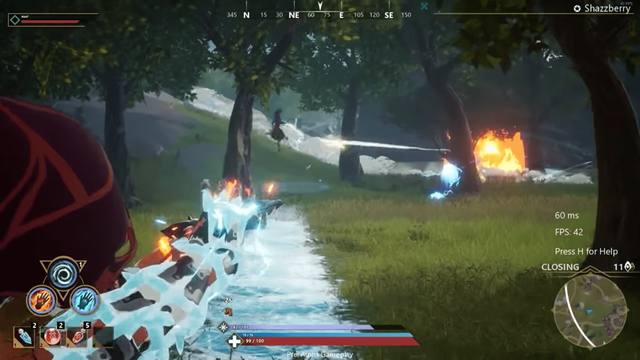 Image Source
Also, the fighting style is same and no changes have be made so far. After all, that's what actually differentiate it from other battle royale base game we played thus far.
That is, the use of natural disasters or call them spells ranging from earth to lightning's, ice and most case poisonous gasses which from gameplay we seen so far, could actually be fired up and create catastrophic damage.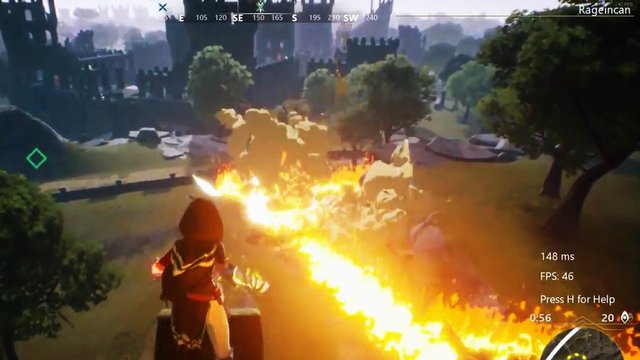 Image Source
If you rather new to the game or probably didn't read the short look at the game I made a while back, then a summary is
Spellbreak is a battle royale based game that centers on characters using different spells to best defeat other characters in a closed map game, just like every other battle royale based game, players will have to duel each other and the last man standing wins the game, but rather than using guns or other forms of melee weapons, players will be tasked with using of spells of various and different type, which can be used simultaneously or better yet perfecting a single spell.
The game truly is different from other battle royale based game we saw or play thus far and surely a game to look into upon when it is officially released, just have to hope to see same game style as what is presented to us from their official YouTube account.
Well, that's for that.
If any other new existing feature is discovered, will be sure to update you guys.
---
Gameplay
Till some other time,
Happy festive season and enjoy the rest of your day.