Hello, steemians! This is my second post and I have decided to go with reviewing of my favorite games. I will try to keep the review as short as possible and not giving away too much of the game.
   Persona 5 - A great jrpg with incredible anime like graphics and an outstanding soundtrack

It is developed and published by Atlus for the PlayStation 3 and PlayStation 4. Persona 5 is the sixth installment in the Persona series, which is part of the larger Megami Tensei franchise. Released in Japan and North America by Atlus and by Deep Silver in Europe and Australia, the game was first out in Japan in September 2016, and worldwide in April 2017.
Persona 5 is a role-playing video game where the player takes on the role of a high school student who lives out a single year while attending high school in Tokyo: the game is governed by a day-night cycle and weather systems that determine general behavior similar to a social simulation. The year is punctuated by both scripted and random events — the protagonist attends school, can go to part-time jobs within Tokyo, and pursue leisure activities or create items for use in other areas of the game.Alongside the normal school life is dungeon exploration of two different dungeon types within a realm called the Metaverse: story-specific dungeons called Palaces and randomly-generated Memento dungeons both populated by Shadows, manifestations of suppressed psyches.
                                                 Gameplay and mechanics

As with previous entries in the series, the game uses a turn-based combat system: battles can be initiated when the party runs into an enemy, or they can launch a surprise attack and gain an advantage in battle. In battle, the party has access to long-range and short-range weapons, in addition to being able to summon Personas. Personas, the manifestations of the main characters' inner psyche, are summoned through the mask each character wears.If a character strikes an enemy's weak point, they are awarded an additional turn and knock down the enemy. When all enemies are knocked down, a "Hold Up" session is triggered. During Hold Up, the party can launch a devastating All-Out Attack, demand money or items, or enter Negotiation. Negotiation allows the protagonist to win the selected Shadow over to their side to become a new Persona: they can only be persuaded if the protagonist is of the right level and has sufficient room in their roster.If a party member is knocked out, they can be captured by the enemy Shadows, and will be unable to return to the party if the resultant Negotiation fails. Similar to previous entries, party members can be knocked out, and if the main character is knocked out, the player immediately loses.
                                                                    Visuals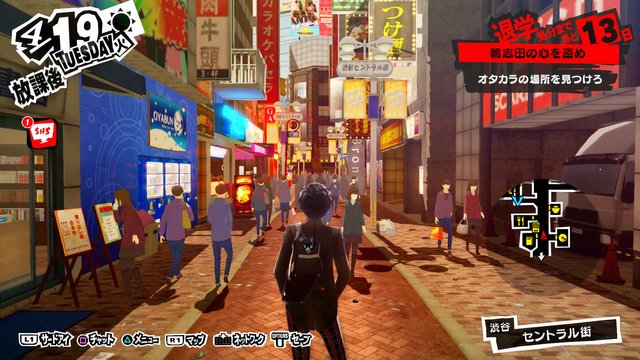 A gorgeous, vibrant world with very anime styled graphics with very stylish syestem and menus.The way the game effortlessly transitions between different scenes using slick visual design and top-notch animation really must be seen to be believed, even the game's loading screens are an enjoyable part of the experience - a remarkable accomplishment in itself.The thematic color of the game is red, as that of Persona 3 and 4 was blue and yellow respectively. The red color was meant to convey a harsh feeling. Not much can be said and it is something you need to try for yourself.
                                                              Story and Characters

Persona 5 takes place within the Persona universe: set in modern times, it revolves around a group of people who must face dark forces by harnessing Personas, manifestations of their inner psyche.Here with mordern day tokoyo also exists a parallel realm known as Metaverse: born from the amalgamated hearts of humans, it holds multiple "Palaces", structures created from individuals' distorted desires. Originally created by the hopes and dreams of people, it has been corrupted by adult authority figures.The player character is a silent protagonist in common with other Persona games. His first companion is problem child Ryuji Sakamoto, who forms the group with the protagonist. A third founding member is Morgana, a mysterious cat-like creature they aid within the Metaverse. Over the course of the game, further people join the group, including the withdrawn quarter-American Ann Takamaki; art prodigy and Kousei Public High School student Yusuke Kitagawa; Shujin student council president Makoto Niijima; Futaba Sakura, a withdrawn first-year student with genius computer skills; and cultured heiress Haru Okumura.Also interacting with the protagonist are Goro Akechi, a high schooler and detective; Sae Nijima, a public prosecutor and Makoto's older sister; and the residents of the Velvet Room, Igor and his two assistants Caroline and Justine.
                                                             Game Soundtrack
The original score for the game was primarily composed, arranged, and produced by Shoji Meguro, the sound director for the Persona series. Further contributions and other general sound design was handled by Toshiki Konishi, Kenichi Tsuchiya, Atsushi Kitajoh, and Ryota Koduka; all of them having previously worked on the series as well.In order to express the game's mood, Meguro incorporated acid jazz elements into the score, including the opening theme, where he mixed strings with the vocals and the additional instrumentation.For boss themes, he included hard rock elements to properly convey the battle between a strong enemy and the party. Meguro changed the way the music flowed when compared to the last two Persona games: instead of the opening and ending themes being conglomerates of the general score, he described the entire score as a single continuous work. 
                                               Final thoughts
Persona 5 has sold more than 1.5 million units, including physical shipments and digital sales.I will say Persona 5 is one of 2017's best games of the year with beautiful soundtrack brillianltly executed anime styled visuals and an imprevisive turn based combat and over 100 hours of gameplay. I highly recommed anyone with a ps3 and ps4 to get this.The game stands out as an extraordinary, memorable experience.
Source
1. https://en.wikipedia.org/wiki/Persona_5
2. Google search for images