Come Play: SEVTECH, Steemit User only Minecraft Server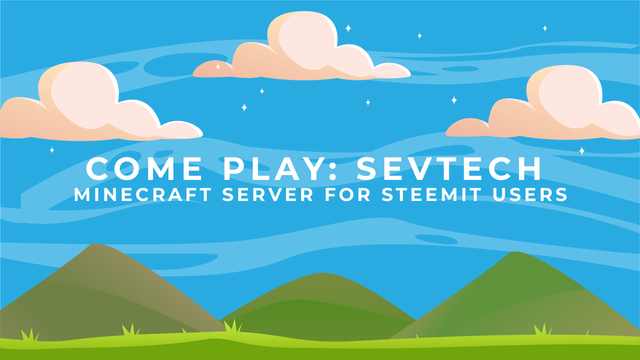 As you guys could probably gather, I'm a very big fan of Minecraft. Modded Minecraft that is.
So, I have managed to get my hands on a Dedicated Server provided by @Privex and I'm very excited to say I have put together a working server.
This post is to let you guys know you are all formally invited to swing by and have some good times with me and other minecraft addicts.
@someguy123 will be making an appearance on the server as well. Eventually.
What Game is this?
This will be a server hosted by privex and ran by myself for the Game Minecraft. We're going to be using a risingly popular modpack called SevTech: Ages
Sevtech ages is a Modpack all about progressing through the various stages of technologies. Such as Caveman Age, Stone Age, Iron Age, Space Age. It's a very nice blend of Technology, exploration and magic.
Often these type of servers offer a very involved and enriched community experience. And are extremely good icebreakers to making friends with other people. Could be a good chance to meet other steemit users.
How to join the Server
Using the twitch launcher, you can easily download the Sevtech Modpack. I won't get to into depth with this, but I will create another post specifically getting this modpack if it's requested.
Step 1: Connect using the following IP


Step 2: Join the discord server. Optional, but for voice chat and help you can join here at any time.
For me personally, I'll be promoting this server within the steemit community as I'd love to get to know some of you folks, and genuinely enjoy company when I play a new modpack.
Expect posts about this server and it's progress.
Well folks, I hope to see you around.
Once again, a big thank you to @privex for providing the server to use. I highly recommend Privex for hosting needs especially if you'd like to purchase hosting in exchange for your steem or sbd, making it extremely convenient and easy to set up.
Can't wait to see you guys!