GAME REVIEW - DOTA 2 -
---
Today i'm gonna look at one of the most important games of our time. Started off as a mod in Broodwar, the idea was then taken to Warcraft 3 where it got refined over 5 years, before finally getting developed by Valve in 2010. Now MOBA is one of the most popular genres in gaming, and we're looking at one of its granddaddies. This is my Review of Dota 2.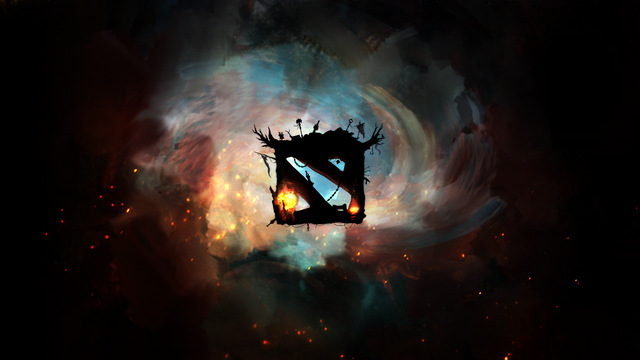 source
---
The Basics
Dota 2 was released on the 9th of July, 2013, by Valve. Nowadays DOTA is slotted into the MOBA (multiplayer online battle arena) genre. I personally despise this genre name, as it is not specific enough. Technically Quake would also be categorized in this genre, but it's clearly an Arena Shooter. But whatever, the name has stuck, and now the "dota-likes" are called "MOBAs". And make no mistake, they are all "dota-likes" at the end of the day, or "AoS-likes". Regardless, for the sake of this review. we'll just refer to it as a MOBA.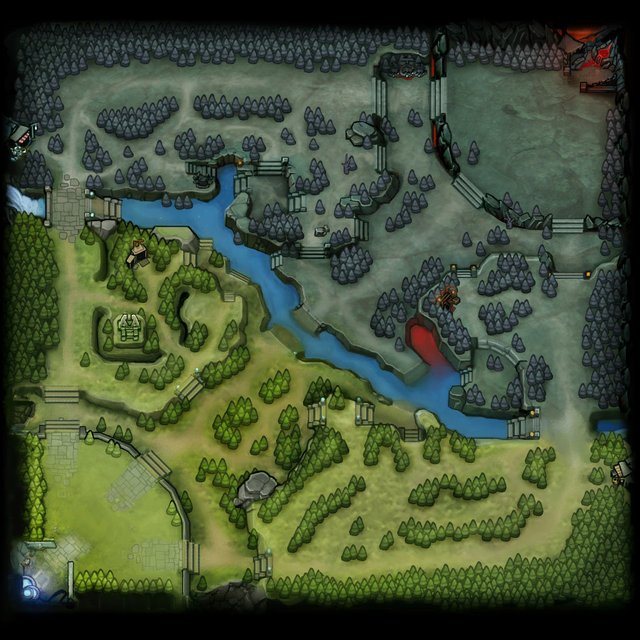 The Dota 2 Map
So what is DOTA 2 -actually? Well it's a 5v5 multiplayer game, where the goal is to destroy the other team's ancient. This structure is located in each team's base, and getting to it requires destroying the team's towers which stand in the way. You can see in the map above that there are three lanes, there are three towers in each of those lanes before getting to the base.
To do this, you control a hero. Each hero is vastly different from the other, and the combination of heroes is what gives the game its endless replayability.
Game Modes
The game's primary game mode is its 5v5, whoever destroys the other team's ancient wins, mode. And yes you
have
to destroy it. Unlike other games, there is no surrender button. So matches can take upwards an hour, and you're stuck there. Leaving a match will result in you being placed in a Low-Priority que
(basically hell)
with other leavers and generally not nice people.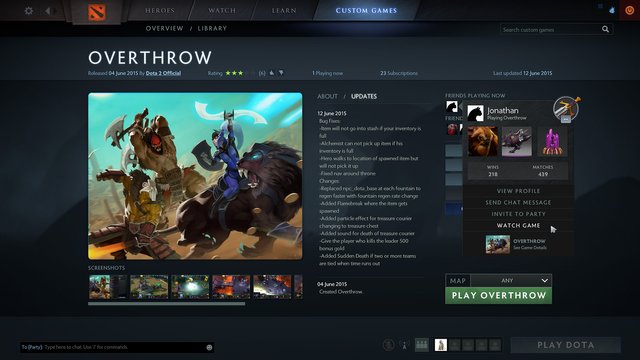 A Dota Arcade Game.
The game also sports an Arcade. This is where other people from the community can use an exterior editor to make mods for the game. These mods are then uploaded to the Arcade, where anyone can play them. These give players a chance to chill out from the otherwise stressful experience. But make no mistake, the 5v5 mode we talked about earlier is the game's main mode. All "games" featured in the Arcade are free.
The Heroes
Dota 2 has a roster of up to 112 heroes. The heroes are divided into three types: Strength, Agility and Intelligence. Each hero has up to 4 abilities, these could be active (i.e. you have to press them to see their effects) or passive (they are active in the background and require no button press). Additionally, each hero has its role to play in a match, depending on teammates and enemy hero composition. Heroes become stronger by leveling up when they gain experience, which is done by slaying the game's always spawning minions (or creeps as dota calls them), and/or killing other heroes. The heroes can be further upgraded by purchasing items, which is done by using gold, which is gained from killing creeps and enemies. (there's a trend going on here :D)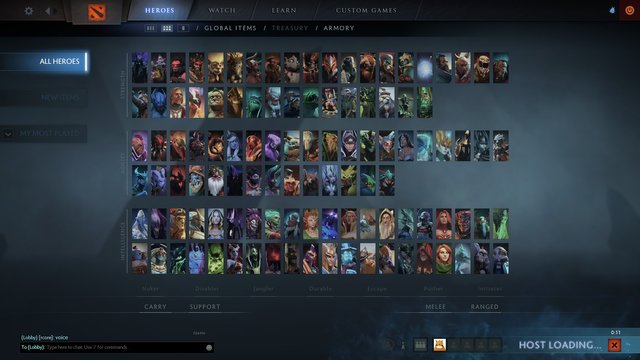 The Dota Heores
Unlike other games of its genre, Dota's heroes are completely free. And there is no META aspect to the game like there is in LoL. You can pick and play any hero you want, and they will all play the same.
Monetization
An Arcana skin.
Dota 2 is a Free-to-Play game, which means you can pick it up and play it right now if you wanted. How does Valve make money then? Using the tried and true method of selling cosmetic skins! The pricing of these skins goes from small microtransactions to the Arcana skins, which are worth up to 30$. These skins change the heroes abilities and animations significantly, and as such are very valued by players. Unlike other games, Dota's cosmetics can also be mixed and matched, as each hero can have a different skin for each body part. (this excludes Arcanas)
Other than hero cosmetics, the game also sells a variety of different stuff, such as: Match Announcers, Map Terrains, Whether Effects, Music Packs and many other goodies.
GUI and Servers
The game's GUI (game user interface), is one of the best, if not the best out there. It was redesigned a while back, and is truly a joy to use. The UI framework is much more lightweight than others, which allows Valve to change stuff up as they please. And while you can just search for a quick match right away, the game also allows for public lobbies with custom rule sets.
As for servers, there are 16 server locations. And they are: US East, US West, Peru, South America, Chile, Europe East, Europe West, Russia, Japan, Dubai, South Africa, and India. However, if you're playing in mainland China you have to play on the "perfectworld" servers, because of "the great firewall of china".
The game's servers are mostly stable, and problems are quickly solved by Valve.
Conclusion
I don't like giving scores on review, so I'll just tell you how this differs from other MOBAs - it's hard. Brutally hard. The game's complexity is the driving force for some players, and a turn-off for others. If you plan on trying this game out, keep that in mind. There are layers upon layers of complexity to unravel and learn. And since its a team game, it can be quite frustrating at times.
Since it's free, my recommendation is: try it! Why not, eh? You might end up loving it's complexity. I know learning Dota was one of the most fulfilling experiences I've had in gaming. And that's something most gamers can relate to. :)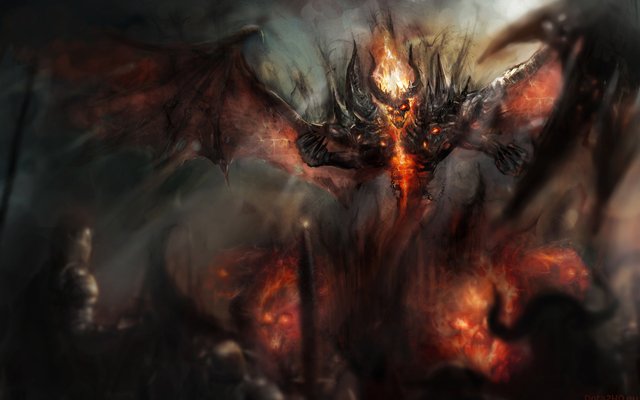 Nevermore!
---
---
---
Thank you for reading!
---
If you enjoyed this review please consider upvoting and following!