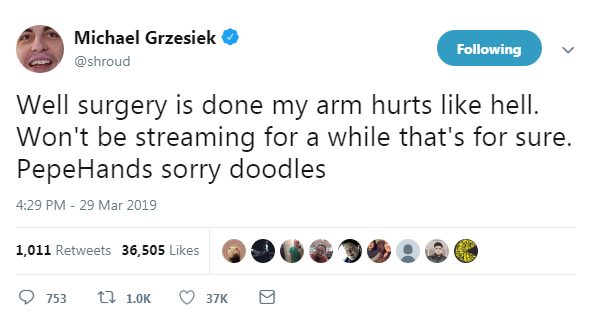 ---
Shroud is in pain and needs to rest after second surgery
If you follow the Apex Legends scene you might now that a couple weeks ago the famous streamer Shroud broke his left hand in a scooter accident.
Since then he streamed quite a lot - often complained about how uncomfortable and painful his arm was. Apparently, he had his second second surgery on the 29th of March and by doctors orders he has to stay away from hardcore gaming. It is not known when he is expected to start streaming again.
---
Here is the video where he talks about his accident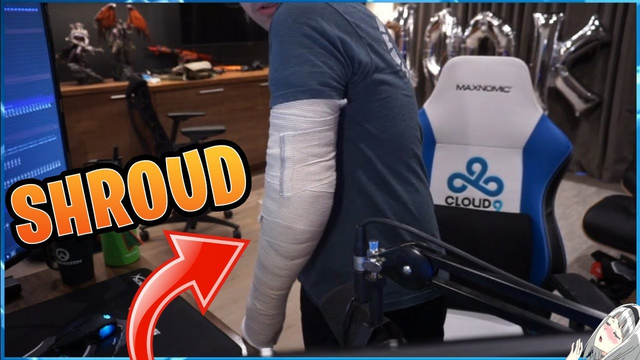 ---
Might hurt for the popularity
As of now, Shroud is the second most popular Twitch streamer with over 100 000 subscribers. It is his job to play and broadcast it, if he wouldn't be able to be on screen for too long he might lose a part of his viewer base.
To be honest I am not too afraid of that. If you reach a level it needs bigger things to make people not watch you than breaking an arm. I have been playing League of Legends for years and I know quite a few examples.
Tyler1 got banned from streaming and when he returned he had 382 000 people watching him
SivHD pretty much releases one video every year and is streaming really inconsistently, but whatever he does there are 1000 people watching and his Youtube videos have good numbers as well. (He recently started making Apex videos and they are quite fun, check him out on YT)
The point is that I think Shroud is going to be just fine and maybe a small break even keeps up his motivational level in streaming - he might be more energetic and fun when he comes back.
Anyway, as of now I wish him a fast recovery!
Thank you for reading my article!
Follow Upvote Resteem @goodguymate
---
*If you like Apex Legends you might want to check out these articles as well:
Who is your favorite Apex Legend? | 1st of April
---

Steem Gaming Community


OP Gaming
<I suggest Partiko if you are browsing from Android/iOS and would like to earn extra $>
<In case you like resource-managing games try Drugwars and earn STEEM while palying it>
{Time spent editing this article: 50 minutes| Word count: 391}
---