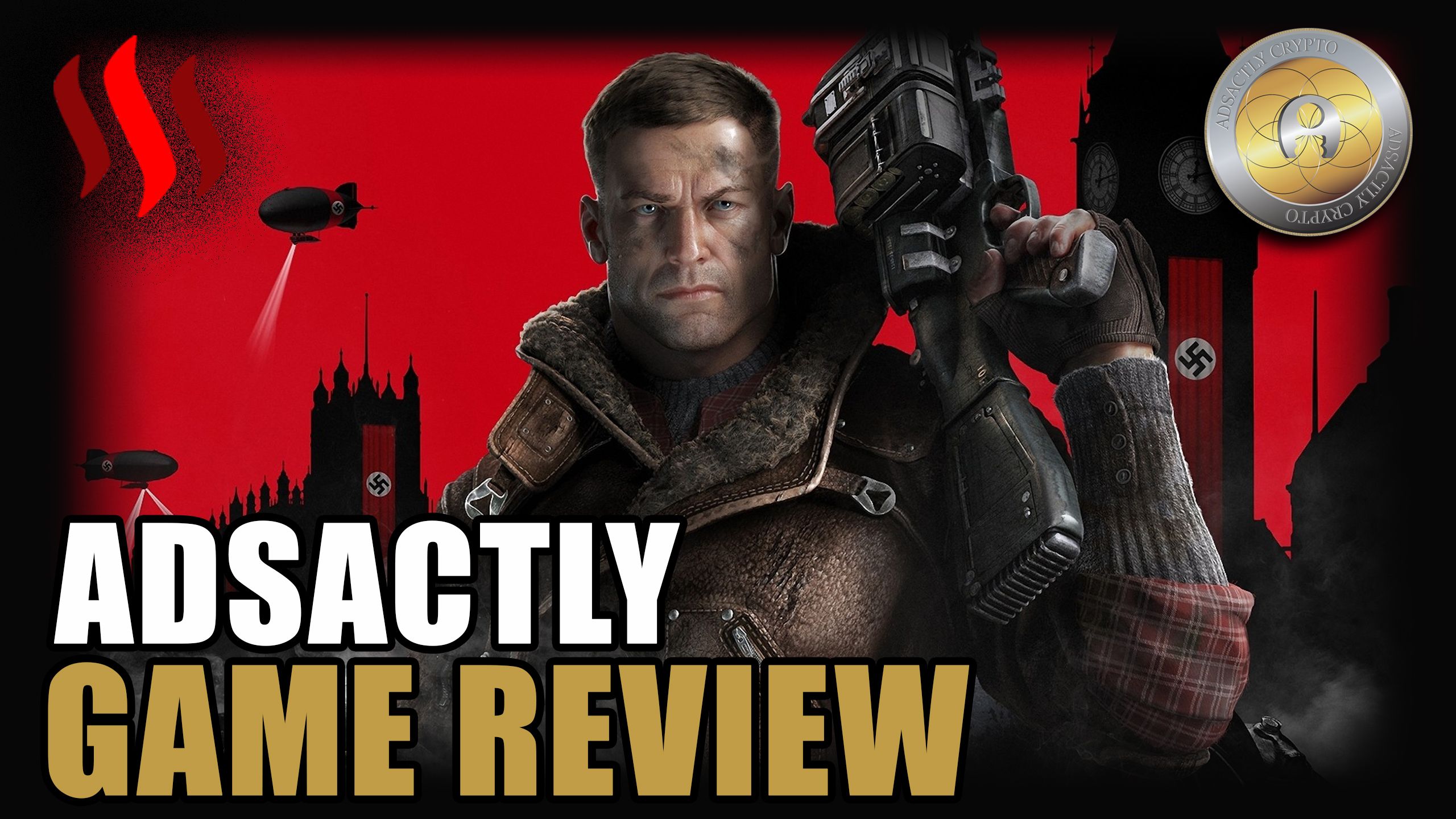 Wolfenstein II: The New Colossus
Once again we return to the dystopian future where everything has been turned upside down and the evil nazi's have taken over the world.
I should put out a stern warning that this game is really not suitable for our younger gamers, and if you are not into violence and loads of shooting, this game is definitely not for you. If I were you I would look away right now and read no further, because this one is all about shooting first and then asking questions a few days later.
A little bit of history for those of you not all too familiar with Wolfenstein; this was one of the first video games I played on the old home computer growing up. It was called Wolfenstein 3D and was released in 1992, back when everything still ran on MS-DOS, and was probably one of the first games to use a rudimentary 3D game engine. This was a revolutionary building block for the future of gaming, as well as being regarded as having helped popularize the first-person shooter genre. Wolfenstein 3D was actually the third game in the series, the first two games used basic 2D 8bit graphics.
Fast forward to where we are today in the gaming world, where it's almost impossible to distinguish the difference between movies and games, and the realism is second to none. Wolfenstein has really come a long way and it is amazing to see the progression of stories we grew up with, growing up with us.
The story continues from where the previous game Wolfenstein: The New Order ended, and begins with a catch up of the events that previously occurred.
I wrote a review on the previous game a few months ago, so you guys can go read that here to get up to speed on what has happened. The story begins with our hero Blazkowicz, escaping the massive fortress which then gets blown to kingdom come, heavily injured, he is rescued by his comrades but then falls into a five month long comma. To save his life they unfortunately have to remove some of his organs, which leaves him in a very frail state. When he eventually wakes up he finds himself on the onboard the stolen Nazi U-boat, which he helped acquire in the previous game, called Eva's Hammer. Anya, the women he had fallen in love with before, informs him that she is pregnant with twins.
The submarine is then attacked by the sadistic Nazi commander Engel, who was severely injured by Blazkowicz and left for dead. Unable to walk properly and still very disorientated from the long coma, he has to fight his way to reach the women he loves. When he eventually gets to her, he is informed the their leader Caroline has been captured along with the submarine, which is now being suspended by Engel's huge airship. Blazkowicz devises a plan that and finally frees the submarine allowing for them to escape, but in all the madness Caroline is executed by Engel. The group decides to carry out their fallen friend Caroline's plan to undermine the Nazis and liberate America.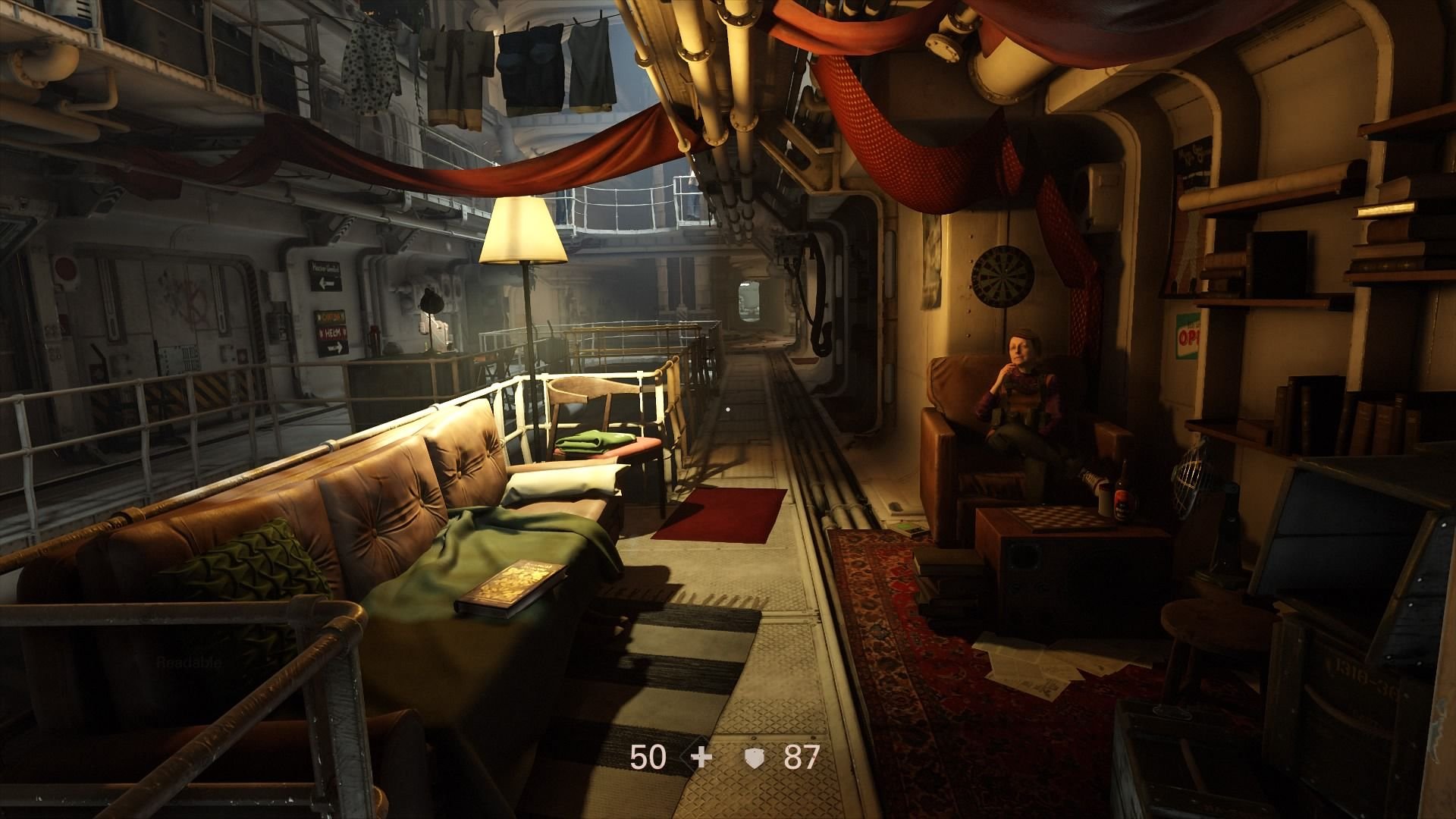 source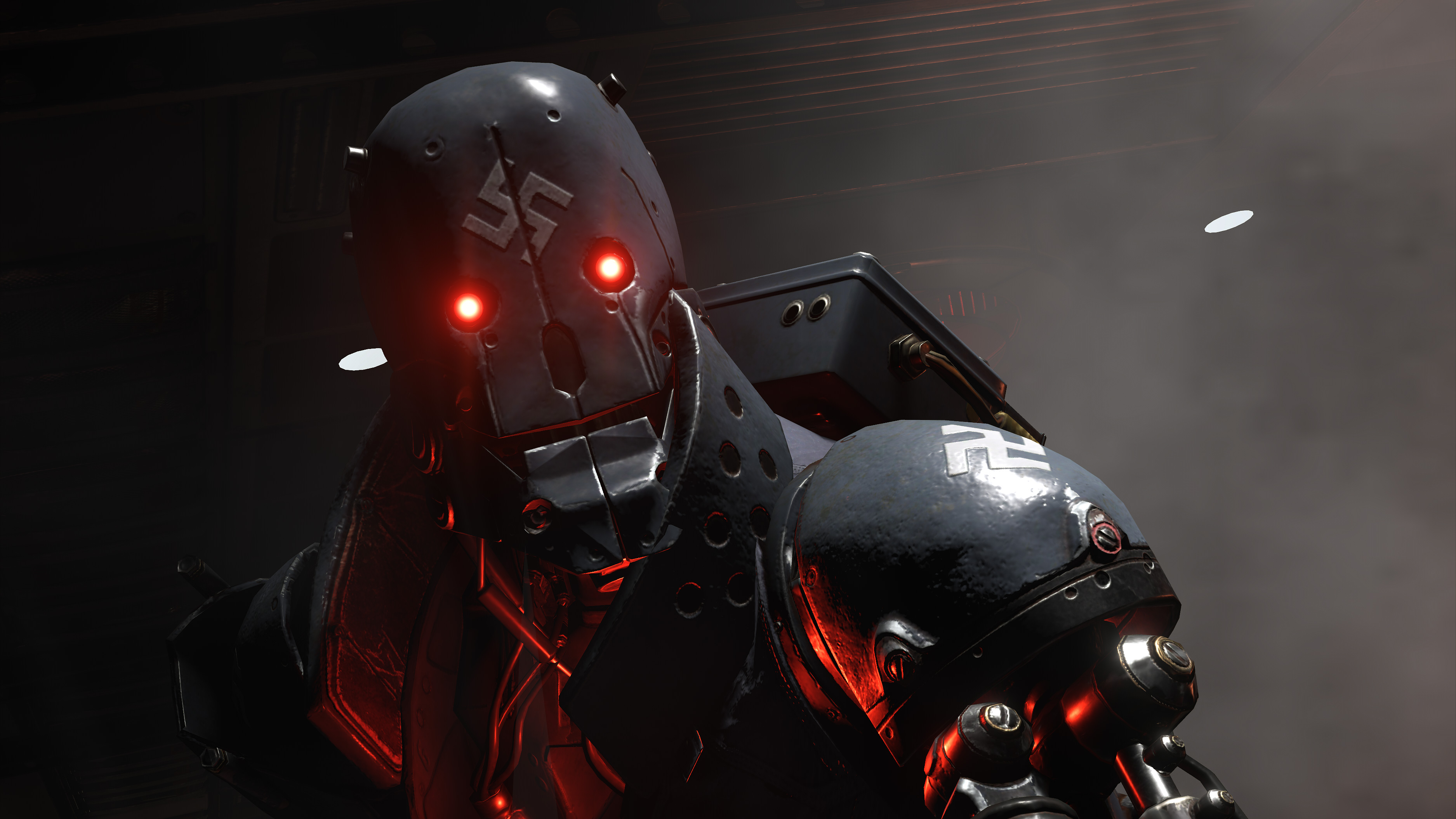 source
This second installment of the Wolfenstein series has made some great improvements on what already was a fantastically fun game.
The developers put some really good writing behind the cast of character this time round, with really memorable heroes facing off against some deeply demented villains. There is an art form to finding just the right balance between hero and villain, when mastered it emotionally connects you to the game. What I really loved is how the writes carefully balance the emotions that you experience throughout the game, one moment you are beyond outraged and a few minutes later you find yourself laughing your head off. The humor works very well to offset the very dark reality of what the game is actually about, that and that you are fighting this evil.
The environment has a very dreary setting which is what you would expect from a Nazi-occupied America. There is a very heavy mechanical, high-tech feel to the entire game, but somehow still has that dated sixties look. I loved the advertising campaign that the developers put together for the game that perfectly illustrates the visual feel of the game, you can check those out in the first video I linked above. There weren't really any new additions to your assortment of weapons and it's very much the same as before, but each weapon does now come with up-gradable enhancements. The welcomed new addition is the enhancement suit which was worn by Caroline in the game before. This now keeps Blazkowicz's weakened body functioning at peak performance with some added benefits.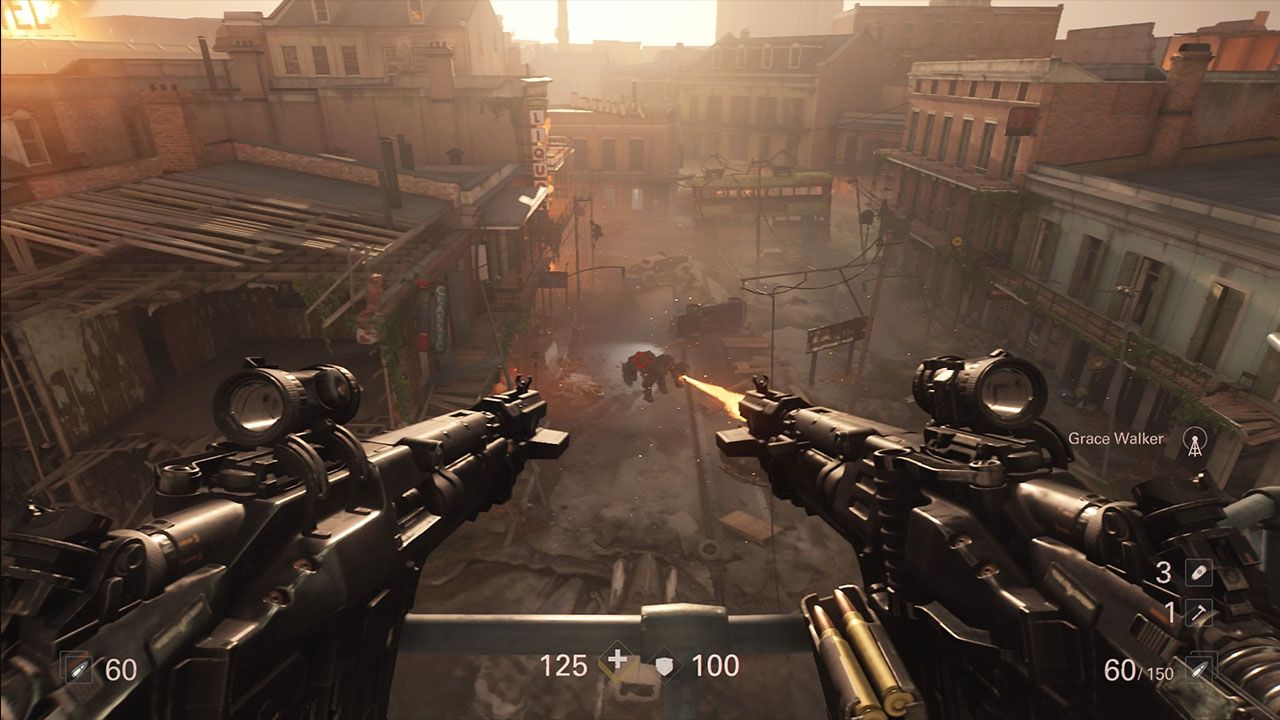 source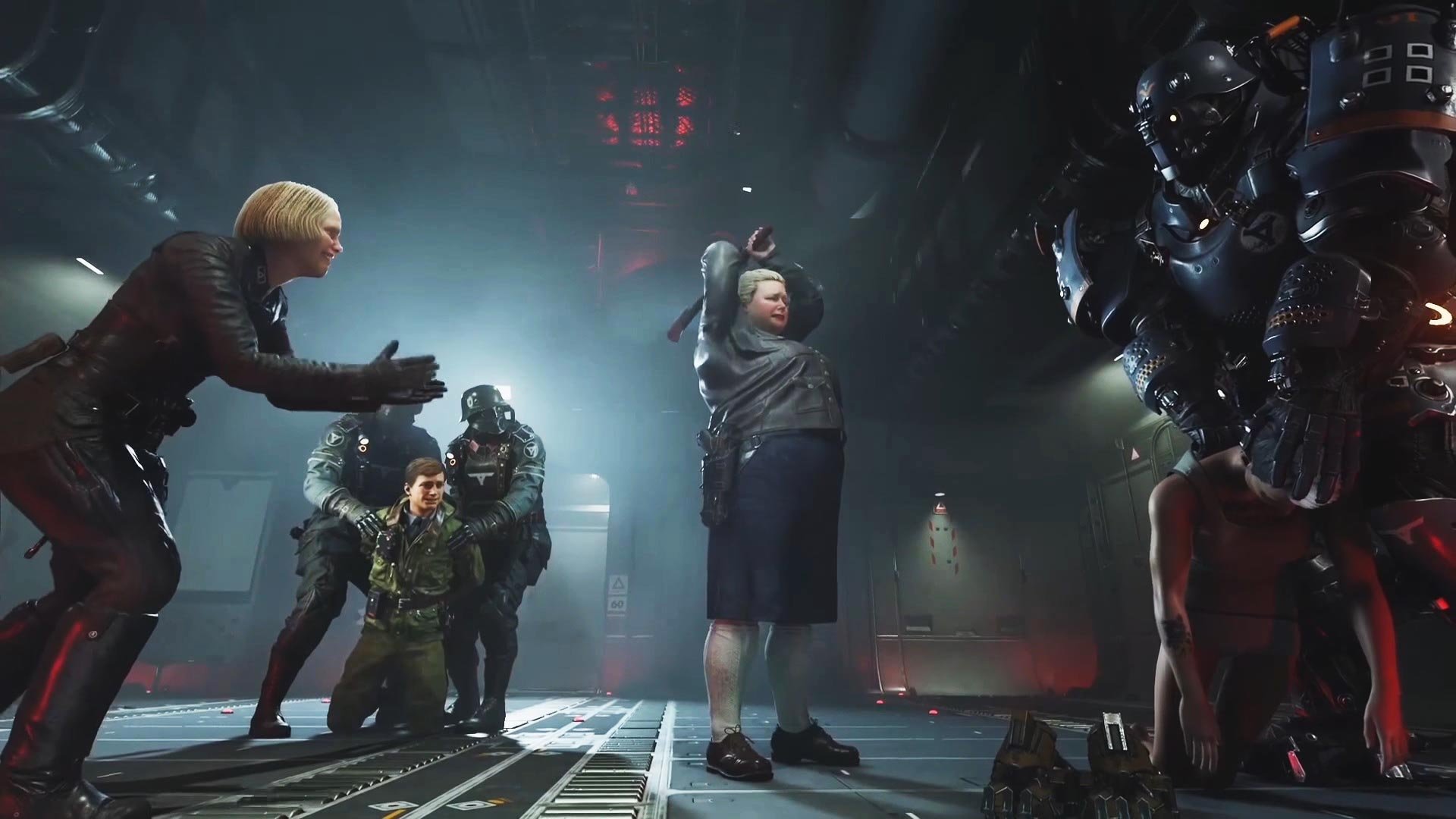 source
---
"Buddy. I've laid my life in the line for Freedom, Justice and the American way while you and your "Bohemian" friends were passing out Bolshevik Propaganda and avoiding the draft on every street corner. What good is your f@%kin' "equality"? You can't muster the back bone to stick up for your people, while the Coyote is scratching at your front door." - William 'B.J.' Blazkowicz
---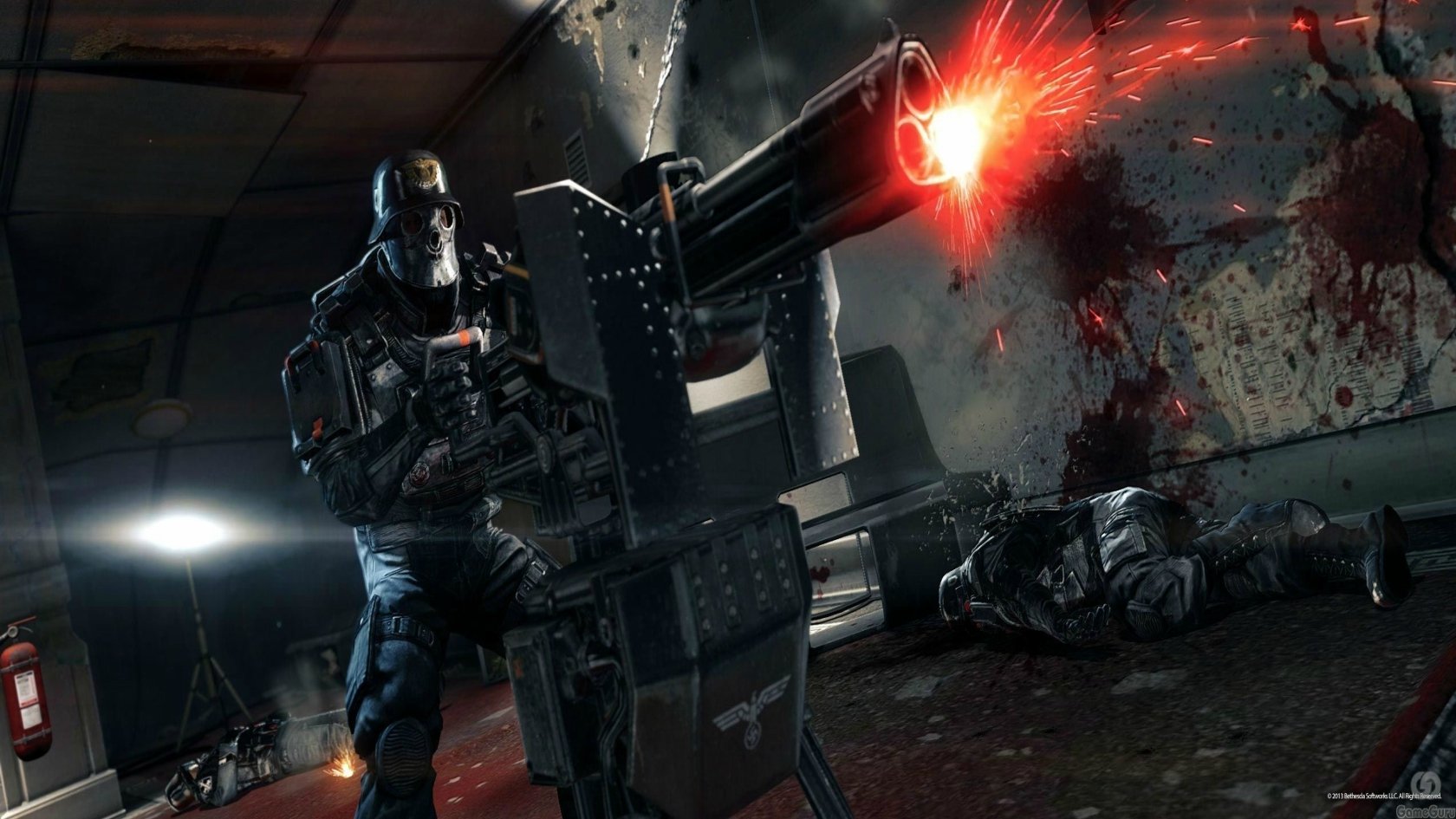 source
Wolfenstein 2 The New Colossus is a fantastic first person shooter, but what truly took the cake was the brilliantly written characters and the amazing dialog performances of the cast.
General Engel is as memorable a villain as you're likely to find, which perfectly balanced with that of Blazkowicz, who very much reminds me of Brad Pitt's character in Inglorious Bastards. There are a few ideas from the first game that have a bearing in this one, like when you had to choose between which of your two buddies get to survive. Luckily for those who haven't played the first game and even if you did, you are able to make that decision at the beginning of this game, either choice changes the story ever so slightly and gives you different weapon options.
The game is a roller coaster ride of action and emotion from start to finish, and I enjoyed every second of it. The linear game style makes it easy to follow and also does not get you too far sided tracked like some games, where you realize a week into it that you haven't even completed half of the story line.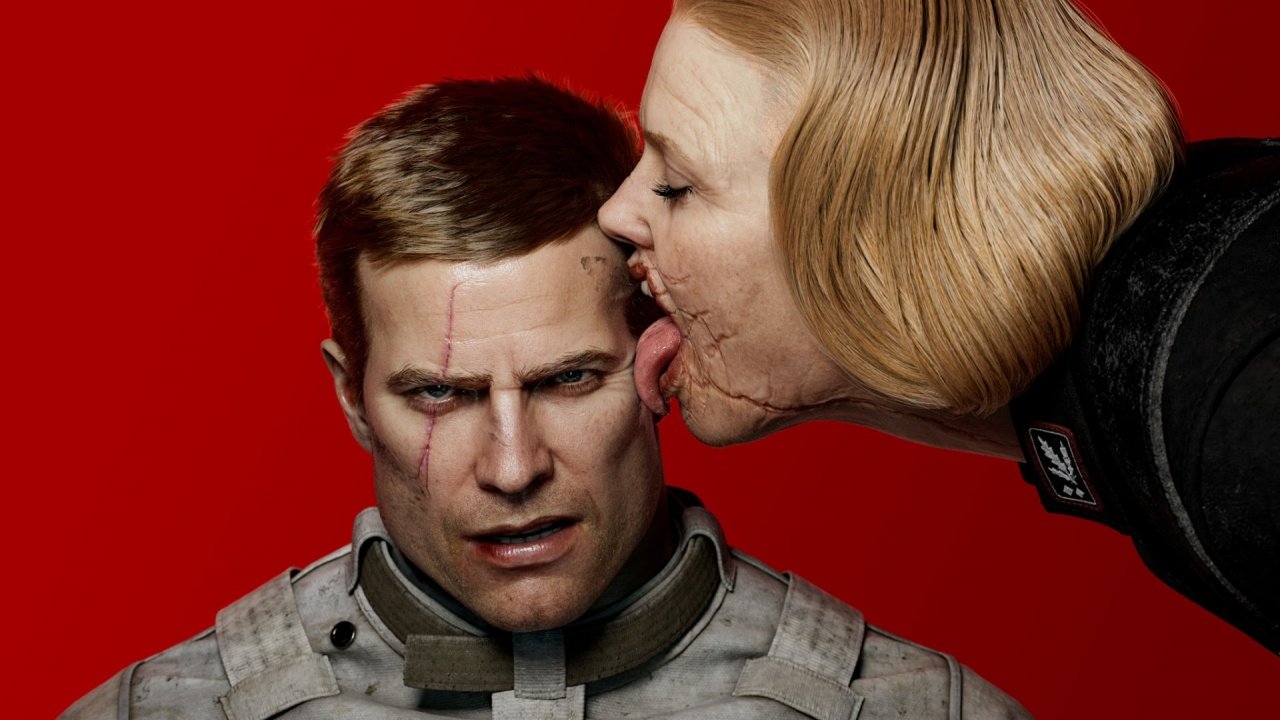 source
source
Wolfenstein II: The New Colossus is an action-adventure first-person shooter game developed by good people at MachineGames, who also created the previous title.
The game is published by Bethesda Softworks, who you probably must know by now and if you don't they brought us amazing games like Fallout and Dishonored to only name a few. It was released about six months ago so it's still pretty new and is available on Microsoft Windows, PlayStation 4, and Xbox One. They will also be launching this on the Nintendo Switch, which has been scheduled for release in June. I picked this up last month during the PlayStation Easter sale for less than half the retail price, so be sure too look out for deals.
I give The New Colossus a rating of 9/10
It was very satisfying playing this and emotionally intriguing and at times some good laughs, exactly what entertainment should be.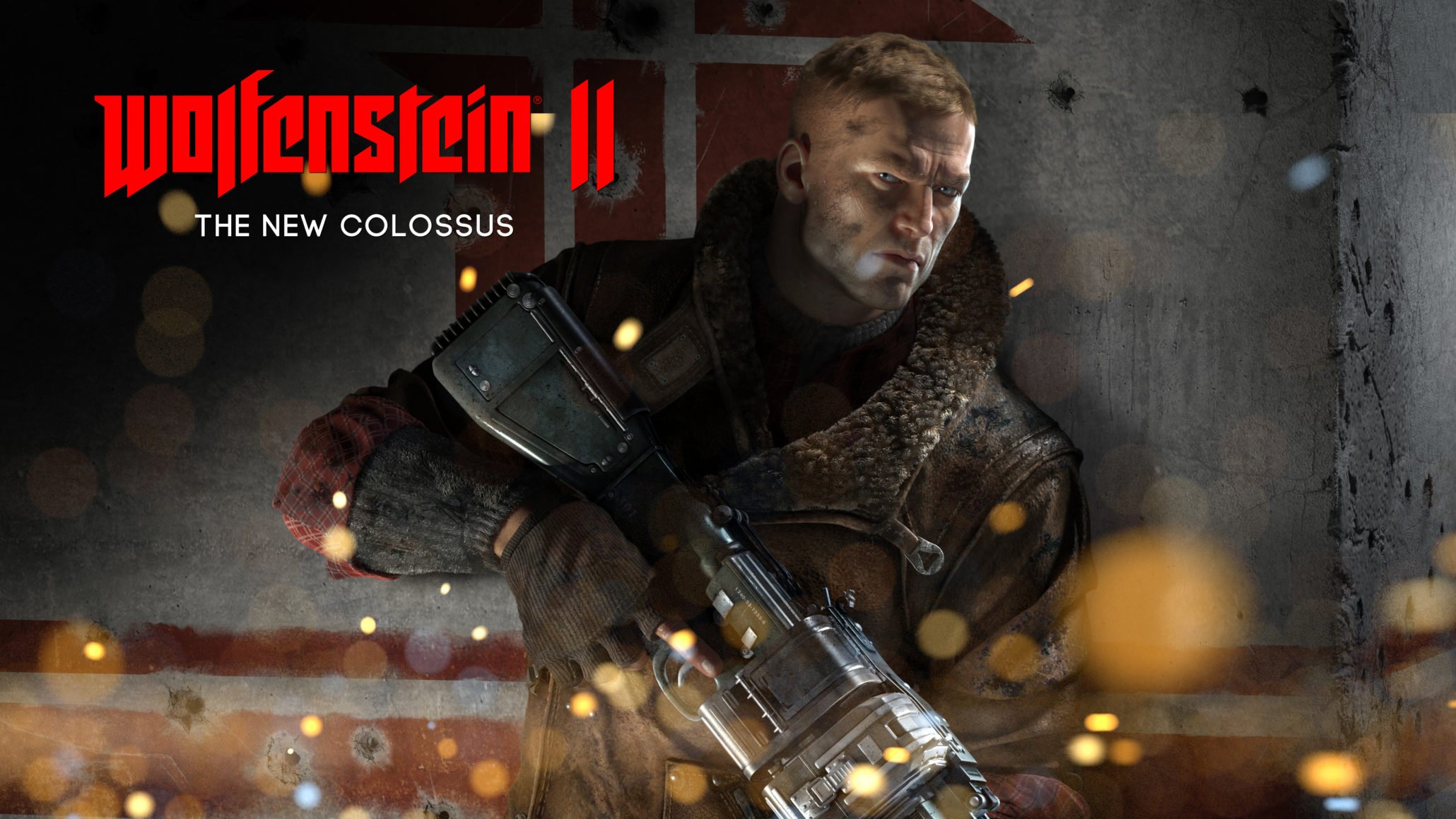 source
In case you missed it, here is the previous game review

Thanks for popping in, hope you liked the post. Please leave me your thoughts and or opinions in the comments below, have a beautiful day.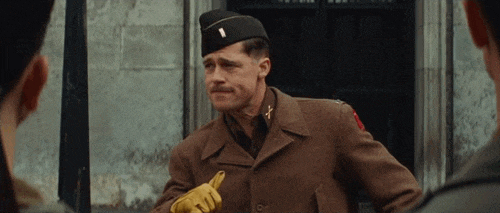 Game review for ADSactly by MorkRock
The views and opinions expressed in this article are those of the author and do not
necessarily reflect the official policy or position of ADSactly
✯ ✯ ✯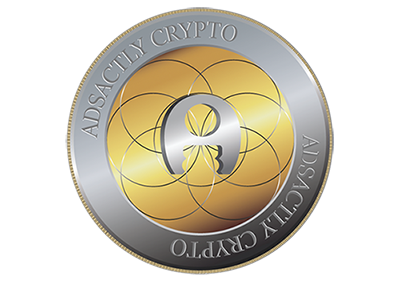 ---
Vote @adsactly-witness for Steem witness!

Witness proposal is here:

Go To Steem Witness Page

In the bottom of the page type: adsactly-witness and press vote.

Thank You