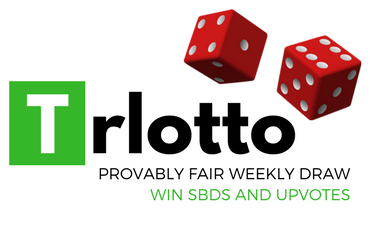 1- Complimentary Upvote
Ticket price is only 0.5 SBD and it comes with a complimentary upvote. The worth of this upvote will vary, however, it is currently set to $0.25, essentially cutting the cost of ticket in half. it will be a random value from $0.10 - $0.50. Your reputation must be 30 or over to get this complimentary upvote.
2- Win SBDs and Upvotes for 7 Days
You can win big if your ticket is selected in the draw. Current Prize Pool: 18.28 SBD and growing.....
Check the latest here -> http://infini8y.com/trlotto
3- Random upvotes forever.
Even if you do not win anything, your ticket(s) will be forever valid to get you random upvotes time to time
4- Provable fair draw.
Numbers are generated using the hash of the first BTC block mined after 16:00 UTC Friday, this data is publicly available and verifiable.
5- Incremental Reward Table
More tickets = More winners
Currently, the reward table changes after ticket number 20, 50, 200 and 400
6 Boosts, bonuses and free giveaways....
7- It's Fun ;-)
To Get your ticket, Send 0.5 SBD to @trlotto with "buy" in the memo.
You can also send multiples of 0.5 to buy more than one ticket
Limit 20 Tickets per user for each draw