Welcome your weekend on Fundition
Friday is here!!! What are your plans? Will you spend some quality time with your family or will you have some fun activities in nature with your friends? Will it be something entirely different from what you did for the last five days? Whatever it is, do not forget to include Fundition in your weekend plans.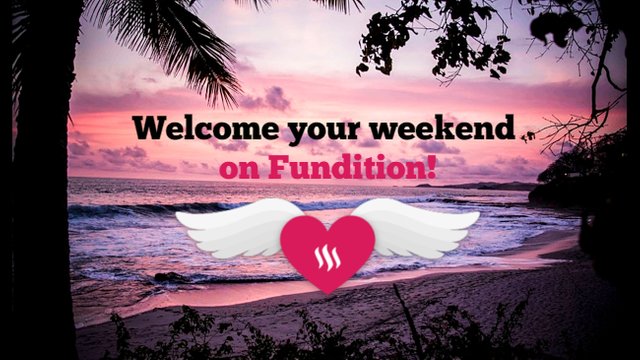 CCO image, Unsplash, author: Sam Hull, adapted for Fundition
Different people enjoy their weekend in different ways. Some like to rest and relax and some like to stay active with various activities. What type of person are you and how do you spend your free time? Tell us about your plans in the comments below, where will you go and what will you do?


There is a new project being born on Fundition almost every day so use some of your free time to check out those that you have not seen already. There are categories such as innovation, gaming, charity, education, art, and personal cause in which you can find your next favorite project to support but you can also use more than 30 filters to specifically find what you are looking for. The amount of funds raised on Fundition so far is $98,323.84 Will we reach that 100K over this weekend? With your help, maybe we will. Amazing projects are waiting for you so visit Fundition, open your heart and generously give support to those who need it. Whatever your donating preferences are, we are sure that you will find what you are looking for on our platform and satisfy your need to make a difference in this world.
Planning a project?
If you are thinking about starting a project of your own, Fundition is a perfect place for you. Not only do we take zero fees, but we will also help you on your way to success. There are many educational posts that we have written about crowdfunding and more specifically about crowdfunding on Fundition. You can learn how to create a project, attract investors, promote your campaign on social media, and much more. Our posts are available on our steemit feed, discord and the platform itself. Use your weekend to read, learn, and prepare yourself. If you get stuck, you can always contact us on discord. We will be happy to help you in any way we can.
Fundition wishes you a great weekend!
PS: don't forget to support the "Change the Future: Adopt a Tree" here: https://fundition.io/@fundition/l0v1g45xy

Start Building the Future Today with:

Join a community with heart based giving at its core