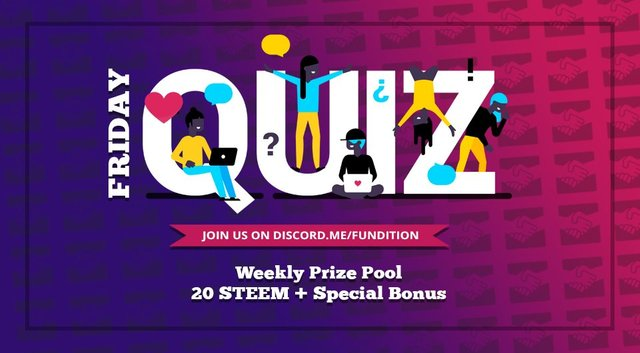 Hi to every beloved Steemian,
Time flies by and it's already 2nd February today. In within three more days, the Chinese New Year 2019 is incoming soon...
Looking back the whole 2018, Fundition had been holding many weekly quizzes (Thanks to @goyard for sacrificing your precious time and organize the weekly quizzes for every Funditian!)
Frankly speaking, since the first time I get involved with Fundition's weekly quiz - I'm totally get hooked with it!
One of the main reasons, why I love weekly quiz a lot (aside from the prizes) - it can help us to work out our brain and memories even more.
According to the neuroscience report, if we didn't use our brain or memory frequently - the brain cells will eventually shrink and become lesser!
The only way to keep our brain cells active and healthy - it's by participating some activities that need to memorize common facts/trivia.
For those that don't know how the Fundition's weekly quiz work out, here's the simple rules of it:
Normally, Fundition team will announce the weekly quiz at least 12-24 hours before of the new trivia starts.
The time for the weekly quiz is different from week to week, as it's to avoid the same players from keep dominating the trivia.
Before the weekly quiz start, there are three more reminders/announcements: 2 hours before the quiz, 1 hour before the quiz and 15 minutes before the quiz starts!
The trivia usually take 20 minutes and the type of questions included:
Periodical Table
Movies and Cartoons
Grammy and Oscars winners
Astronomy
Brands/Logos' slogans
Music and instruments
Name the Flags
Name the Capitals
etc
Yesterday, there were about 4 players (including me) who participated in the weekly quiz.
Below here were the final result: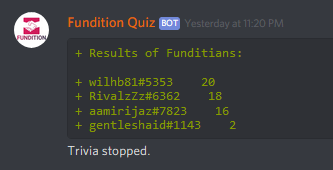 For your information, Fundition's weekly quiz is the only one weekly quiz that being organized on Steemit almost every week.
It deserves to get more publicity and attention from everyone~
Please show your support, by spreading out the words about this exciting quiz and also fundition.io to everyone you know!
Thank you very much for all the efforts @fundition and I'm proud to be part of this awesome community.

---
Posted from my blog with SteemPress : http://wilhb81.vornix.blog/2019/02/02/fundition-what-the-quiz-1-february-2019-participation-and-result/
---