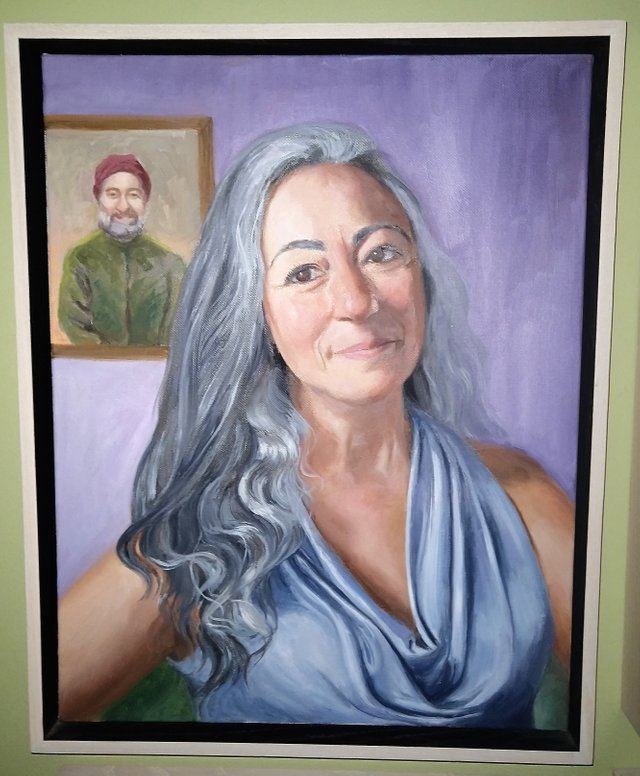 First and always, thank you so much for the warm welcomes, comments, upvotes and encouragement that I got from so many of you, @riverflows, @wonderwop, @kaelci, @jayna, @mariannewest and @fitinfun chief among them!
This week of my adoption has been quite a rush! I saw my followers swell from ten or so to over forty! My funds soared from under 20 cents to over $1.20! I wrote at least five minutes of fiction every single day! As small as these may seem to many, to me they were unimaginable just one short week ago.
A little about the non-writer me. My first love was math, my second was modern dance and my third, the passion that would become my career, was food. I owned and labored in restaurants and the like for over thirty years, meeting my husband in a kitchen, and feeding my children the wonderful natural real foods we sold to many. Since my retirement (lucky me!!!) I have taken on a quite a few new passions: acting, singing, gardening, and healing my three now-adult children naturally of a dread disease, Crohn's disease. I'm very interested in homesteading, and I hate to knit.
And now a bit about the writer me. I started writing poetry ten years ago while going through a very rough patch and met with some success there, but my attempts to write fiction were miserable. I thought for many years that I did not have the ability to envision a story or to put it down in words. I sure spent an awful lot of time arguing politics in writing on FB though! I finally admitted the rage I felt so often there was an unhealthy rage, and decided to try steem, hoping it was a more sane and supportive community. I had no idea what I was doing though. It took me months and months to get my funds over 8 cents! I ran out of RC regularly until an angel @riverflows delegated me a small fortune. This kindness gave me the breathing room to explore steem and learn a tiny bit. I entered one poetry contest of @mariannewest and got some actual humans to read my work, perhaps my first! Then I came across @jayna 's 50 word story prompt and decided to give it a shot. I actually liked my first story enough to enter it in the contest! I entered each week for a few more weeks, loving each little story I wrote. It took me the entire week to come up with those fifty words. The little stories seemed akin to my poetry really - they were very careful choices of words using the fewest possible to convey a complex idea, right up this poet's alley. Every single time was a delight, and I was then encouraged by @fitinfun to try my hand at something that terrified me at first, a five minute freewrite.
My first successful freewrite, Coyotes!, came to me so easily I was astonished! Maybe I could write after all! I published a few more that week, failing only for the prompt "puppy love" to produce something I would let someone else read.
And here we are at the end of my inspiring week of adoption by FreeWriteHouse. I have written a number of five minute freewrites and two weekend freewrites. I made two additions to my series of Advice By Haiku for Steem Newbies. I sure wish I could have done a lot more, but this happens to have been a very busy week for me: medical issues abound, and I am to appear as the Duchess of York in Shakepeare's Richard III which opens this coming Friday, so rehearsals have been heavy. I take an acting class, I sing at a wonderful jazz club in Nyack NY, I garden my own little micro-prairie and tend a tiny flock of chickens, and now I count writing microfiction among my passions.
For that new wonder in my life, I have all of you to thank.
---
Maybe next I'll figure out how to provide better images, as Uncle Bruni insists I must do every time, but this one is a photo by my hand of a portrait of me and my husband by the marvelous Lydia Viscardi.