Halcyon curse (Freewrite)
The servant girl must be new to the palace, the princess doesn't remember her placid round face. The princess watches the lazy girl barely touching the furniture with her dust-feather, kicking a dead bug under the untouched bed. Who's to know if the room is dirty? The princess doesn't live here anymore and her father knows better than to disturb the empty bedroom.
The old king now spends his days drinking wine in the garden, under the shade of an old tree, where he hopes the princess won't see him. He knows about her visits, he's seen her many times perched on the windowsill of her old bedroom. He knows she's there to punish him, although he did all he could for her and she should be grateful for getting a second chance. But she's learned nothing of her misfortune and keeps to her prideful ways. Some nights the wine helps and he falls in a drunken stupor, and she leaves him alone then. It's the other nights he's scared off, the nights he wakes up in a sweat, desperate to escape the clutches of the nightmarish blue bird that bears the face of his dead daughter. There's no love for him left in her eyes, now her eyes are cold and vicious, and they scare him even more than her huge wings flapping madly and the plaintive caws. 'Why, why father?' she cries as she swoops through the air without ever stopping, beating her wings as if to get rid of them, to be freed from her curse. They both know that's not gonna happen. The gods have spoken and it's unfair of her to ask him why? What was he to do when it was her pride that angered the gods?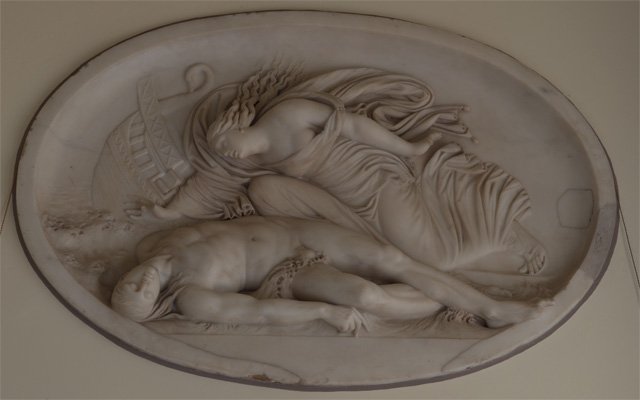 source
Or maybe it was his fault, he should have taught her better. While still a god, Aeolus has always been aware of his place in the hierarchy. Mastering the winds is a good skill to have, but he's just a minor deity, second-rank at best. Maybe he loved her too much and spoiled her and never taught her her proper place. And that foolish husband of hers, just another spoiled brat. What business did they have to flaunt their happiness in such a public way? How could they be so stupid not to know Hera will hear of it? The girl should have know the old frigid cunt would not tolerate such mockery. How dare two nobodies like Alcyone and Ceyx pretend to be happier than than mighty Hera and her sex-crazed husband? Of course the stupid cow went mad went she heard the silly princess pretend she is the happiest of the godesses. She saw everything form her gilded throne, she saw young Ceyx madly in love with his wife, she had plenty of time to spy on them while Zeus was away chasing other women. And Zeus, what can you expect of him? He has to give her something and if he cannot bring himself to love her, he gave her vengeance. Kill Ceyx, have the princess drown her sorrow in the seas that claimed her husband's life, whatever. If Hera is not happy, no one should.
It's so unfair of Alcyone to blame him he didn't stand up for her. He did his best, it was his pleas that swayed Zeus and had the stupid kids pried from death's eager claws. Live on as beautiful birds is better than be lost in Hades' kingdom, where there is no joy.
The blue bird caws from her place by the window as if she could read his thoughts. A mournful cry, full of despair. Her so-called life is worse than death, her lament says. Her beloved has no voice left to tell her sweet words of love, his laughter, their laughter is dead forever. What good does it do her to see Ceyx every day, know that his wonderful soul is trapped in a bloody bird's body with its ridiculous blue feathers? Each night that they huddle together in the hole that is their home now her body aches to feel his so close. She'd give anything for just one more embrace, to feel his sweet lips pressed against her hungry mouth, that is no longer a mouth. She'll never feel his lips slipping gently from her mouth, down her neck, finding their way to her breast? If she could kill herself, she would throw herself from the window of the bedroom they once shared. She's tried that many times, but her stupid wings won't let her fall.
It will be dark soon, Ceyx will be waiting for her. Poor thing, he's taken their misfortune much worse than her, there's nothing left of his fun and caring self in the pathetic little bird he's become. He's locked himself in silence, ashamed at the sound of his new voice. There will be no more I-love-yous from him, not ever. But at least they had them, once, and there's no way Hera can take away from her the memory of their halcyon days. She's had plenty of vengeance to fill her bitter heart, but she's never going to have the kind of love she envies in others. Not from her husband and not from others, because who'd be crazy enough to fuck Zeus' wife?
There's one last cry, almost joyful, as the bird who used to be his daughter takes off, but she'll be back to haunt him. She always is.


Story written for @mariannewest's freewrite challenge. This story combines today's prompt: 'window' with the one that I missed yesterday: 'Halcyon days' and is basically my take on the Greek legend the phrase is based upon.
Check out her @mariannewest's blog for the daily prompt and join our freewrite community.
Thanks for reading!