Ghosts (freewrite)
The great halls ring hollow under the hesitant steps. It gives the man no pleasure to be here and he rarely visits nowadays. Sometimes, though, he gives in to the gnawing doubt in his soul. Maybe everything is not lost. Maybe something can be salvaged.
But they are all dead, frozen in time, cobwebs hanging from broken limbs, begging for mercy. Like the old man with the fist clinging to the iron bar that no longer rattles under his grip. How long has he been there, behind the rust-eaten bars? If only there was a sparkle of life left in him he could break free, but it's been too long.
The man stands in front of the prisoner and he remembers. He remembers the days when he use to feel something for the lonely man growing old in his cell. He knew all his secrets back then, but now the face locked in a soundless scream means nothing to him.
It's been so long he's been here the dust has settled on his footprints, hiding the way that would see him through the maze of empty rooms. Which way should he go? Right or left? You'd think it doesn't matter, but it does, 'cause there are things he'd rather not see. And faces. There are more than a few faces he's forgotten about, God only knows why they've been sentenced to rot in here. He should know too, but he doesn't and deep down he's sort of ashamed of all the lives that were left unlived because of his… because of his what?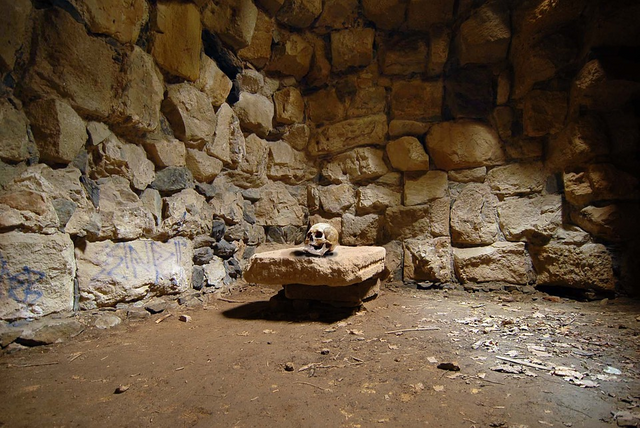 source
And there she is, just his luck to stumble upon the little girl's room. At least she was little when he locked her up in this room. As she is now it's impossible to say how old she is.
You'd think he's crazy, locking people up and forgetting about them, but that's not true. He never meant to do that, he was going to save them, at some point. The girl in her high chair died hunched over her diary, a diary whose pages are now black, covered in the grime that corrupts a house of death where no one dares to venture. It would be interesting to read her last words, although the old man knows they don't really matter. The girl was mad, really really mad and writing was her only defense against the nameless demons that crawled at her feet. Even in death her feet rest on the wooden platform of her high chair, so they would not touch the floor. He remembers the day he brought her the chair as she would not stop screaming. She felt safe up there, where they could not get to her.
Such a pity he forgot all about her. He could have told her the door was not locked and the rats were not real. But he didn't and perhaps he enjoyed the thought of the girl trapped in the room fighting her worse fears with her meaningless words. Too late, now. Her face is fixed and yellow like that of a demented ceramic doll nobody ever plays with.
'I'm sorry, little girl', he murmurs as he shuffles his feet to the next room.
It's very dark inside and there's only the faint glow of a ghostly old man bent over the bed where the only friend he had left in the world died.
He was there when it happened and he remembers that one howl of pain of the man suddenly leftfinding himself all alone in the world. He promised he'll help that desperate soul, there was still hope, he could have delivered him from this hell. One day he was going to come back and put him on a boat, to go out and find his friends, he even had family waiting on the continent if he remembers correctly, but he forgot. So long he's been waiting in this room his body is starting to disappear, it's disintegrating, atom after atom breaking finally free. If only he'd vanish completely, if they'd all dissolve into thin air, dust to dust.
That is not possible, it's his fate, his punishment if you want, to wander the halls and face all the ghosts. He can never be free, like they were never set free and whose fault is it?
One day he'll get lost. One day he won't make it back to the gate and he won't make it back home, the small room he calls home, where tea is waiting for him.
The thought scares him and he quickens his step, opening and hastily closing doors, leaving all the ghosts to rot behind. He finds his way back to the little girl with the diary and finally to the man behind the crumbling bars. There it is, the door to safety.
His heart is beating fast as he settles in the old chair, with the many pillows to sooth his aching back. He spends many hours in this chair, although he hasn't touched the typewriter on the desk in many years. The stack of paper set neatly beside is all covered in soot. It used to bother him, but not anymore. He won't be needing it anyway.
One day, they'll find him dead in his chair. There will be no one left to visit all the ghosts, no one will even know they exist because he never wrote their stories.
Thanks for reading