Building My Own Gun (Short Fiction)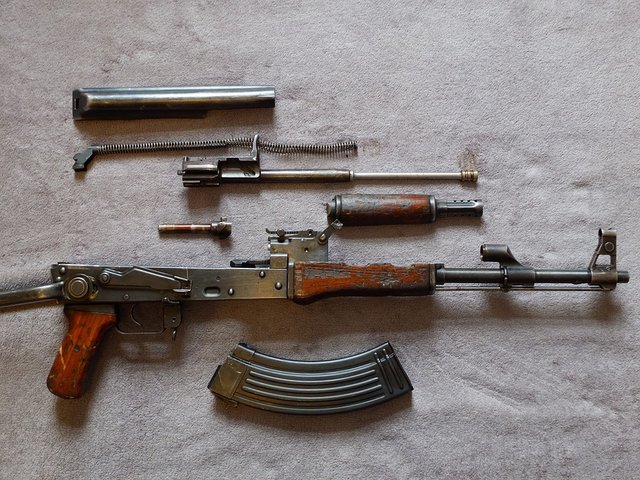 Clunk!
The sound of metal echoed across the room as the two tubes hit each other. I was carrying two rifle barrels... well not really since the barrels were larger than conventional rifles.
I had been planning to build my own gun for a couple of months but was too lazy to actually work on it. I had sketched it out, made specific measurements, chose the type of wood and metal needed for the project. I first added a scope but discarded the idea. It would've been overkill.
Today, I had an extra surge of energy that I allocated for the project. After breakfast and coffee, I went to the forest to find a good piece of wood. After loading it on back of the pickup, I went to the junk shop to try my luck with a large rifle barrel.
The owner was sitting on an old beach chair, drunk at half-past eight in the morning. He mumbled some words I couldn't understand and pointed at a small shack at the end of the compound. Inside the shock was a mess of metal, rubber and what not. "Junk ard at it's best!" I grumbled to myself. I was starting to regret the expedition I enthusiastically embarked this Sunday morning.
It took me a good two hours before I found two barrels with an adequate size. It was rusty and a bit longer than desired. I bought it anyway. It was midday when I pulled into the driveway of my home. The wife had prepared some lunch so I sat down and took a breather which lasted until late afternoon. From then, I was working on the project.
Thirty minutes passed seven, the gun was ready. I brandished the weapon as I entered the kitchen. My wife was partly surprised and partly amused. "So, does it work?", she asked as she tried to hide her smile. "'course it does!". I shot back quickly.
"Show me then."
I went to the far end of the kitchen, loaded the gun, and aimed at the wall. Without hesitation, I fired.
Poooohk!
The bullet hit the wall and fell on a plate situated on the counter below. My wife rushed to the wall and inspected the damage. After a short pause, she burst out laughing.
"Yep, this will do. You just invented another ridiculous way to make mashed potatoes!"
---
This was supposed to be an entry to @mariannewest's five-minute freewrite prompt but the prompt was set almost a week ago and I don't think it qualifies anymore. :D
Thank you for reading the story. More to come soon.
Photo credits to Pixabay.
---
Tired of drifting at sea? The Isle of Write welcomes thee!