5 min Writing Prompt "Round is a Shape" #freewrite serial Chapter Thirteen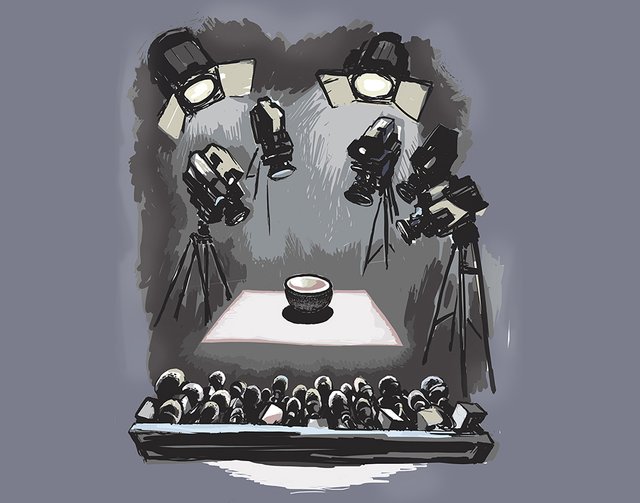 The tortoise leads him from the beach and up a path through the jungle, eventually coming to a large grass hut. With a motion of it's head the tortoise instructs him to go inside. He bends down to move through the doorway of the hut, stepping cautiously into cool darkness and leaving the tortoise to stand watch outside.
A bright flash suddenly erupts before his eyes. Once his vision clears, he is able to see the Bowl.
The Bowl sits on a platform at the centre of several cameras and stage lights. A bank of microphones fronts the stage. As he approaches, some of the smaller cameras flash and whirr. He stops and waits, wondering what to do next.
"Round is a shape," says the bowl, in a voice that crackles feedback through the microphone array. The cameras buzz and click, spinning film within their guts.
The bowl seems to stare deep into him. "In shirt pocket. There is offering for us. Come place offering within round."
He reaches into his shirt pocket and pulls out a piece of paper. The drawing of the duck - he's kept it, somehow.
Slowly he climbs the steps up to the bowl and gingerly places the drawing within its rounded lip. The bowl hums soothingly as the cameras record the event. After a moment the bowl speaks again.
"Go forth to be lost for own good."
---


Thirteenth chapter in an ongoing serial based on @mariannewest's daily #freewrite writing prompts. Here are the previous chapters listed below:


And here is the link for Chapter Fourteen.


Written in five minutes from the writing prompt, "round is a shape" as part of the #freewrite exercise. Image is also by me, an older drawing that I have for sale as a print here. It was a lot of fun finding a way to match this image to this freewrite, though I had to build up to it from the last prompt as "bowl". You can view this current prompt here and check out the other entries; lovingly shaped word by word! Thanks to @mariannewest for creating and running this daily well rounded writing challenge.
AND HERE IS A THING
If you've enjoy my freewrite and feel like reading something a little longer, I've recently posted a story of mine called "Winds of the Earth"... This was originally the first chapter to a novel I was going to write, but it never got off the ground. So I've decided to present it as a stand alone story, and would greatly appreciate any feedback. Does it hold up as a story on it's own? Or should I continue with it as a full length novel?