THROUGH THE DOOR (5-minute Freewrite)
a 5-minute Freewrite by A.E. Jackson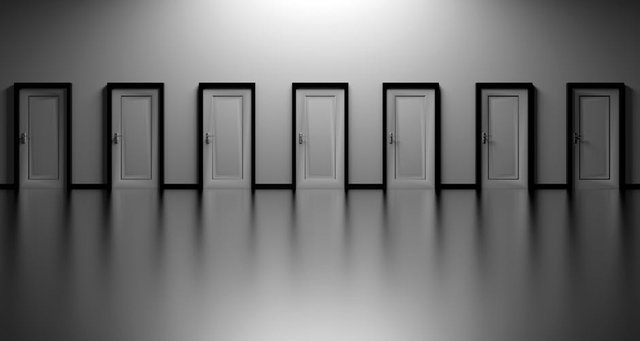 Image source
The white door before him opened to a bright and sunny day.
He stepped through and shook his wet head of hair. The new environment had immediate effect as it had done before.
The blazer now starch crisp and dry as the first day it was sown together. His tussled brown locks tumbling over ears and eyes.
He strode forward and to the task at hand.
It was soon complete. He knew it was done because dark clouds had formed overhead.
Thunder rolled in the distance. A streaking bolt of lightening cut across the horizon near the door.
He walked on as rain began to fall. First in a mist, but soon in a torrential downpour.
The cold water drenched his blazer, through to the clean white dress shirt below.
His slacks whispered as they slid together. Mud pooling on his shiny dress show soles gathered, and fell away in large clumps.
As he opened the door, the hinge creaked.
He walked a few paces, and reached for the door knob on the white door.
T H E E N D
© 2018, A.E. Jackson. All rights reserved
===
If you would like to find out what freewriting is all about, read the original post here.
If you are enjoying my work -
Upvote my posts through Steemauto and add the other people and groups you would like to support. Should you find this post after the 7 day period and wish to throw me an upvote, please consider upvoting a newer post of mine. Thanks!
Discover the joy of browsing Steemit faster and easier -
eSteem Surfer and eSteem Mobile makes browsing Steemit a complete joy on desktop and mobile. Everything works faster and easier with the applications. My personal favorite features - save Drafts, and Schedule posts - mind blown... Enjoy eSteem for iPhone, iPad and Android, as well as PC, Mac or Linux devices today!
New to Steemit? Do you need Steem to get started?
To participate in Steem Basic Income, add a Top Level Comment below about your interest. I would be honored to Sponsor you.Thanks!
Steem Basic Income is a social experiment to bring a basic income to as many Steemians as possible. Members join by sponsoring others into the program. Steem Basic Income is delivered through providing regular upvotes to member content. Complete details...