#TEAM-COSPLAY - Fluff power part 2 [FR/EN]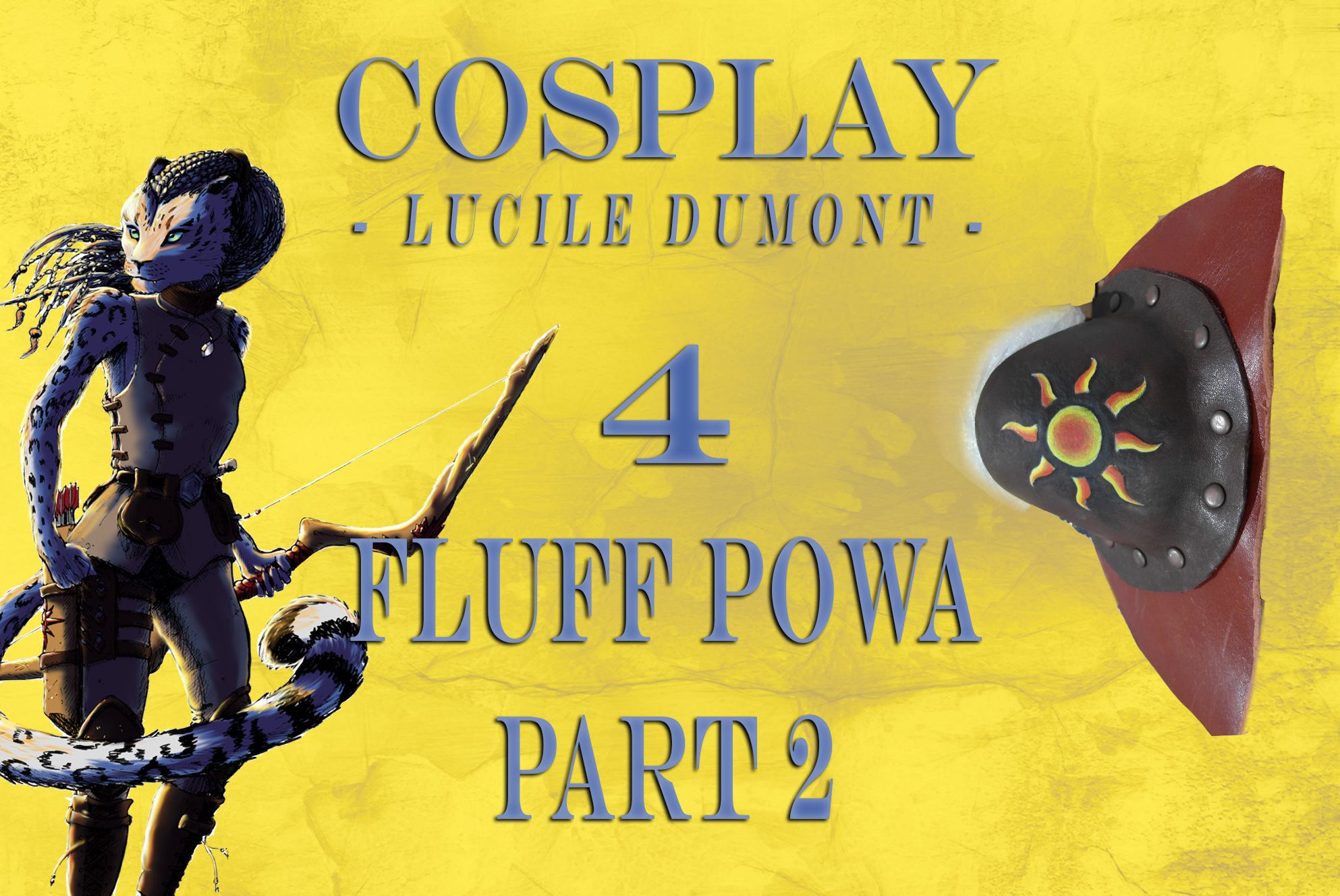 Bonjour à tous !
Hi everyone !
Ce weekend entre les cartons de déménagement et les repas de famille j'ai trouvé le temps de fabriquer la pièce en cuir qui permet d'attacher la queue de mon cosplay.
Articles précédents :
1 -
Accessoire : fiole
2 -
Vêtement : veste
3 -
Fabrication de la queue
This weekend between the moving boxes and the family meals I found the time to make the leather piece to tie the tail of my cosplay.
Previous posts :
1 -
Props : vial
2 -
Wearing : jacket
3 -
Tail

Matériaux / Materials
Cuir / Leather
Fil de lin poissé / Poissed linen thread
Rivets
Peinture accrylique / Acrylic painting

WIP
Pour déterminer la forme de la pièce de cuir, je réalise un patron en cellophane et en scotch, que je découpe ensuite pour en faire des morceaux que je peux mettre à plat. Ensuite, plus qu'à les reporter sur une pièce de cuir, découper et rassembler avec du fil de lin poissé.
To determine the shape of the leather piece, I make a pattern in cellophane and scotch, which I then cut to make pieces that I can flatten. Then, more than to transfer them on a leather piece, to cut out and to gather with thread of linen.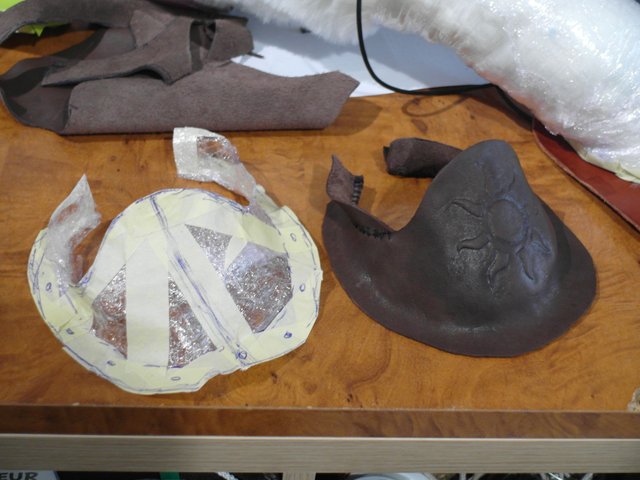 J'étais sûre d'avoir pris des photos lors du repoussage du cuir mais je ne le retrouve pas... je suis vraiment désolée.
Le repoussage s'effectue sur cuir mouillé, en martelant la matière avec des "matoirs".
I was sure I took pictures when the leather was spinning but I can't find it... I'm really sorry.
The spinning is carried out on wet leather, by hammering the material with "matoirs" (I don't know the term in english, sorry).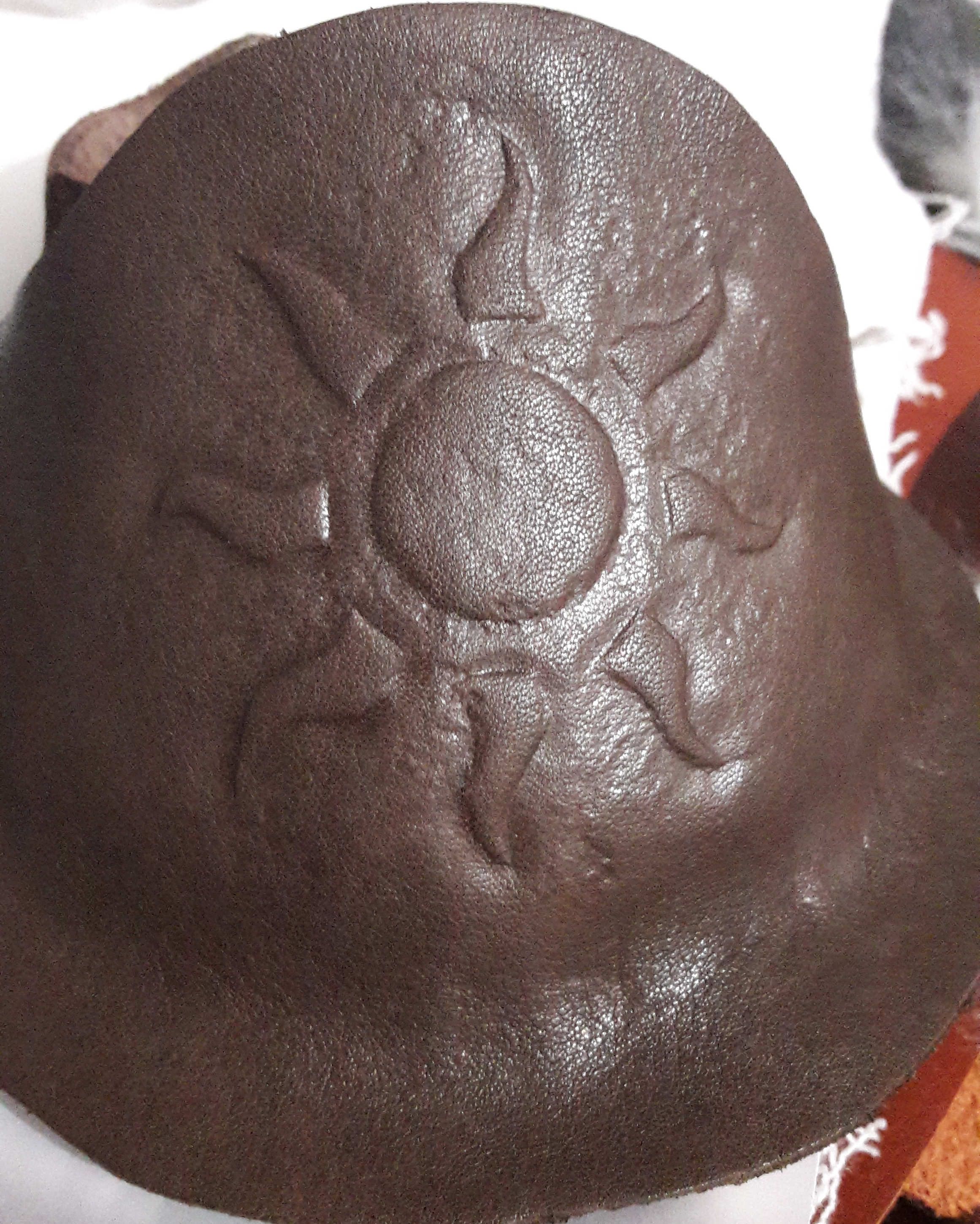 Peinture / Painting
Normalement, le cuir se teint avec des teintures à l'eau ou à l'alcool.
N'ayant pas ces teintures, et travaillant avec du cuir déjà teinté (des chutes que j'ai récupérées en vrac), je réalise ici ma peinture à l'acrylique, comme sur n'importe quel support souple.
Leather is normally dyed with water or alcohol dyes.
Not having these dyes, and working with leather already dyed (scraps that I recovered in bulk), I realize here my acrylic painting, as on any flexible support.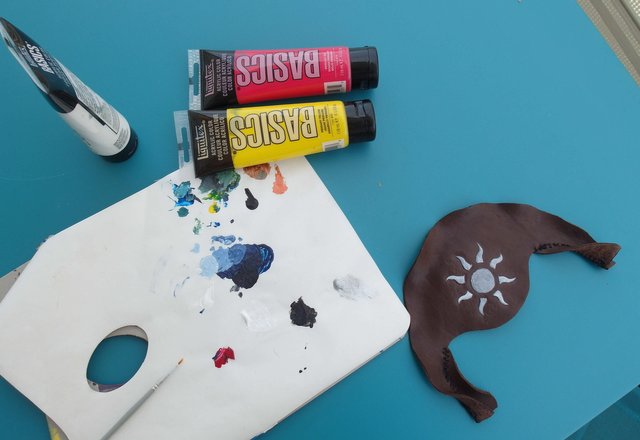 Après une première sous-couche de blanc, je passe une seconde sous-couche jaune pâle et orange, avant de passer ma teinte définitive en jaune primaire et rouge.
Enfin, je viens ombrer les bords de mon dessin avec du noir teinté de bleu (couleur complémentaire du orange, teinte dominante du dessin) très dilué.
After a first white undercoat, I apply a second pale yellow and orange undercoat, before changing my final shade to primary yellow and red.
Finally, I come to shade the edges of my drawing with black tinted with blue (complementary color of orange, dominant color of the drawing) very diluted.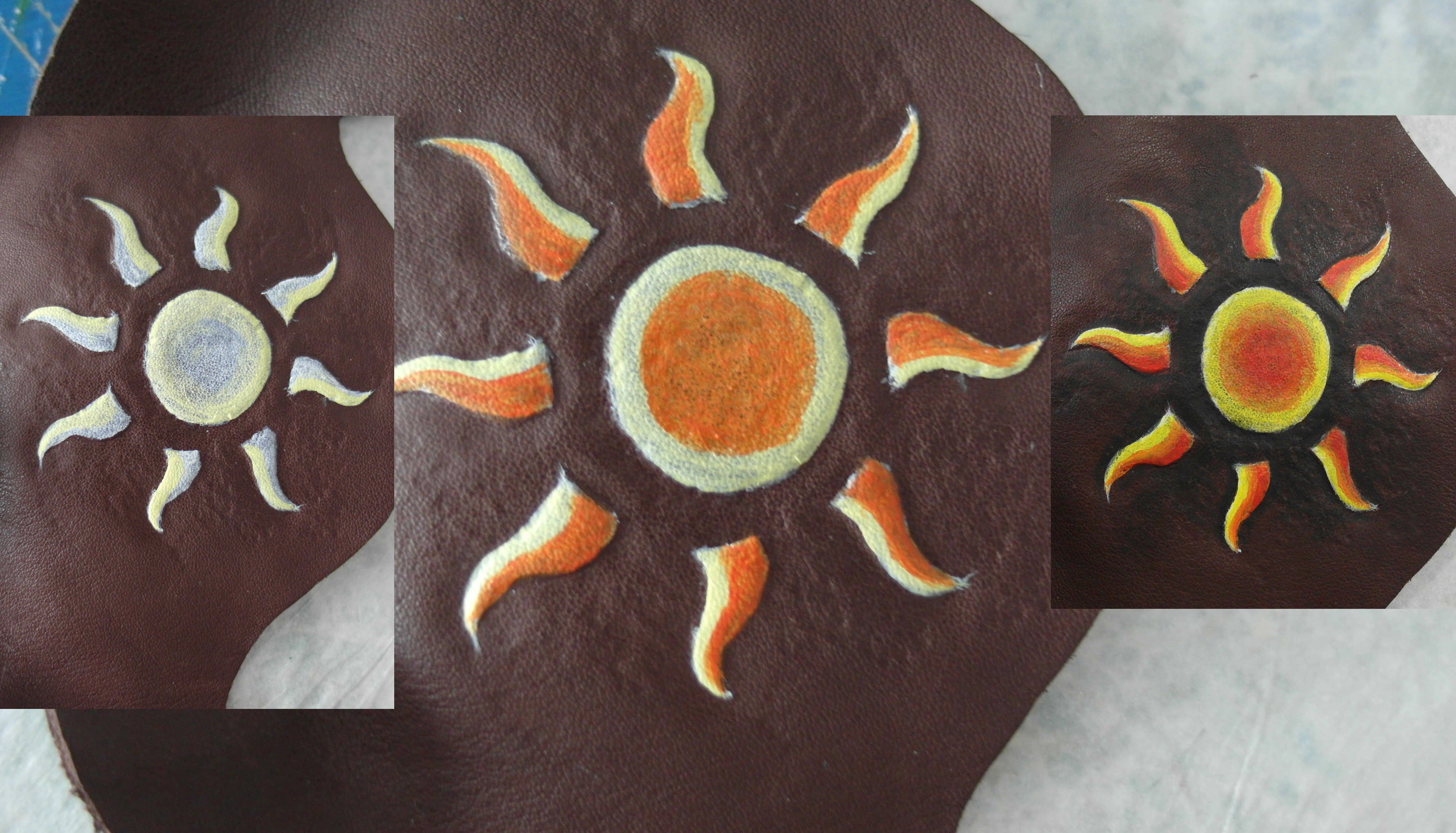 Fixation / Mounting
J'utilise l'encollage au néoprène en complément des rivets.
La colle néoprène est une colle très puissante tant qu'on suit bien les précautions d'utilisation :
encoller les deux faces (propres)
attendre que la colle sèche (quelques minutes)
appliquer les deux faces et appuyer bien fort (un petit coup de marteau si possible, sinon bien appuyer avec les doigts)
éviter d'essayer de fixer surfaces souples sur surfaces dures et lisses : cela ne fonctionnera pas.
I use neoprene gluing in addition to rivets.
Neoprene glue is a very powerful glue as long as the precautions for use are followed:

glue both sides (clean)
wait for the glue to dry (a few minutes)
apply both sides and press hard (a small hammer stroke if possible, otherwise press well with your fingers)
avoid trying to fix soft surfaces on hard and smooth surfaces: this will not work.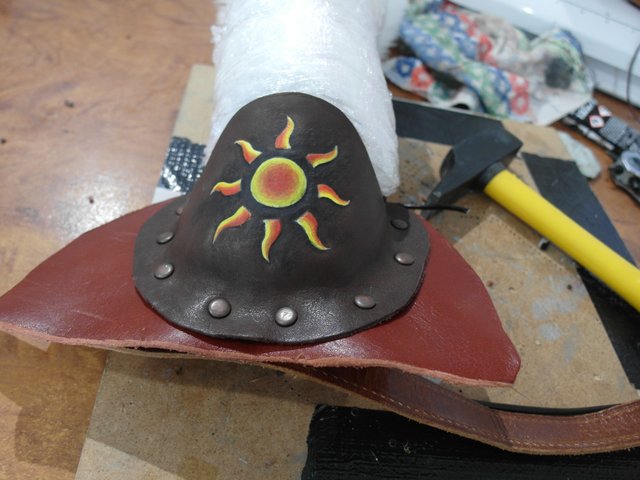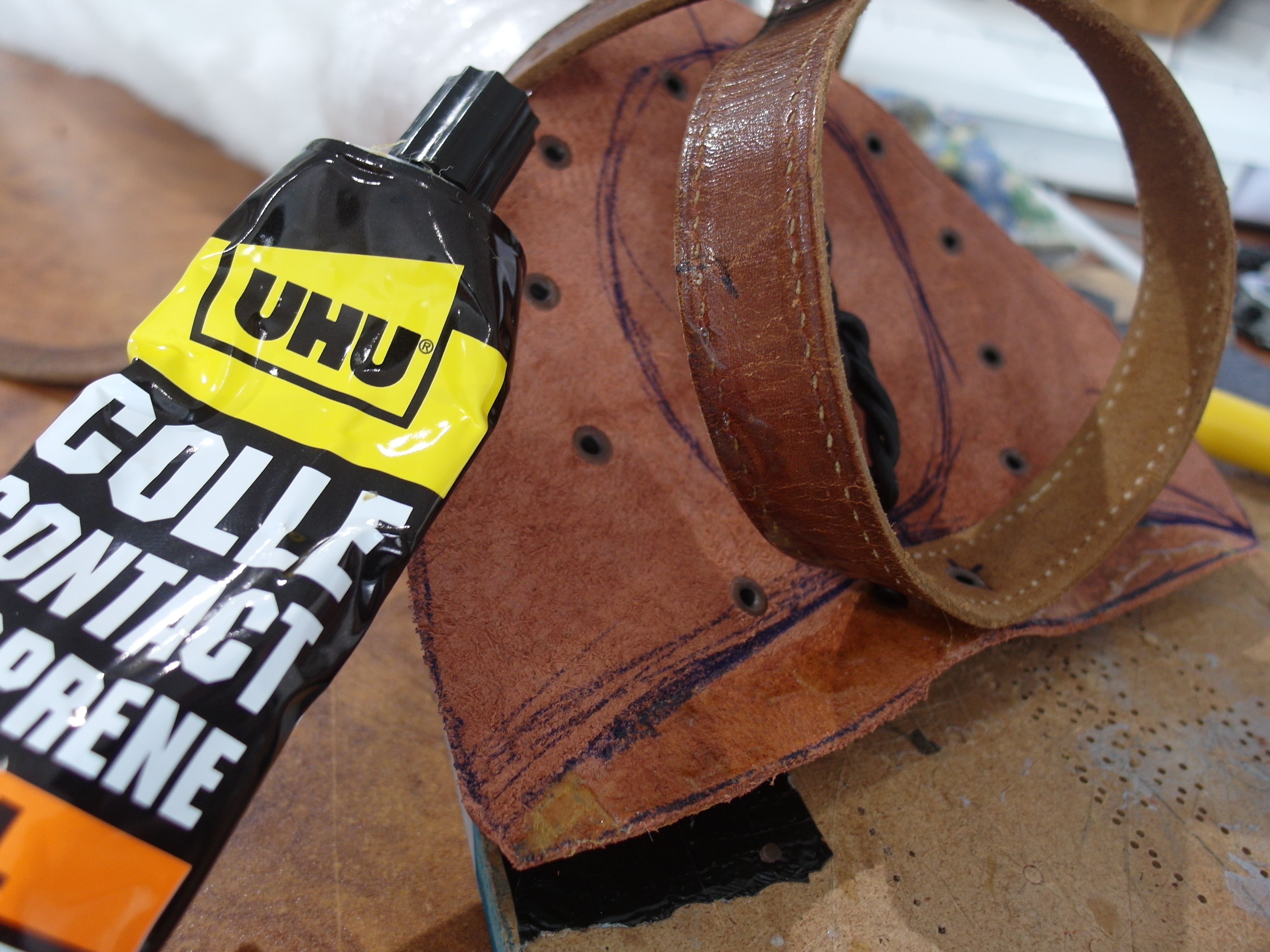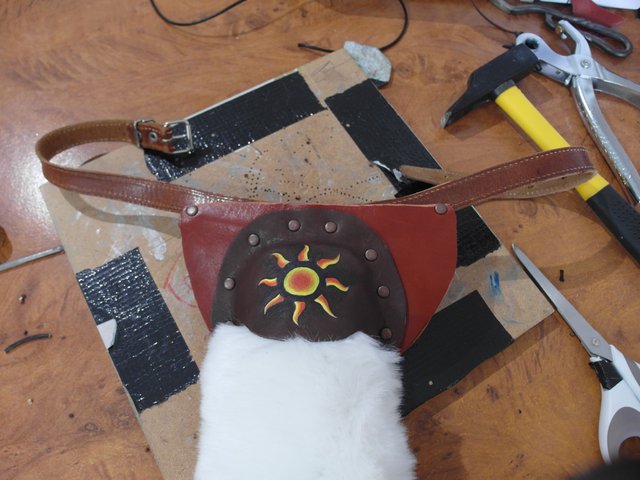 A l'arrière du bazar, je viens encoller une nouvelle pièce de cuir, dit "de doublure" car très fin : il sera en contact avec ma peau, c'est juste par confort.
At the back of the bazaar, I come to glue a new piece of leather, called "lining" because very thin: it will be in contact with my skin, it is just for comfort.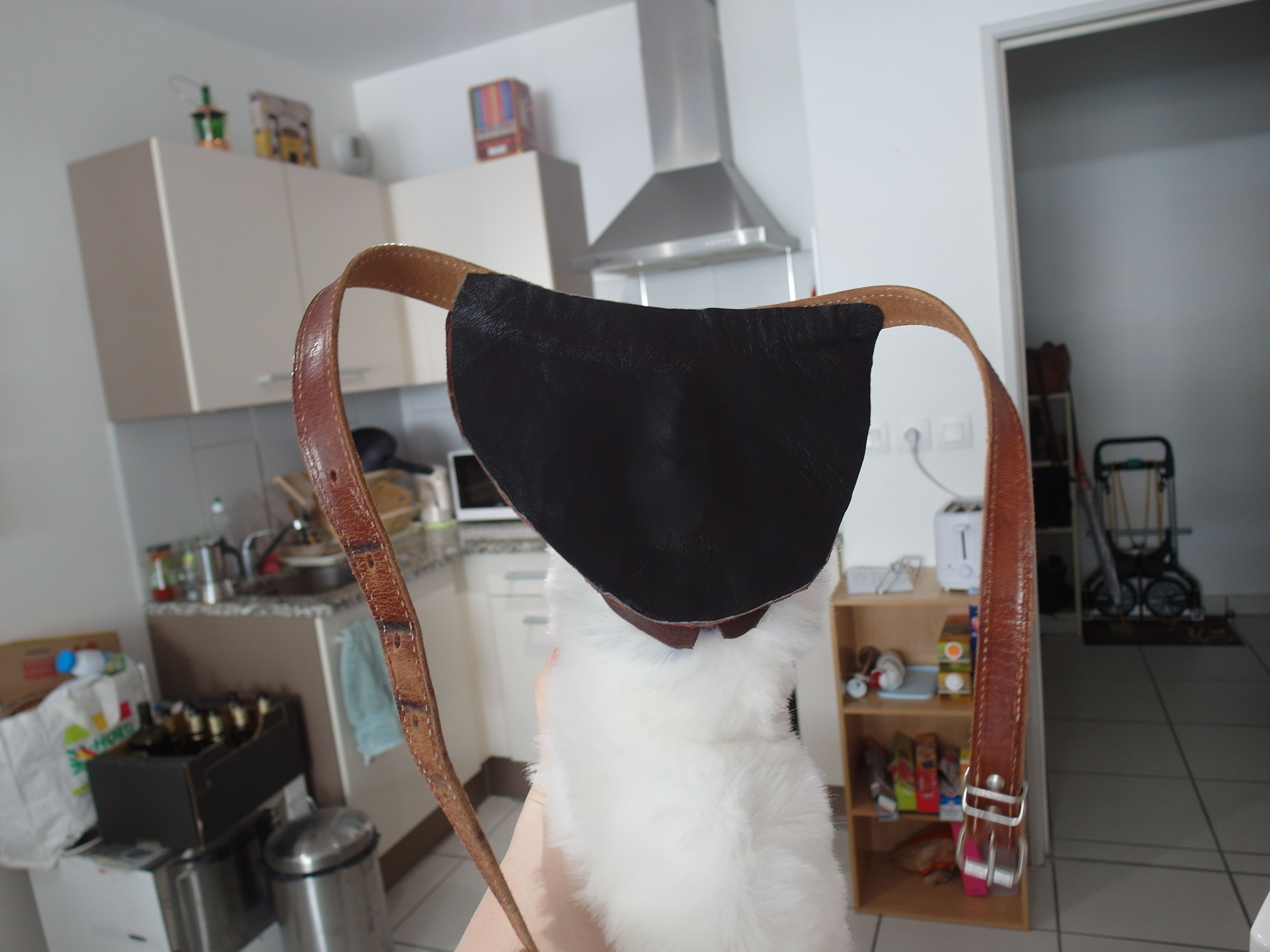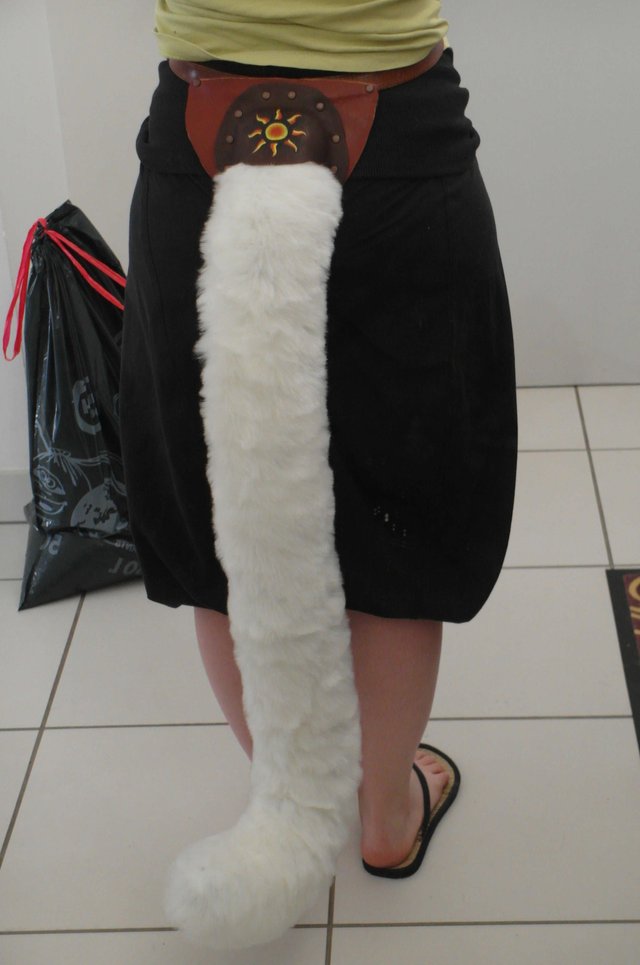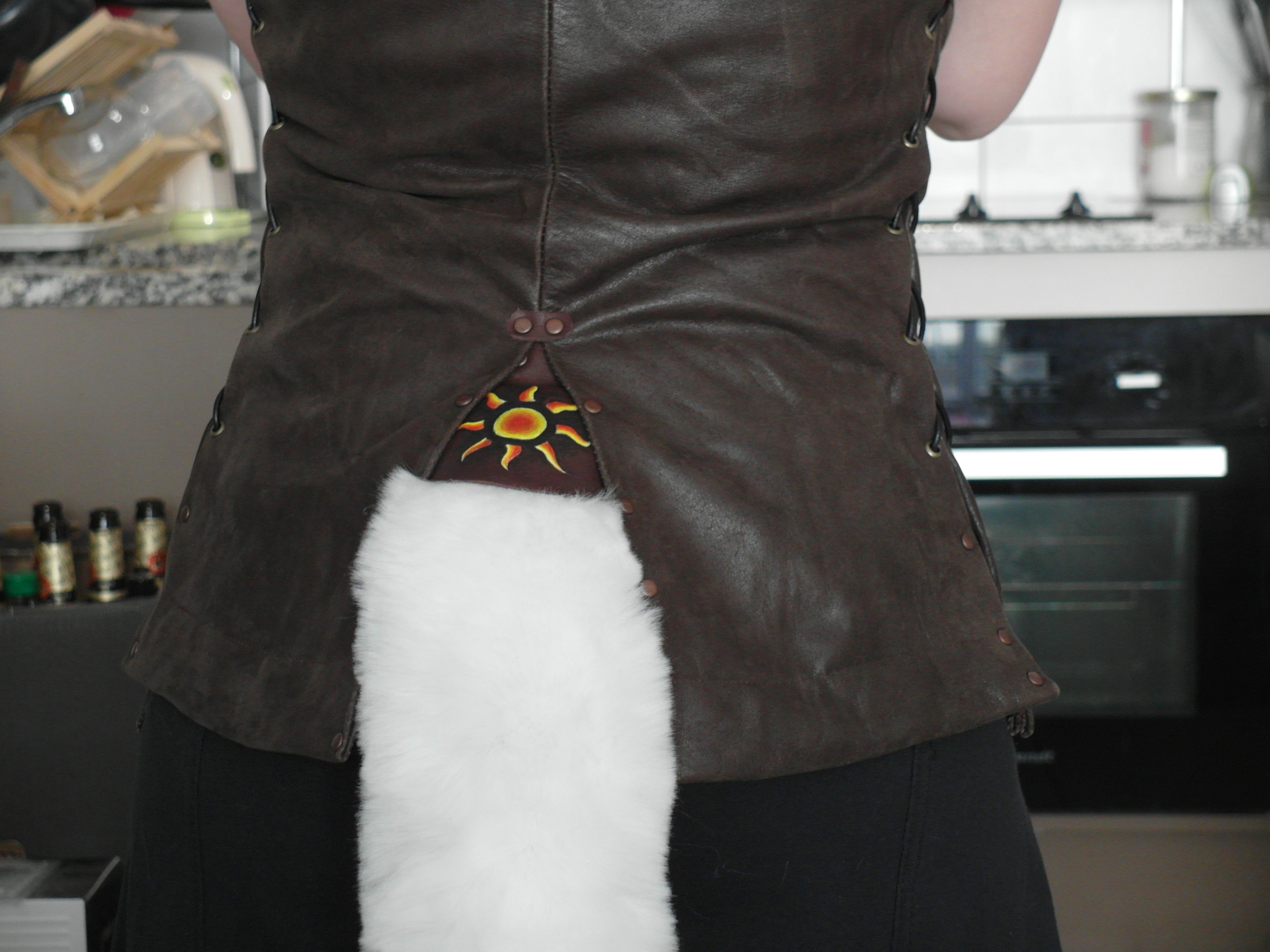 Et voilà :D !
Pour la peinture de la fourrure il faudra attendre un petit peu car je suis (encore) en salon du livre le weekend prochain, et les deux suivants seront consacrés (encore) à un déménagement et à de la pose de papier peint (youhouuuu).
N'hésitez pas à upvoter, resteemer et surtout commenter si vous avez aimé :) !
Merci d'avoir lu, et du coup pour la suite il faudra patienter un peu ;) !
There you go :D!
For the painting of the fur it will be necessary to wait a little because I am (still) in book fair next weekend, and the two following ones will be devoted (still) to a move and to the installation of wallpaper (youhouuuu).

Feel free to upvote, resteem and especially comment if you liked :) !

Thanks for reading, and so we'll have to wait a little while for the rest ;) !
Oreille Pointue