#TEAM-COSPLAY - TUTO Props / Accessoire : Fiole [FR/EN]
Bonjour à tous !
Hi everyone !
Je démarre tranquillement mon costume de Peluche (mon archère empoisonneuse à tête d'once) avec la customisation du bouchon d'une de ses fioles de poison.
I quietly start my plush suit (my ounce-headed poisoner) with the customization of the cap of one of his poison vials.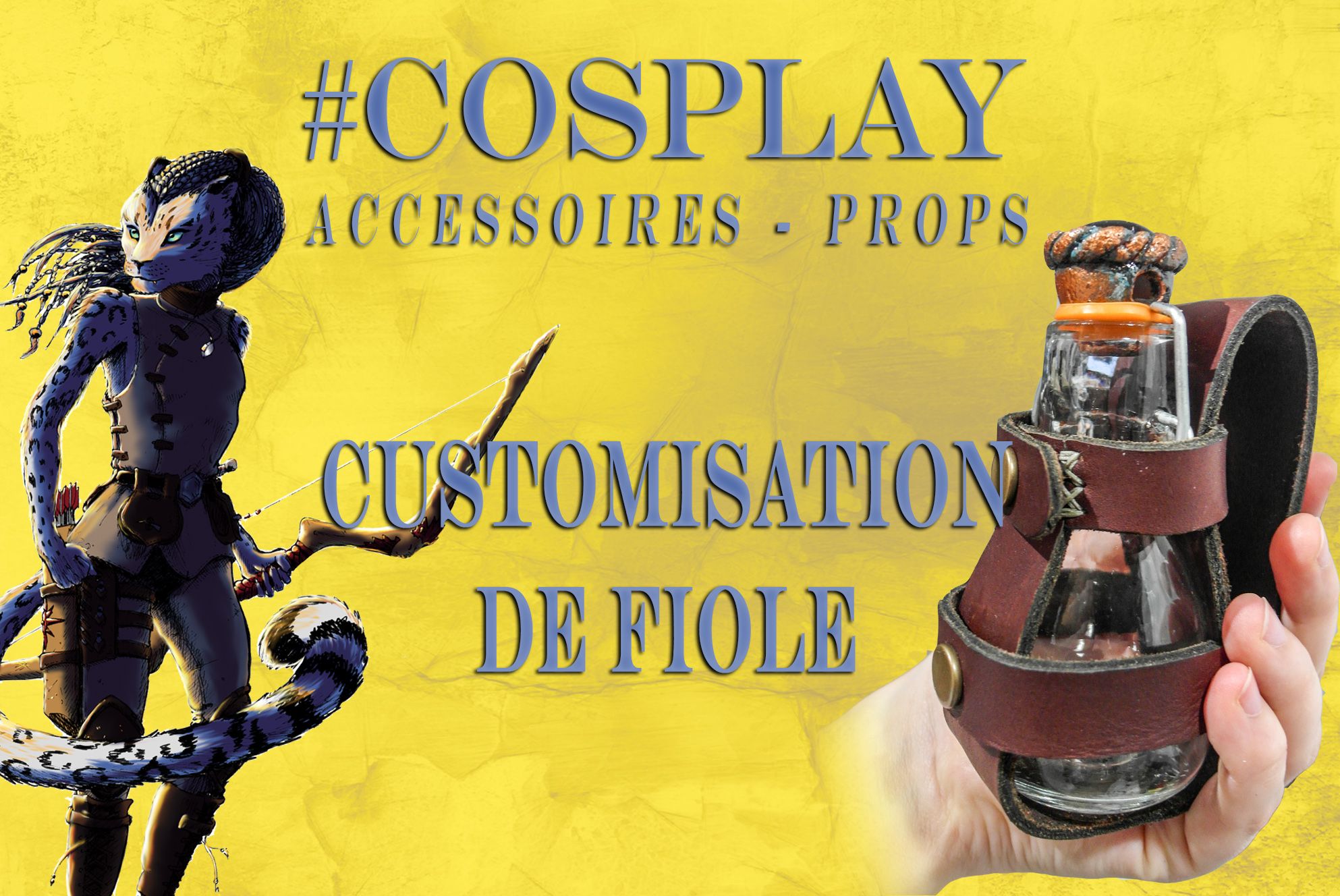 Matériaux
Bille plate en verre / Flat glass bead
Petit miroir rond / Small round mirror
WORBLA :
Peinture / Painting ACRYLIQUE Liquitex
Vernis satiné / Satin varnish Liquitex

WIP
1 - Collage de la perle / Sticking the glass bead
Le miroir va réfléchir la lumière passant dans la perle et lui donner un côté lumineux (même technique utilisée sur les strass vendus dans le commerce, si vous regardez bien : il y a toujours une couche réfléchissante à l'arrière).
La colle utilisée est de la colle silicone : transparente et épaisse, elle va permettre une bonne adhérence de la perle (surface irrégulière) sur le miroir (surface plate).
The mirror will reflect the light passing through the pearl and give it a bright side (same technique used on rhinestones sold on the market, if you look closely: there is always a reflective layer at the back).
The glue used is silicone glue: transparent and thick, it will allow a good adherence of the pearl (irregular surface) on the mirror (flat surface).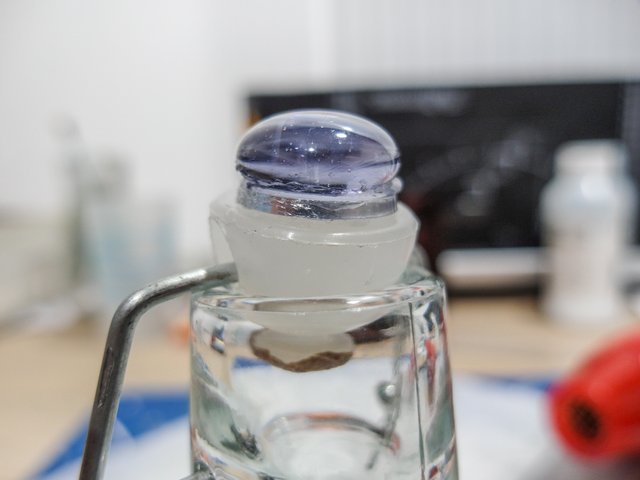 2 - Habillage en worbla / coating with worbla
Le worbla est un thermoplastique. Il peut s'utiliser avec :
un décapeur thermique (lourd, cher, mais super puissant)
un sèche-cheveux (guère pratique, peu résistant / si pas cher = ne sera pas assez chaud, si cher / ben... ça va vous coûter un bras)
un embosseur (demandez en magasin de loisirs créatifs le "truc pour faire gonfler la poudre", si si) : 20 €, super maniable, chauffe à la bonne température.
J'utilise donc un embosseur :)
Après avoir découpé mes morceaux de worbla à la bonne taille, je les colle et les moule sur mon bouchon.
Les torsades sont réalisée en faisant deux boudins de worbla et en les enroulant l'un sur l'autre.
Worbla is a thermoplastic. It can be used with:

a thermal scraper (heavy, expensive, but super powerful)
a hair dryer (not very practical, not very resistant / if not expensive = will not be hot enough, if expensive / well... it will cost you an arm)
an embosser (ask in the craft shop for the "tool to make the powder swell", yes, absolutely): 20 €, super handy, heats to the right temperature.

So I use an embosser :)
After having cut my worbla pieces to the right size, I stick them and mould them on my cork.
The twists are made by making two strands of worbla and rolling them one on top of the other.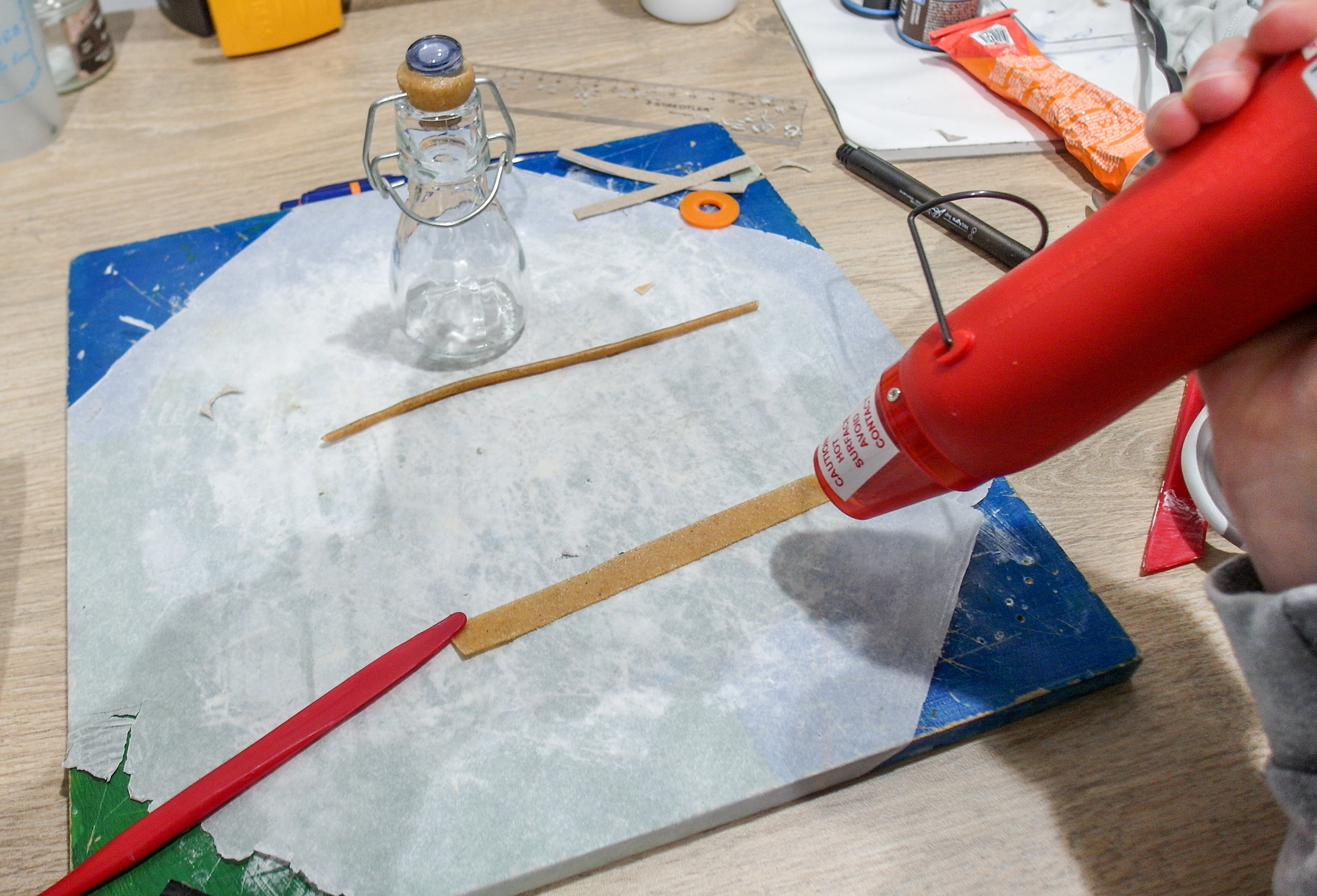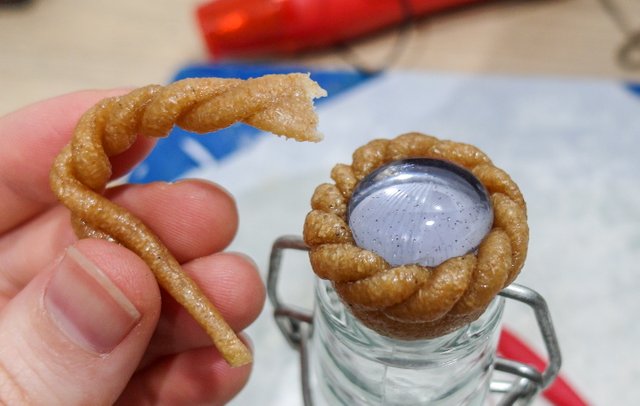 3 - Peinture type CUIVRE USE / Painting style OLD COOPER
1 - Couche de BASE (Bronze) -> pour donner le ton général. Ici, je passe une seule couche car la teinte est proche de mon worbla.
2 - Ombrages VIEIL OXYDE (Bleu / Jaune / Noir / Blanc / Bronze) -> pour renforcer le contraste et donner l'impression que mon bouchon est très très vieux, l'oxyde sombre a été frotté, s'est encroûté dans les anfractuosités.
3 - Détails OXYDE FRAIS (Bleu / Blanc -> dans le mélange du dessus) -> pour donner l'impression que la fiole sert encore, puisque l'oxyde blanc / bleu résulte de l'oxydation récente du métal.
4 - Patine CUIVRE FROTTE (Cuivre) -> encore une fois, pour montrer que la fiole sert : le cuivre pur apparaît sur les zones fréquemment frottées par l'utilisateur.
1 - BASE Layer -> to set the general tone. Here, I only apply one coat because the tint is close to my worbla.
2 - OXIDE OLD Shades (Blue / Yellow / Black / White / Bronze) -> To enhance the contrast and give the impression that my cap is very very old, the dark oxide has been rubbed, embedded in the crevices.
3 - Details FRESH OXIDE (Blue / White -> in the top mixture) -> to give the impression that the vial is still used, since the white/blue oxide results from the recent oxidation of the metal.
4 - COPPER SCRUB (Copper) patina -> again, to show that the vial is used: pure copper appears on areas frequently rubbed by the user.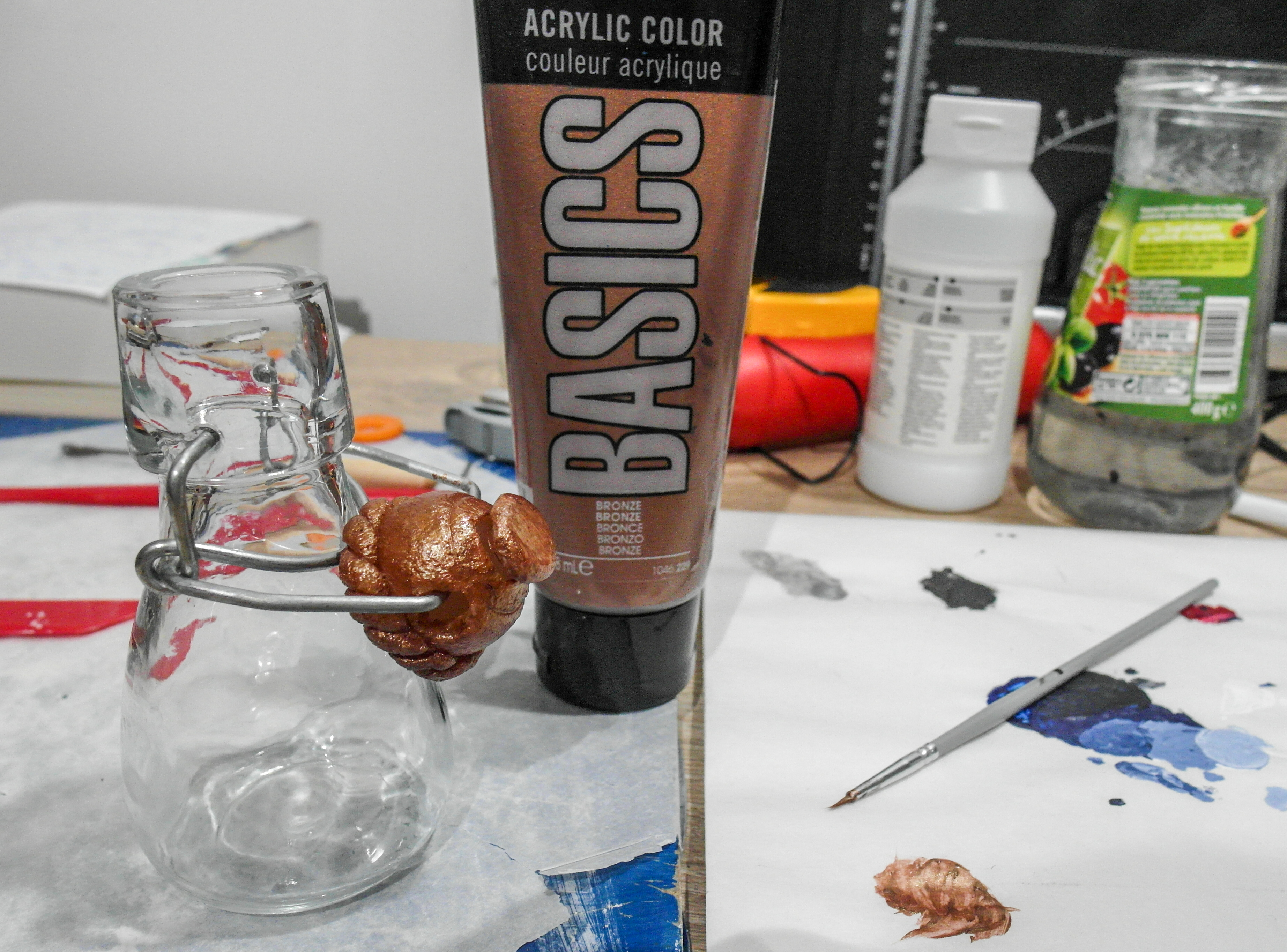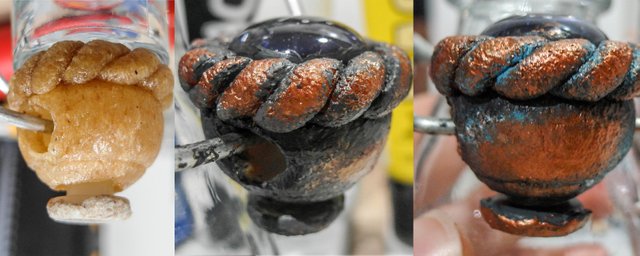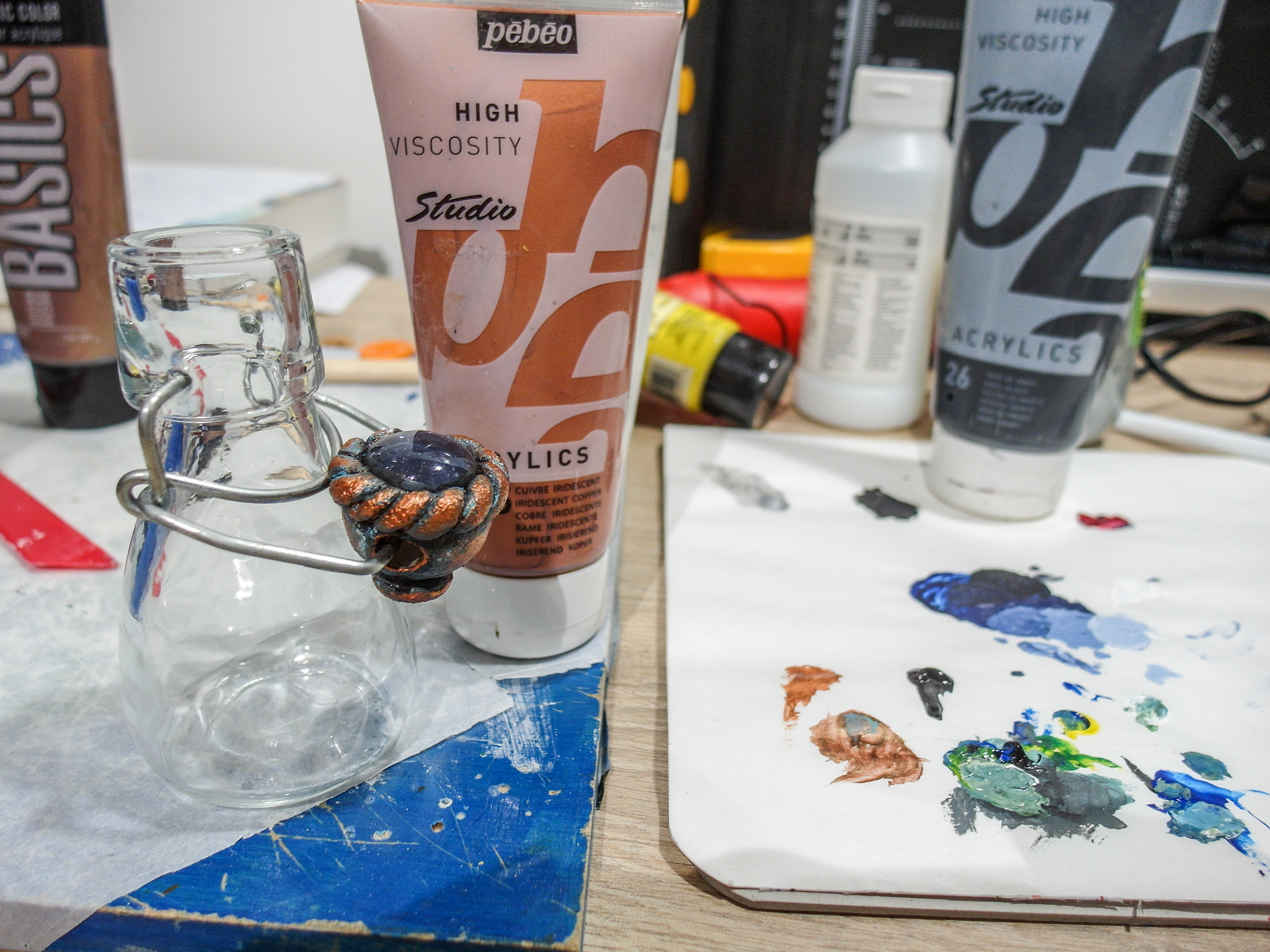 Lorsque j'ai fini ma peinture, je gratte sur la perle les éventuels coups de pinceaux.
When I finish my painting, I scratch any brushstrokes on the pearl.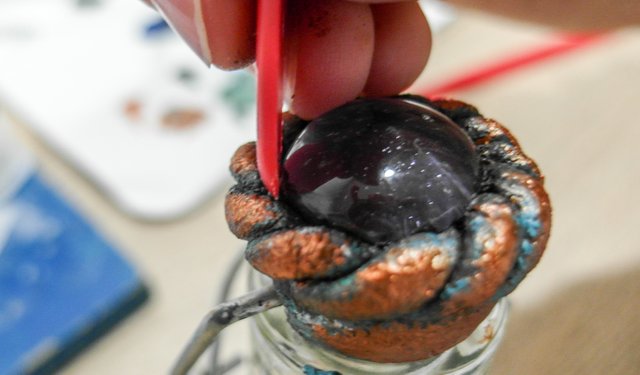 5 - Vernis / Varnish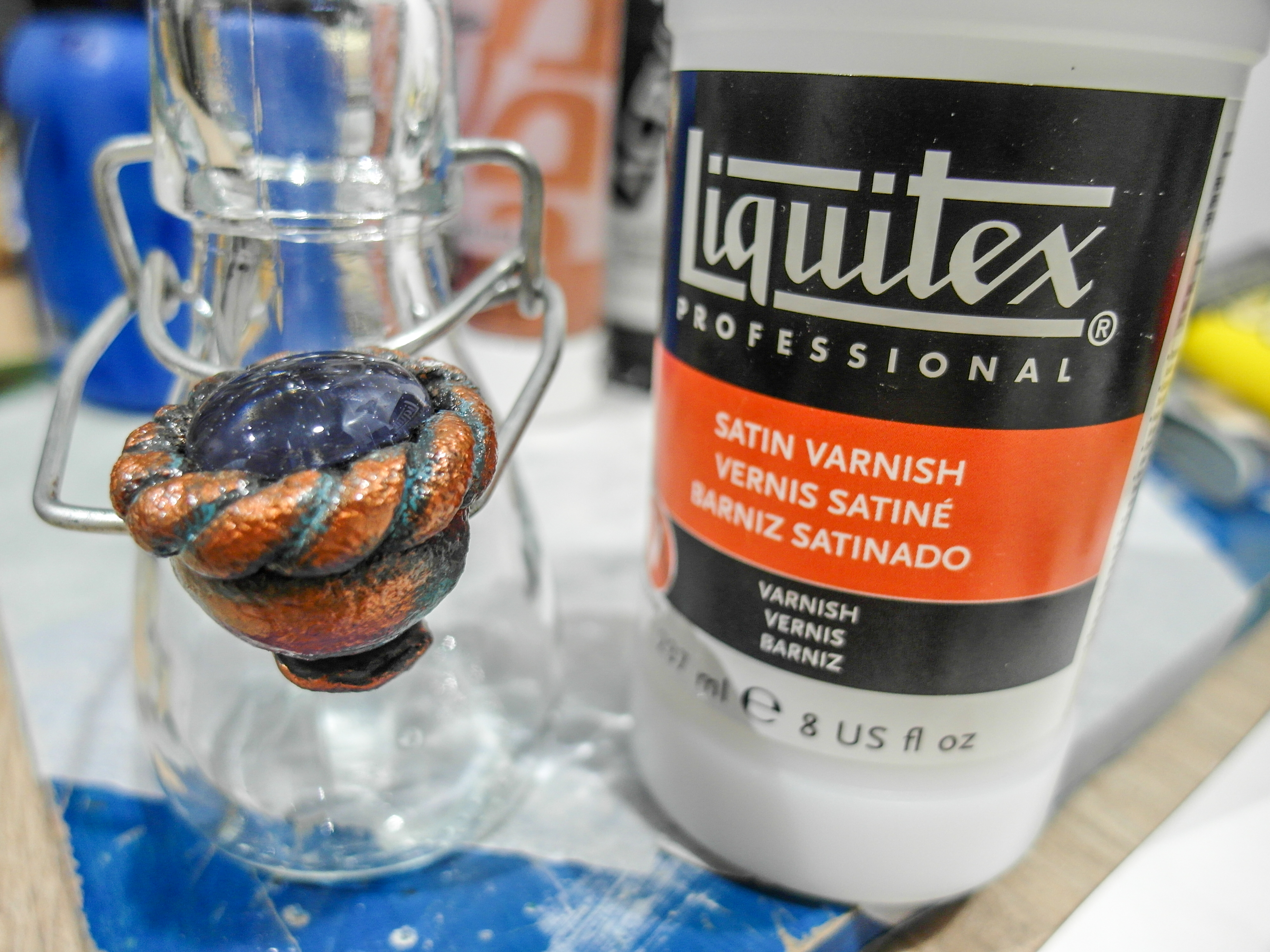 Final Prop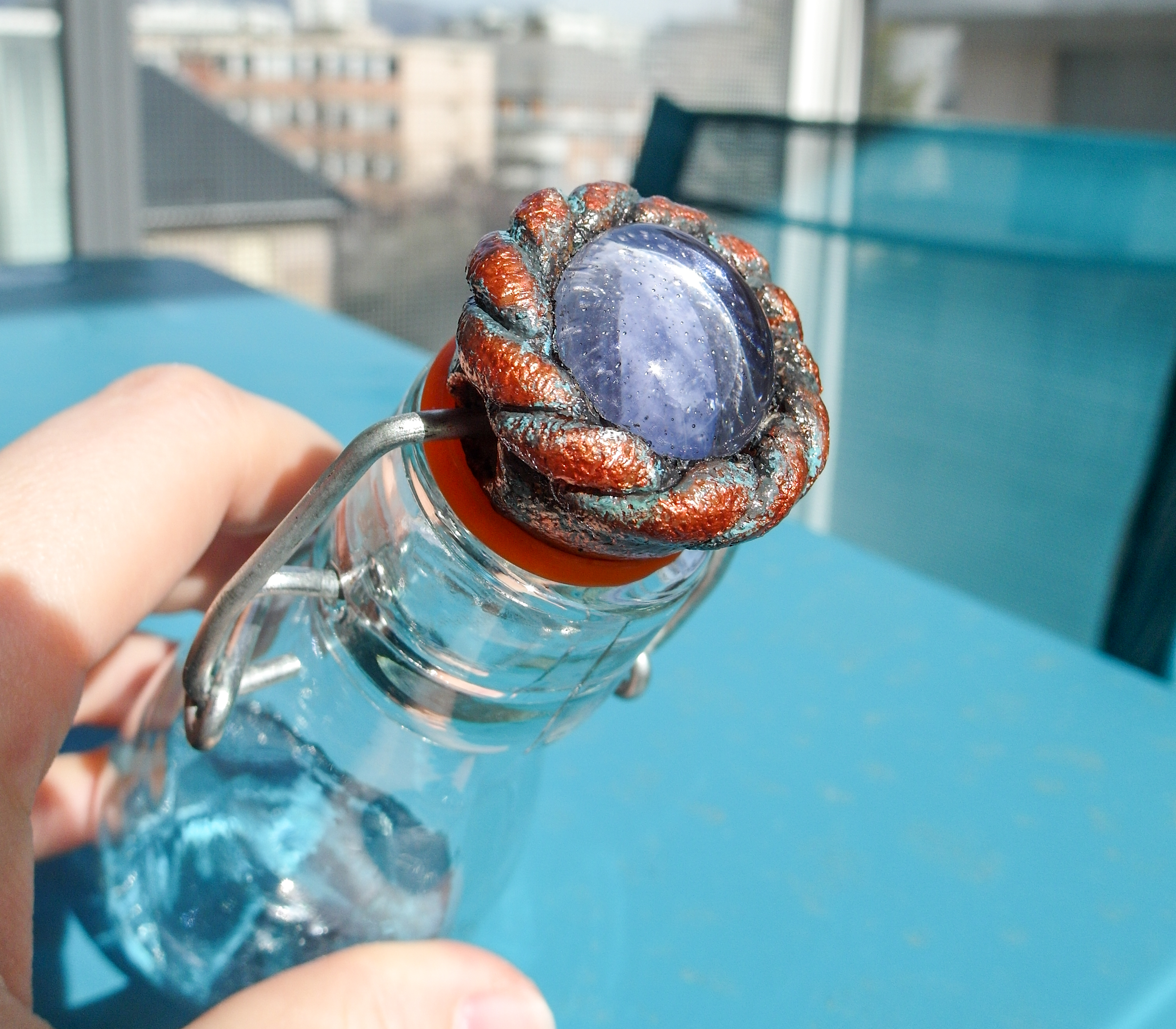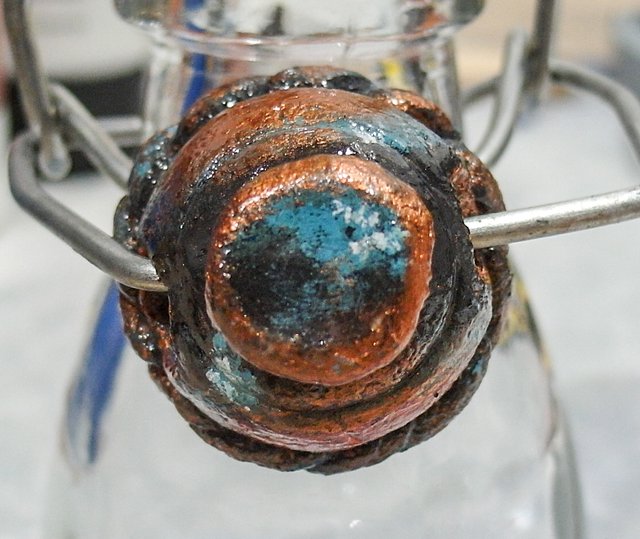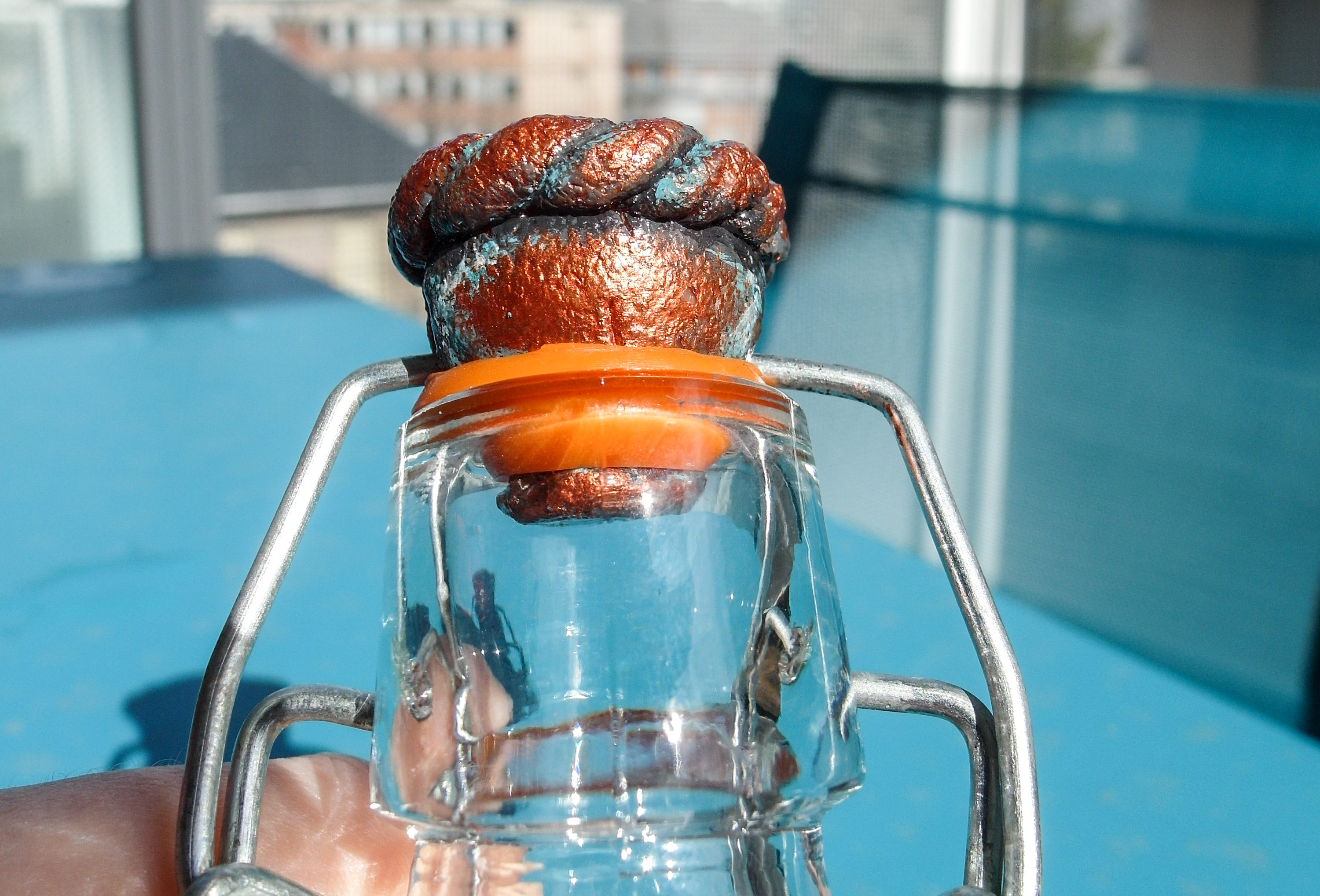 Attache en cuir / Leather
J'avais réalisé cette fixation en cuir avec mon maître de stage l'été dernier. Je n'ai pas pensé à prendre des photos lors de sa réalisation, mais c'est bien moi qui l'ai fait aussi (avec l'aide de l'artisan Ludovic Louchel).
I had made this leather binding with my tutor last summer. I didn't think to take pictures during its realization, but I it did myself too (with the help of the artisan Ludovic Louchel).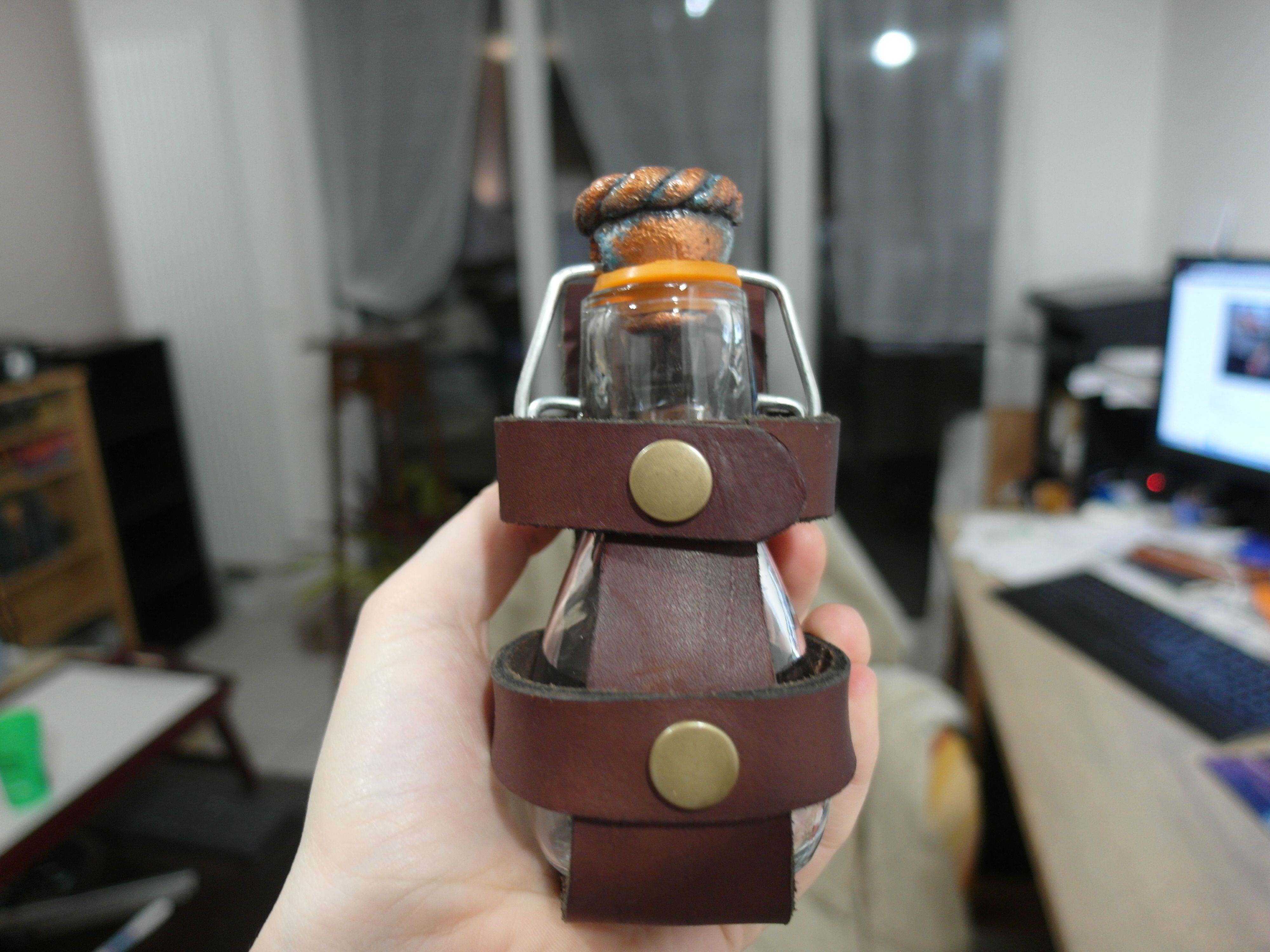 Et voilà ce premier tuto sur les accessoires de Peluche.
N'hésitez pas à upvoter, resteemer et surtout commenter si vous avez aimé :) !
Merci d'avoir lu, à bientôt pour d'autres projets créatifs !
And here is this first tutorial on Peluche's props.

Feel free to upvote, resteem and especially comment if you liked :) !

Thanks for reading, see you soon for other creative projects!
Oreille Pointue