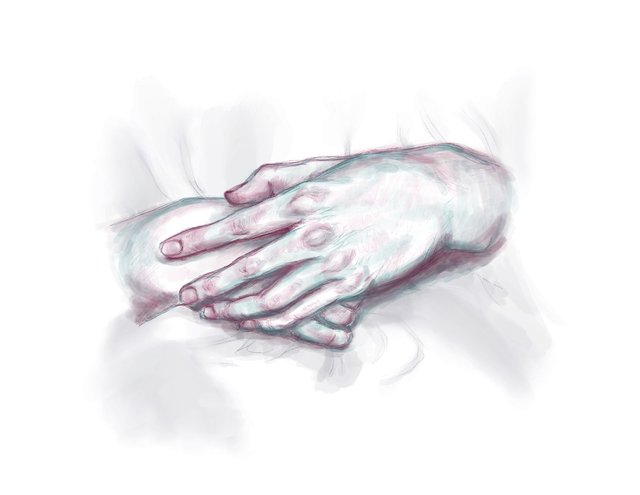 Mike slipped his cold hands around my waist, a shiver of surprise forming under his touch, drawing me away from the cooking stew. The erratic spatter and fizzle of bubbles objected to my absence, spitting and hissing their way over the hot hob, searing brown burnt shadows over the surface. I tried to lean away from him and stir the pot, emotions curdling inside me, but he pulled me back, choosing not to care. Tentative kisses brushed my nape, blurring into the stream of steam washing over us on its way out the kitchen window. His fingers sank into the loose fabric of my apron, his wrists coming to rest in that nook of my midriff, a touch I'd come to crave. The soft scent of him swept over me, like a drop of cordial in water, until it was all there was. I felt the tension, the weight that had been building since we left the Doctors, slipping away from me as I sank back into his arms. His hands pressed onto my stomach, drawing me closer against him, the warm graze of his breath raising the hairs on the back of my neck, his voice came out a choked whisper.
"Let's try again…"

I am so happy I was struck by the great muses enough not to notice the growingly stiff pain in my hand and write this one. And also super grateful to @gaby-crb for her suggestions. This was a fun one to work on and... somehow... I feel like things work out for these guys ;) I wrote so very many starts left unfinished for this round, and in the end, went with entries that just poured out, I really didn't think i'd manage a third entry this time, given how bad my hands have been, so very glad I have just made the deadline!
This is my entry to #foxtales you can find all the entries under the main post or the tag, make sure to give the contest host @vermillionfox a follow for the wonderful regular event <3
Artwork by @vermillionfox who has such a skill for inspiration!