Be my Valentine- Punschherzen zum Valentinstag #meinRezeptderWoche kw7 - Be my Valentine punch hearts for Valentine's Day #myRecipe of the week kw7 (DE/EN)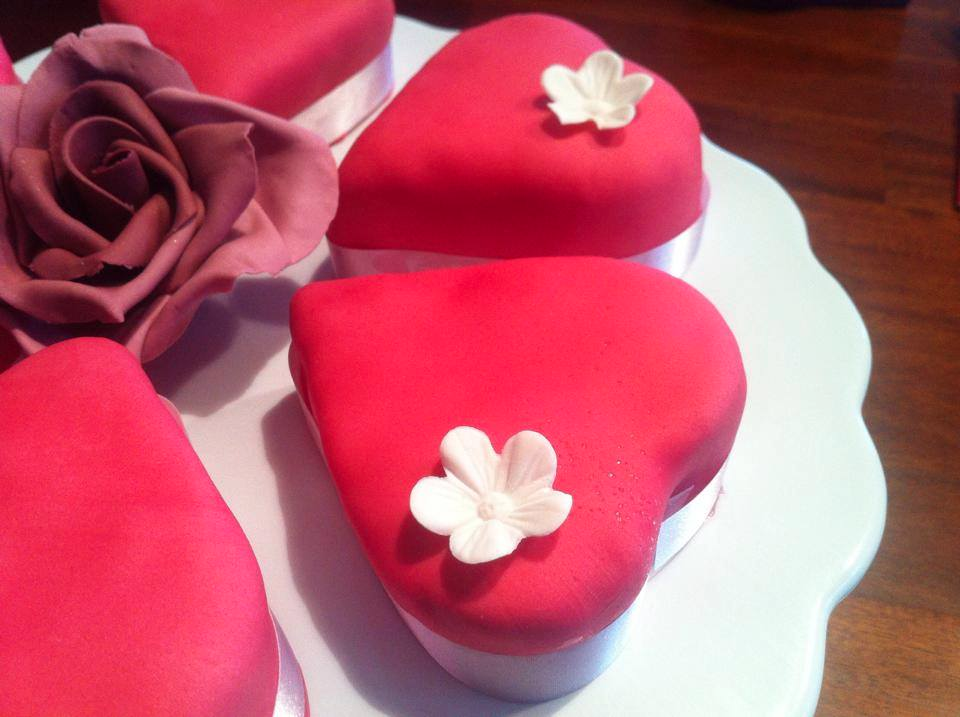 ---
Guten Morgen, meine lieben Steemians!
Passend zum anstehenden Valentinstag habe ich heute kleine Punschtörtchen- natürlich in Herzform für Euch.
Dieses Rezept ist zwar etwas aufwändiger, aber es lohnt sich auf jeden Fall und ist eine herzige Überraschung.
Good morning, my dear Steemians!
Matching to the upcoming Valentine's Day I have some small punch cakes for you today - of course in heart form.
This recipe is a bit more complicated, but it is definitely worthwhile and a hearty surprise.
---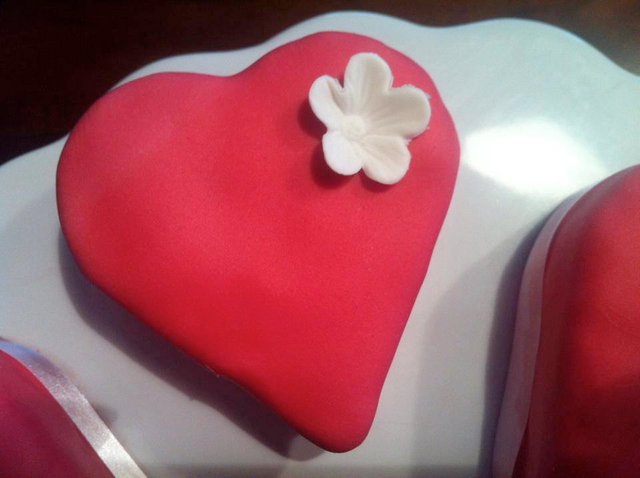 ---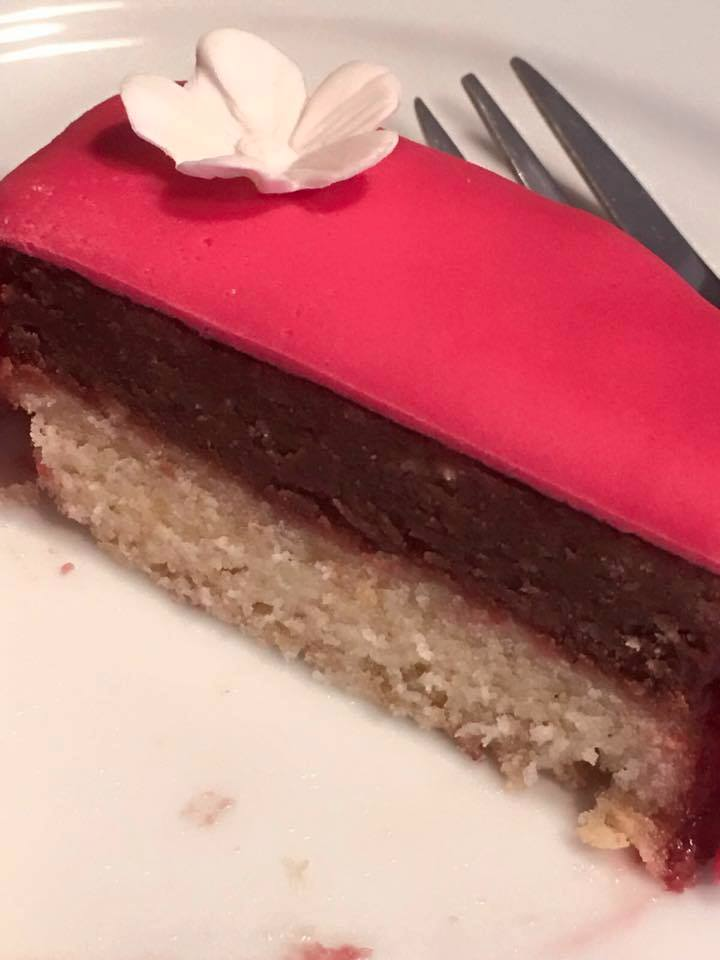 ---
Zuerst müsst Ihr einen Vanillekuchen für die untere Schicht backen.
Hier die Zutaten dazu:
120 g Pflanzenöl
120 g Milch
1 Ei (L)
1 Eigelb (L)
225 g Zucker
5 g Vanillezucker
245 g Weizenmehl
5 g Backpulver
Einfach alle Zutaten bis auf das Mehl und das Backpulver in eine Schüssel geben und glatt verrühren (NICHT schaumig schlagen). Wenn sich alles zu einer glatten Masse verbunden hat gebt Ihr einfach das mit dem Backpulver vermischte Mehl hinzu (am besten darüber sieben) und verrührt es mit den anderen Zutaten. Die Masse ist relativ fest, schmeckt aber traumhaft. Nun streicht Ihr den Teig auf ein mit Backpapier belegtes kleines Blech und backt den Teig bei 180 Grad Unter-/ Oberhitze für ca. 25-30 Minuten.
First you have to bake a vanilla cake for the lower layer.
Here are the ingredients:
120 g vegetable oil
120 g milk
1 egg (L)
1 egg yolk (L)
225 g sugar
5 g vanilla sugar
245 g wheat flour
5 g baking powder
Simply pour all ingredients except the flour and the baking powder into a bowl and mix until smooth (do NOT whip foamy). When everything has combined to a smooth mixture, simply add the flour mixed with the baking powder (preferably sift over it) and mix it with the other ingredients. The mass is relatively firm, but tastes fantastic. Now spread the dough on a small baking sheet covered with baking paper and bake the dough at 180 degrees lower/upper heat for about 25-30 minutes.
---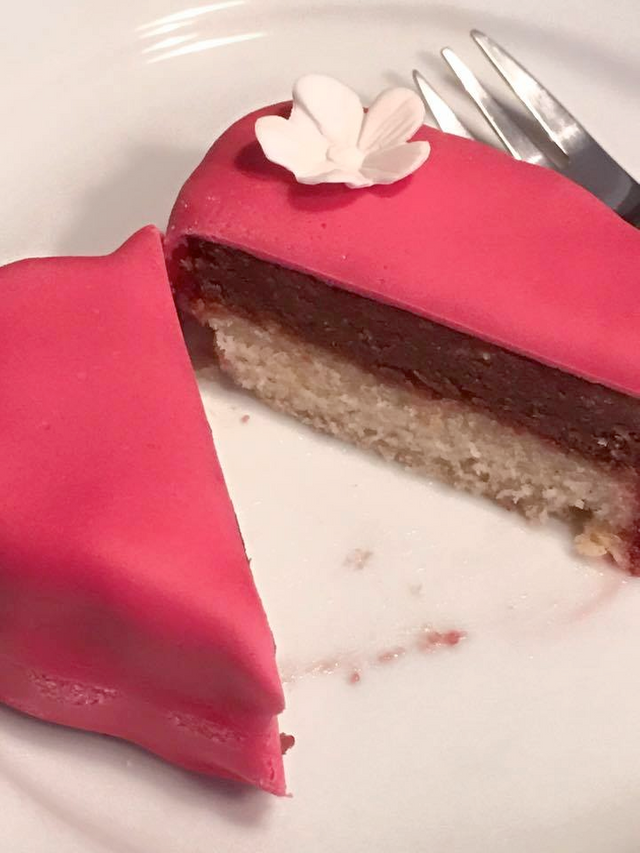 ---
Den fertig gebackenen und abgekühlten Boden schneidet Ihr jetzt ein Rechteck in der Größe A5 (ca. 21 x 15 cm) zu. Dann dreht Ihr dieses Kuchenstück um- die glatte Seite muss oben liegen (Backpapier abziehen) und bestreicht dieses mit ca. 30g Aprikosenmarmelade und legt es zur Seite.
Den übrig geblieben Kuchenteig schneidet Ihr jetzt ganz klein oder zerkrümelt ihn gleich mit der Hand in eine Schüssel. Nun Gebt Ihr 50g Rum und 50g geschmolzene Zartbitterschokolade und 120 g Aprikosenmarmelade dazu und verknetet alle Zutaten zu einer homogenen Masse.
Nun kleidet Ihr eine Form (Auflaufform, Backform etc. (in der Größe des vorher geschnittenen Kuchenstückes) mit Frischhaltefolie aus und gebt die Punschmasse hinen und drückt sie gleichmäßig flach. Bestreicht dann die Oberfläche mit ca. 40 g Aprikosenmarmelade und legt Euer Kuchenrechteck mit der Marmeladenseite auf die Punschmasse. Deckt die Oberfläche gut ab und beschwert sie (am besten mit einem Buch) einige Stunden (am besten über Nacht).
Am nächsten Tag stecht Ihr aus dem Kuchen mit einem Ausstecher Herzen aus oder Ihr schneidet Euch eine Schablone aus Pappe zurecht. Streicht diese Herzen dann mit Aprikosenmarmelade ein und deckt sie mit dünn ausgerolltem Fondant ein. Ich benötigt dafür ca. 300 g Rollfondant. Wer möchte kann noch ein kleines Satinband am Rand anbringen und die Herzen verzieren.... Ich habe dazu einfach aus weißem Fondant kleine Blüten ausgestochen und etwas antrocknen lassen. Es gibt aber auch jede Menge tolle fertige Dinge, die man dafür verwenden kann.....
Now cut a rectangle in the size A5 (approx. 21 x 15 cm) into the baked and cooled bottom. Then turn this piece of cake over - the smooth side must be on top (pull off baking paper) and cover it with approx. 30g of apricot jam and put it aside.
Cut the remaining cake dough into small pieces or crumble it with your hand into a bowl. Now add 50g rum and 50g melted dark chocolate and 120g apricot jam and knead all ingredients to a homogeneous mixture.
Now you are dressing a form (wax pan, baking pan etc.). (in the size of the pre-cut cake piece) with plastic wrap and press the punch mass evenly flat. Spread the surface with approx. 40 g of apricot jam and place your cake rectangle with the jam side on top of the punch mass. Covers the surface well and weighs it down (preferably with a book) for a few hours (preferably overnight).
The next day you cut out of the cake with a cookie cutter heart or you cut a template out of cardboard. Cover these hearts with apricot jam and cover them with thinly rolled out fondant. I need approx. 300 g Rollfondant. Who would like can attach a small satin ribbon to the edge and decorate the hearts..... I simply cut out small flowers from white fondant and let them dry a little bit. But there are also lots of great things you can use for it......
---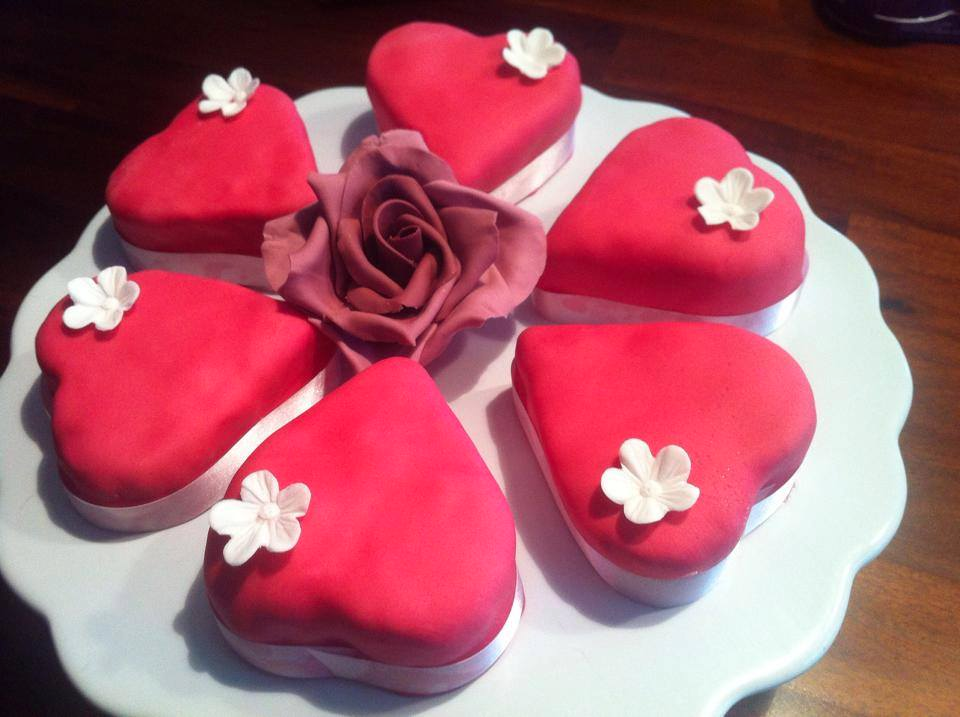 ---
Nun hoffe ich mal, dass ich Euch jetzt nicht heillos überfordert habe- sieht erstmal nach sehr viel Text und vor allem Arbeit aus, aber es ist eigentlich recht unkompliziert. Falls Ihr noch keine Erfahrung mit Fondant haben sollte, dann fragt einfach. Ich gebe gerne Tipps und Erklärungen dazu, falls gewünscht.
Überrascht also Eure Lieben mit etwas Besonderem. Ich finde selbstgemacht immer besser als selbstgekauft.
Well, I hope I have not overtaxed you now - looks like a lot of text and especially work, but it's actually quite uncomplicated. If you don't have any experience with Fondant, just ask. I will be happy to provide tips and explanations, if desired.
So surprise your loved ones with something special. I think home made is always better than home bought.
---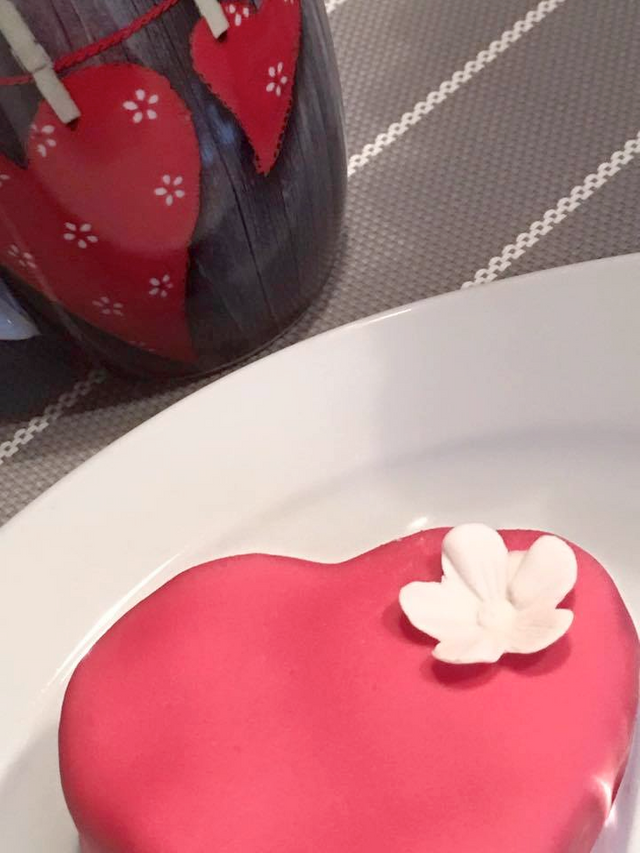 ---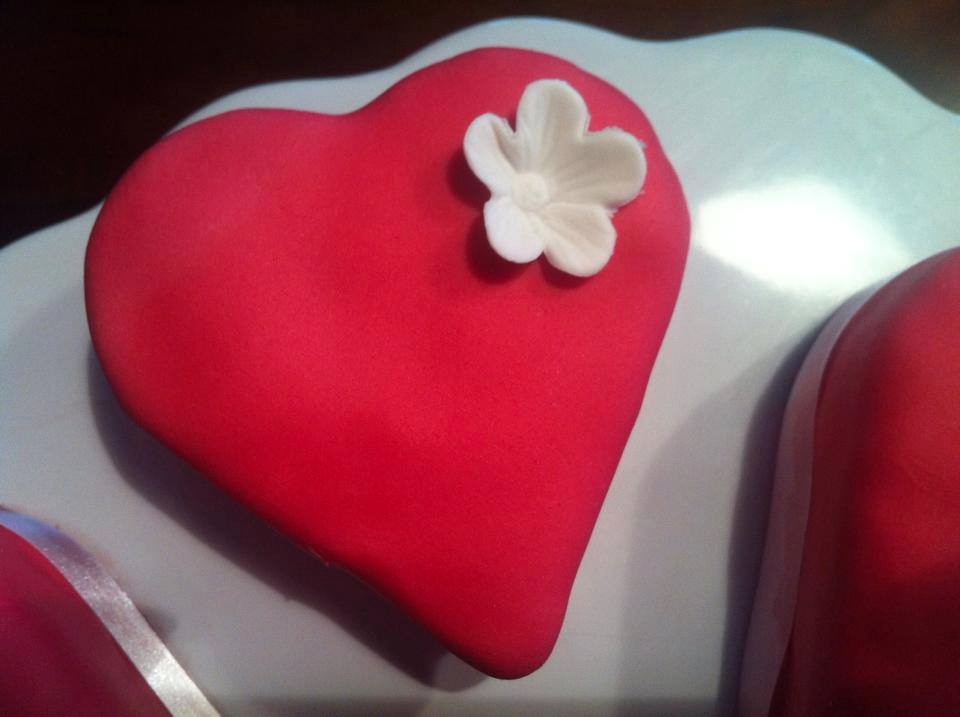 Wenn Euch mein Rezept gefallen hat und Ihr vielleicht mein kleines Projekt- jede Woche ein Rezept vorzustellen- gut findet, dann würde ich mich natürlich freuen, wenn Ihr mir einen Kommentar hinterlasst, upvotet und es gerne weiter verbreitet durch einen Resteem. Gerne beantworte ich auch alle Fragen dazu :-)
Ich wünsche Euch allen eine tolle (und verliebte) Woche - natürlich nicht nur zum Valentinstag!
Eure Romy @kuchenkruemel
If you liked my recipe and maybe you like my little project - to introduce a recipe every week - then I would be happy if you leave me a comment, upvotet and spread it by a rest. I am also happy to answer all questions: -)
I wish you all a great (and in love) week - not only for Valentine's Day!
Yours Romy @kuchenkruemel
---