Chicken Quesadilla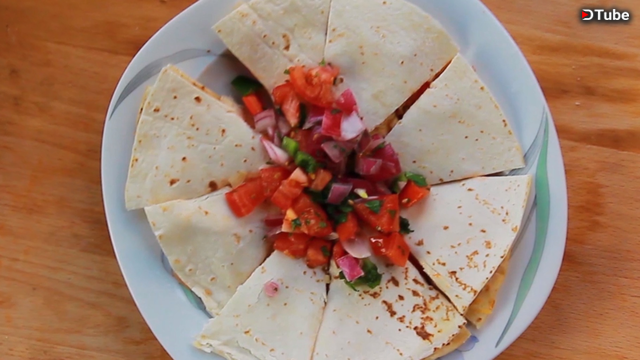 ---
I don't think quesadillas are an authentic Mexican dish. but it is really good! I have ate quesadillas at a Mexican restaurant near me. They're different. This is more American style. Cheese is Mexico is much different than cheese in the US. I actually like their quesadillas better, but this is a recipe I've actually made many times years ago when I was a chef. I still consider myself a chef. I just don't have any interest whatsoever in working in a restaurant. I'd like to buy a restaurant. Then I'll be a commercial chef again!
INGREDIENTS
3 chicken breast tenders
2 large flour tortillas
1 8 ounce bag of cheddar jack cheese
1 red pepper
1 yellow onion
4 tablespoons of olive oil
2 tablespoons of butter
DIRECTIONS
Heat olive oil on a skillet.
Cube chicken.
Cook chicken thoroughly on both sides.
Dice the pepper and onion.
In a clean skillet, saute the pepper and onion a few minutes until sweaty and tender, stirring constantly.
In another clean skillet, melt the butter.
Add 1 tortilla to skillet.
Top tortilla with cheese on the bottom, onions, pepper, chicken in the center, and more cheese on top.
Cook the bottom tortilla until golden brown.
Put the second tortilla on top.
Carefully flip once it's all stuck together.
Cook another 30- 60 seconds.
Remove from skillet.
Top with pico de gallo
Cut into 8th's.
Rico!
Chef note
I like to cook the bottom longer so it's crispy so the juice doesn't make it soggy. I like the top tortilla soft and chewy, so I hardly cook it at all.
Longer and more detailed videos on my YouTube Channel