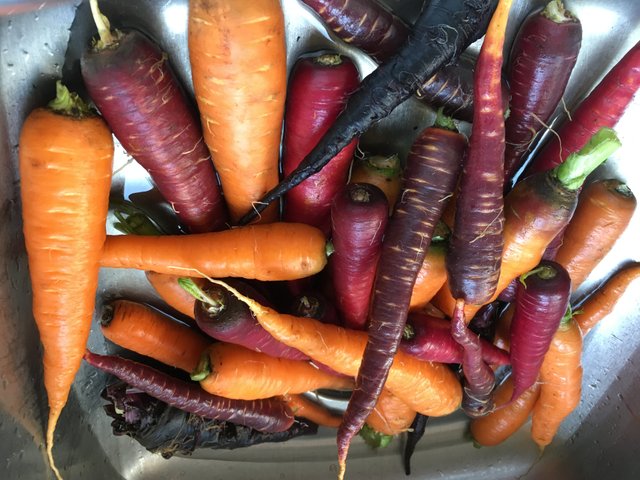 This year we wanted to try out a bunch of carrots, mainly to see which we liked best. Well, the verdict is in and I thought I'd share my thoughts about the varieties we grew.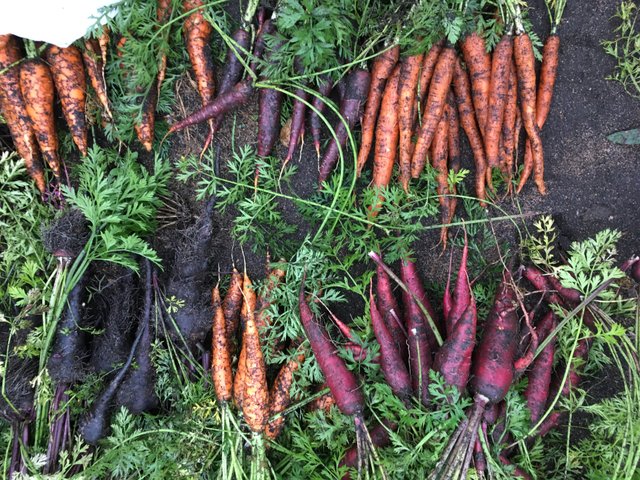 I planted six varieties in the spring, only one that was a type I had grown previously, and that was the Scarlett Nanthes.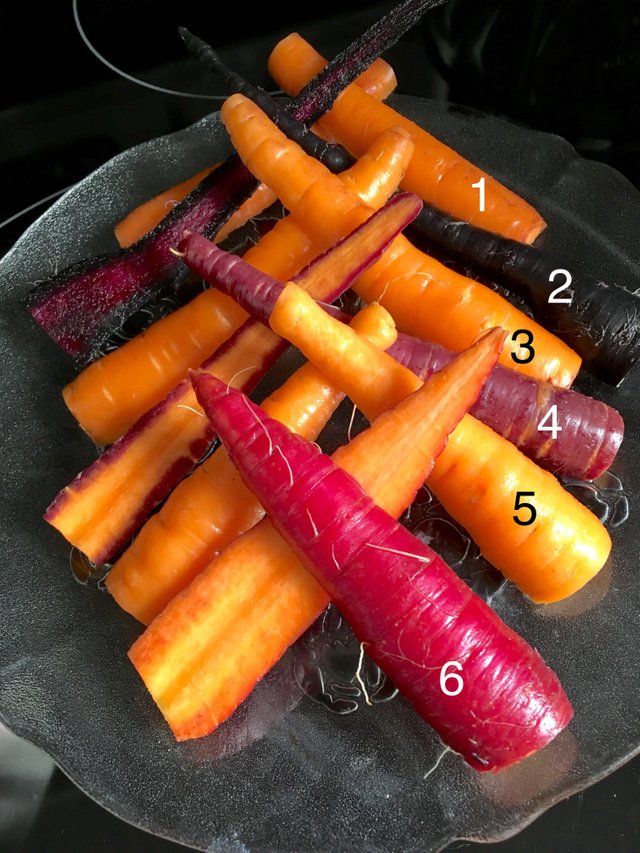 Here's my review! :)
One: Sugarsnax 54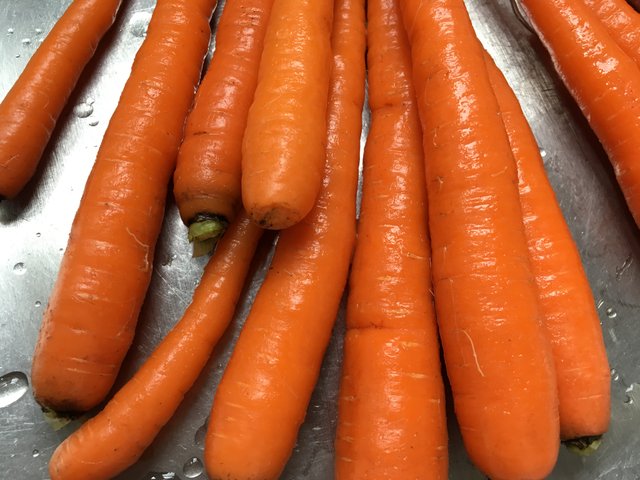 First up and the one at the top of the criss-cross picture above, are Sugarsnax. These carrots are meant to grow long and skinny, they're crunchy and sweet and I really liked them. Really easy to clean as well.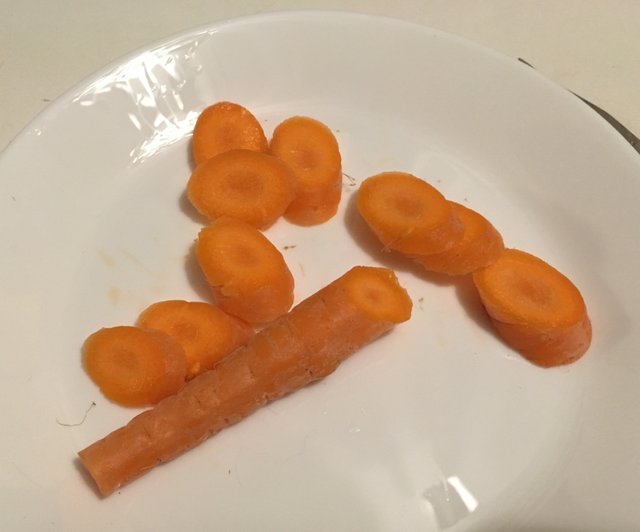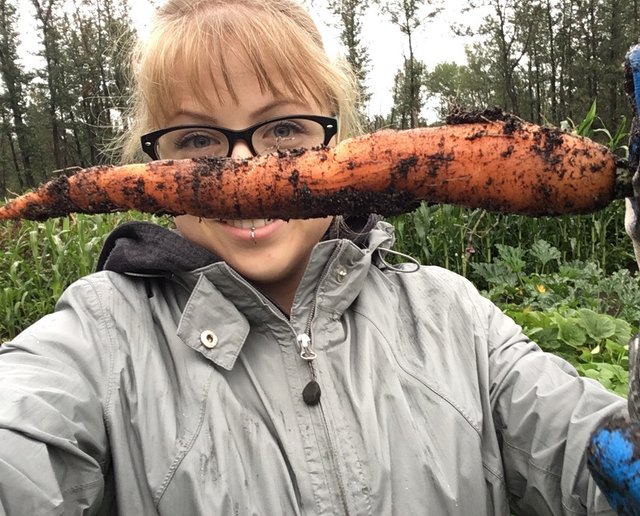 https://www.westcoastseeds.com/shop/vegetable-seeds/carrot-seeds/sugarsnax-54/
🥕🥕🥕🥕🥕🥕🥕🥕🥕🥕🥕🥕
Two: Pusa Asita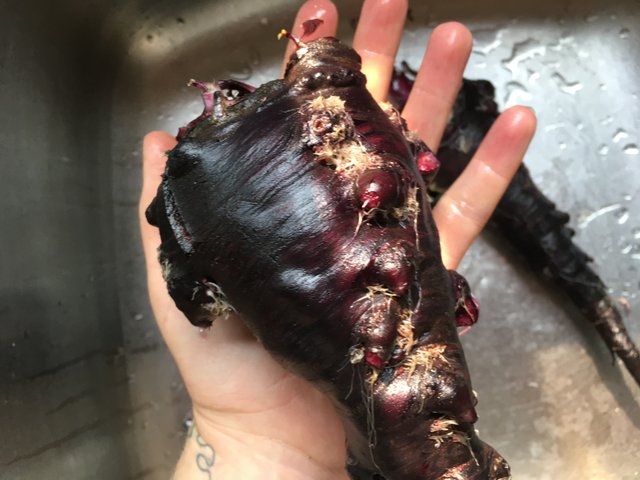 These carrots are so insane!!
They're called Pusa Asita and they're Black carrots! 🙂
They're really weird and the dye from them is pretty intense, like beets! They're also shaped like beets as well but have a soft texture and subtle sweetness and no beet taste. Fun to grow and pick and they have nice flavour! I'll enjoy some of the massive ones in a soup or stew soon!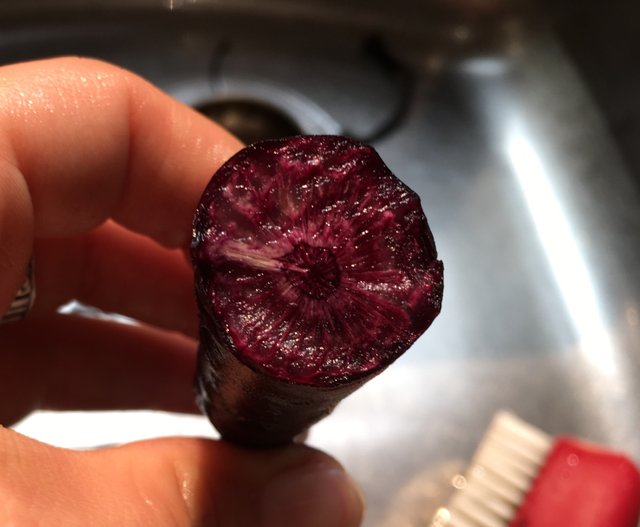 https://www.rareseeds.com/pusa-asita-black-carrot/
🥕🥕🥕🥕🥕🥕🥕🥕🥕🥕🥕🥕
Three: Scarlett Nanthes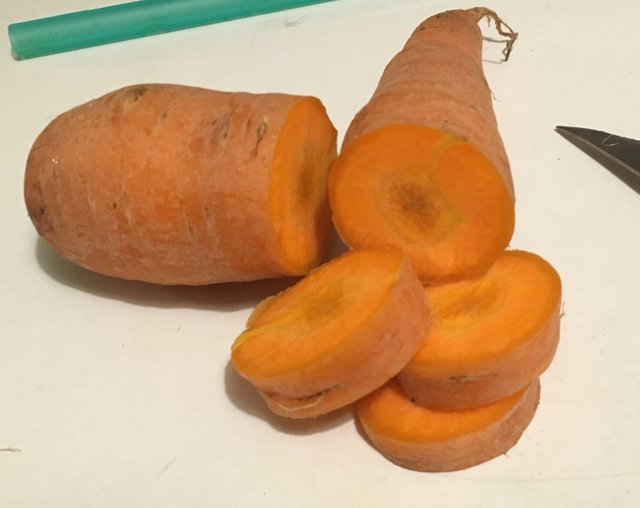 As I mentioned, we grew these last year and enjoyed them quite a bit. They're sweet and tasty. I believe I got these from a multi seed pack some years ago. It's a pretty common type though and wouldn't be hard to find, they're super hardy and grow huge!
🥕🥕🥕🥕🥕🥕🥕🥕🥕🥕🥕🥕
Four: Purple Haze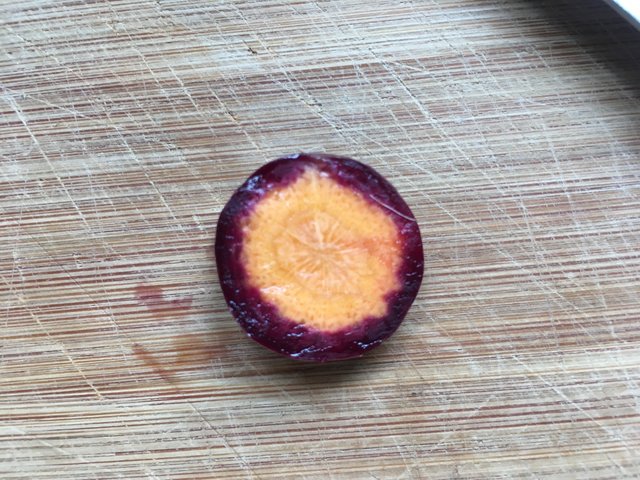 With the orange center and purple outside is Purple Haze from West Coast Seeds! These are so flavourful and the colour is amazing!! Upon first tasting them I believe I said, "I swear I will never NOT grow these carrots!"
Yes I love my double negatives.
Anyway...
They're delicious!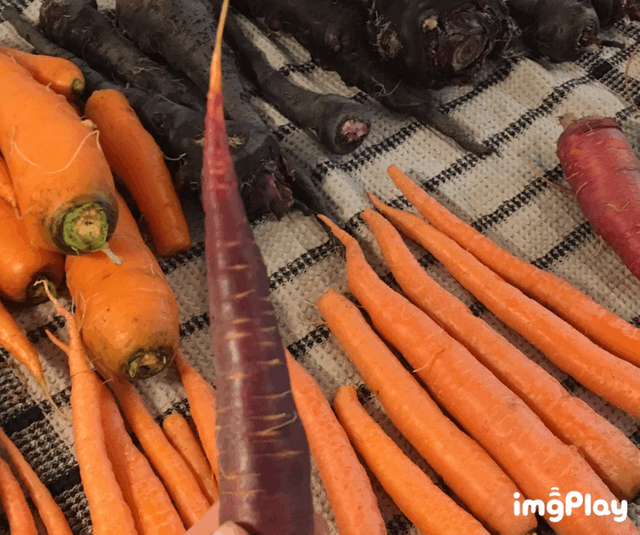 https://www.westcoastseeds.com/shop/vegetable-seeds/carrot-seeds/purple-haze/
🥕🥕🥕🥕🥕🥕🥕🥕🥕🥕🥕🥕
Five: Canada Carrots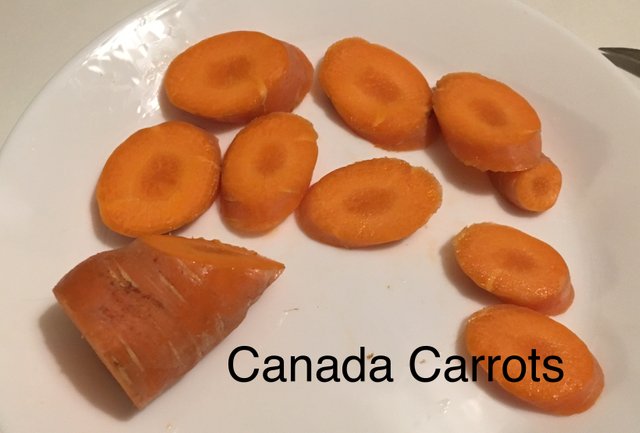 Canada carrots are next, these short and fat little guys are great! Very good crunch and sweet flavour. A great carrot for sure.
(I'm realizing now how many more pictures I've taken of Purple Carrots than the orange! LoL)
https://www.westcoastseeds.com/shop/vegetable-seeds/carrot-seeds/canada-carrot-seeds/
🥕🥕🥕🥕🥕🥕🥕🥕🥕🥕🥕🥕
Six: Cosmic Purple Carrots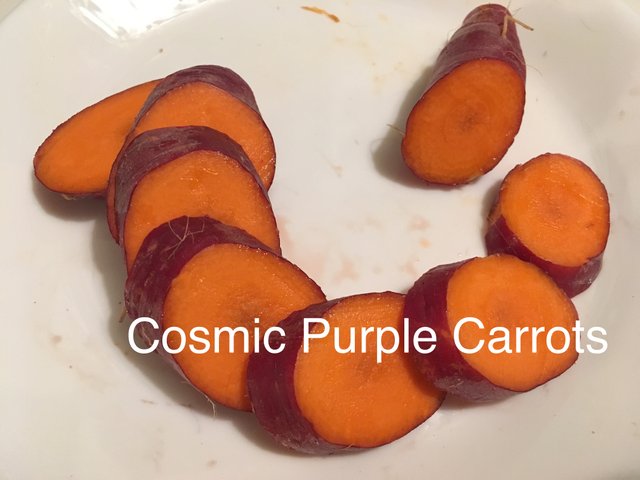 And finally there's the Cosmic Purple, the colour on these carrots is absolutely stunning! So vibrant! They clean up well and have a bit of a drier softer texture to them. Lots of sweetness and very tasty too! Gotta scrub gently though, or you'll take the colour right off them! LoL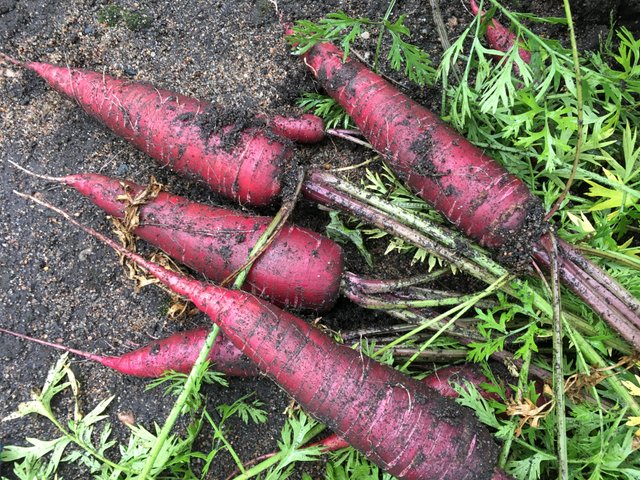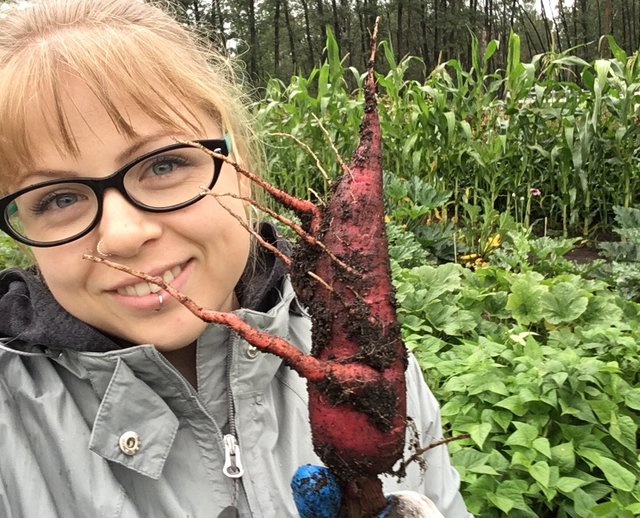 https://www.westcoastseeds.com/shop/vegetable-seeds/carrot-seeds/cosmic-purple-organic/
That's all six, they are all quite different and I'm so happy with all of them! Out of the orange varieties hands down the sugarsnax wins for me! I'll be growing them again next year for sure.
Over all the best is the Purple Haze. These purple beauties look as good as they taste! I'll be growing them every year from now on without a doubt!
It's my carrot, I found "The One!" LoL
If you're looking for a new variety of carrot then I hope I've given you an idea of what to try! Honestly these all rock so any that you try will be terrific!
I would love to know your favourite type of carrot! Let me know in the comments!!
Thanks so much for reading! All I've posted about lately is gardening, and it's probably going to continue like that until it snows here! LoL
I swear I have more depth though!
Take care everyone!
~The NeoHippy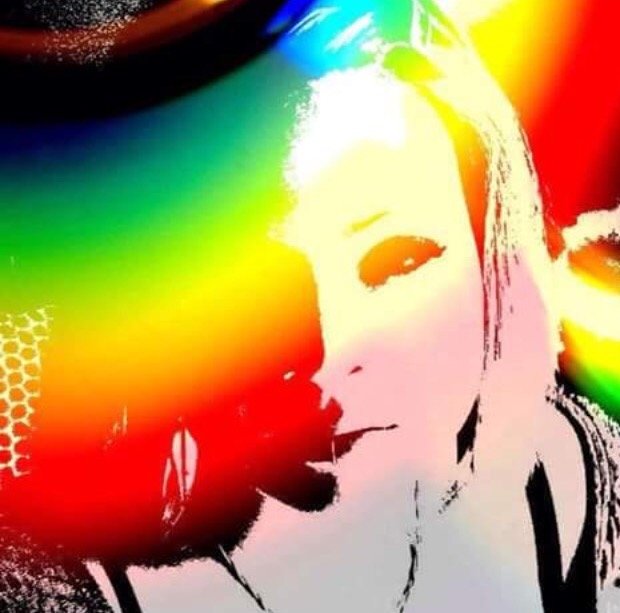 Q
#Garden #Gardening
#GrowYourOwn
#GrowingFood
#GrowFoodNotLawns
#Growing2018
#Grow
#GrowFood
#GrowItYourself
#HomeSteading
#DIY
#SelfSufficient
#TakeControl
#RebelGardening
#RebelGardener
#YouCanToo
#Carrots #GrowingCarrots
#FoodReview