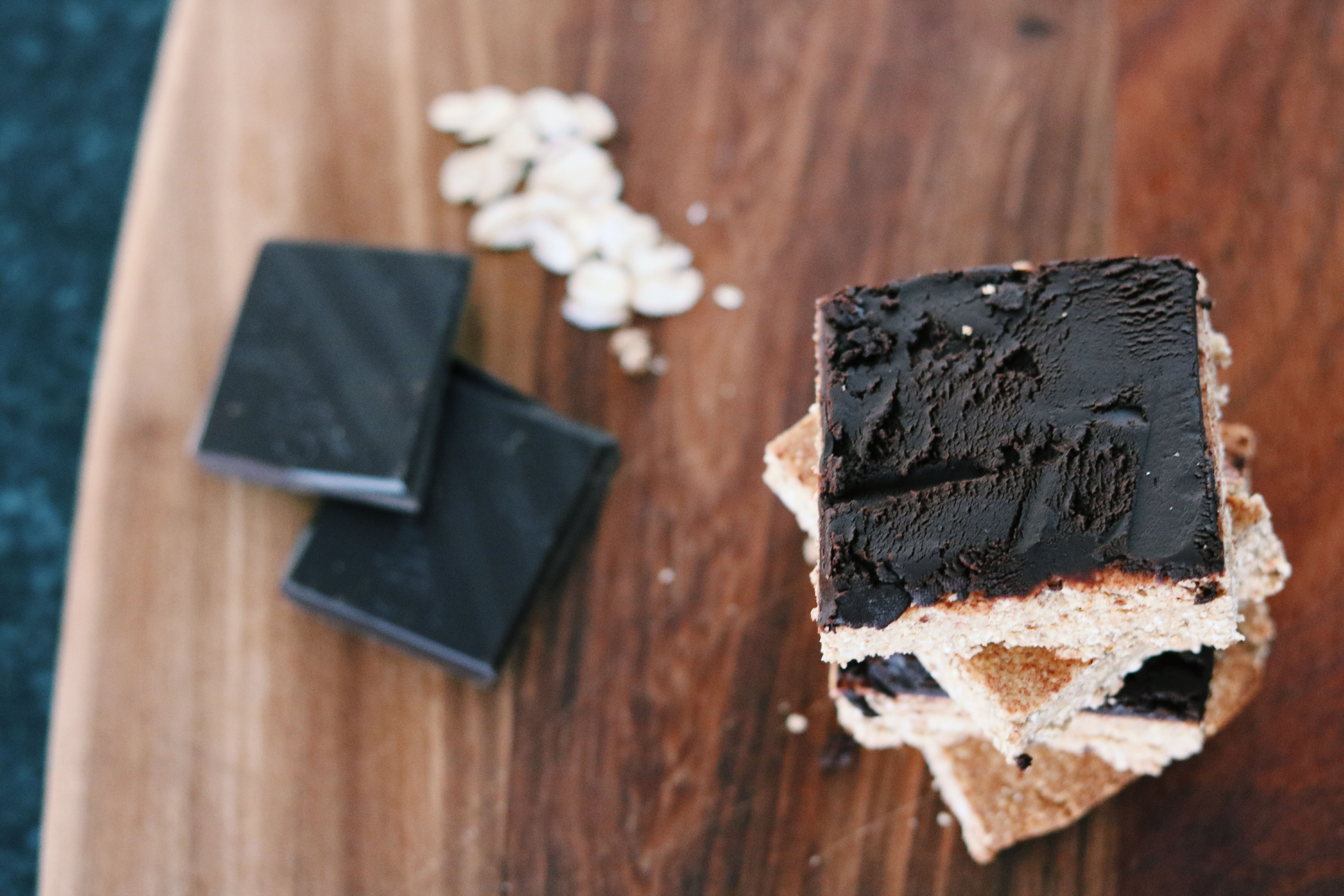 Crunchies are one of my ultimate favourite type of cookie. (If that's what they are. 😕) I love them a lot and haven't had them in a while. I found gluten free crunchies before and I loved them, but they aren't in my local food market so I can't get easy access to them and even if I could they would probably be expensive to keep around as a staple snack. This recipe is easy to make, really delicious, pretty healthy and you can package them and keep them on you as a snack if you are on the go or going on a road trip.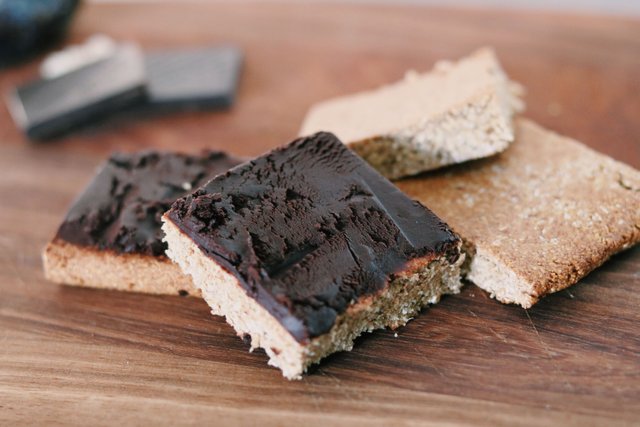 As you can see, I made two varieties of crunchies, chocolate coated crunchies and plain crunchies.
What you'll need:
80g gluten free rolled oats
4 medjol dates
1 tsp of coconut oil
A few raisins (Now I didn't have raisins on hand, but I definitely recommend them in these crunchies. Raisins make most crunchies. 😉)
1 tsp of honey
Additional (For chocolate crunchies):
4 blocks of 70% dark chocolate
This recipe serves 4 crunchies. (If you want to make in bulk I suggest to times this recipe by 3 or 4.)
So what you need to do is pre-heat the oven to 170 degrees Celsius and then take the rolled oats, the coconut oil, honey and the medjol dates and blend them in the food processor until it makes a doughy kind of mass. I suggest blending two or three dates first and then the last one and see if you need a fifth date to make it stick together a bit better. (4 should be enough though.) Then take it out of the blender and into a bowl. From there, stir in the raisins into the batter and put baking paper over a long thin baking tray. Smear the batter on the tray so that it is thin and flat, but not too thin. Remember it is a crunchie, not a rectangular cookie. Put it in the oven for 7-10 minutes. Check regularly to ensure it doesn't burn.
When in it done take it out the oven to allow it to cool. Once it is cool, you have your simple crunchie. If you want to add a chocolate coating, all you have to do is melt the chocolate in a frying pan and pour it over the chilled crunchies and freeze it for about 10-15 minutes. And you 're all set. Wrap them up and snack on them through the day and serve the batch to a group of friends. Crunchies are good for any occasion. 😌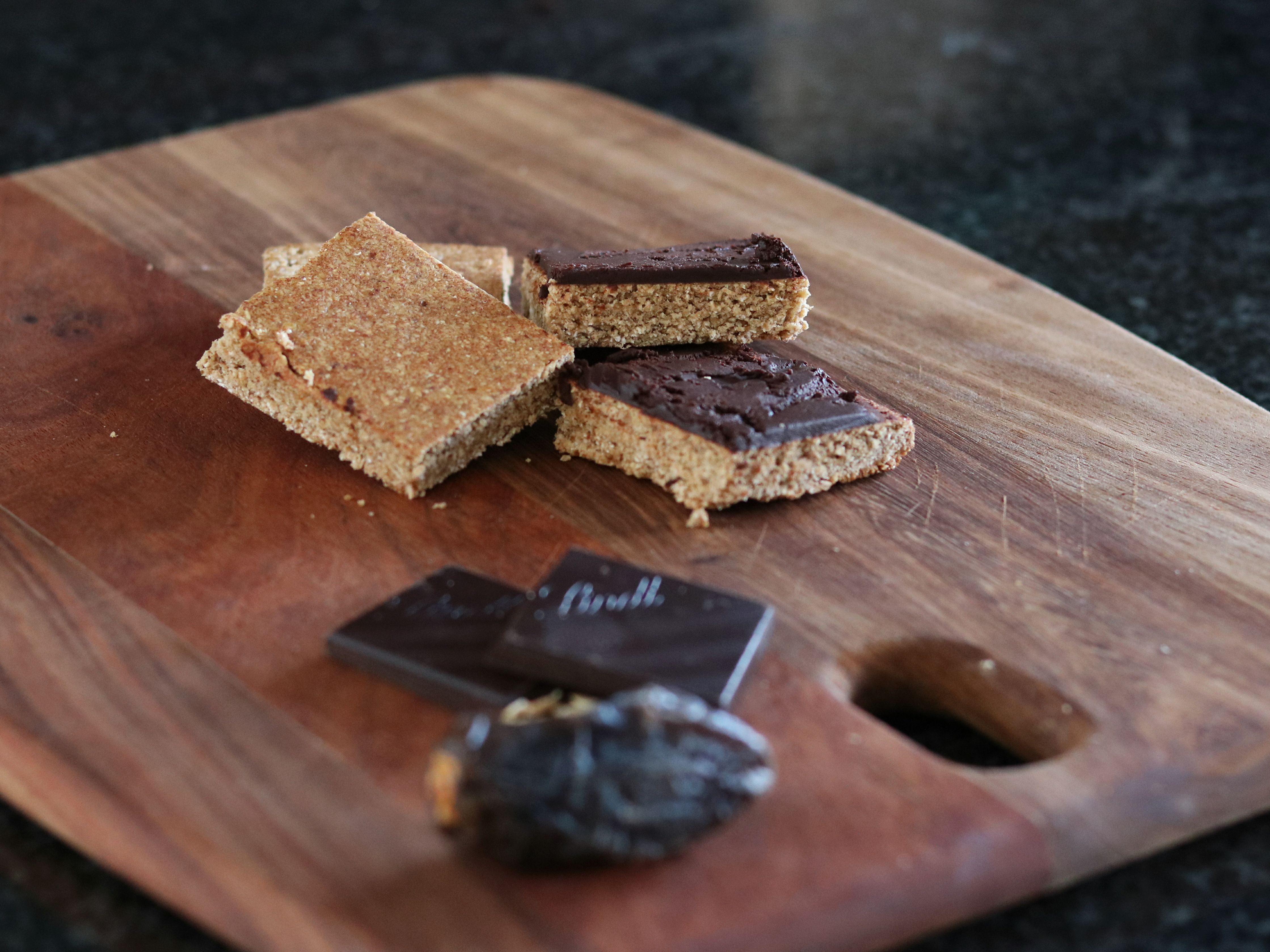 I hope you enjoyed another Lazy Kitchen🍳 post. I hope I see you in the next one. 😌

CHECK OUT MY LAST POST✋:https://steemit.com/food/@themessup/lazy-kitchen-quick-chicken-schnitzel-and-caulimash
And if you like my work, be sure to click here to follow me and together lets build a bigger bond on steemit. ✊
I ALSO UPVOTE GOOD COMMENTS ❤