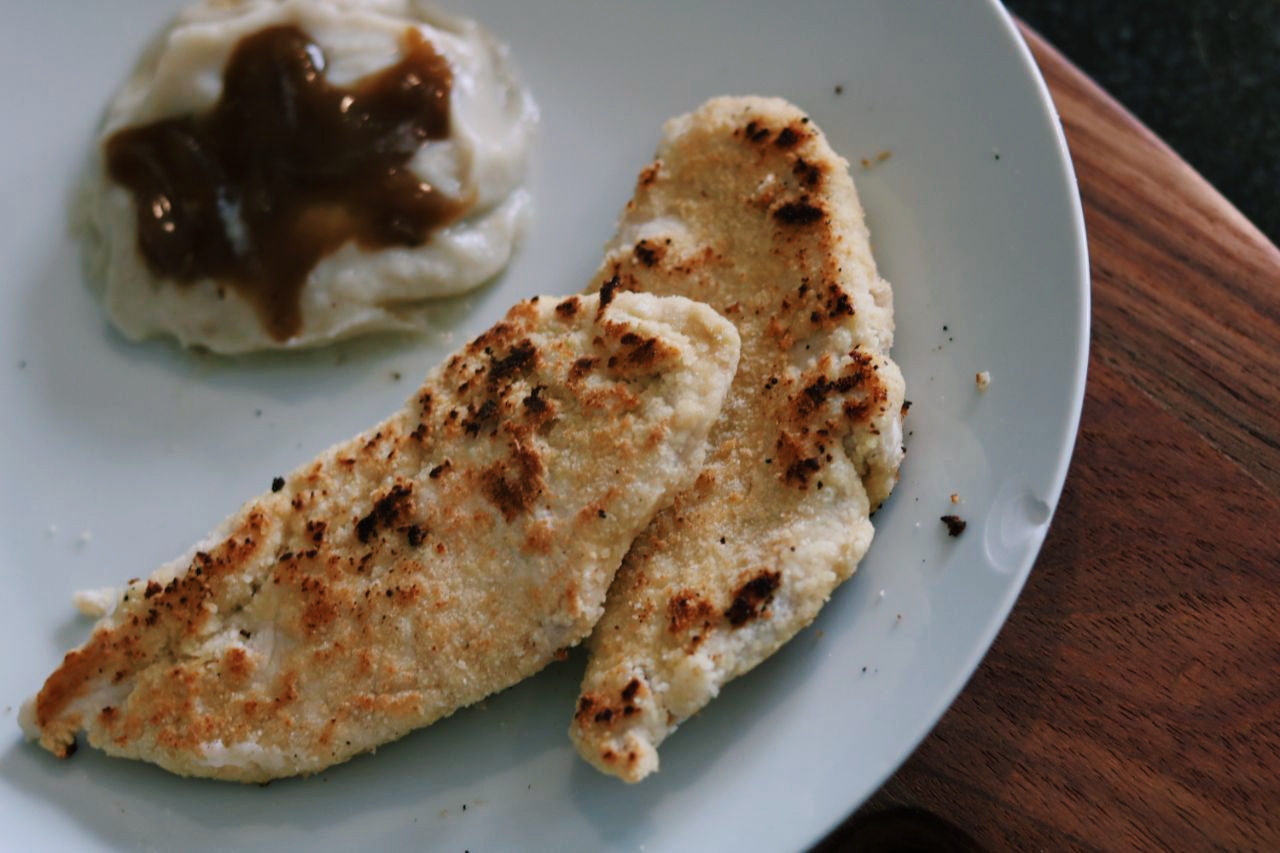 If you want a healthy chicken schnitzel that tastes just as amazing as a store bought schnitzel, then you should give this one a try. This recipe is gluten free for those who are gluten intolerant or are just interest in a gluten free, healthy diet. It's also super easy, which I know you all love. 😏
This was my first attempt of making these and I'll never neglect these from my life again. They were sooo good and if you follow this recipe and make these, you'll know what I mean. They taste like regular chicken schnitzels that we all know and love. (Especially as a child.)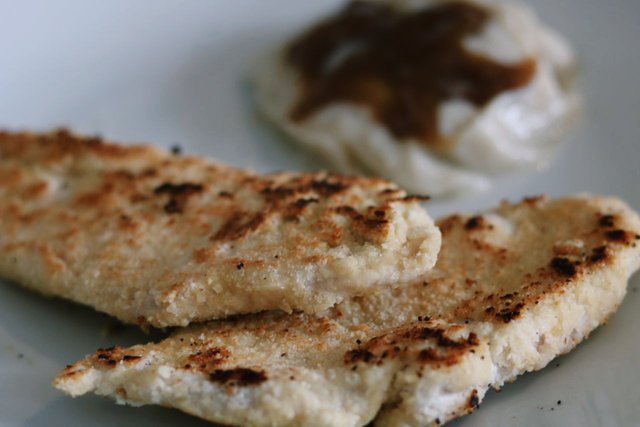 What you'll need:
Schnitzels:
2 chicken skinless fillets
1/4 cup white rice flour
1/2 cup almond flour/meal
1/2 cup coconut flour
2 whisked eggs
1 tsp garlic powder
1 tsp onion powder
A pinch of salt
A pinch of pepper
1 tsp of coconut oil
Lemon
Caulimash:
1 bag of cut up cauliflower florets
50ml coconut milk
80ml almond milk
A pinch of garlic powder
A pinch of salt
This recipe serves 4.
So first off, you need to take the two chicken fillets and cut them in half lengthwise (almost like butterflying them, but cutting them apart.) Schnitzels are usually thin so that it can cook evenly inside while not burning the crumbs on the outside. Also make sure you are careful with cutting them. Next you need to wrap the chicken in clingwrap and beat them a little with a meat mallet until they are thin and flat. Then you need to prepare the batter for the chicken. Take three shallow bowls or tupperware, whatever the thin chicken fillets will fit into. Then in the one put the white rice flour. In the other put the beaten eggs, and in the last one put the remaining dry ingredients (everything remaining from the schnitzel ingredient aside from the coconut oil and lemon) and we'll call this the crumb mixture.
So now we can get to the fun part; Now you need to take the fillets and firstly dip it into the rice flour, then the egg mixture and then the crumb mixture. Make sure all the fillets are evenly distributed with flour and eggs before moving them to the next bowl or tupperware. The more batter you get onto the fillet, the more crumby it will turn out. When they are all coated, cover them again and refrigerate them for 10 minutes.
While you are waiting you can get started on the caulimash. You can microwave the florets for 6 minutes in a clay pot or microwave steamer. (If you don't have you can simply steam it on the stove for 3-5 minutes. And then you can remove it and put it in the blender once cooled. Add the rest of the caulimash ingredients except for the gravy and blend. Depending on how much cauliflower you are using, make sure you don't put too much liquid in, you don't want it to be too runny. Better put too little liquid than too much. You can always add in more in the process. Then let it sit, while you heat up a pan on the stove and grease it with the coconut oil. Take the chicken out of the fridge, if 10 minutes have passed and put it on the warm, greased pan. The stove should be on medium to high heat, and when you put them on, put as many schnitzels on the pan as can fit, to save time. Cook each side for 4-5 minutes, depending on how high your stove is on and don't forget to check them to ensure they don't burn. And then they should be done! All you have to do now, is warm up your mash and gravy, plate your food and squeeze lemon juice of the schnitzels for the taste. You can use whatever gravy you want, whether it's store bought or homemade. (Mine was store bought and it was amazing!)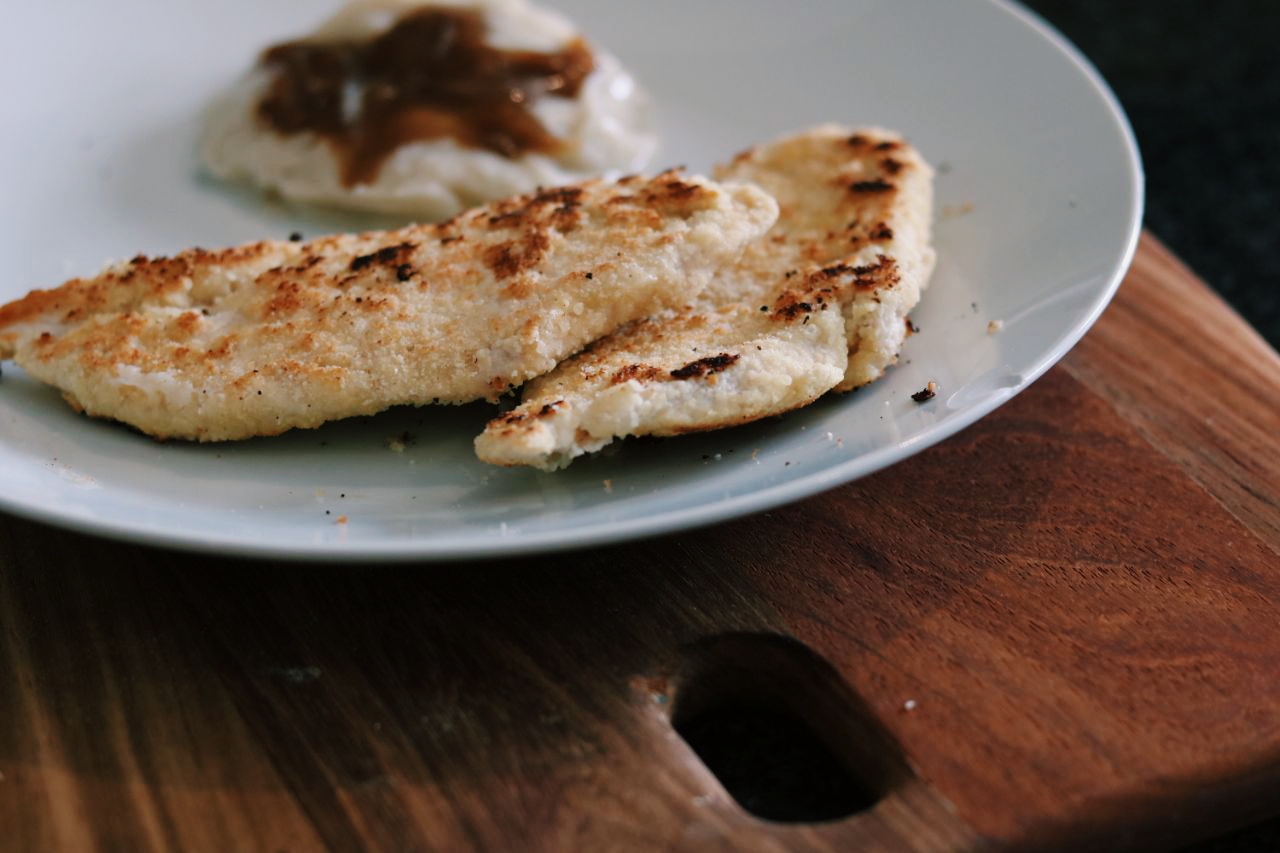 I hope you enjoyed another Lazy Kitchen🍳 post. I hope I see you in the next one. 😌


CHECK OUT MY LAST POST✋:https://steemit.com/food/@themessup/food-diary-6
And if you like my work, be sure to click here to follow me and together lets build a bigger bond on steemit. ✊
I ALSO UPVOTE GOOD COMMENTS ❤