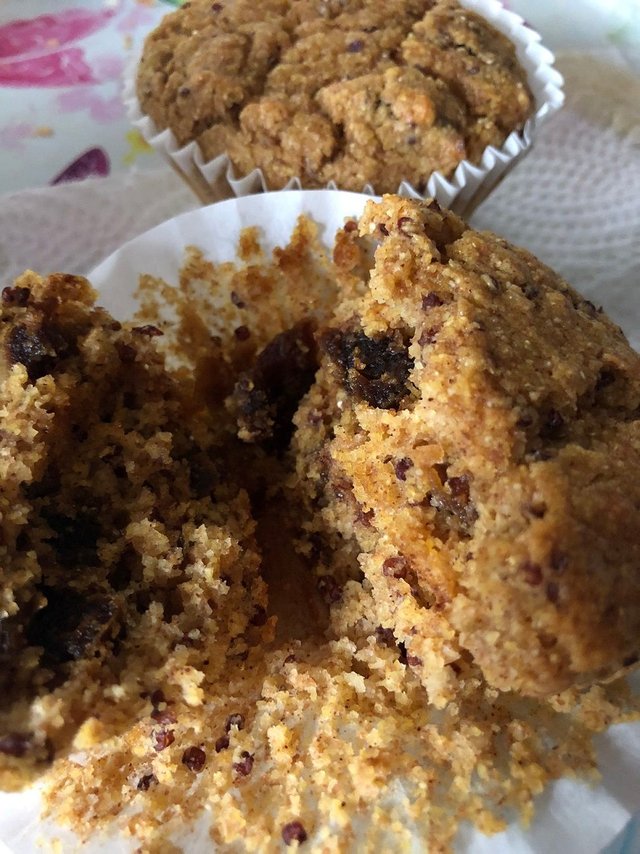 Cornmeal- date muffins
The Recipe
Ingredients
Amounts
weight (gm)/volume (ml)
Whole wheat pastry flour
~ 1 cup
~ 130 gm
Cornmeal
~ 2/3 cup
~ 116 gm
Quick Oatmeal
~ 1/4 cup
~ 25 gm
Cooked Quinoa
~ 1/2 cup
~ 90 gm
Skim Milk
~1 cup
~ 250 ml
Oil
~ 3 tbsp
~ 25 gm
Egg
1 large
Unsweetened Apple/Pear sauce
1
~ 113 gm
Baking Powder
~ 3 tsp
~ 12 gm
Salt
~ 1/4 tsp
~ 1 gm
Collagen Peptides (PhiNaturals)
~ 4 scoops
~ 45 gm
Cinnamon
~ 1.5 tsp
~ 6 gm
Chopped dates
~ 1 cup
~ 127 gm
The Method:
1- I bought pitted dates and chopped them to smaller pieces
2- I mixed the dry ingredients, then added the wet ingredients.
3- I added the chopped dates
5- Cooked @ 375C for ~ 27 min (adjust the time according to the heat of your oven)
6- Enjoy! 😁
The recipe calorie count

Final notes:
1- These muffins are on the sweet side as compared to the other muffins I made, because of the dates. they had crunchiness because of the Quinoa yet they also felt soft and tasted delicious with the coffee and a bit of Almond butter.
2- Since I started eating these healthy muffins, my taste for white breads and buns has diminished quite a lot.
3- These muffins are full of iron and protein and not so much fat.
---
...Till Next Episode!
Dr. The Leaping Koala 😊



Logo by @orcheva
Many thanks for visiting, commenting and upvoting 😊