Dear Steemit friends :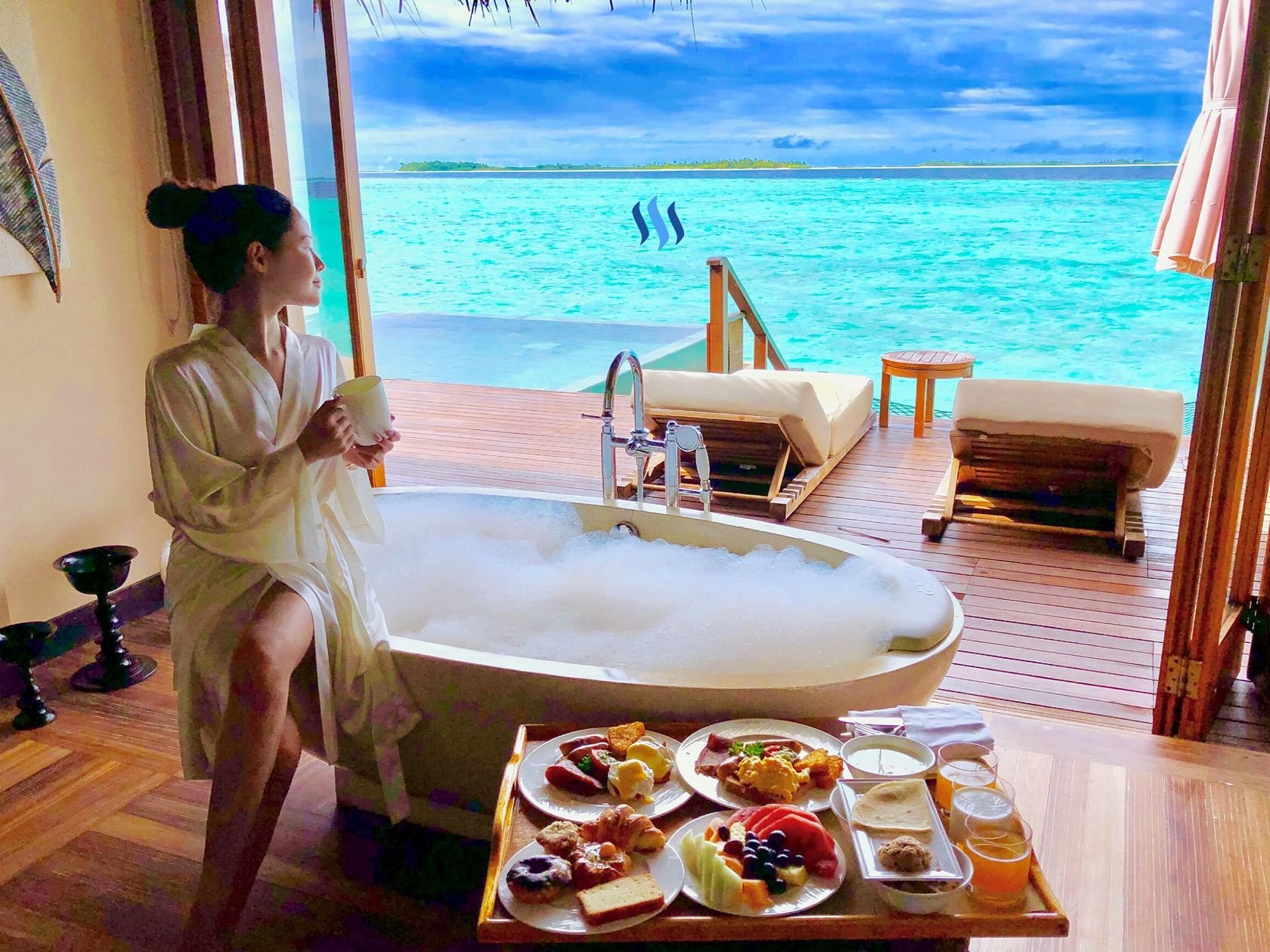 What would a paradise be without its choix d'aliments?
Ayada attracts guests from all over the world, and thus faces a considerable challenge of serving delectable food to suit a broad range of tastes. For an island barely a few kilometers in perimeter, there are a surprising number of dining options available offering a sound mixture of international cuisine along side local Maldivian specialties.
Today, we'll be having a look at the Magu a la carte restaurant which doubles up as the breakfast venue. It is here that the daily inclusive breakfast is served from 06:30 to 10:00 and will be the only meal of the day which is inclusive of your stay. Other food options including the evening dinner will be at extra cost.
John Gunther once said "All happiness depends on a leisurely breakfast" and I absolutely agree. Nothing makes me more happy than seeing the first light of dawn bathe the white sandy beaches whilst the gentle crush of waves sound the beginning of the day.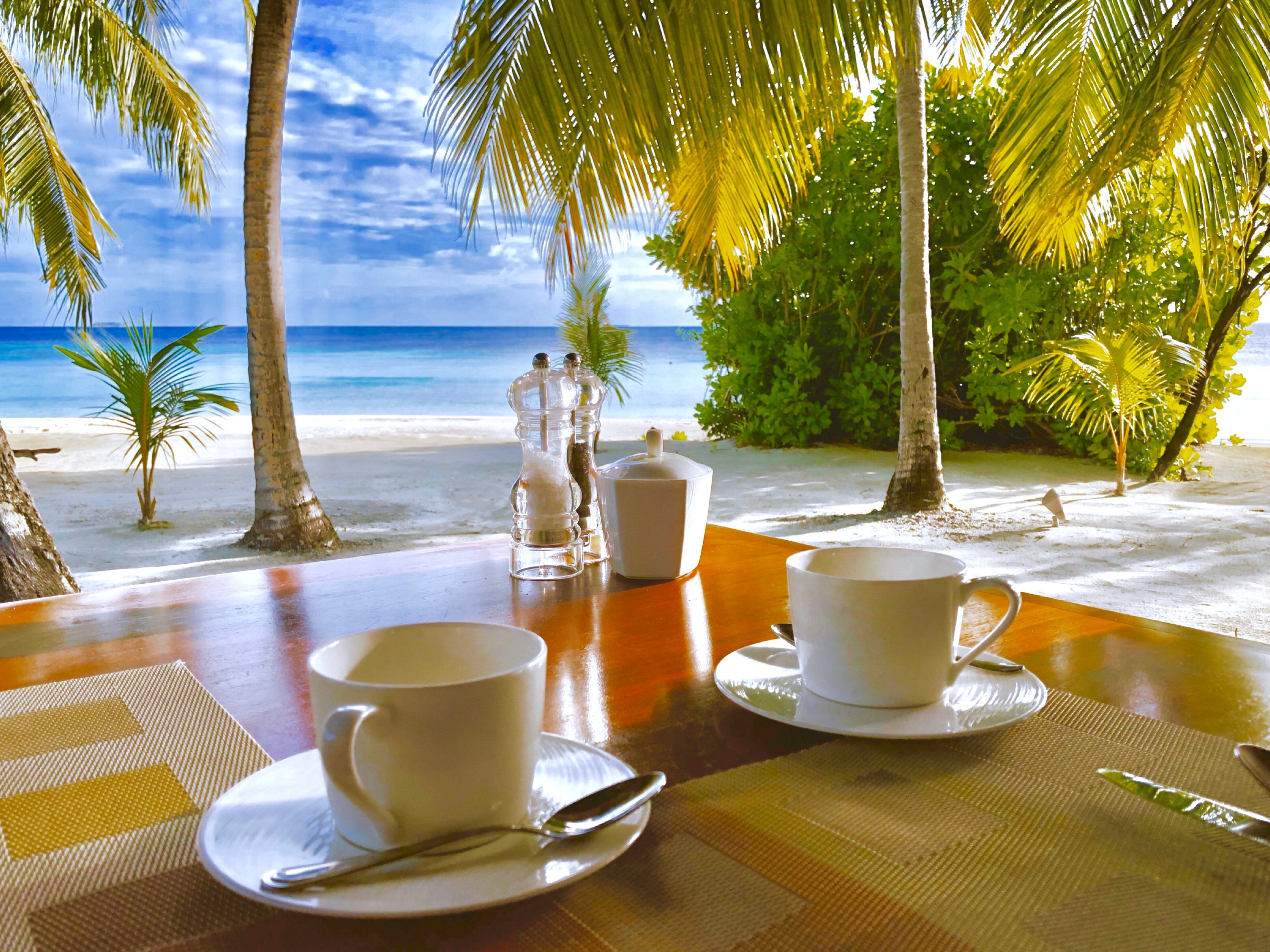 My day began with a familiar whistle of wind through imperfect cracks of my bedroom door. It was like natures alarm signalling for me to wake up and enjoy the day.
I slide open the doors for my first breath of morning fresh air, the sound of the wind suddenly disappears leaving only a chorus of waves splashing on the stilts of the villa below. Even though I am wide awake, the smell of the sea makes me feel like i'm having a daydream. The stellar views, and heavenly atmosphere play a large part in the illusion.
From the ocean villa, it is a casual 5 to 10 minute walk to Magu Restaurant. I use the walk as an opportunity to resolve my senses. Am I really actually here? Is this island real? Am I in a dream? I think i'll take the blue pill and leave those questions unanswered.
After-all, I came to the island to dream.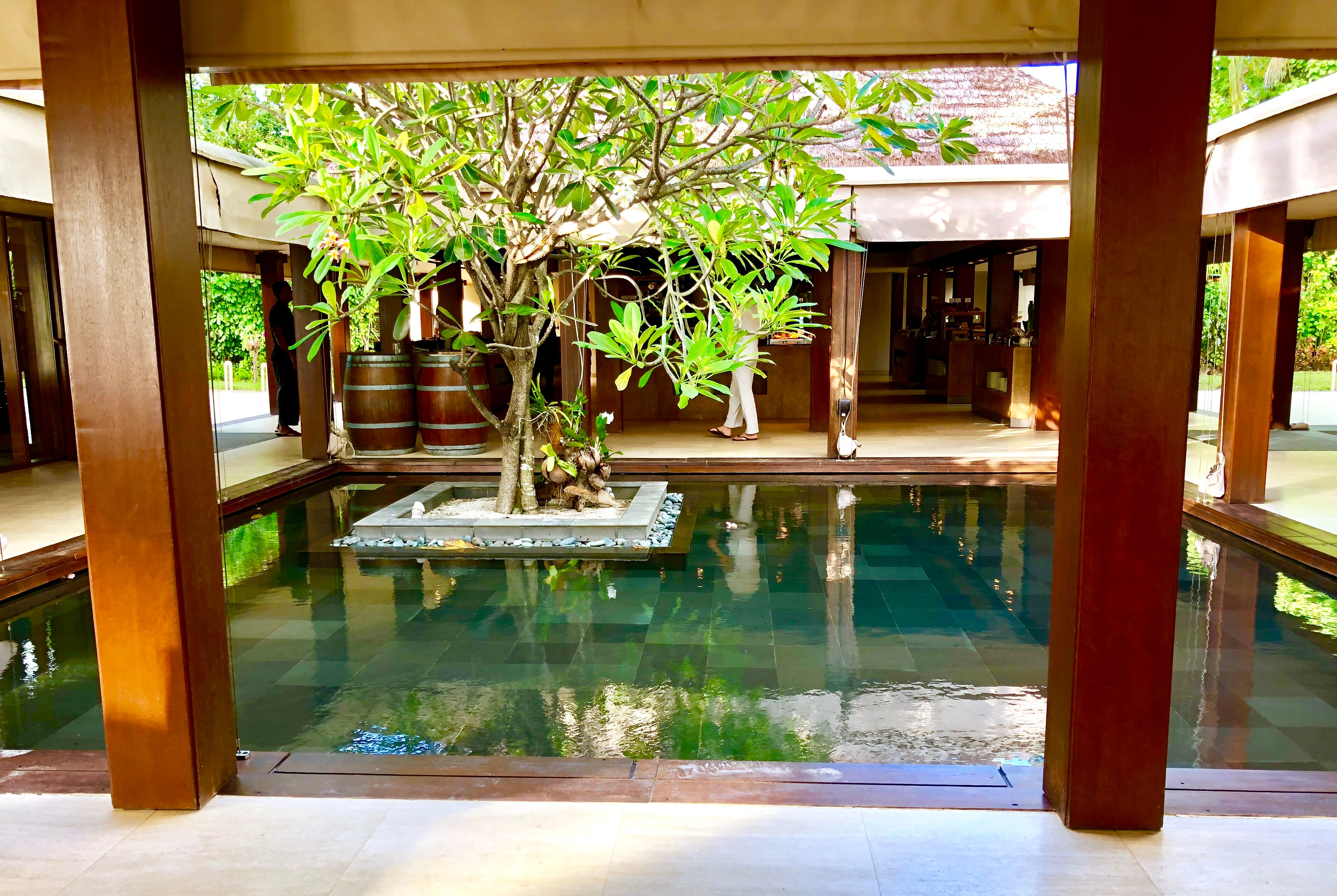 Maldives has proven to be an exceptionally popular destination for those seeking a winter escape, this is especially true for the Chinese. As such, Ayada has positioned itself really well to receive the oriental "onslaught" by recruiting a healthy number of native Chinese or Chinese speaking staff.
In terms of food, the international cuisine includes many familiar Chinese dishes. You'll find dishes like fried rice, fried noodles, congee, and dim sum to name a few, but each are prepared with their own Maldivian flare.
At closer inspection, I found that the dishes offered came from a myriad of countries. Catering to people with all sorts of tastes. Be it traditional English, Japanese, French, Indian or Maldivian. There was quite literally something for everyone.
Without further ado, time to see the food!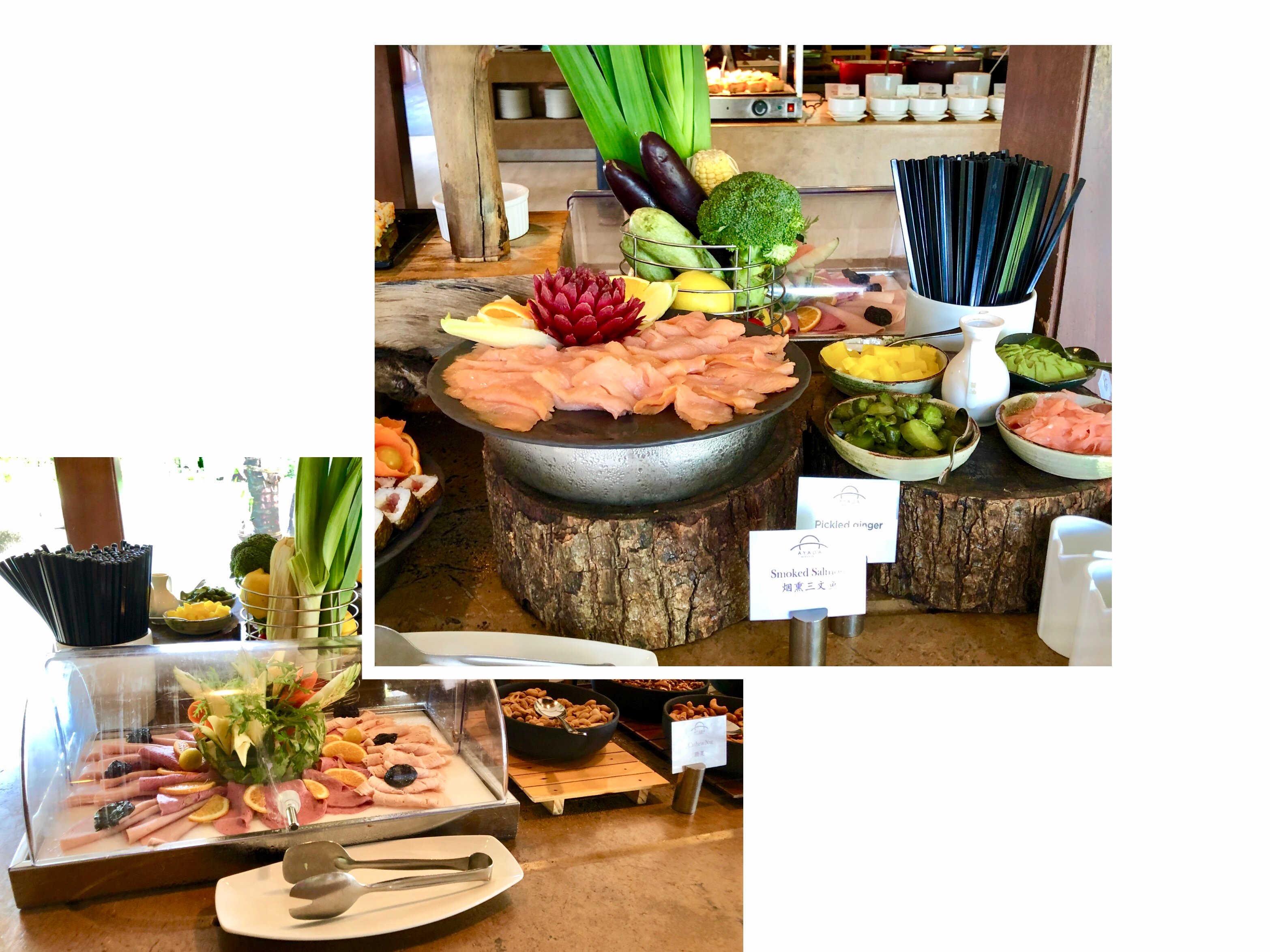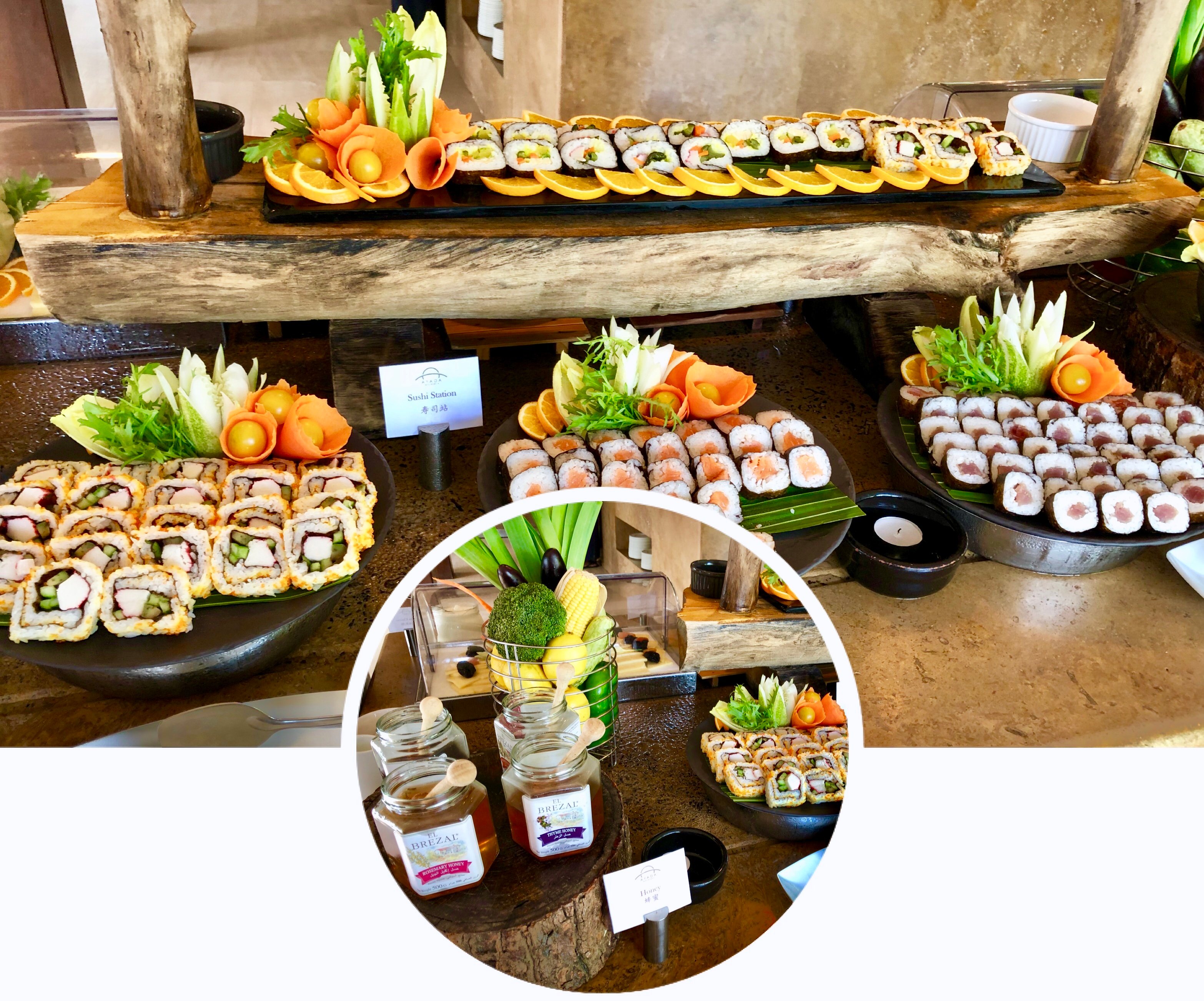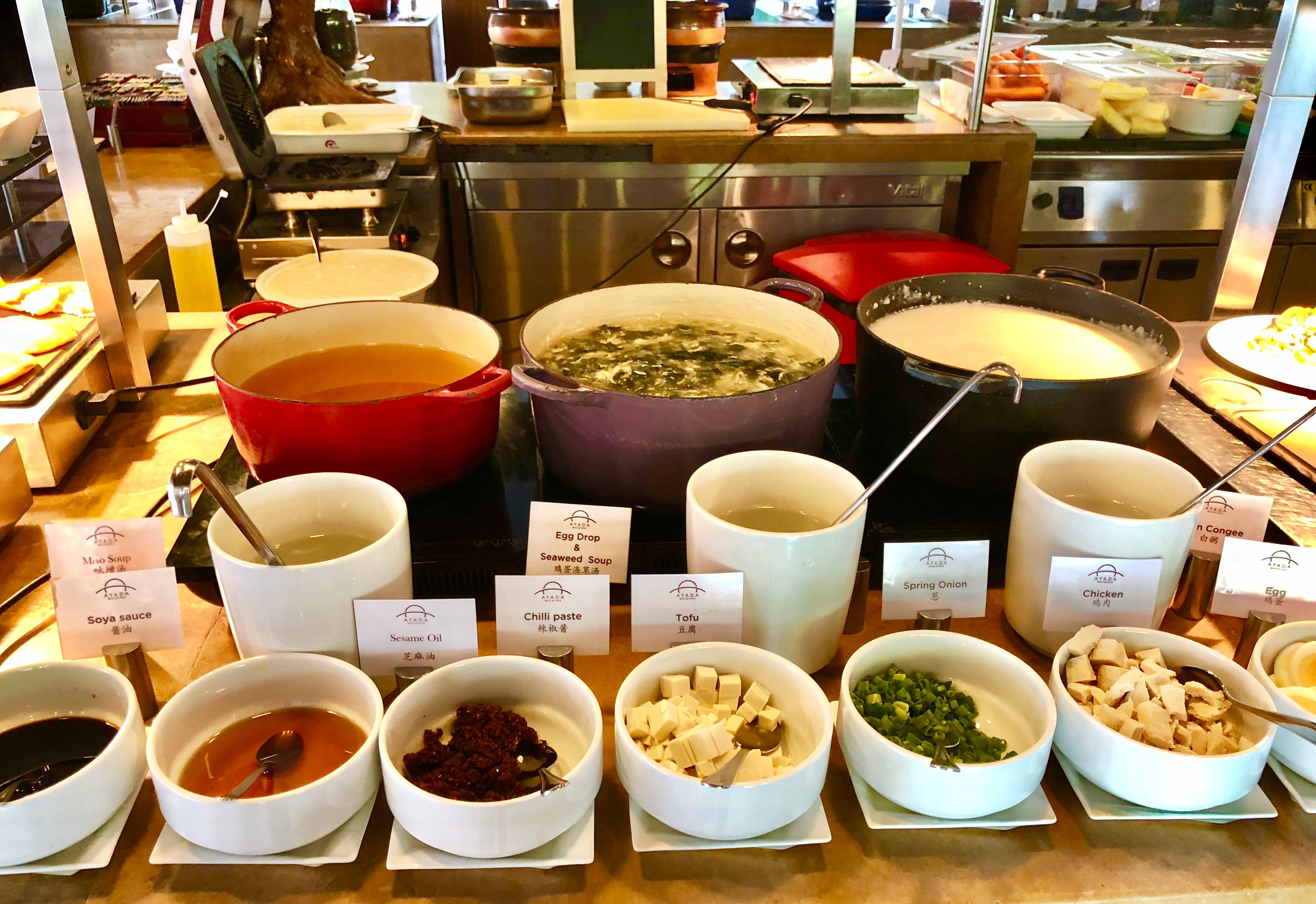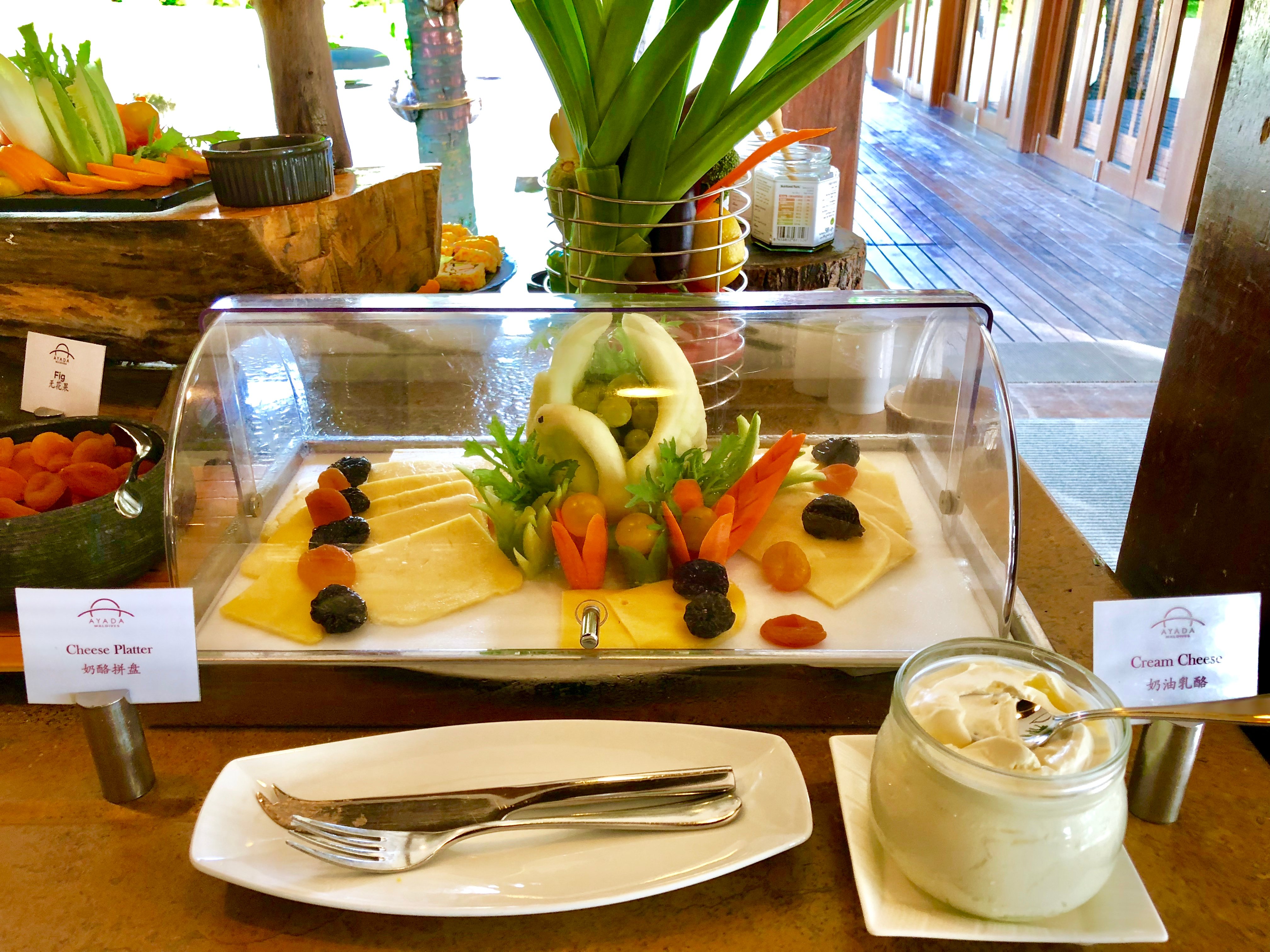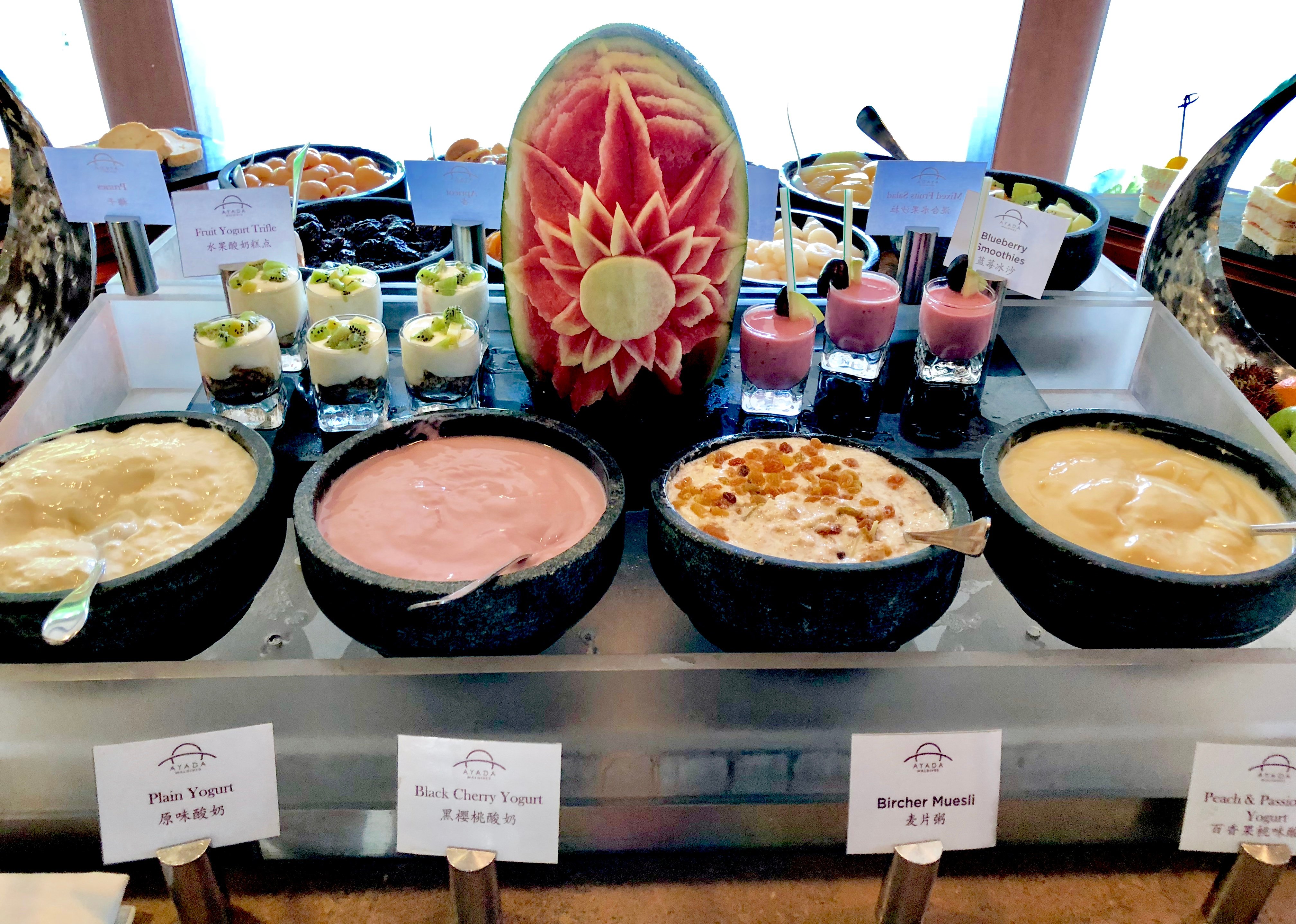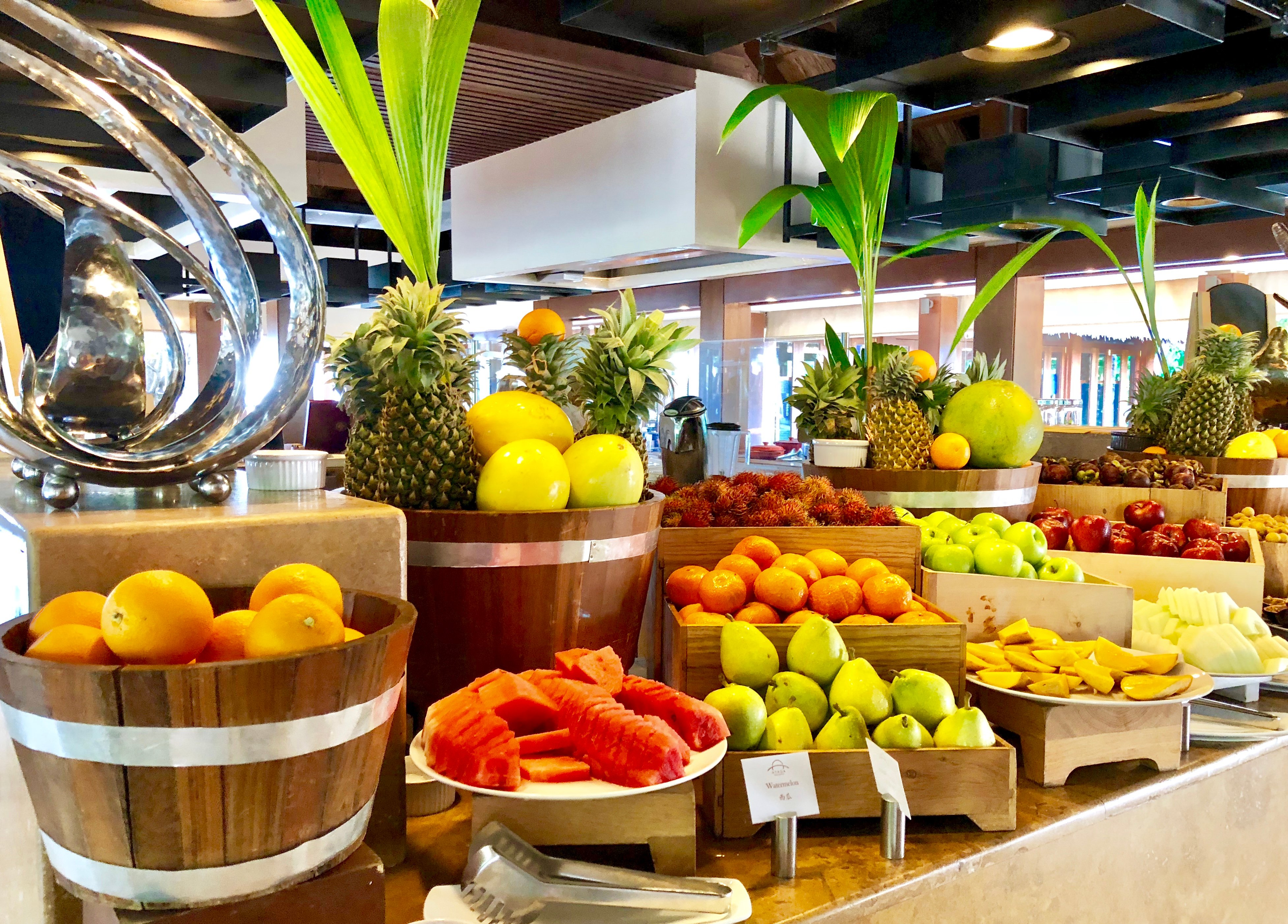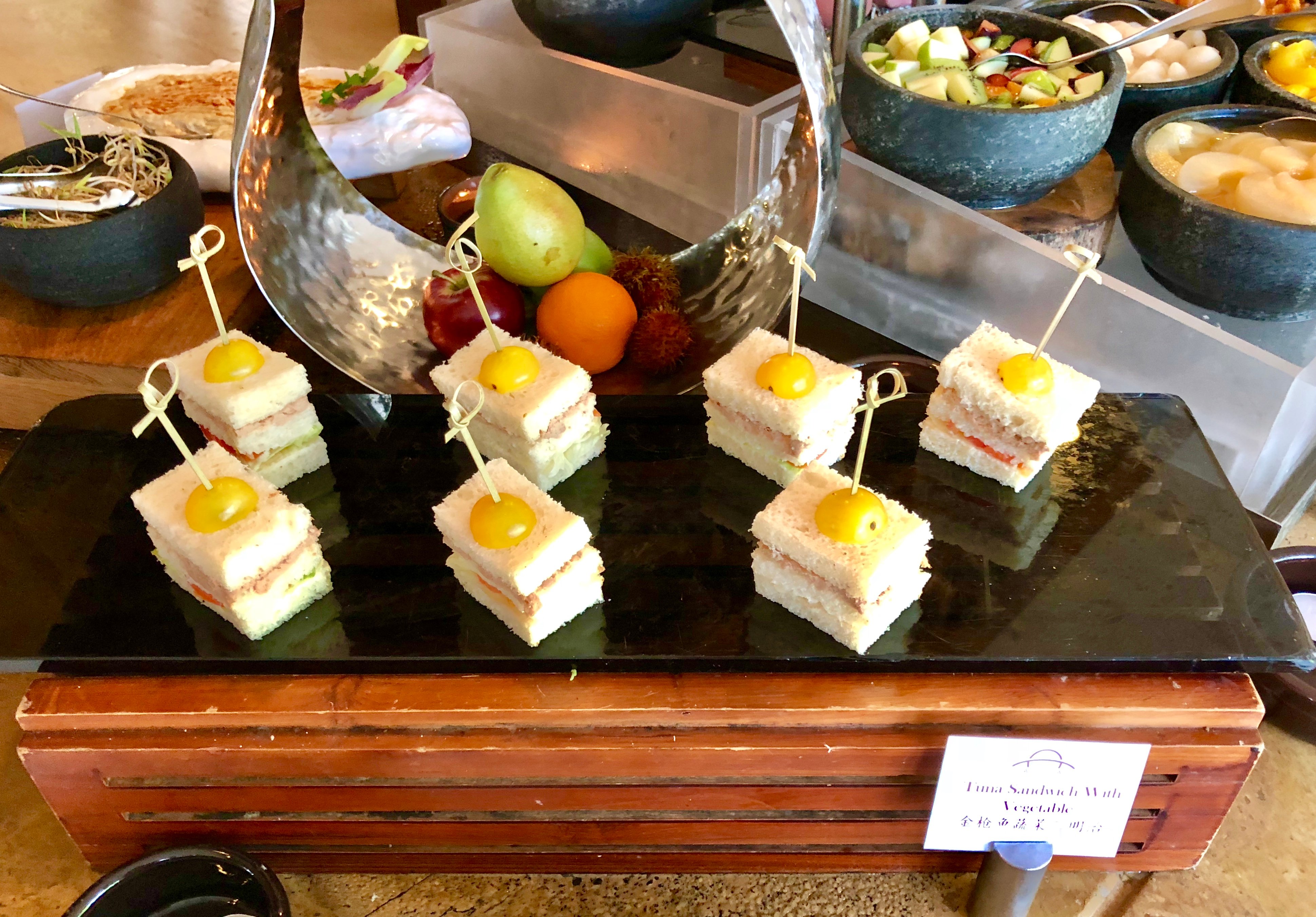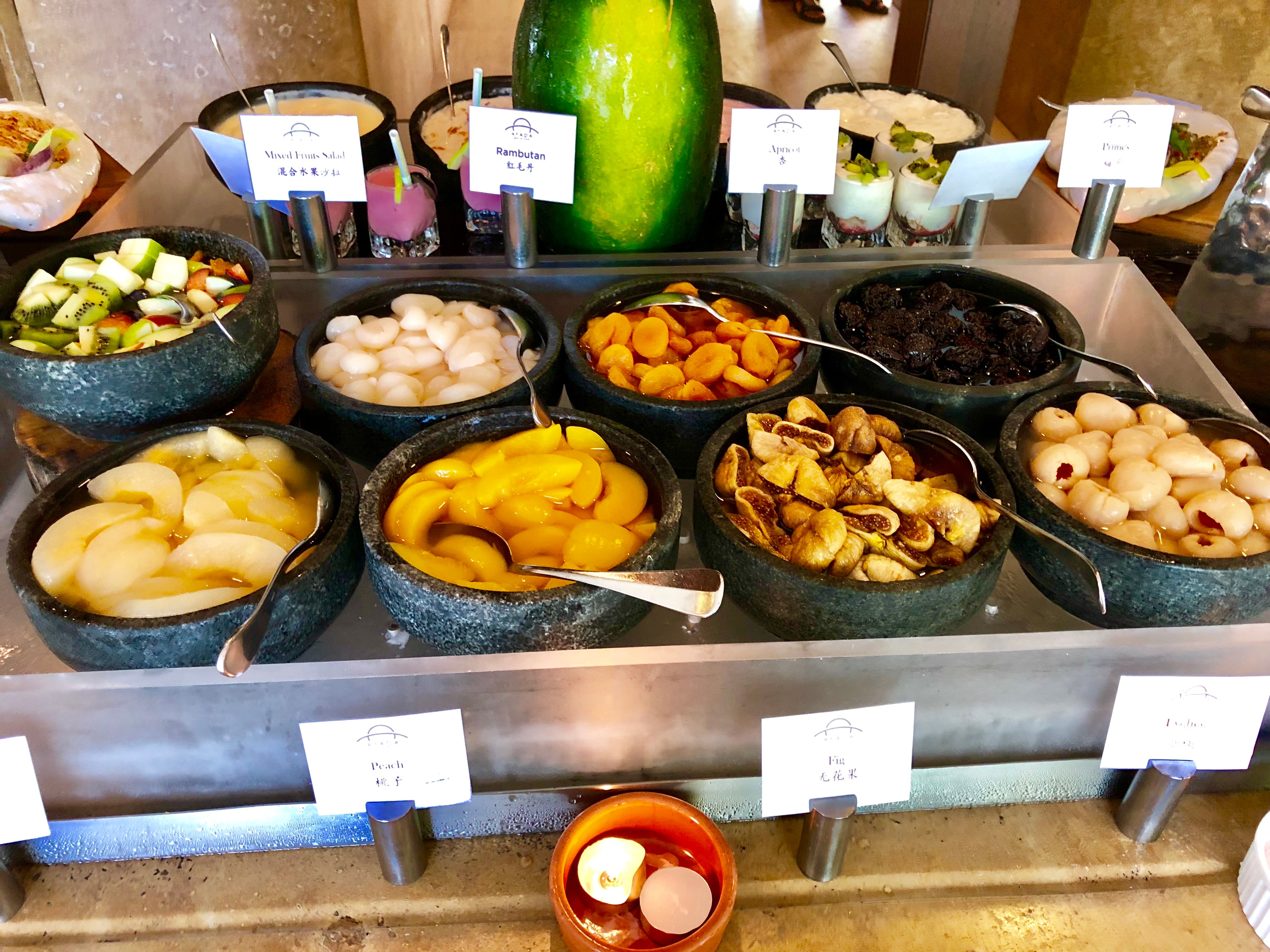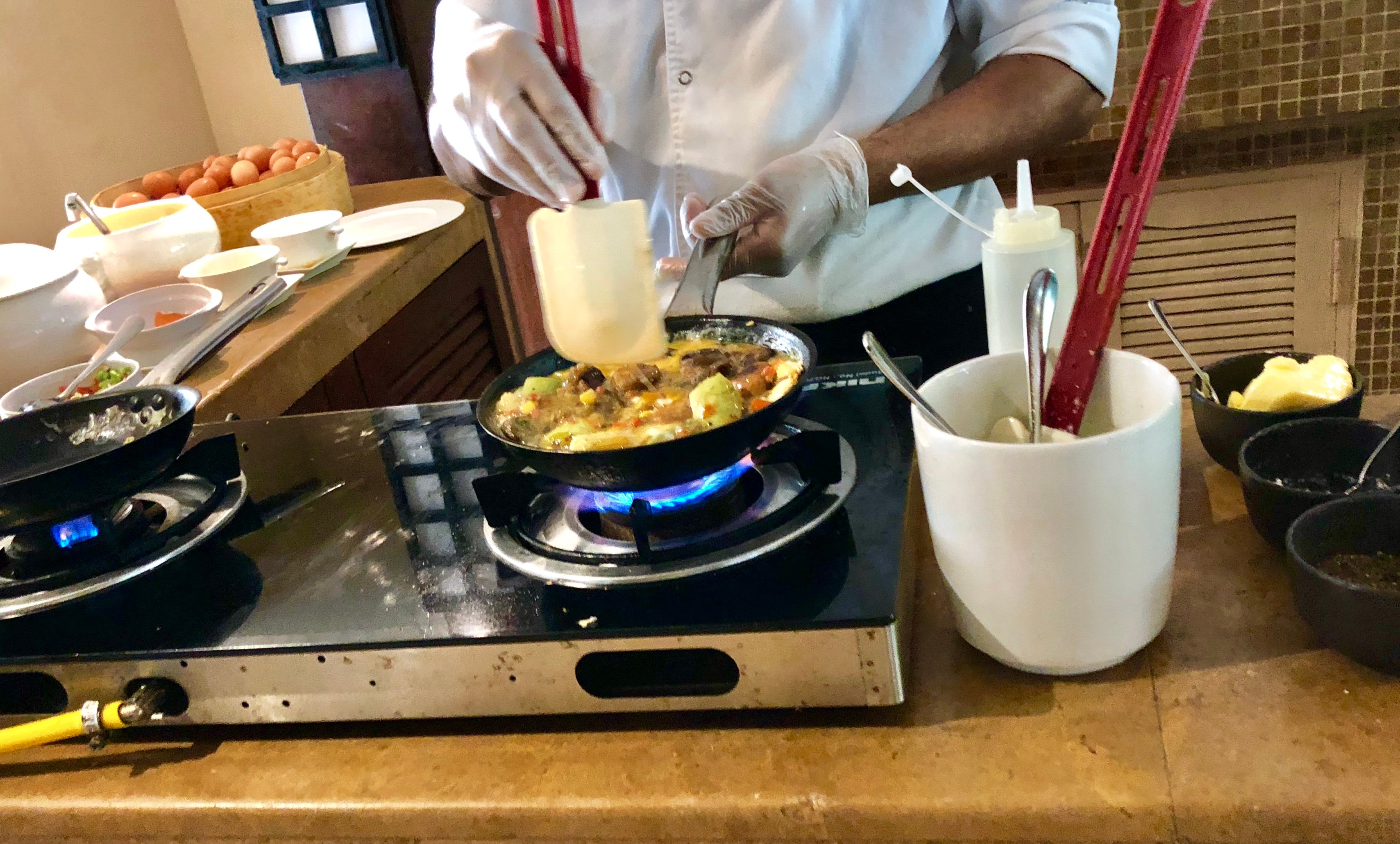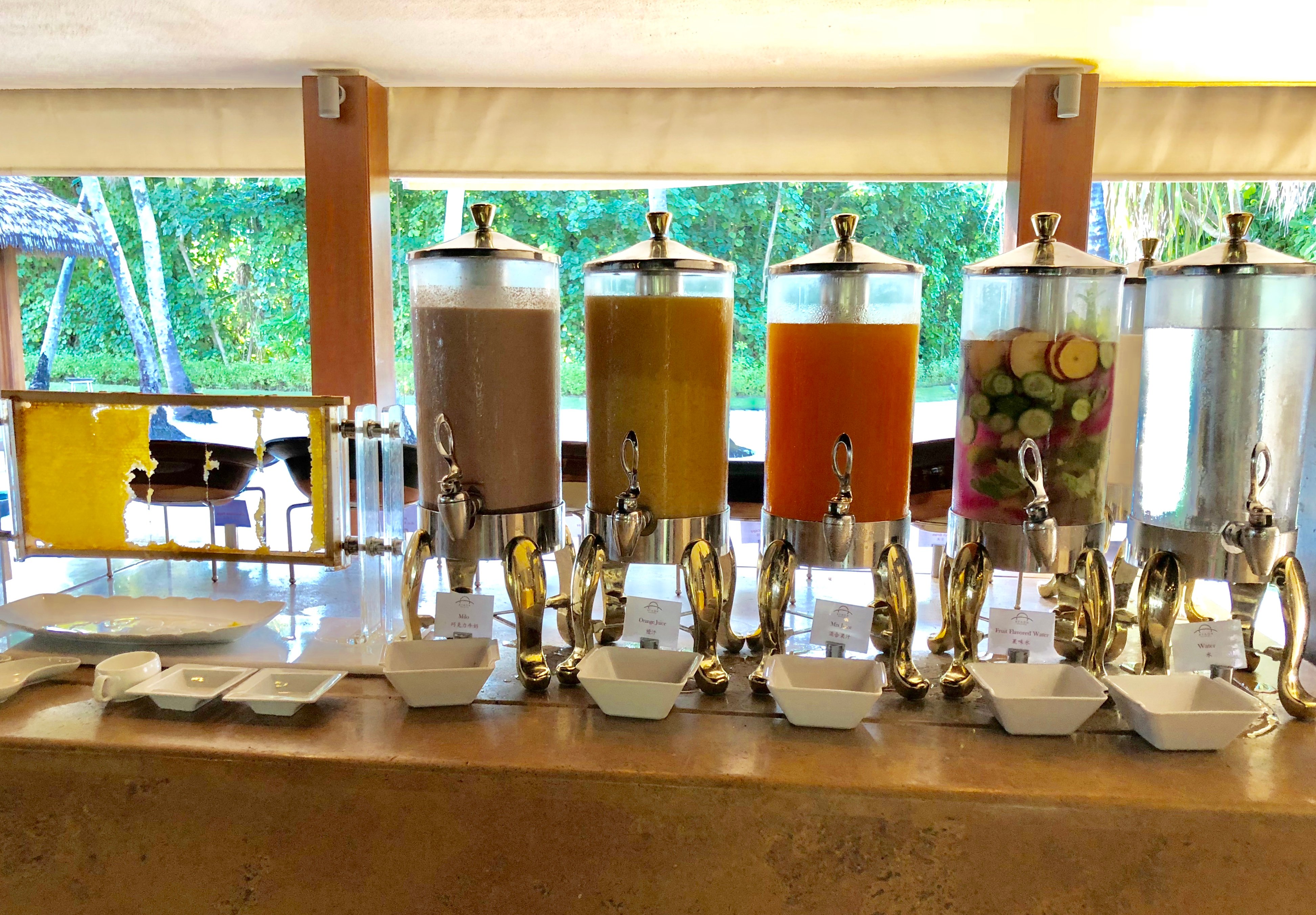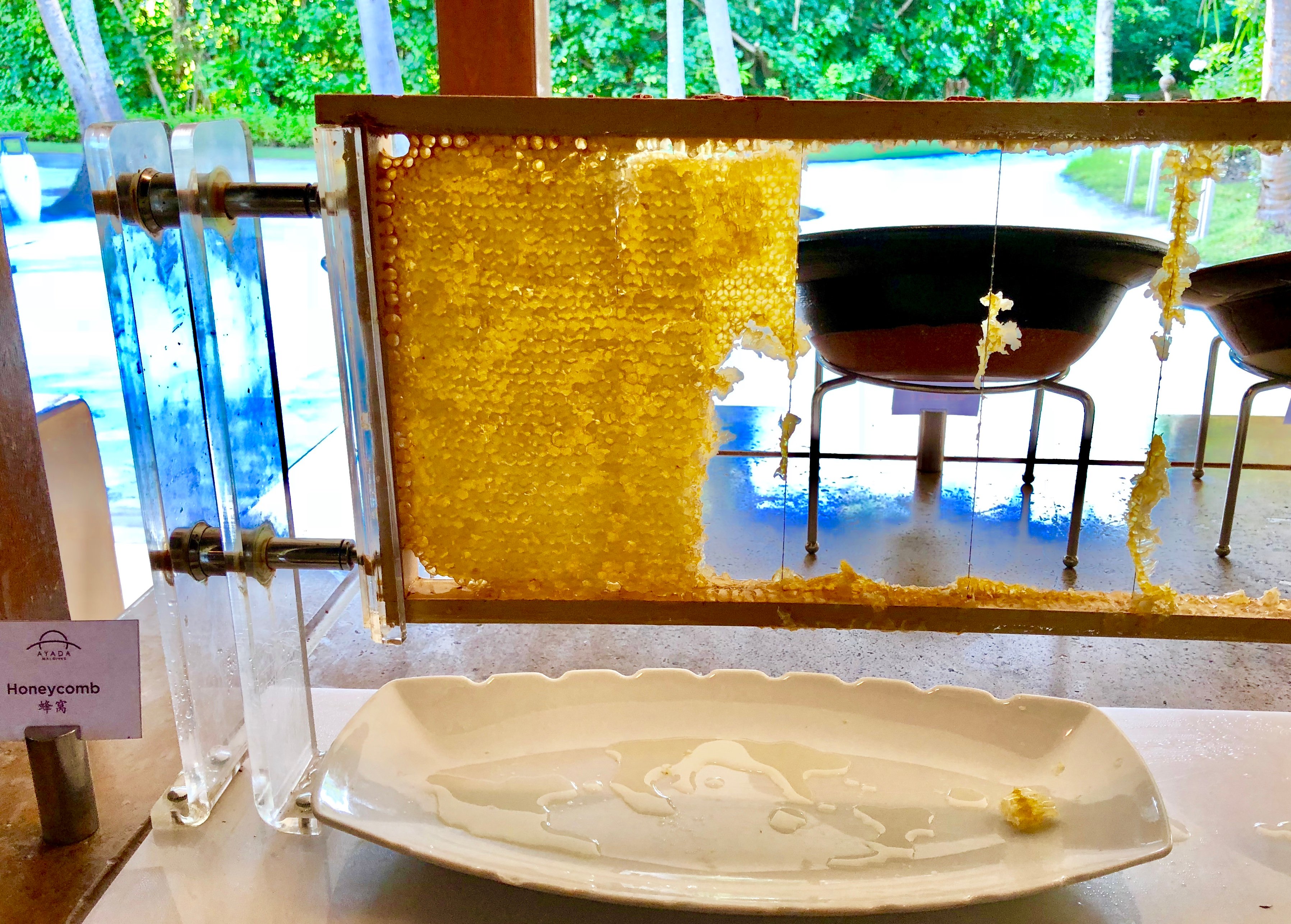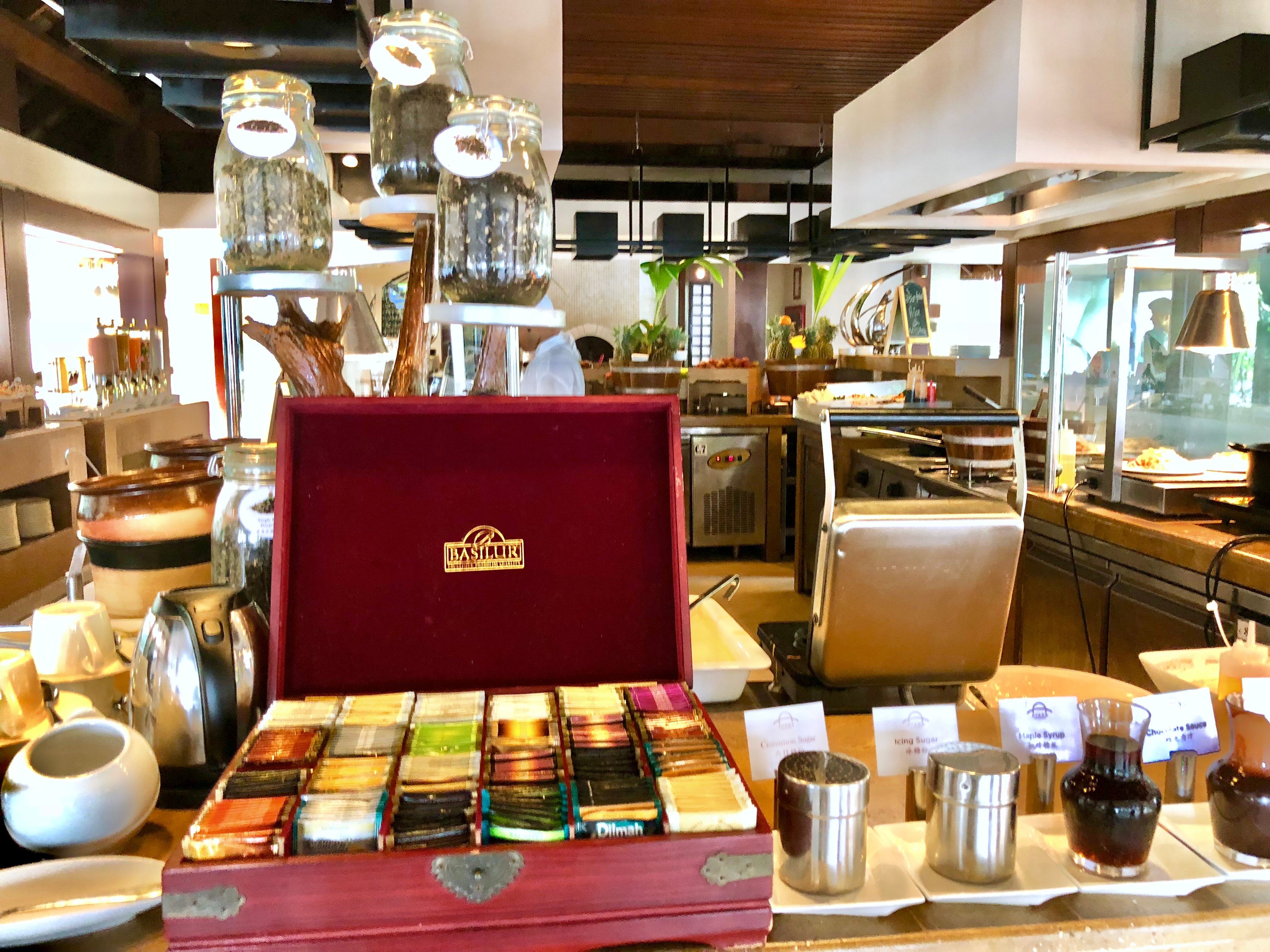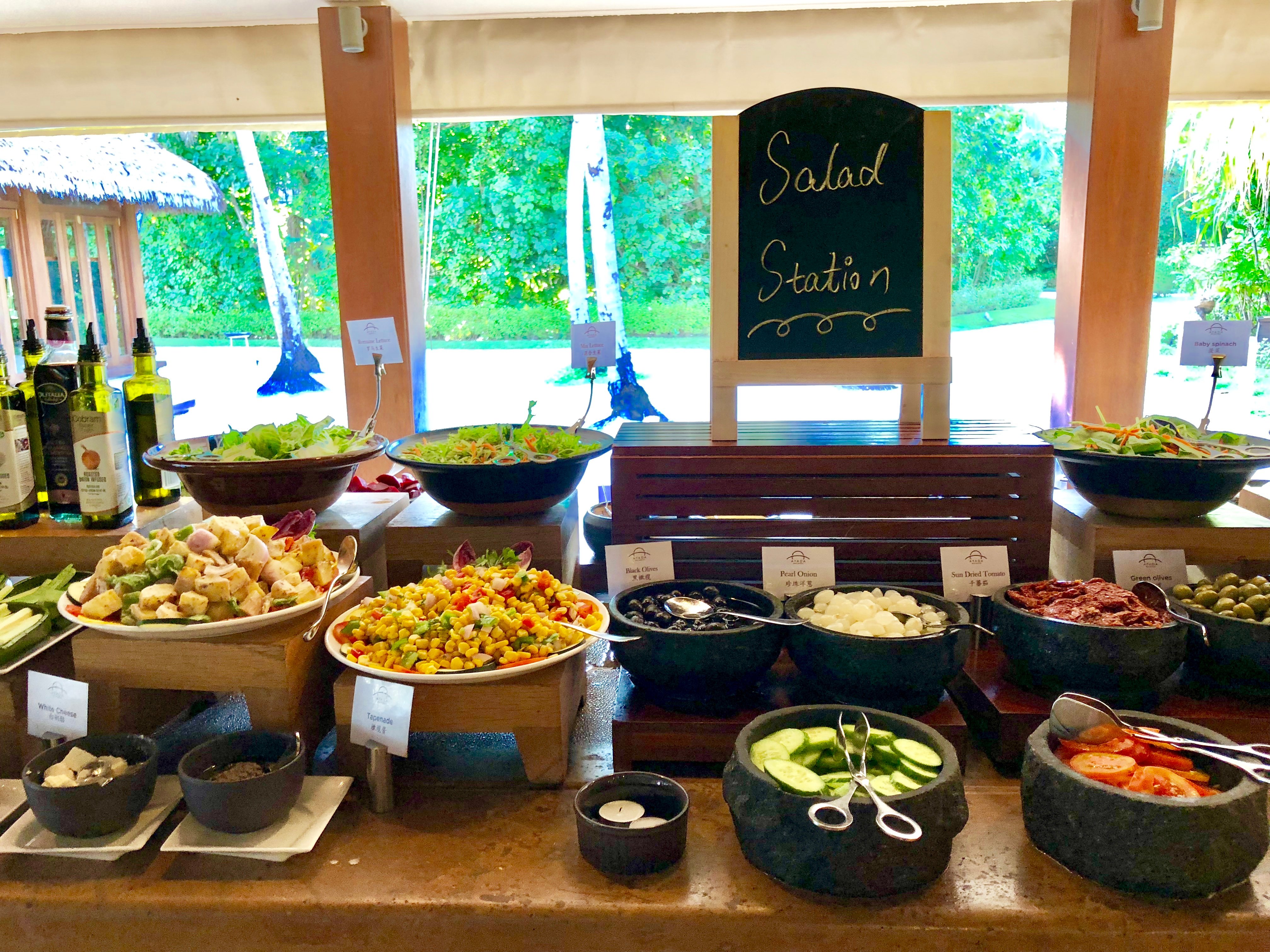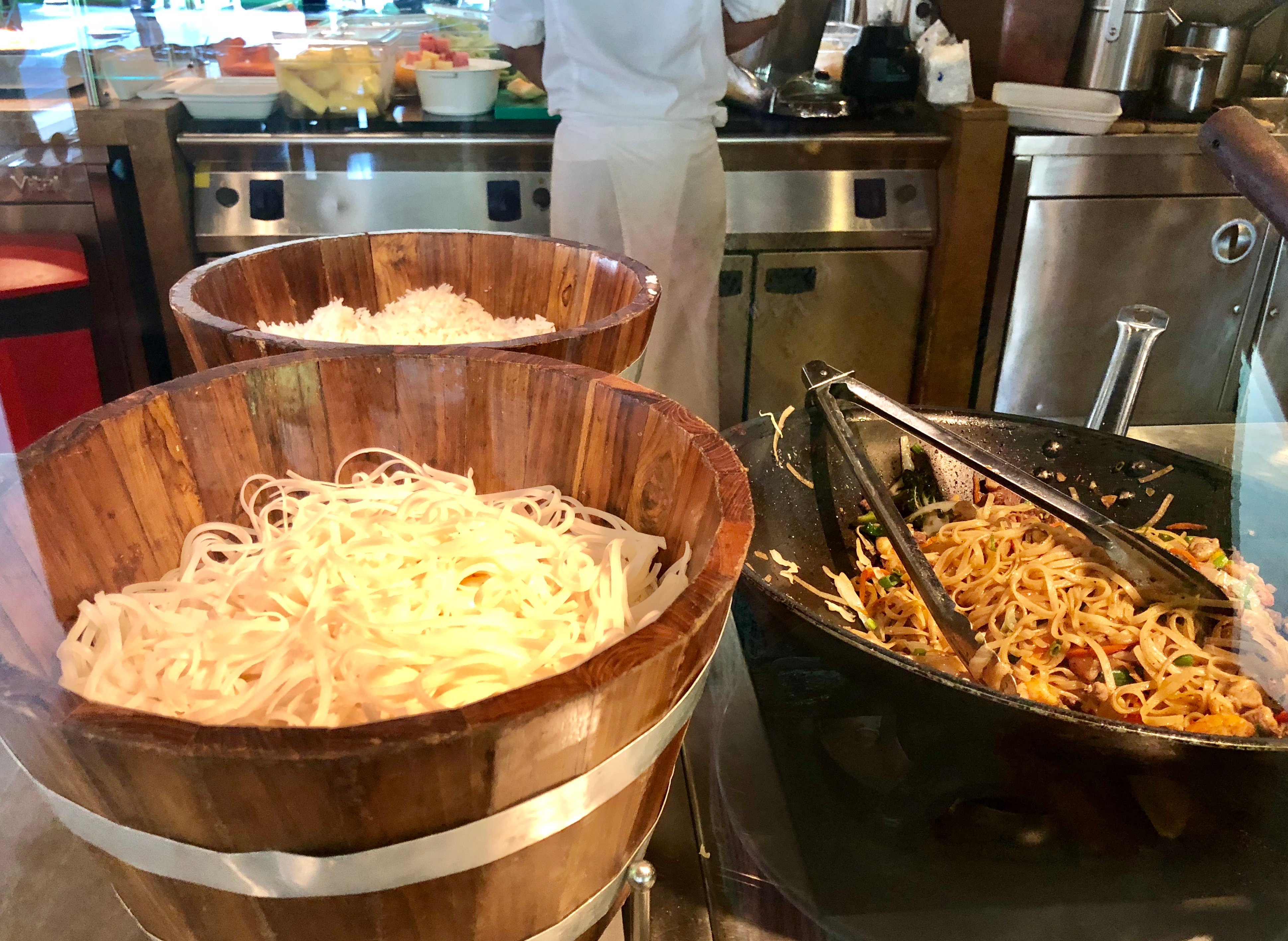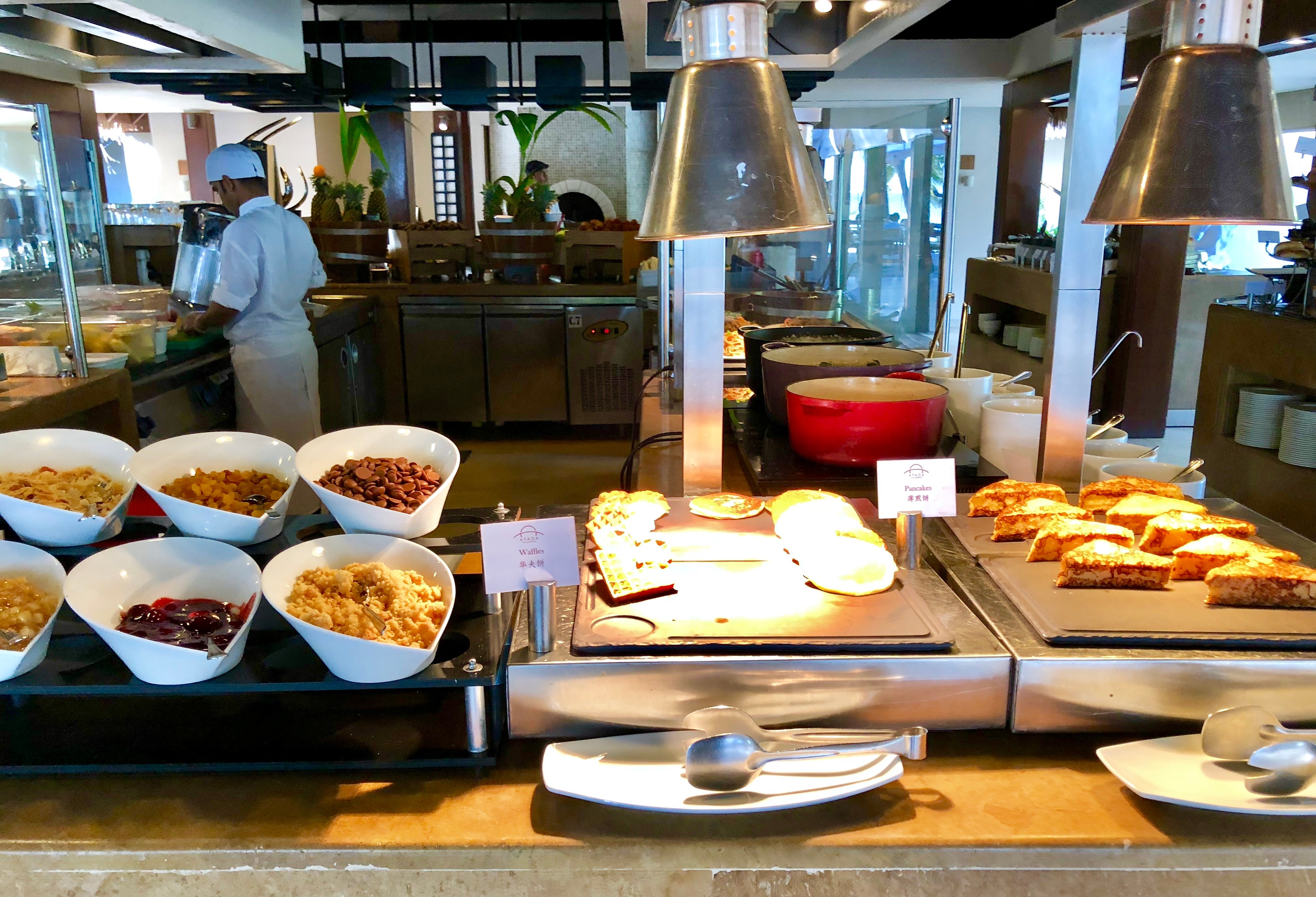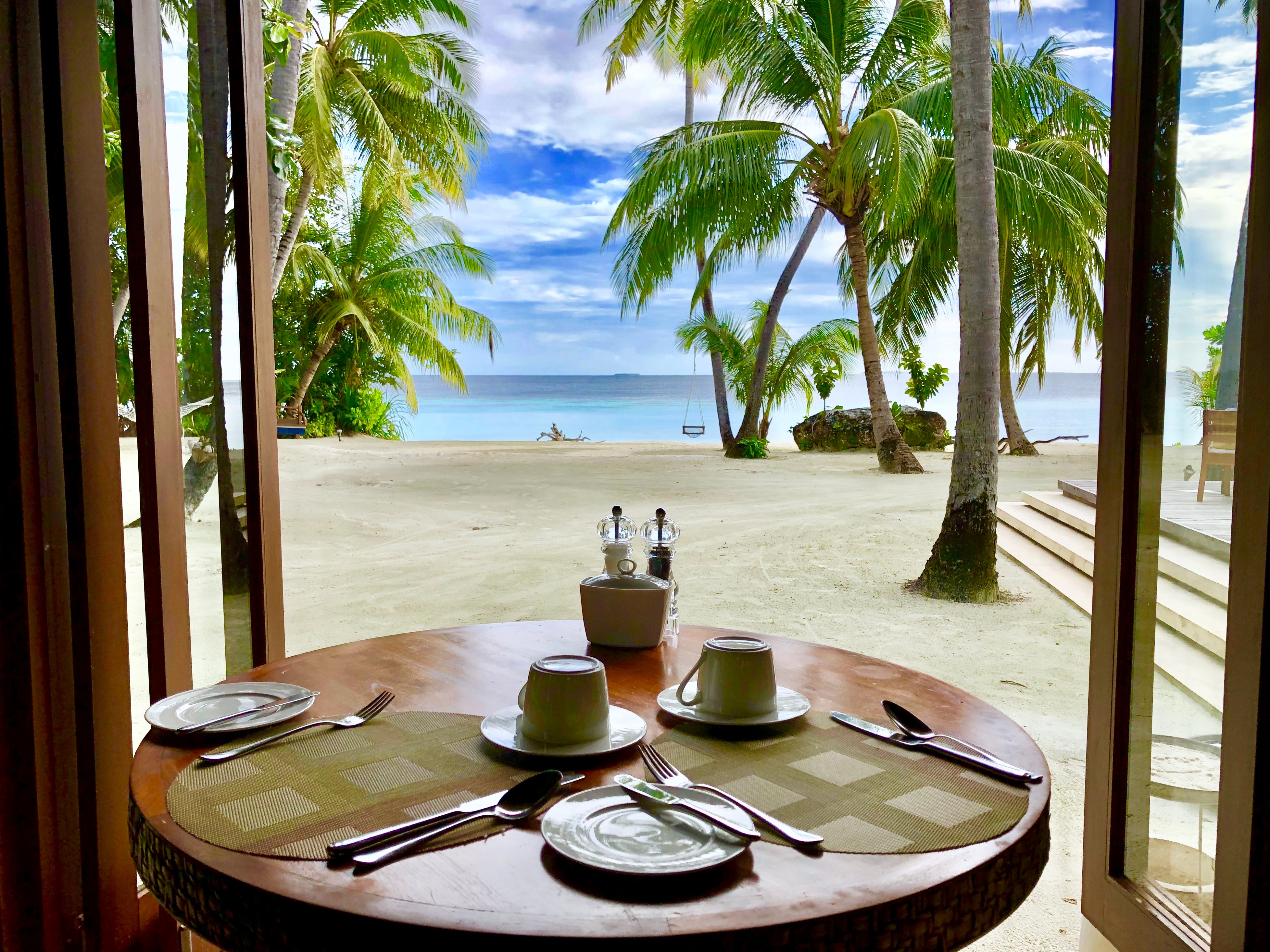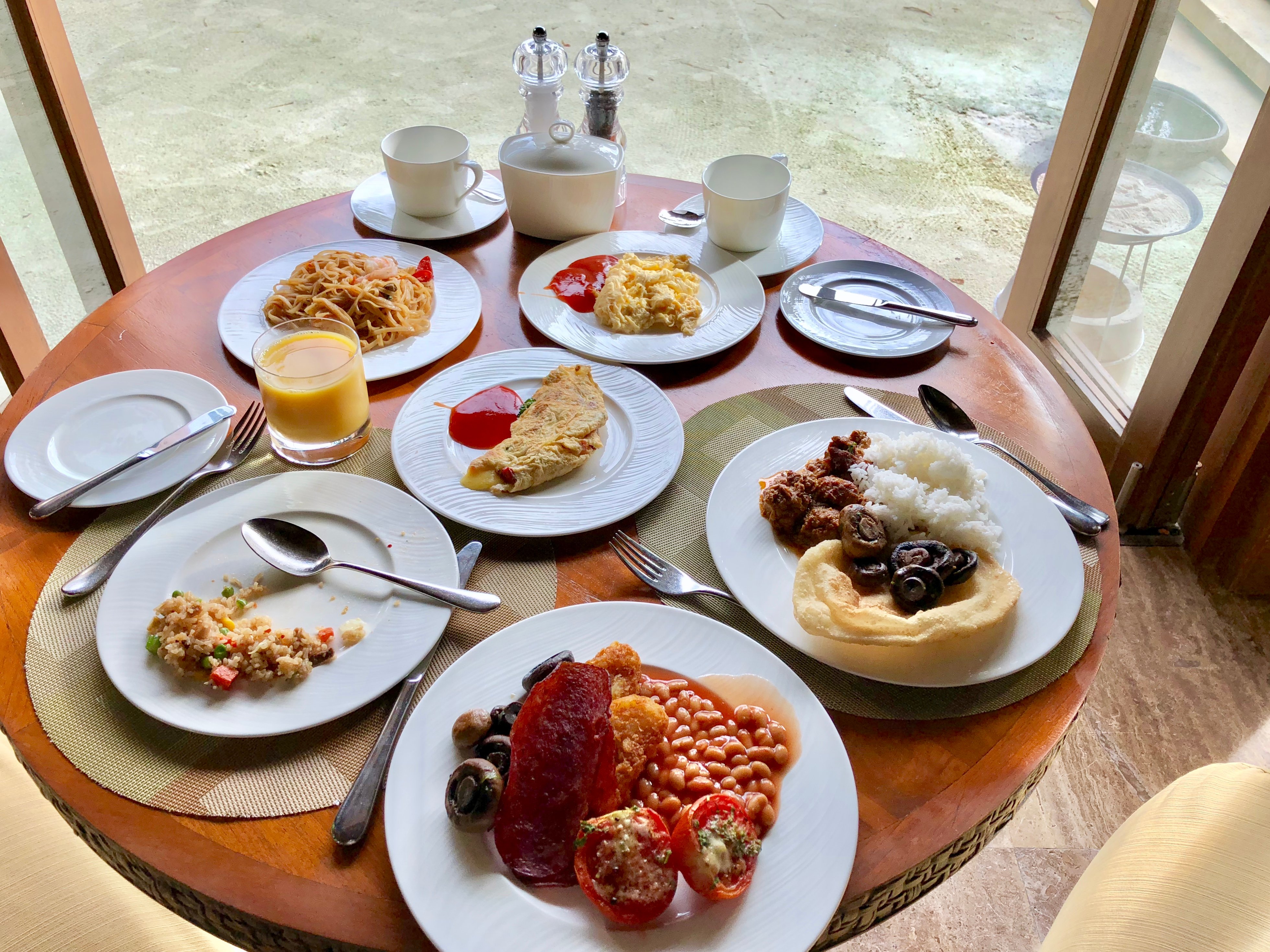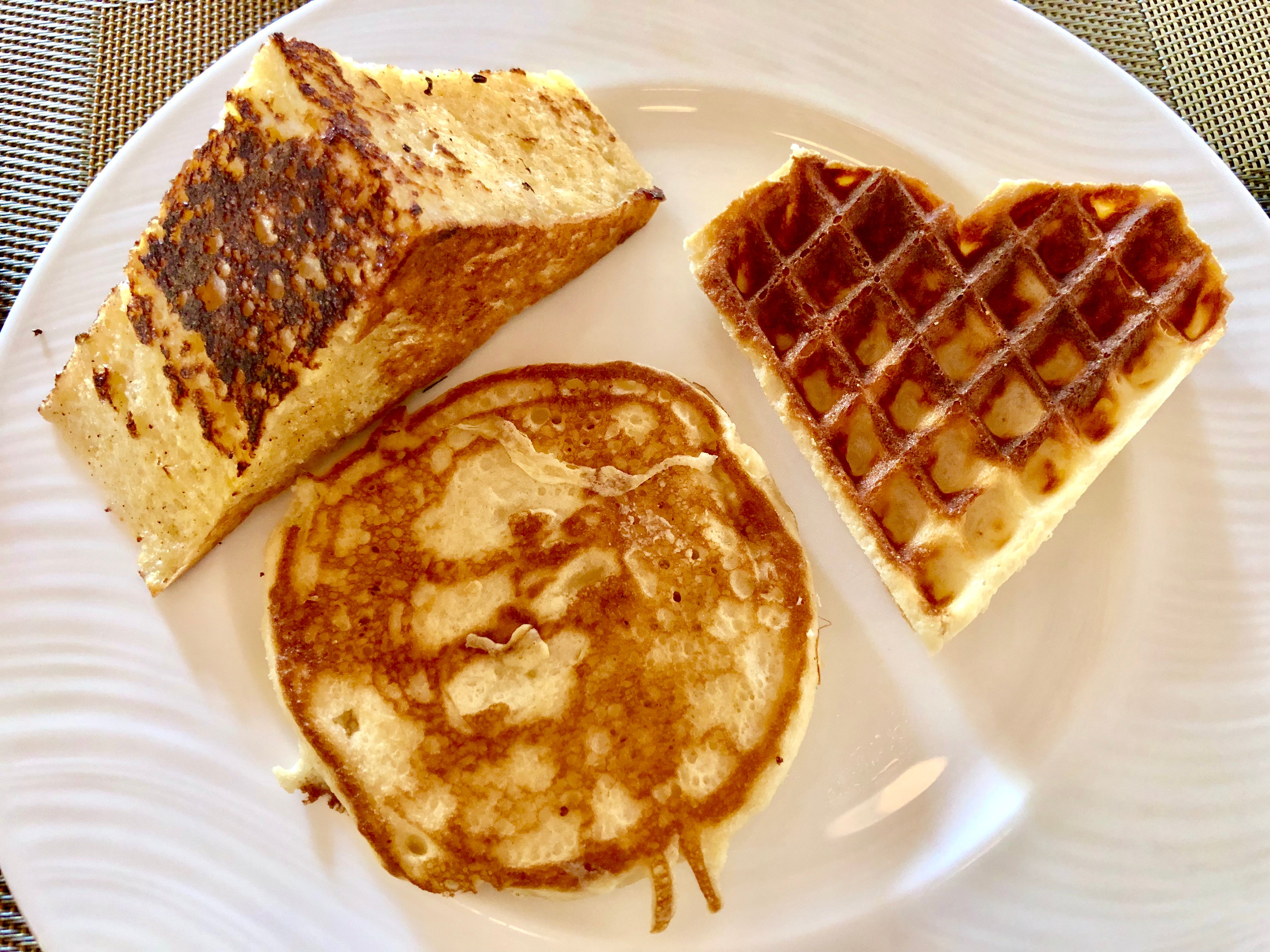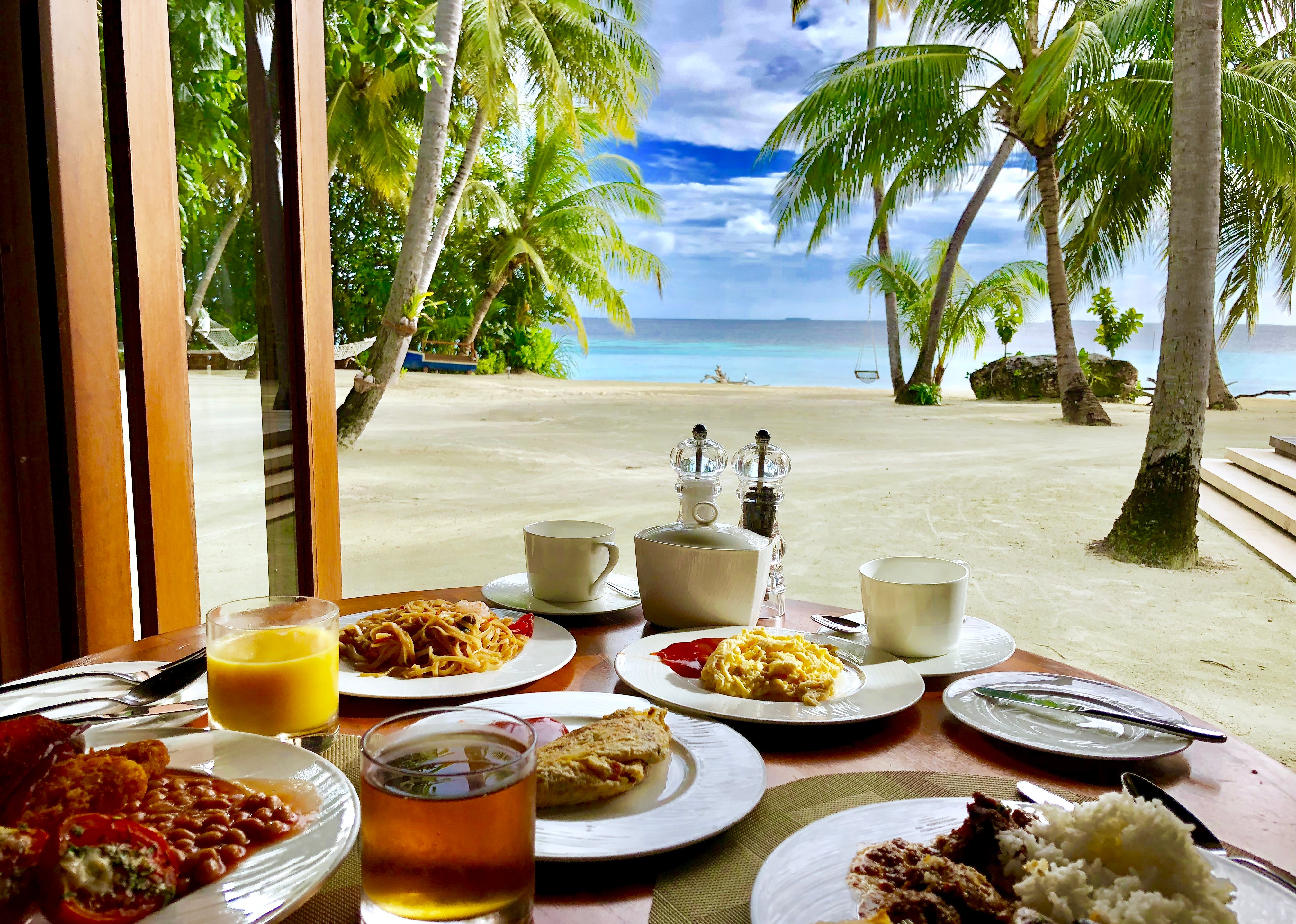 In-room breakfast service
Aside from eating at Magu, each guest is also entitled to one complimentary in-room breakfast. The food is prepared by the Magu restaurant and only requires you to make the food selections through your butler one day in advance.
Naturally, I couldn't resist having breakfast by the pool deck. Topping up on sunshine whilst kicking off the day with room service breakfast could not get any better!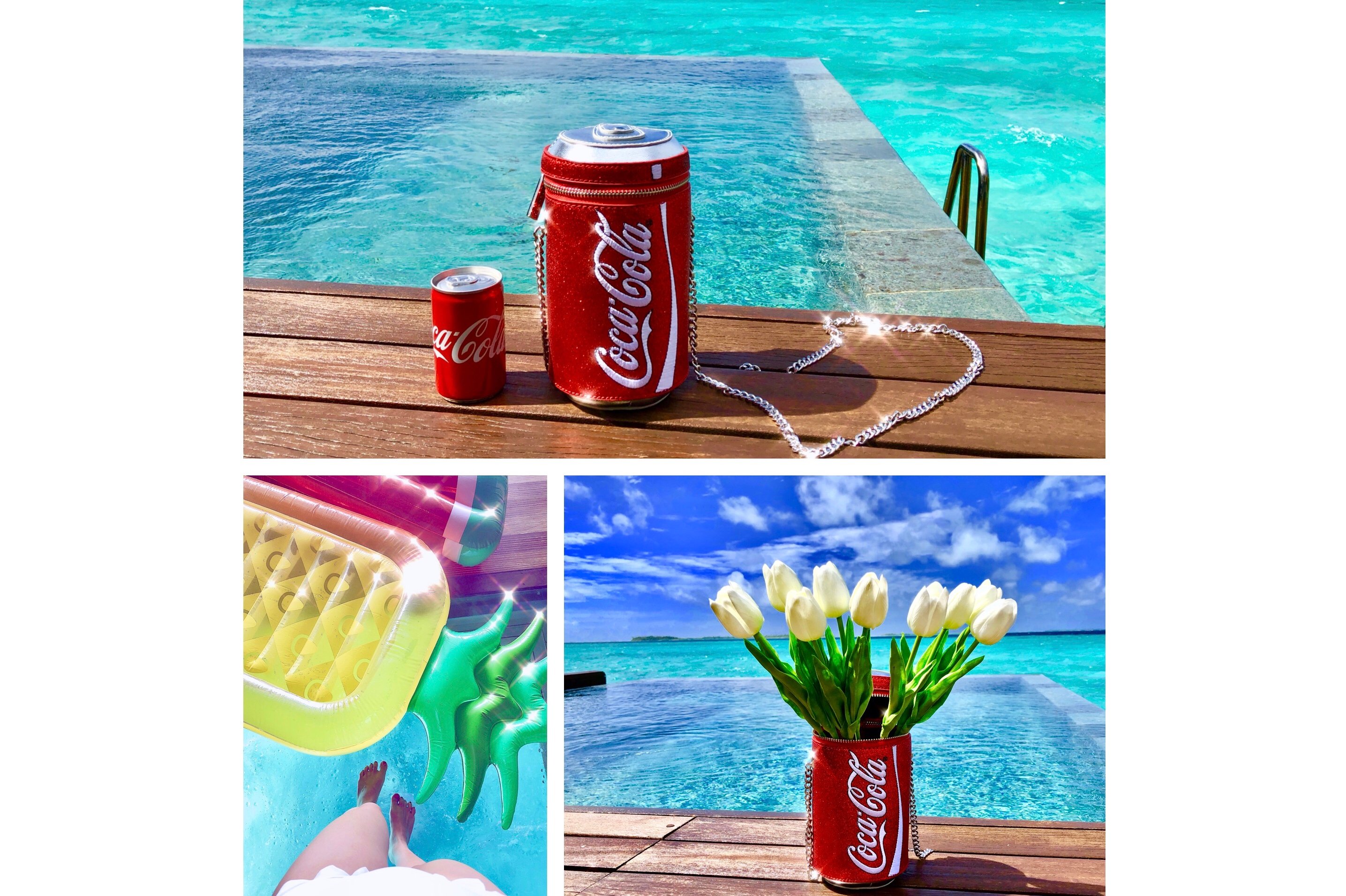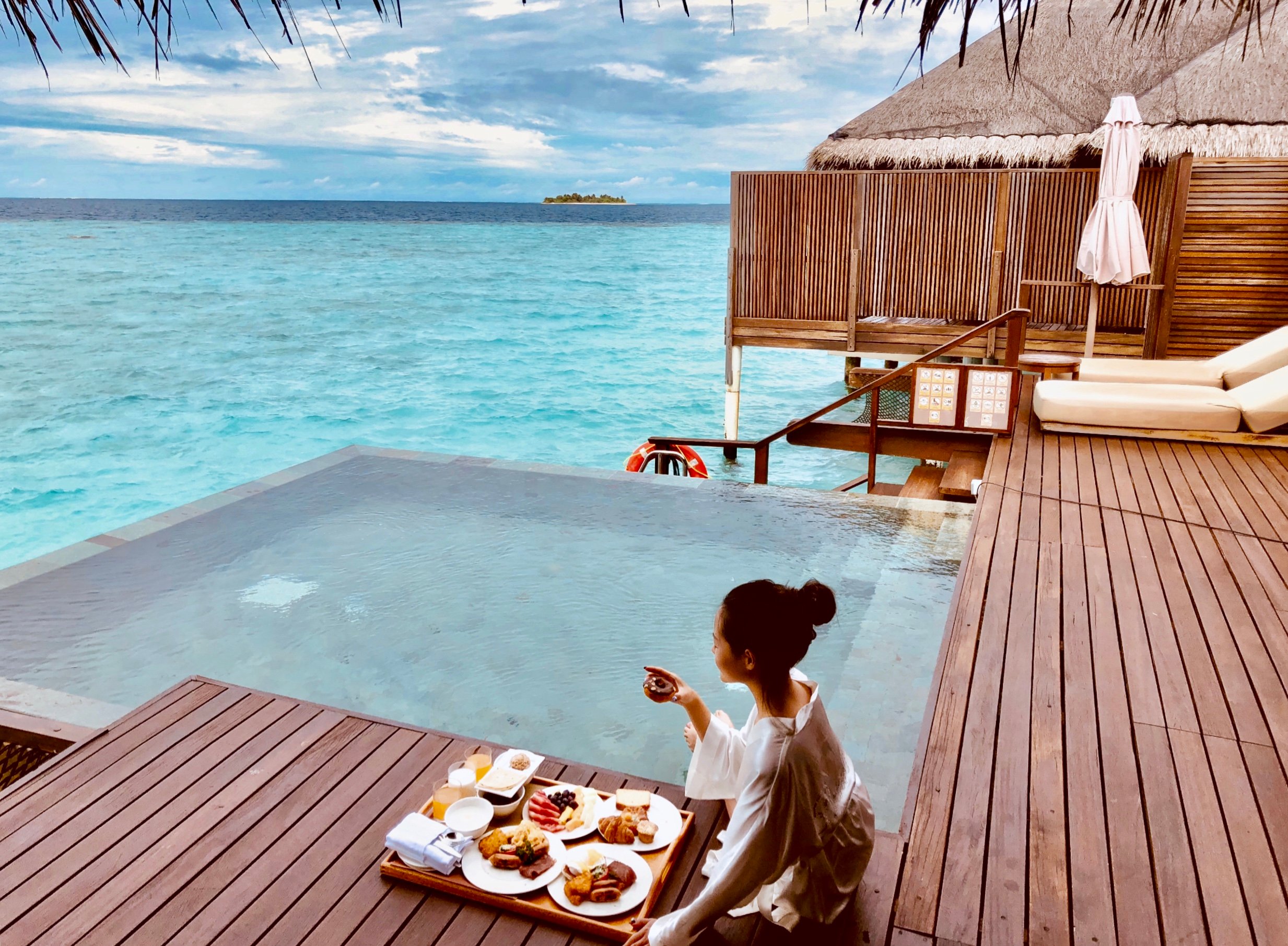 Although the temperature was high, there was actually quite a lot of intermittent rainfall, this makes the availability of sun some what a godsend. Any opportunity I had to go outside and wade in the pool with my floaties under the sun, I'd take in a heart beat.
This is a wide angle shot of the pool deck.

Today's floatie is the pineapple. If you remember from about a year ago, I made a pen pineapple apple pen meme contest. Suffice to say, I'm a big fan of pineapples!
The light emerald blue water really stands out under the sun. It's almost.. ethereal.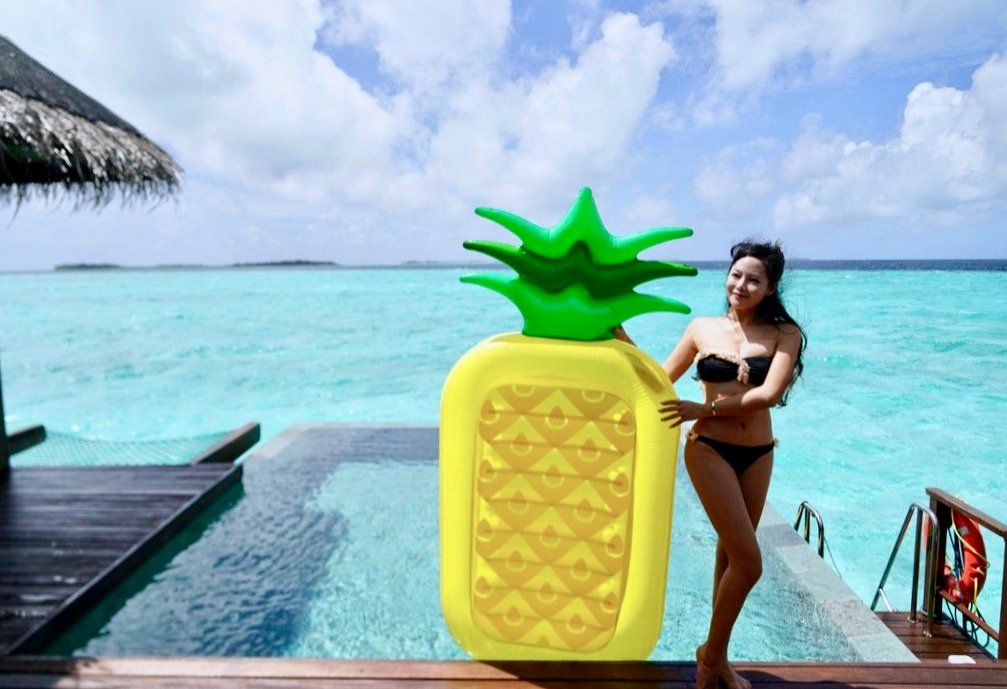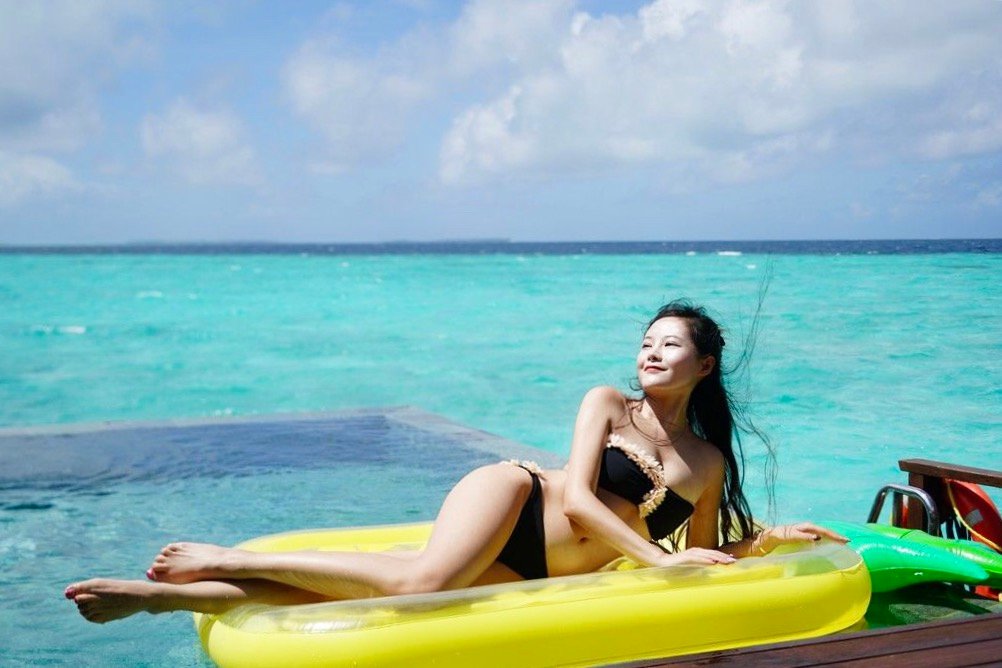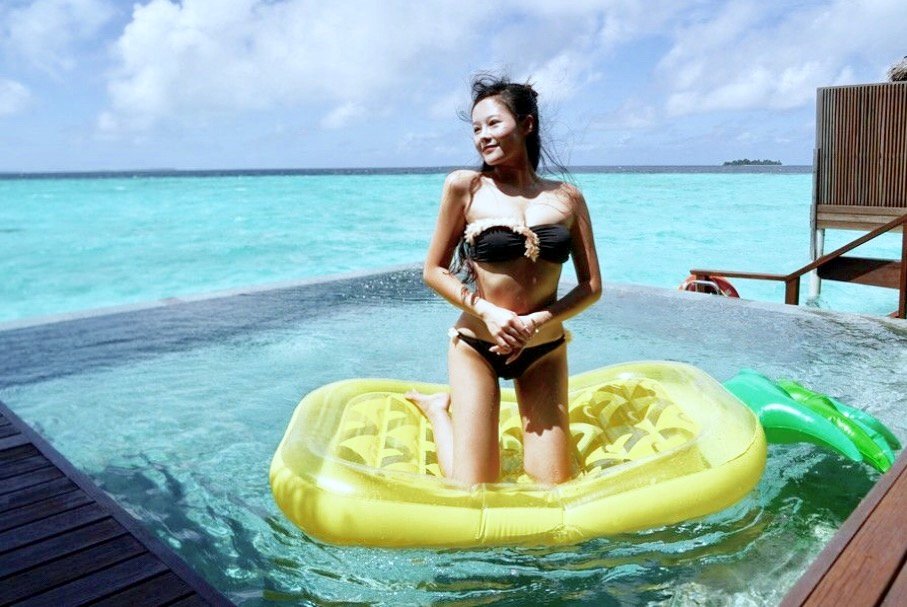 The obligatory hammock abuse.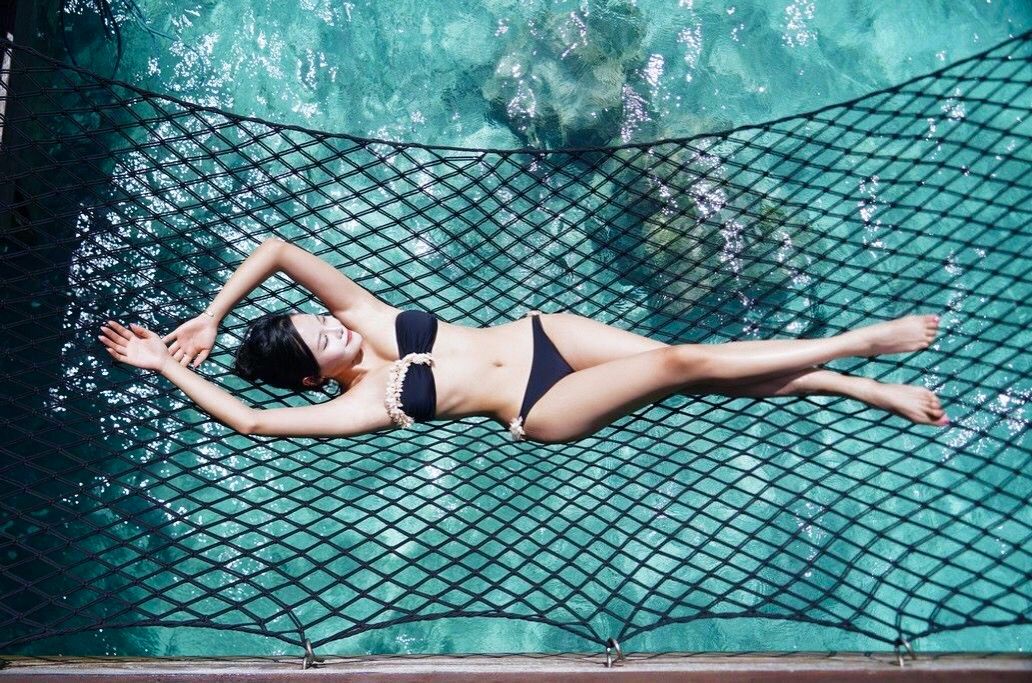 These are the ocean villas, on the left are the suites and on the right are the standard villas. Connecting them are these quite wide piers which are often used by the mini carts and buggies. But you'll also find people cycling along the top of it for some stellar ocean views.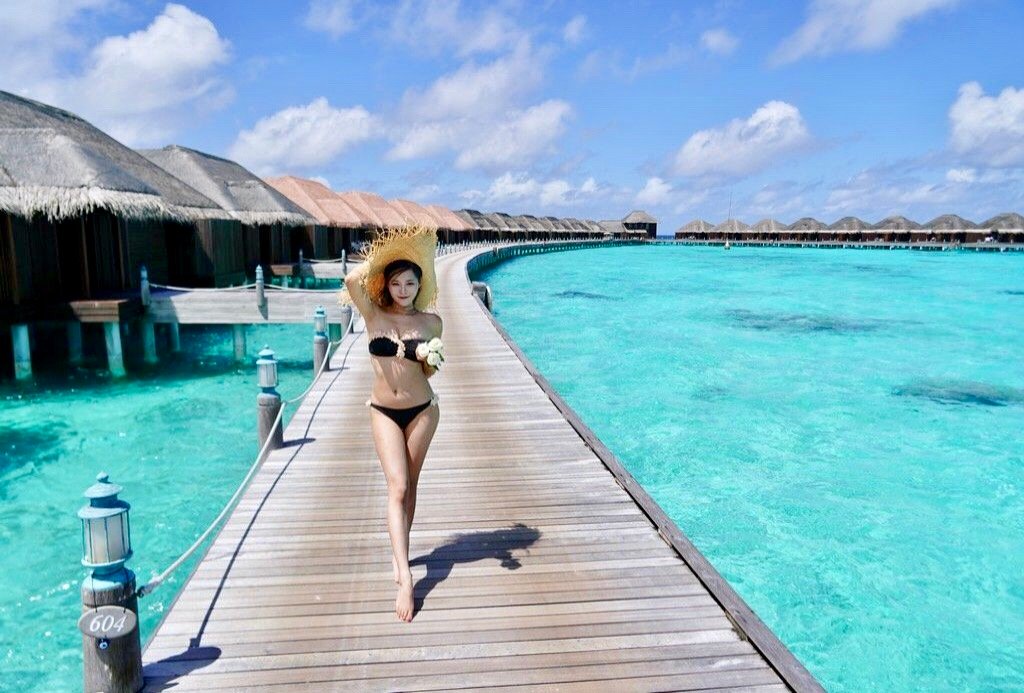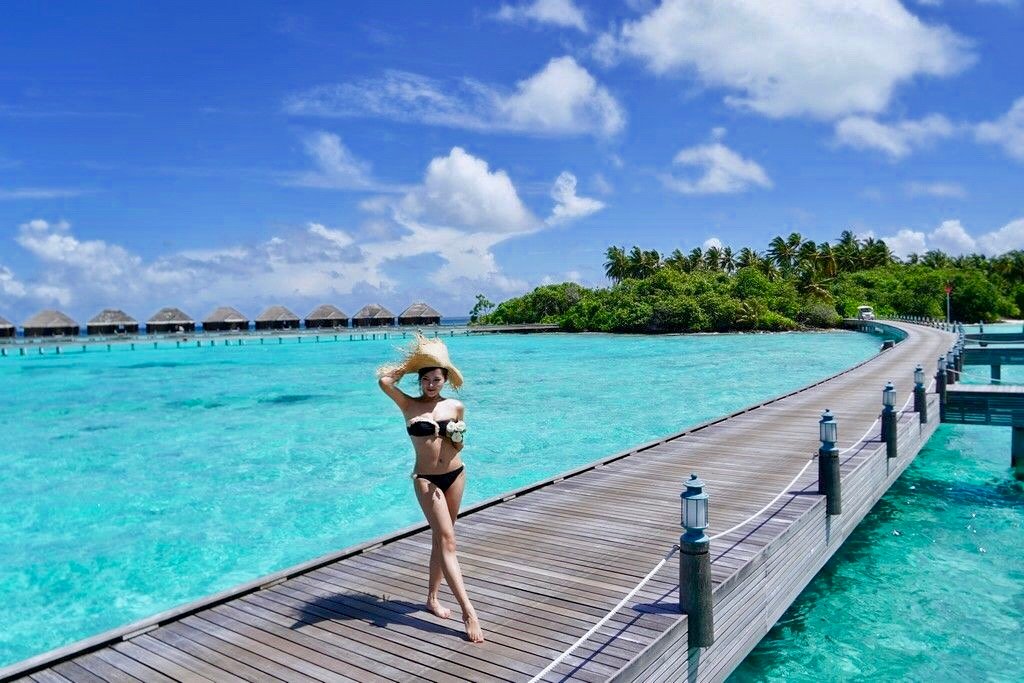 Sunset fishing excursion
One of the most popular activities is the sunset fishing experience. This is one of many activities available at the Dive Kingdom. Other popular activities include various water sports and Big time fishing. Unfortunately, the weather was unsuitable for the water sports, and I'm not experienced enough for big game fishing. Sunset fishing is the only option left!
We gather about 2 hours before sunset (17:00) and set off with a group of other keen fishers. By this point, I had waited several days for this experience because the weather had been too rough for the boat to go out to the sea. As you can imagine, I was quite excited when I found out the activity was going ahead.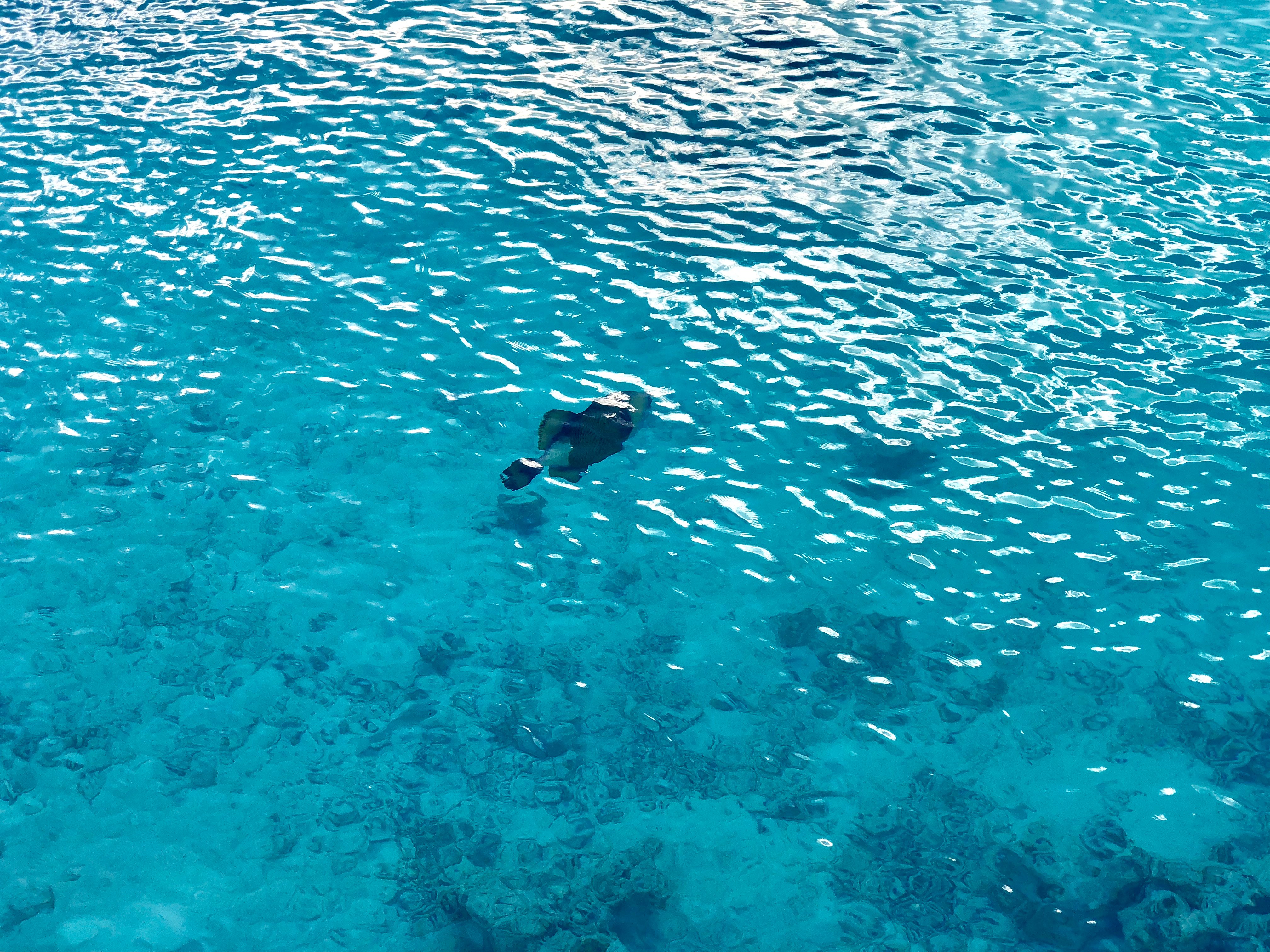 We headed a few miles out to sea, close enough to keep our point of origin in sight, but far enough to enter deeper water.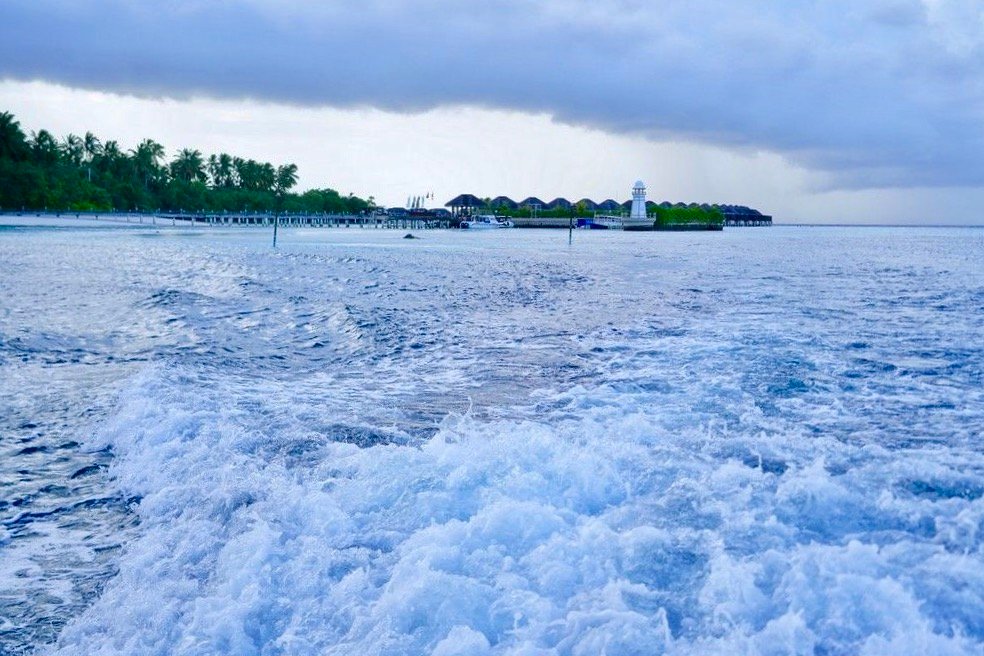 There were several crew members to help us out. None of the people on the excursion had any experience fishing. The only time I ever tried fishing was with a rod. Strangely enough, I didn't see any of those around. I wondered how we'd go about fishing without any?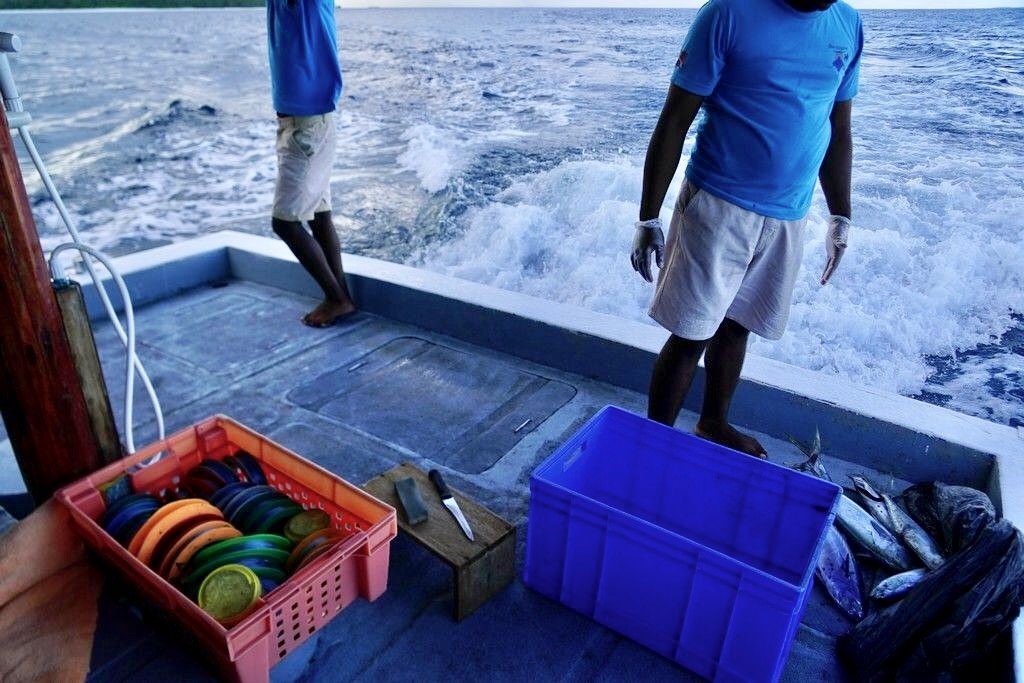 The first task is to prepare the bait. Actually the bait is fresh fish caught from earlier in the day. It is sliced and diced into little pieces, and the innards and throwaways were used to attract nearby fish.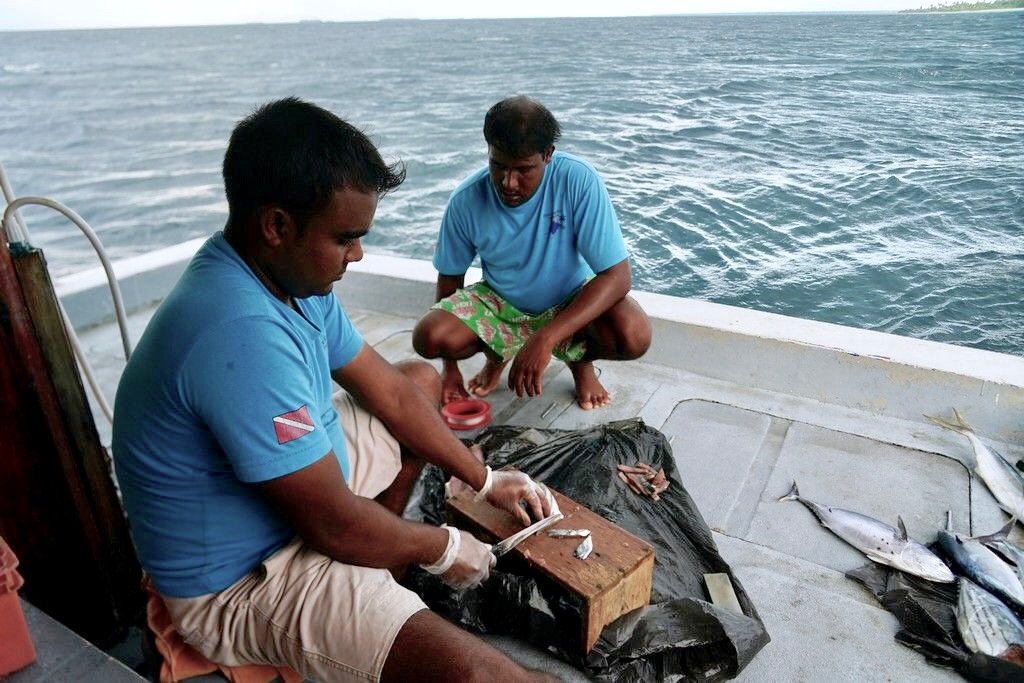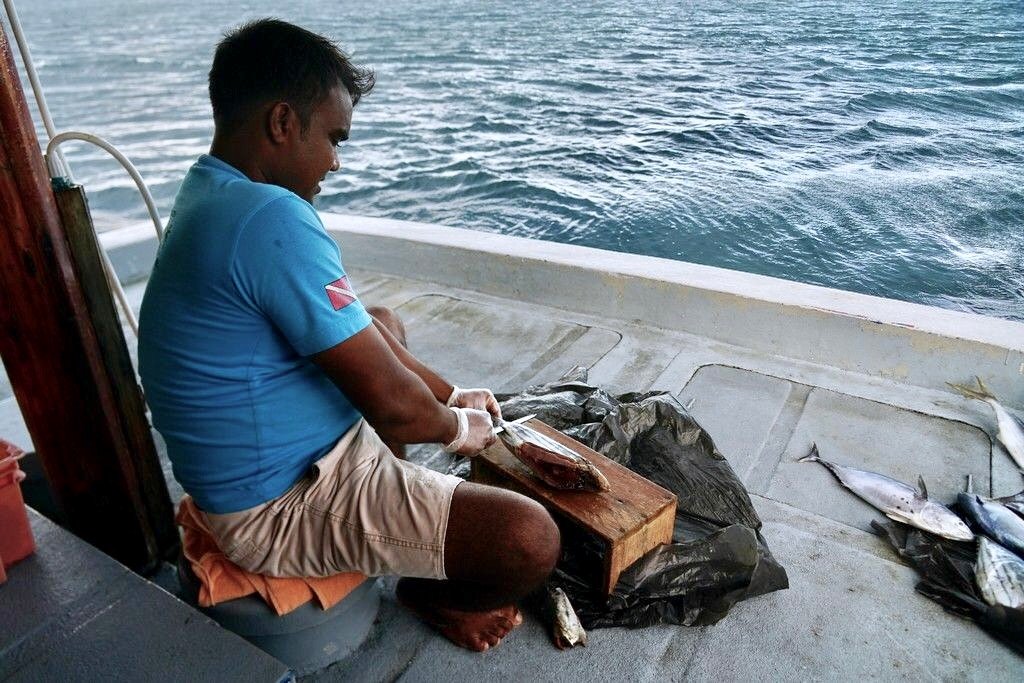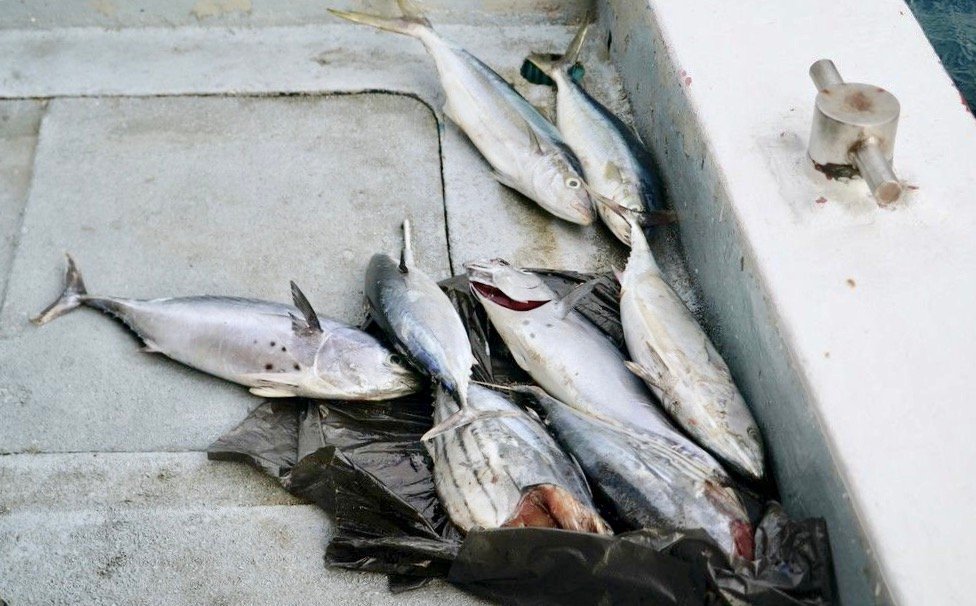 A by product of throwing fish guts overboard to attract fish we want to catch, is that it also attracts fish we don't want to catch. In this case, my familiar friends, the Nurse sharks.
Several followed our trail and swam around our boat for the entire evening. It was actually quite fun seeing them swim around harmlessly.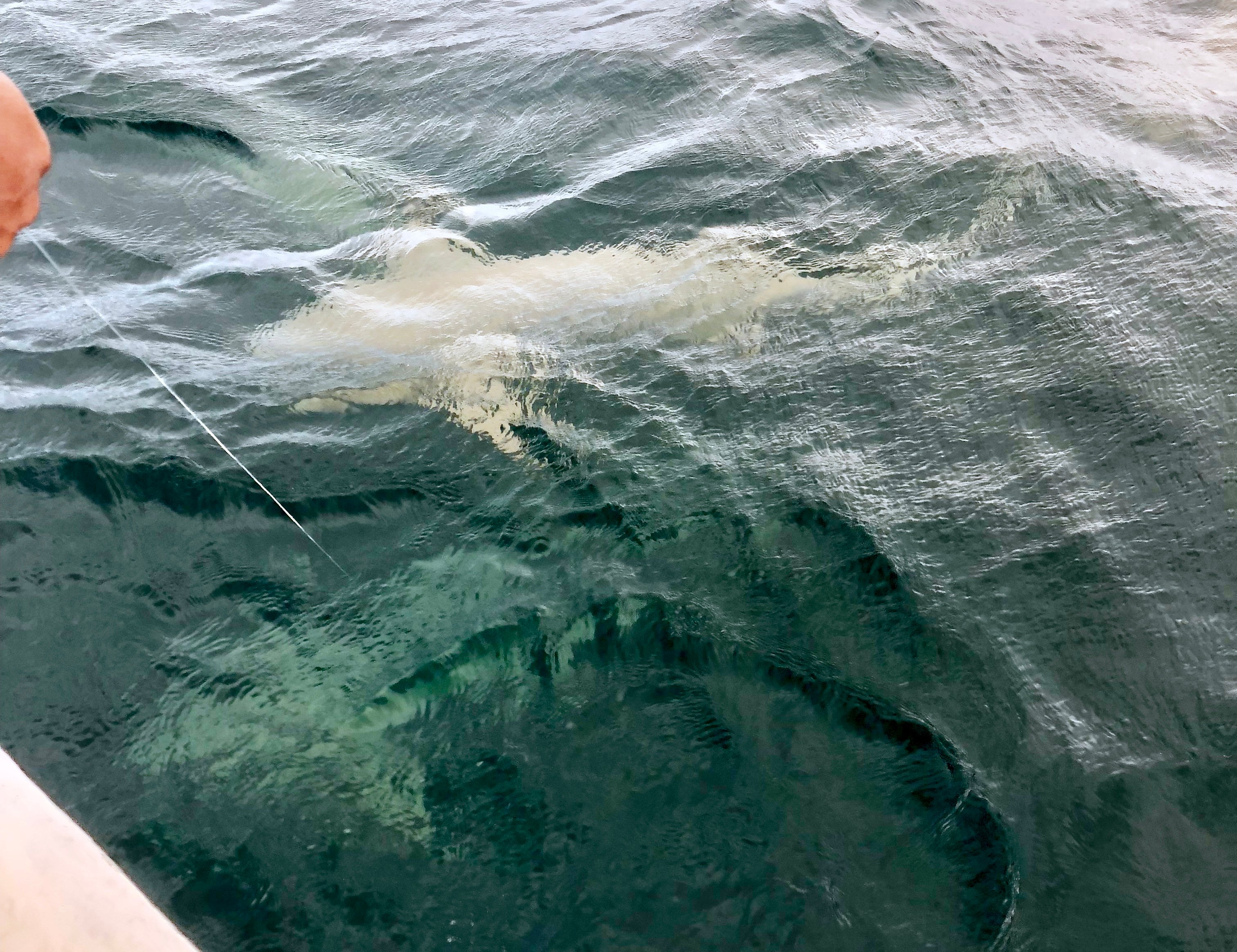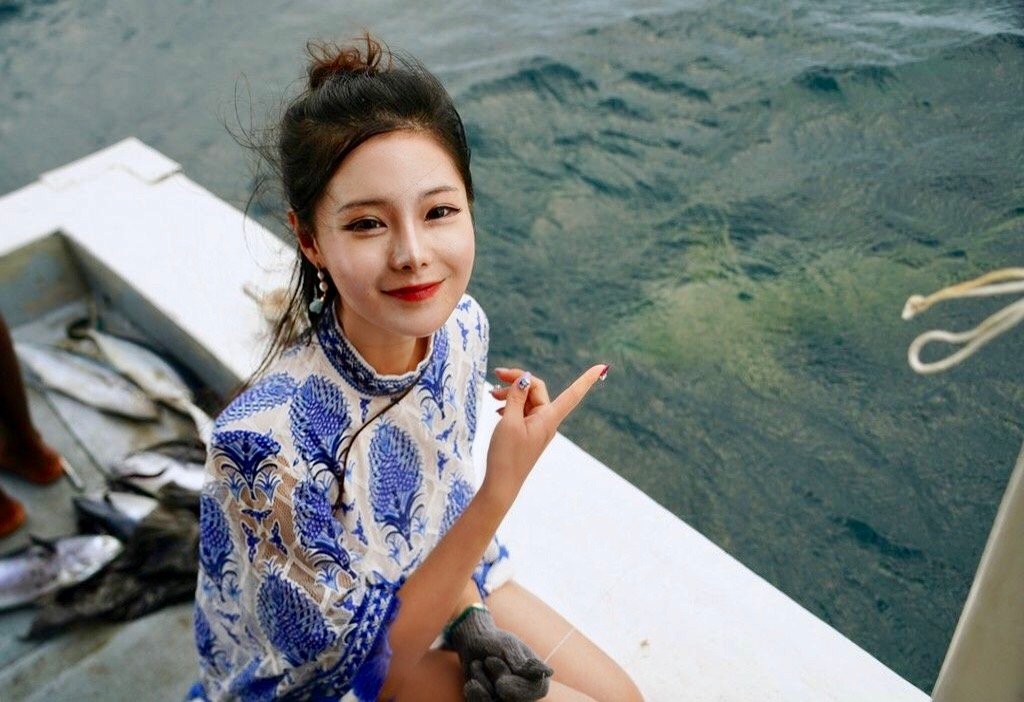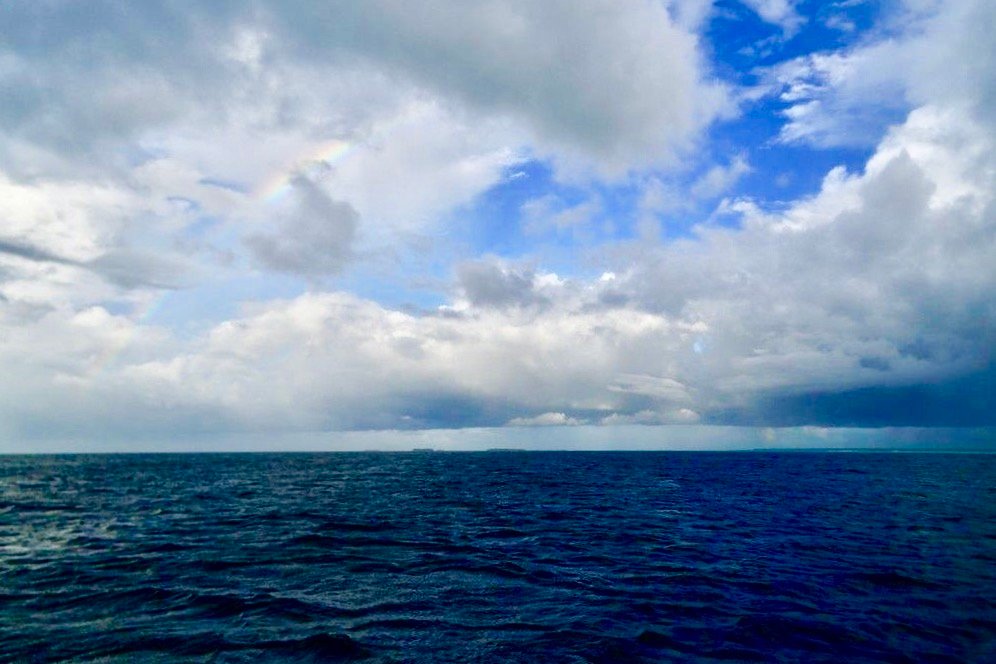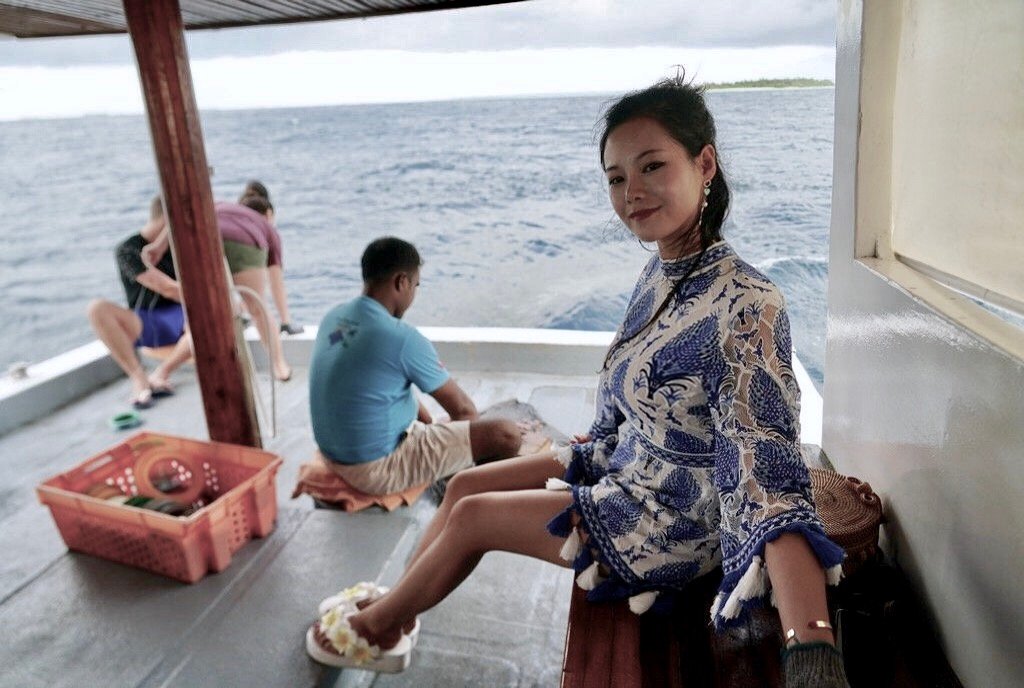 As you can see, we are quite literally line fishing. There is no rod, and we hold the line taut with our hands. A glove is provided to protect your hands when there is violent activity on the line.
Instead of watching a float to see if fish are taking bites, you feel the nibbling directly through holding the fishing line. The first time I felt the fish nibbling, I couldn't believe it.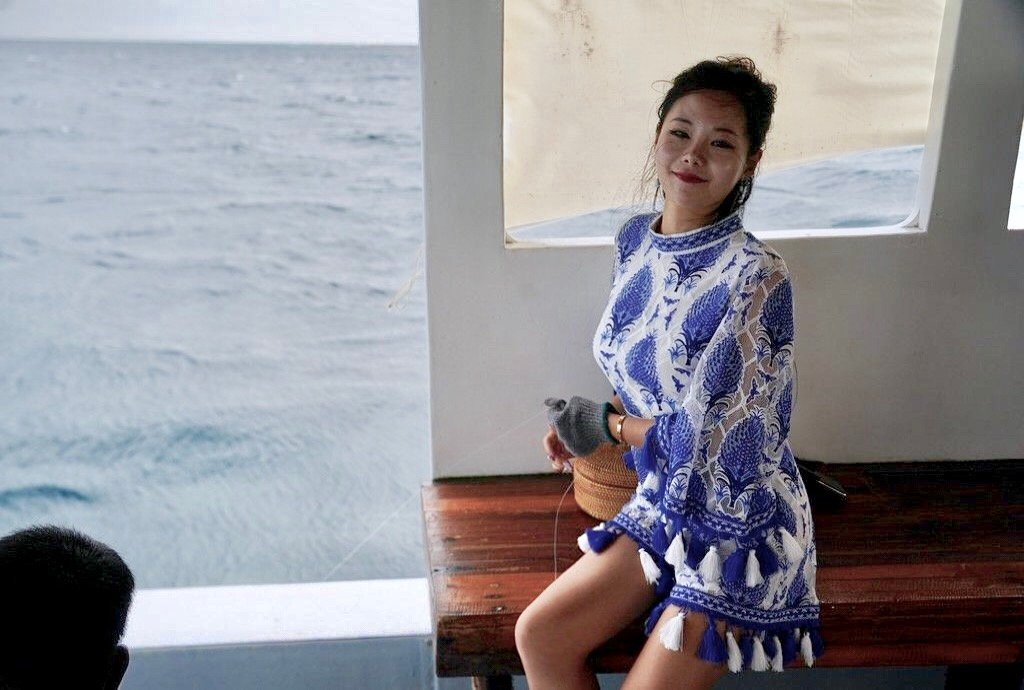 After about an hour, I was getting quite impatient as I had yet to catch anything. It was getting dark, and there were sporadic spells of rain which tested my patience even more.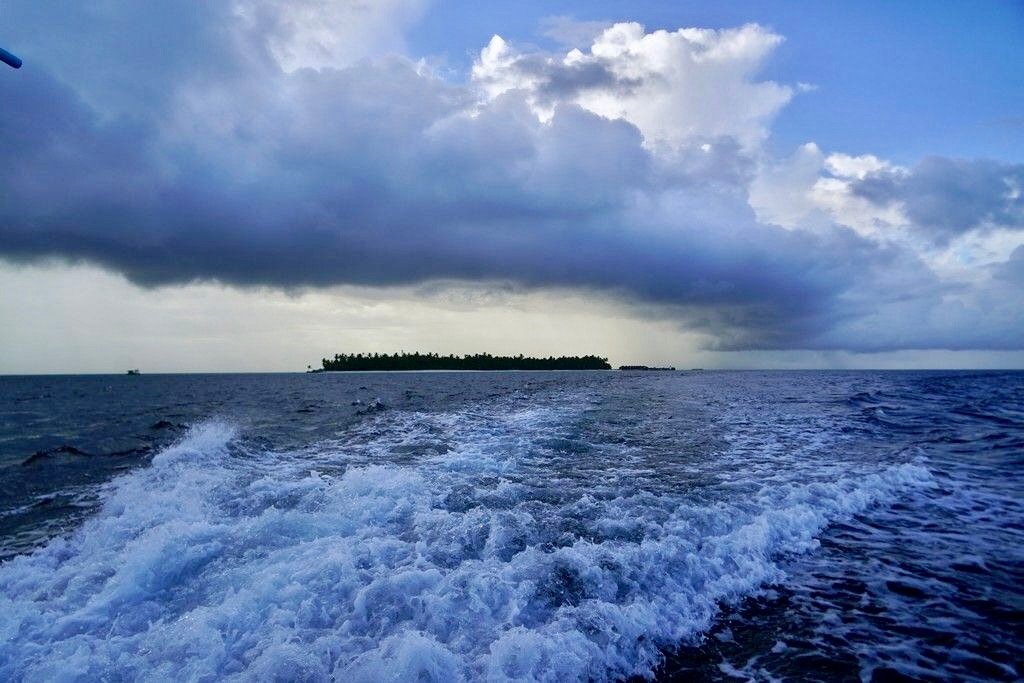 Finally, after nearly two hours, I finally felt a vicious tug on my life, and in response, I gave it a firm tug back. To my surprise, I felt the hook latch on to the fish and fight against it as I pulled the line in. It's quite hard to believe that this seemingly primitive method of fishing actually works!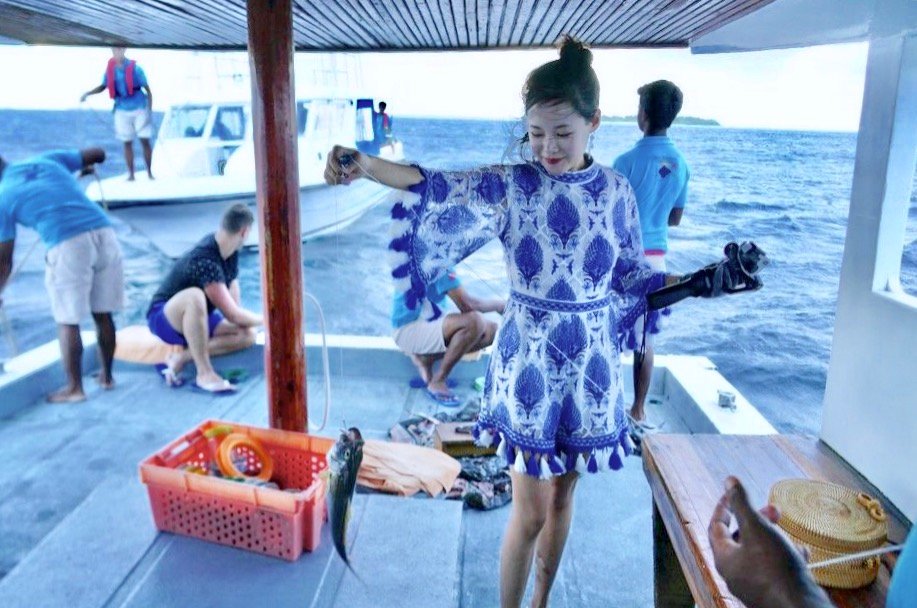 Before long, the rest of the party also started getting nibbles and caught their own fish too. I'm proud to report though, that I was the first!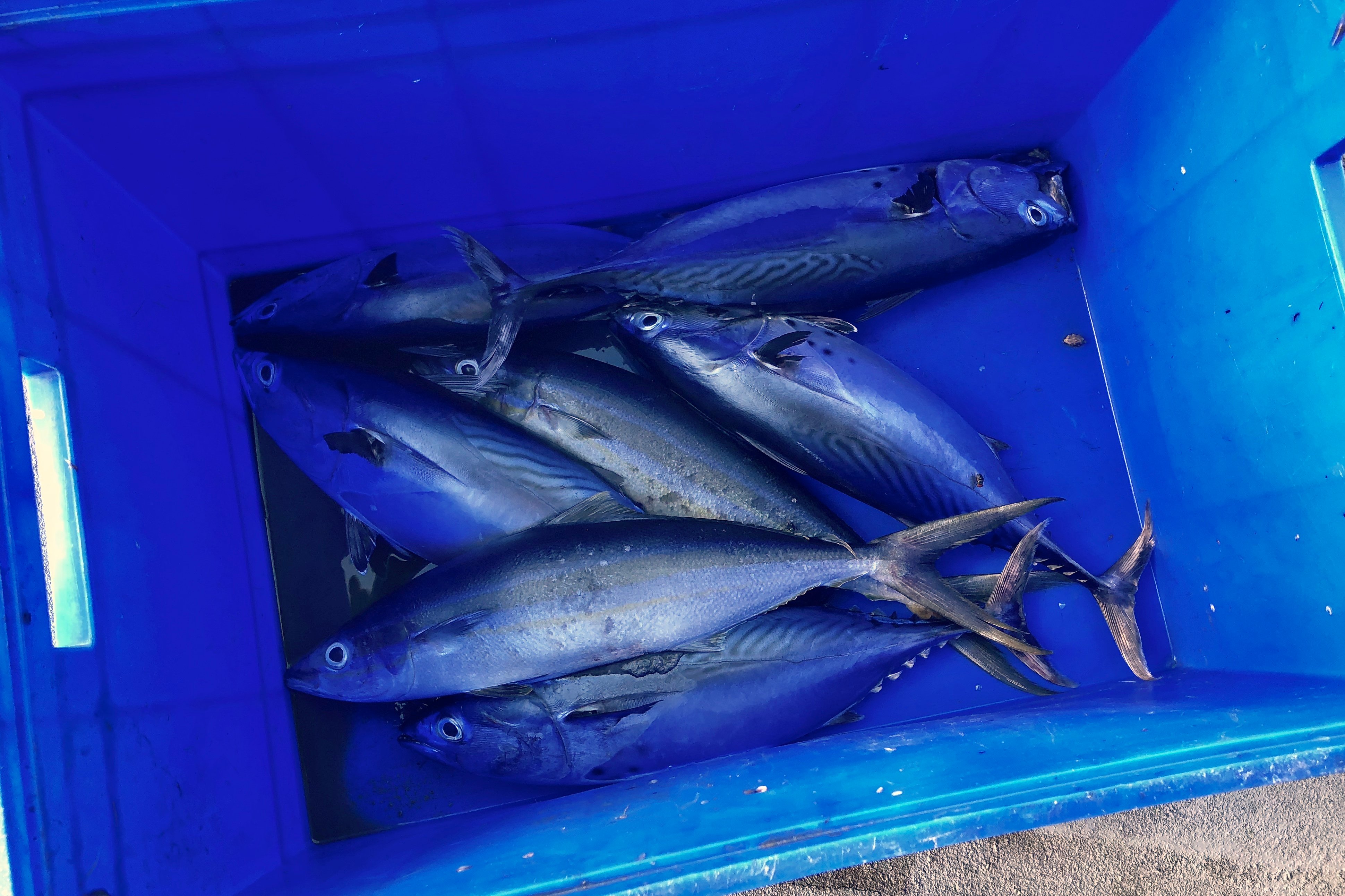 Finally, with our catches of the day secured, we headed off back to the island just as the sun began to set. Overall, it was a very enriching experience.
I caught a fish, saw Nurse sharks, and watched the sunset. Mission accomplished!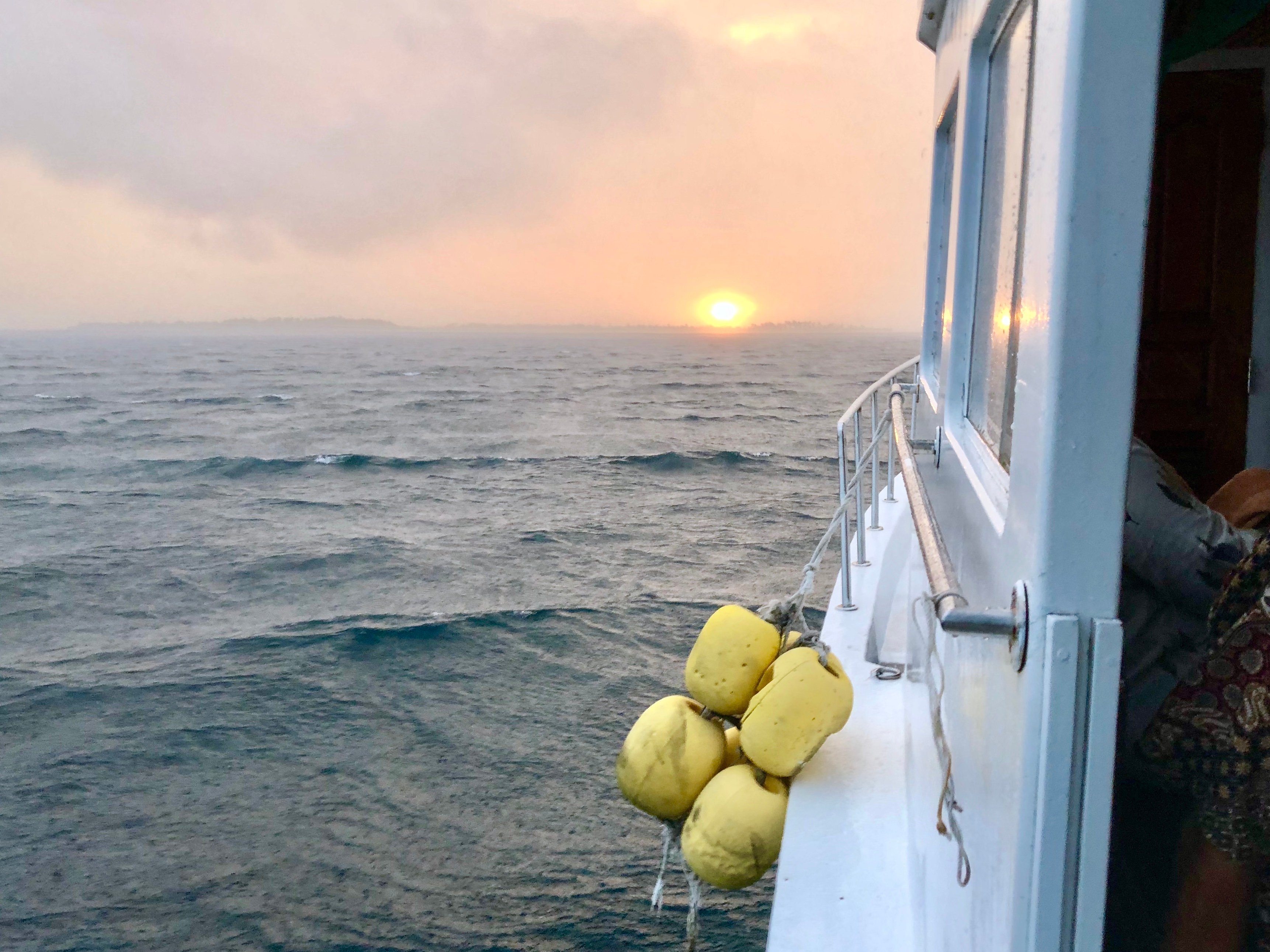 Once we came back, we were given the option to dine at Magu Restaurant. The fish we caught would be prepared on the house. There's certainly an extra sense of achievement when the fish you're eating is the one you caught just moments before.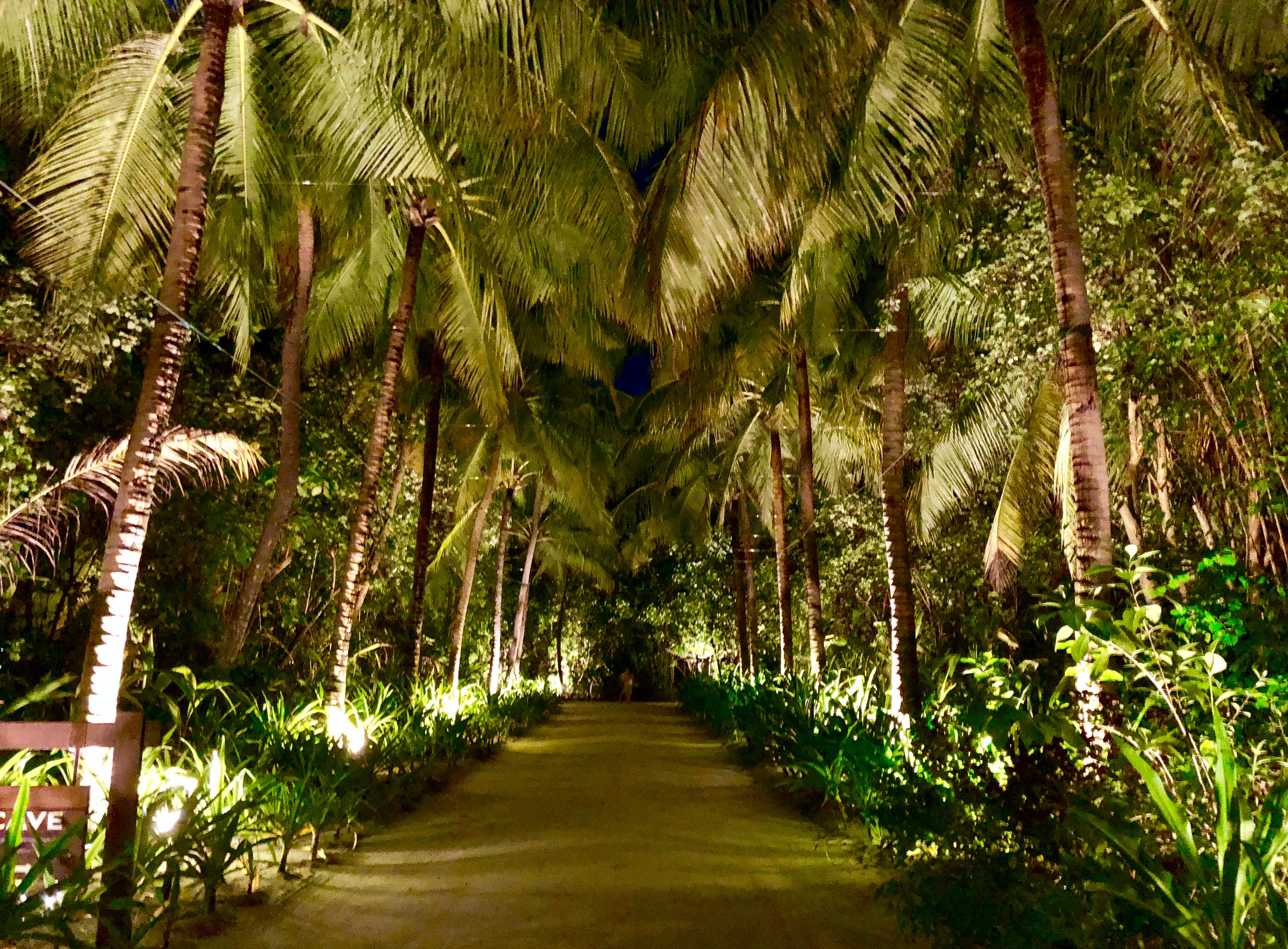 And here it is, the grilled fish fillet with lemon.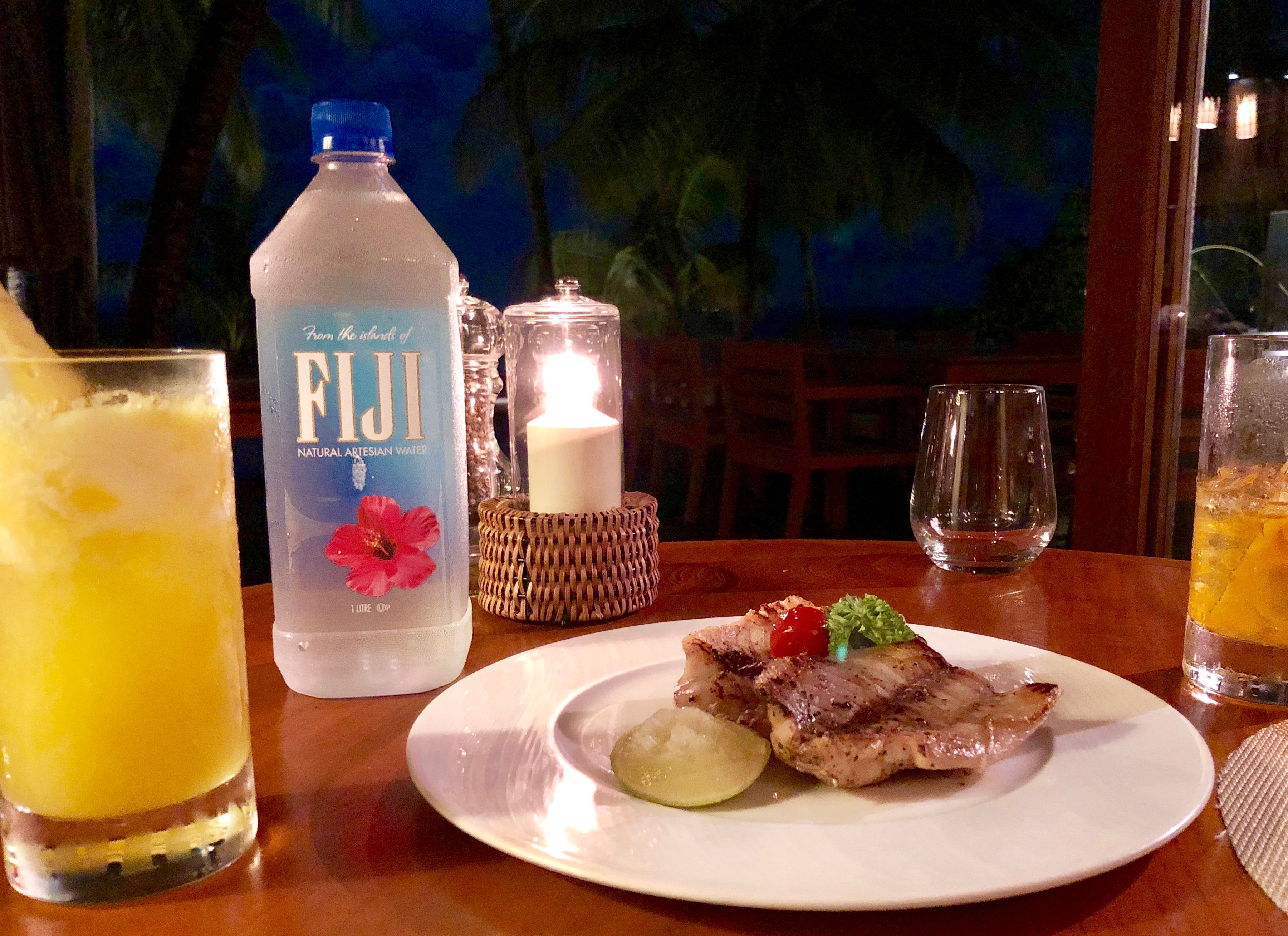 I will go ahead and state that this is the best tasting fish I have ever tasted. Obviously i'm biased and living in a dream, but hey, that's what i'm here for!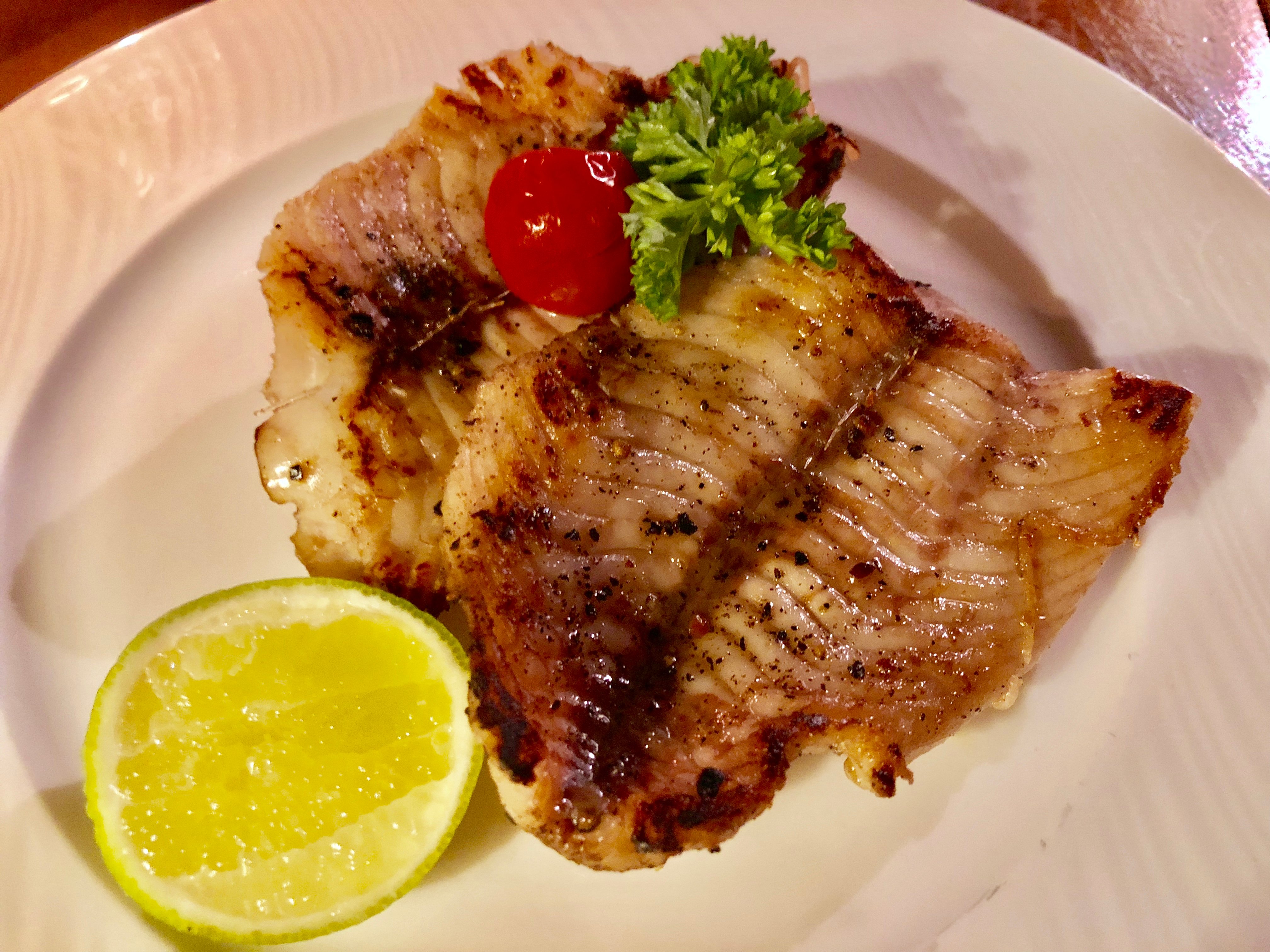 And that concludes our very hands on Miss Delicious. The Magu restaurant must be applauded for being so diverse with it's dishes. It caters to people from all corners of the world and even does room service breakfast! Whats more, they also cook your daily catch for free! Next time, I hope to catch a larger dinner, you know my relationship with food.. I like to eat.
Don't forget to upvote the post if you like it, follow me for more travel and food blogs from around the world, and leave a comment to let me know what you think of this post!
---
旅行的日子,身边不停变换的风景充实着你的内心;探访每一个未知目的地的风俗文化,让你永远像孩子般保留一颗好奇心,并发挥想象力拥抱这个正能量满满的世界。旅行的日子固然美好,但是每一个漂洋过海,奔赴下一个目的地的过程,都是对身体和精神的挑战。一顿健康营养充满活力的早餐,既可以缓解我坐长途飞机的辛劳,也成为我一天幸福感的来源。
美好的一天,从早餐开始,马尔代夫第一天的日出,拉开早霞绚丽奇幻的绯红色帷幕,蓝天白云和荧光色湛蓝的海面作为今天的主角闪亮登场。阿雅达度假村宁静美好的早晨,又会有怎样温馨丰盛的惊喜早餐在等着我们呢,我心里充满了无限的幻想和期待,赶快和我坐上管家开来的电频车,去岛中央的阿雅达主餐厅Magu一探究竟。这家餐厅建在海边,分为室内室外2个区域,如果去的足够早,海岛的太阳还没有完全释放出火辣辣的光芒,就可以选择坐在面向海的室外,吹着海风,沐浴着朝阳,享受Magu餐厅的自助餐美食。
在食物选择区域旁边,有一坛池水,中间有一棵热带树,给人清新怡人的感觉,也带着浓浓东南亚风格的气氛。这里的早餐有着丰富的品种类型,光是沙拉就提供了很多蔬菜和水果的品种,比我们平时能在餐厅吃到的还要丰富,这大概就是热带海岛的优势吧。在早餐的时候大量补充富含维生素的这些营养物质,身体的吸收是最好最快的。同样早餐选择区域还提供酸奶,寿司,奶酪和冷盘里的火腿,这可都是海岛必备的早餐内容了,吃起来清凉又营养。当然也少不了新鲜出炉,烘培的香喷喷的面包,烤土豆,还有中式的海鲜面和牛肉炒饭,这些碳水化合物为我补充一整天的充足能量。这里的精品自助早餐不仅风味独特,美味可口,每一款食物的摆盘也很精致,很有马尔代夫自己的特色。
因为这个海岛为每位客人配备了私人管家,帮助预订各种海岛上的娱乐和活动项目,也帮助处理客人在海岛上遇到的各种问题。我的管家非常贴心,为我预定了早餐送进房间的服务,所以接下来一天的清晨,就让我有机会泡在海中央的游泳池,享受阳光早餐带来的幸福快乐和营养分子。黄昏的时候,管家为我预订了日落海上垂钓,这大概是海岛上最让人欣喜若狂的项目。坐着小帆船迎着夕阳出海,和海底的各种邻居生物打招呼,喂鱼还是钓鱼就是一念之差。这里钓鱼的方式很不一样,用鱼线取代了钓鱼竿,原因是在我们的船周围有很多友好和善的护士鲨,有时候一不小心就会被护士鲨吃了你手中鱼线上的鱼饵,所以应该用起鱼线来更加方便吧。说起护士鲨,其实已经是老朋友了,熟悉我的文章的朋友一定记得,在不久前,我去了到巴哈马和护士鲨游泳,它们就像一群在水中灵活可爱的大猫咪,喜欢人类,充满好奇心也很会卖萌,所以一直以来对于护士鲨都特别有好感。
在我放下鱼线的地方,总有3,4只护士鲨游来游去,好像在和我打招呼,难道是想让我跳下水和它们一起玩吗?船员们不断为我们切着他们早上出海钓的鱼,作为鱼饵。就在大家耐心等待,却还一无所获的时候,我率先钓上来一条大鱼,钓鱼经验并不丰富的我,这大概是这辈子钓上来过最大的鱼。我兴奋极了,赶紧和它合影。船员急忙过来恭喜我钓上了鱼,因为这样我就获得了晚上去Magu餐厅吃免费烤鱼的机会,这样的奖励是不是听起来很诱人?别看你现在是在钓鱼,实际上是在为晚上的海鲜大餐做准备呢。马尔代夫的天气像女孩子的脾气,一会晴天一会暴雨,刚刚出海时还是明亮的天空,这会下起了小雨滴,不过就算这样,也一点没有影响我钓鱼的兴致。不一会雨停了,在海面的不远处出现一座彩虹桥,从浩瀚的海洋伸出来,横跨在蓝天与白云之间,美丽极了。
最终在这个时而下雨时而天晴,举棋不定的纠结海洋天气里,那个在天空中待了一早上的,毛茸茸的夕阳终于还是要从海平面上落下,周围的余晖红红的暖暖的,像火焰又像海上的花瓣,就在这静谧的氛围之中,我们也欢乐的带着今天的战斗成功回岛上,准备晚上的烤鱼晚餐了。虽然不知道我钓上来的是什么品种的热带鱼,但是味道特别好吃,烤的外焦里嫩,鱼肉又鲜又软,仿佛入口即化,更重要的是,这是我自己亲手钓上的鱼,除了吃出美味,更吃出心中暖暖的幸福感和小骄傲,在烛光海鲜晚餐中,我们就要结束对阿雅达Magu餐厅的介绍了,希望大家能够喜欢我在马尔代夫的快乐经历,同时也希望能带给你们喜悦的享受,之后还有更多有趣的旅游和美食故事想要分享给大家。