Dear Steemit Friends:
In today's edition of Miss. Delicious, we'll be wetting our appetites to a restaurant called "South Beauty". From it's name, those of you who understand Chinese (俏江南) will guess that this restaurant serves "Jiang Nan" style food. Well, what exactly is Jiang Nan you might ask? Well, it refer's to the regions of China immediately South of the river Yangtze.
As the name would suggest, the restaurant primarily features dishes from south of the river Yangtze. However, it's first restaurant was actually opened in Beijing. In the year 2000, the first restaurant of South Beauty, opened its doors in the CBD (Central Business District) of Beijing. By 2002, the restaurant was so profitable, that it had expanded by a further 80 stores outside of Beijing. It positioned itself as a the "Louis Vuitton" of the restaurant business.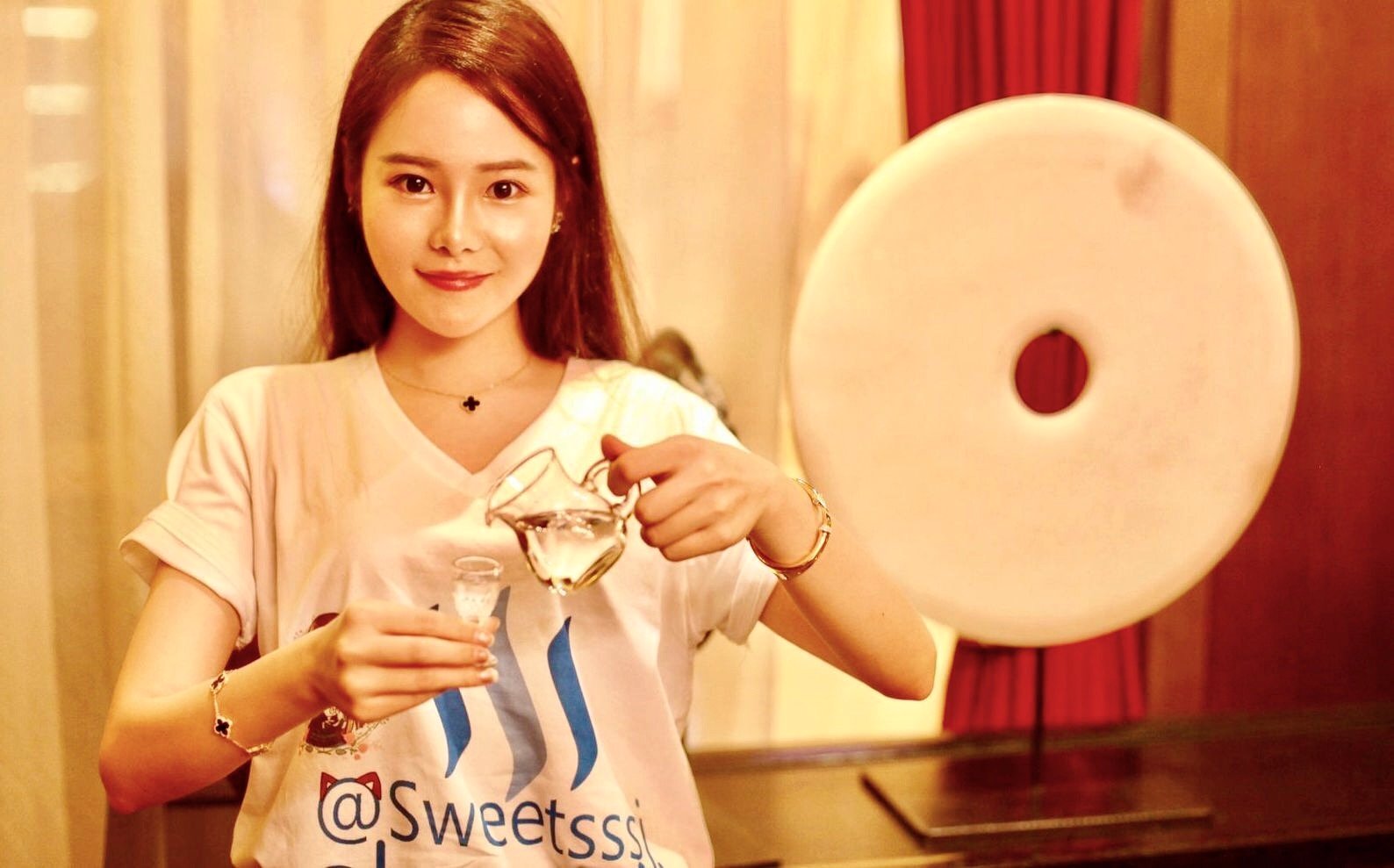 With such a grand plan, let's go inside and see if they have what it takes to take on the restaurant business and become the "Louis Vuitton" of restaurants in China. It will be a challenge for South Beauty to retain it's quality and assertion of fine dining if they hope to expand to 500 restaurants across China. No doubt, it will feel like a fast food chain with so many branches.
Still, with Sichuan food back in style, it might have the broad customer base and general appeal to make it happen.
In fact, the mask used as part of the South Beauty logo, is a mask from Sichuan Opera. This is a style of opera that many Chinese people still enjoy to this day, and combining this with the Sichuan food delicacies, I think they're doing a good job maintaining consistency of their image.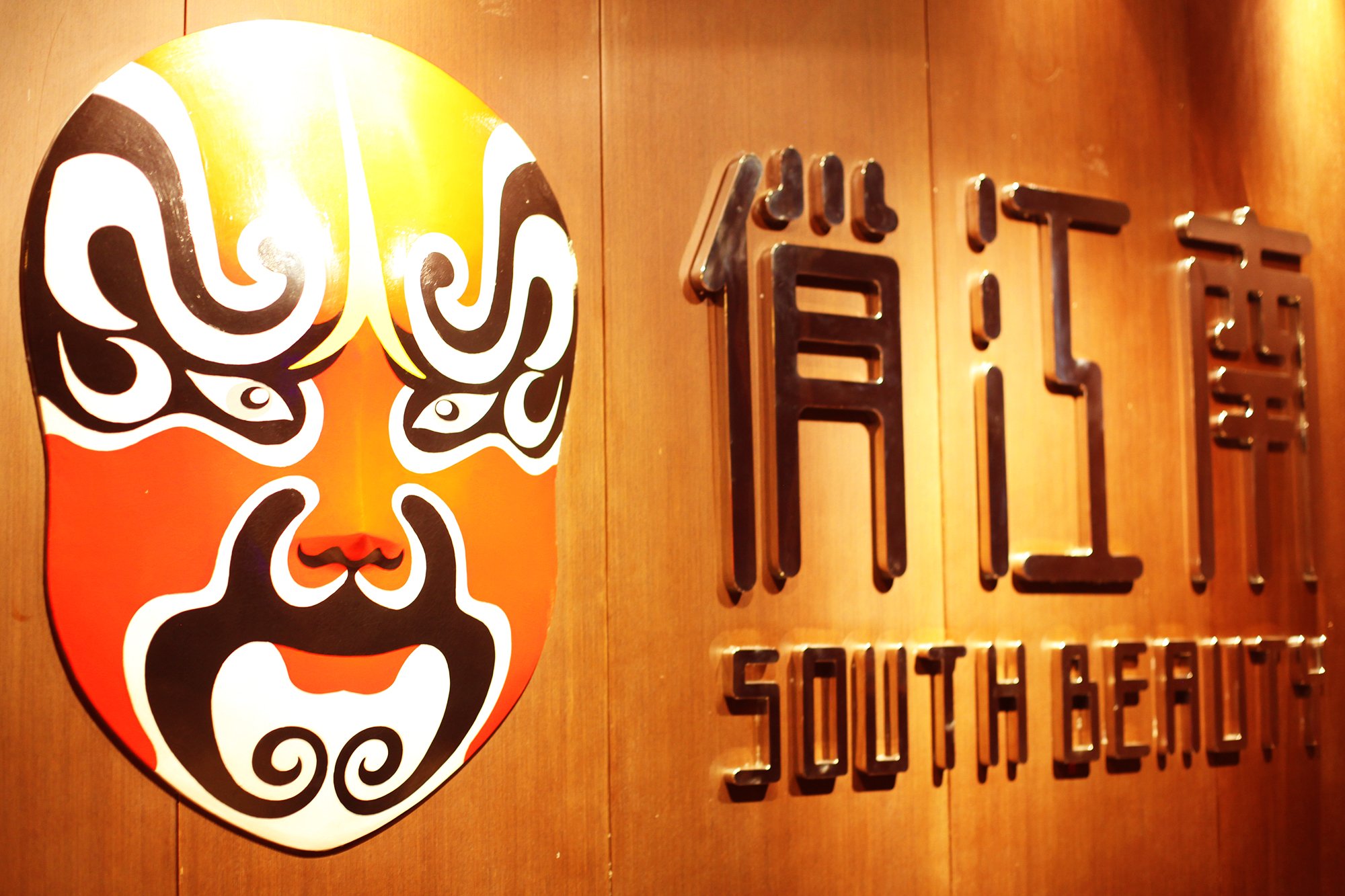 Since Sichuan food favours the hot and spicy chilli styles, it's dishes are usually a deep and rich colour red. South Beauty have taken note of this and decorated their restaurants in this "Chinese Red" colour as their principle colour theme.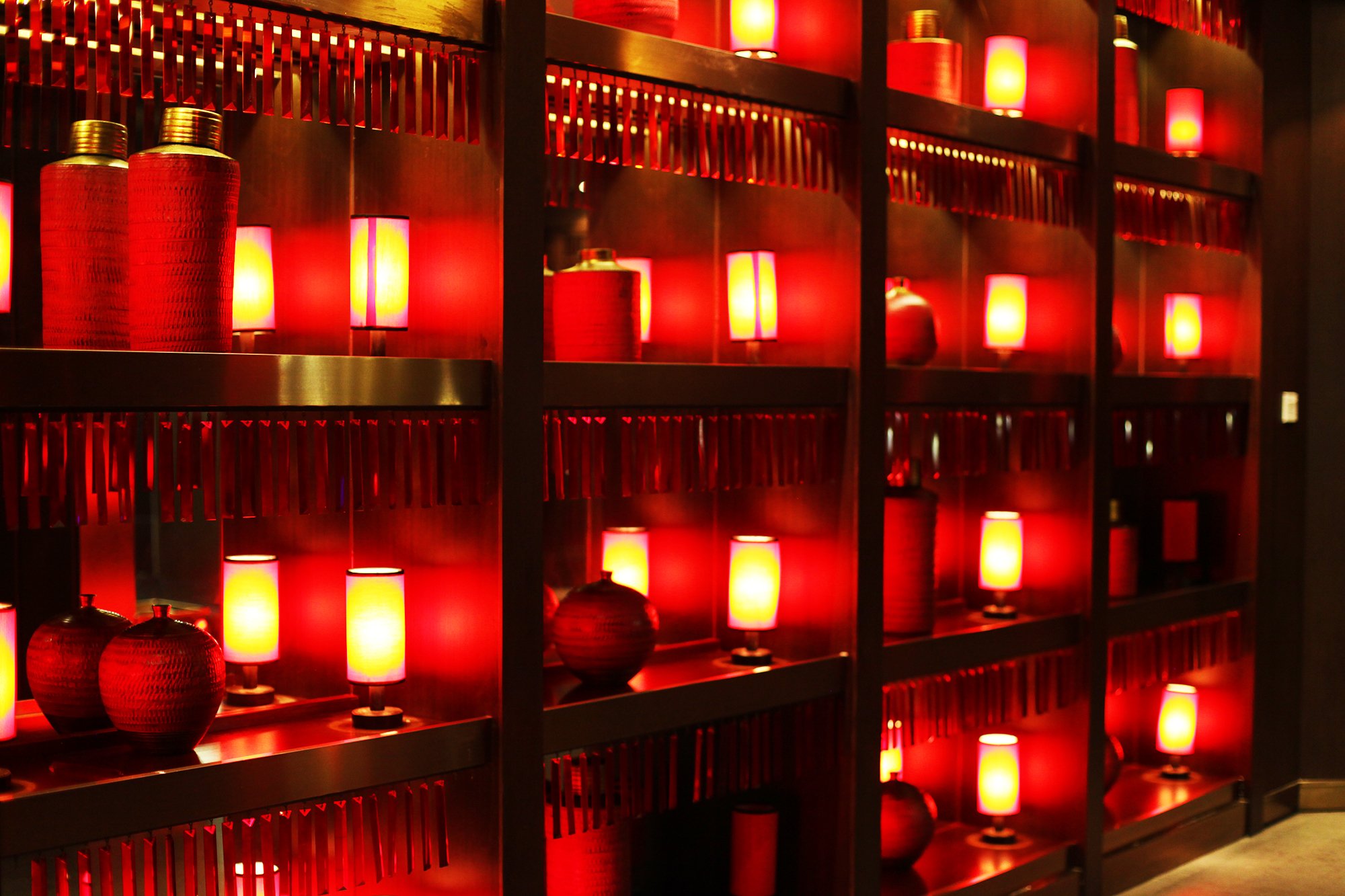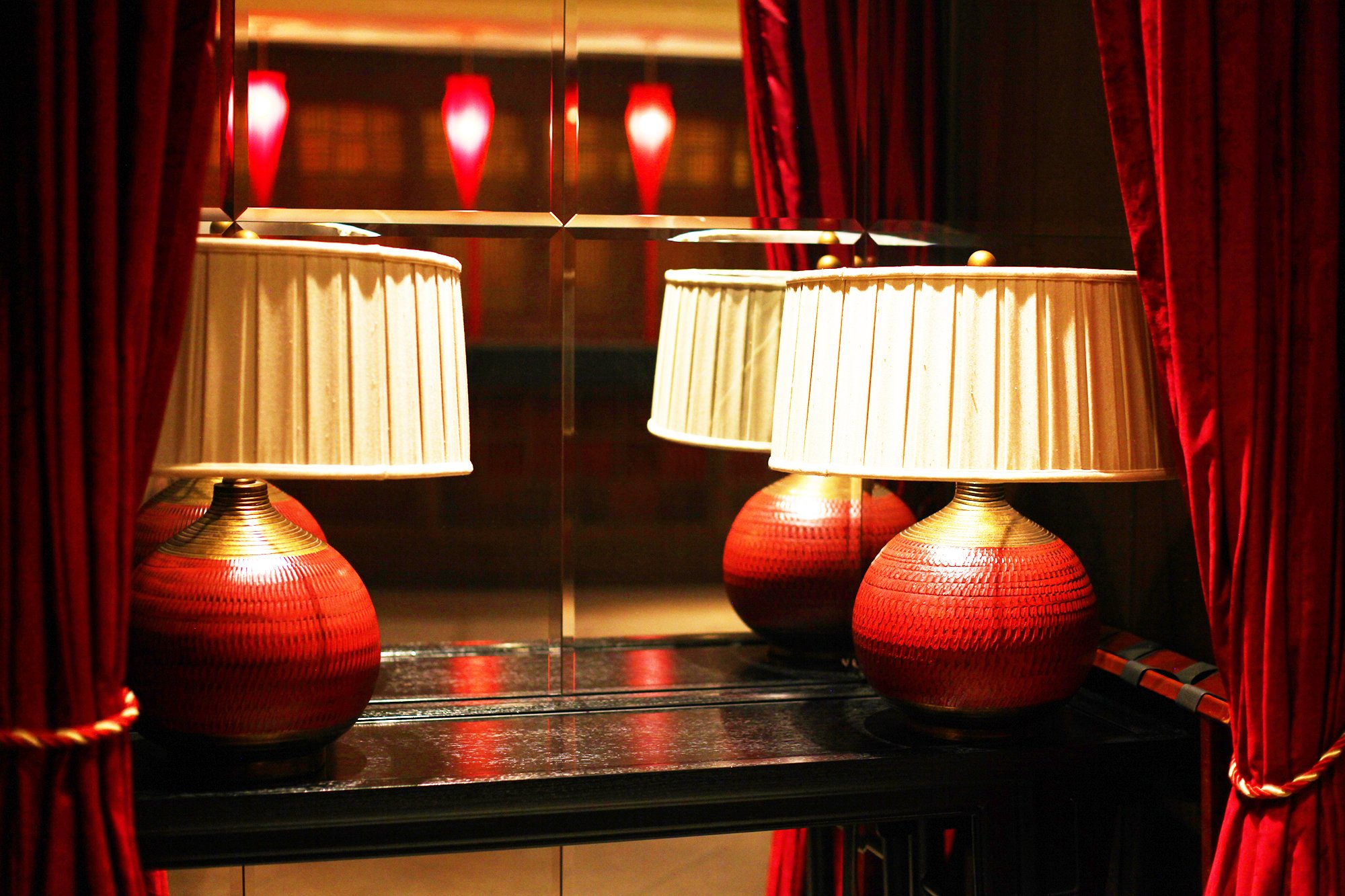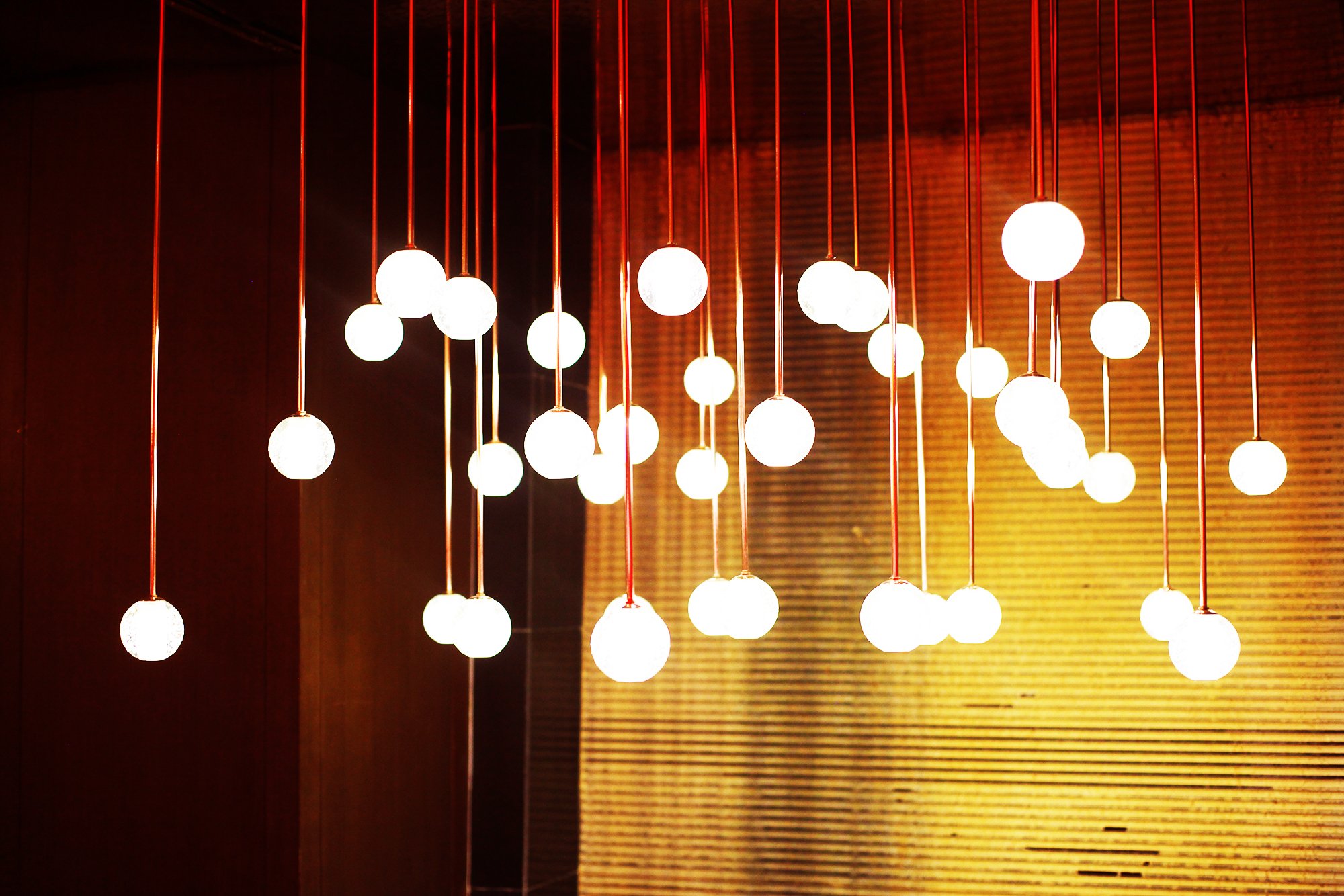 Deep red lanterns, giving just enough light to show off the traditional landscape paintings.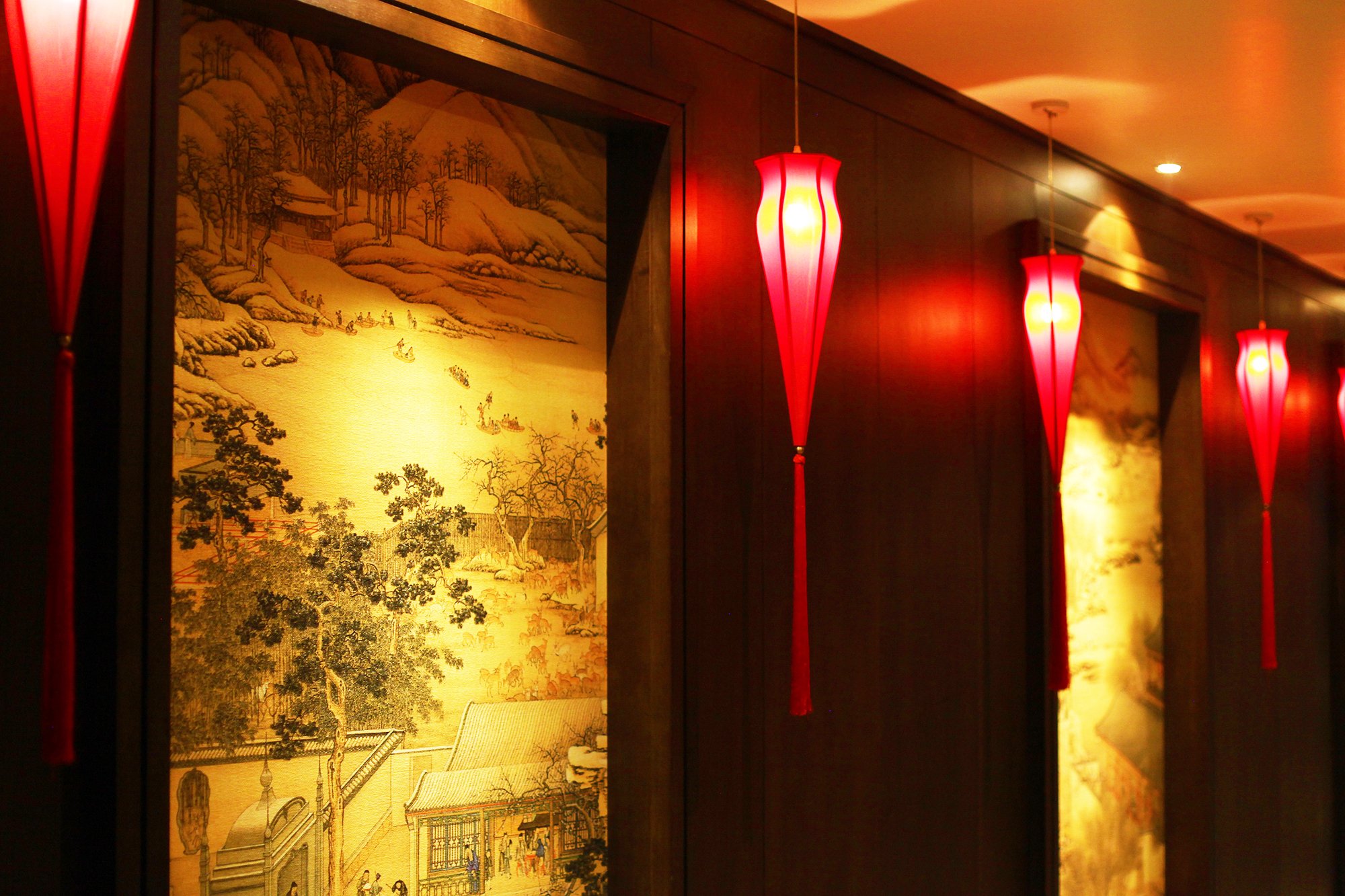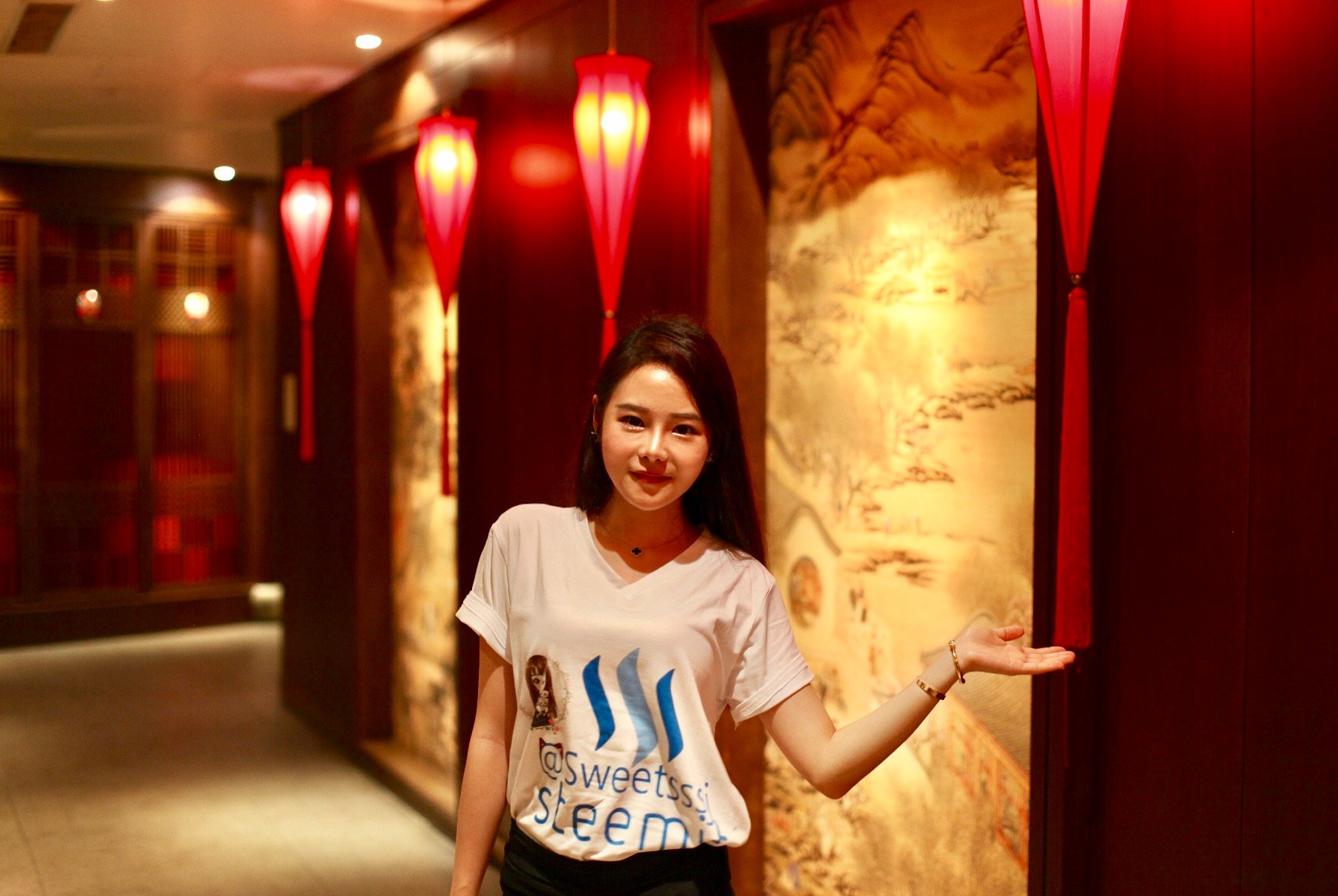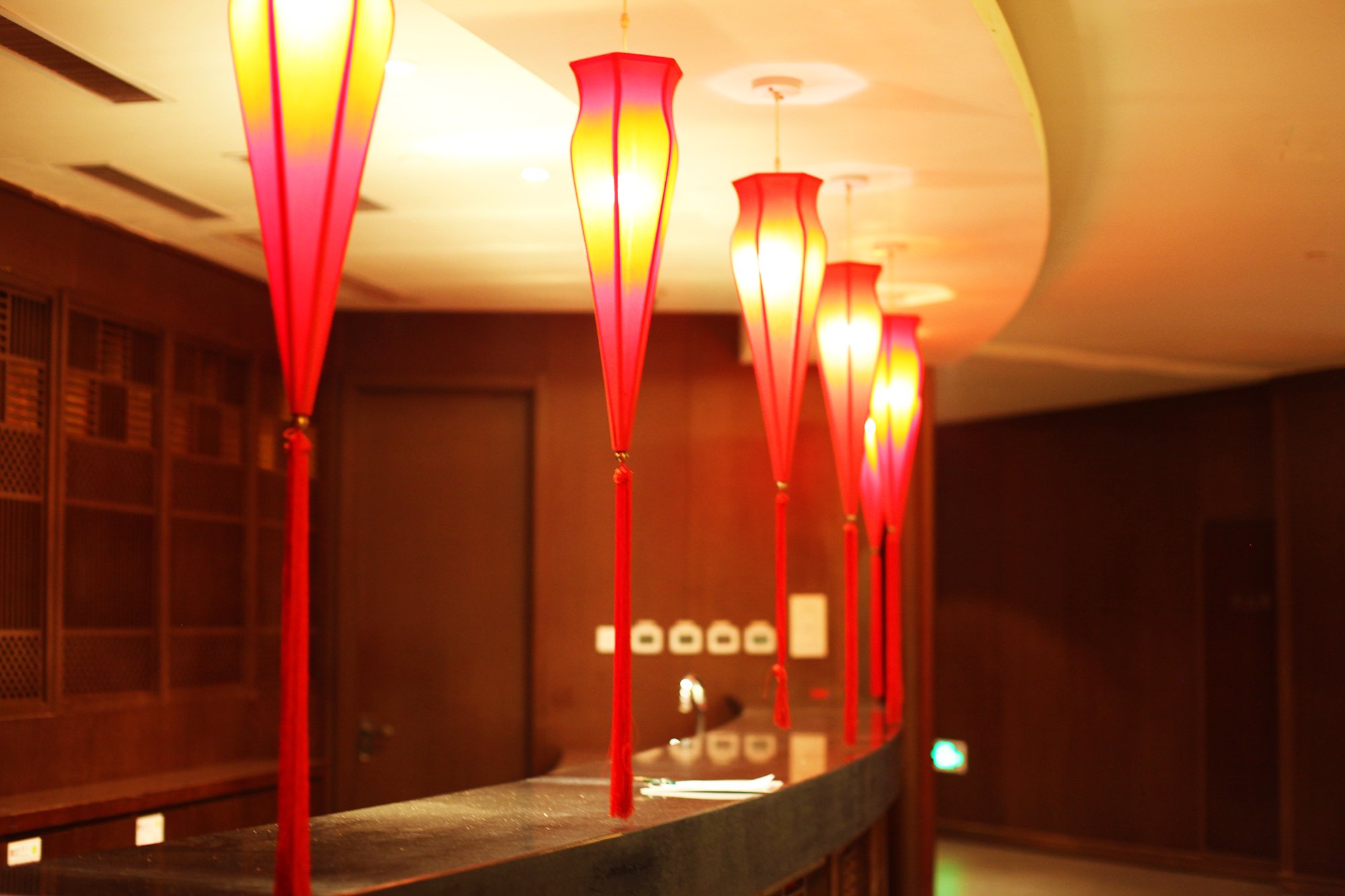 One section of the decorations within this restaurant particularly interested me. It was the calligraphy wall. Not only are the characters beautifully written, they also remind me of some ancient classical museums with calligraphy. Surely we're at a restaurant and not a museum?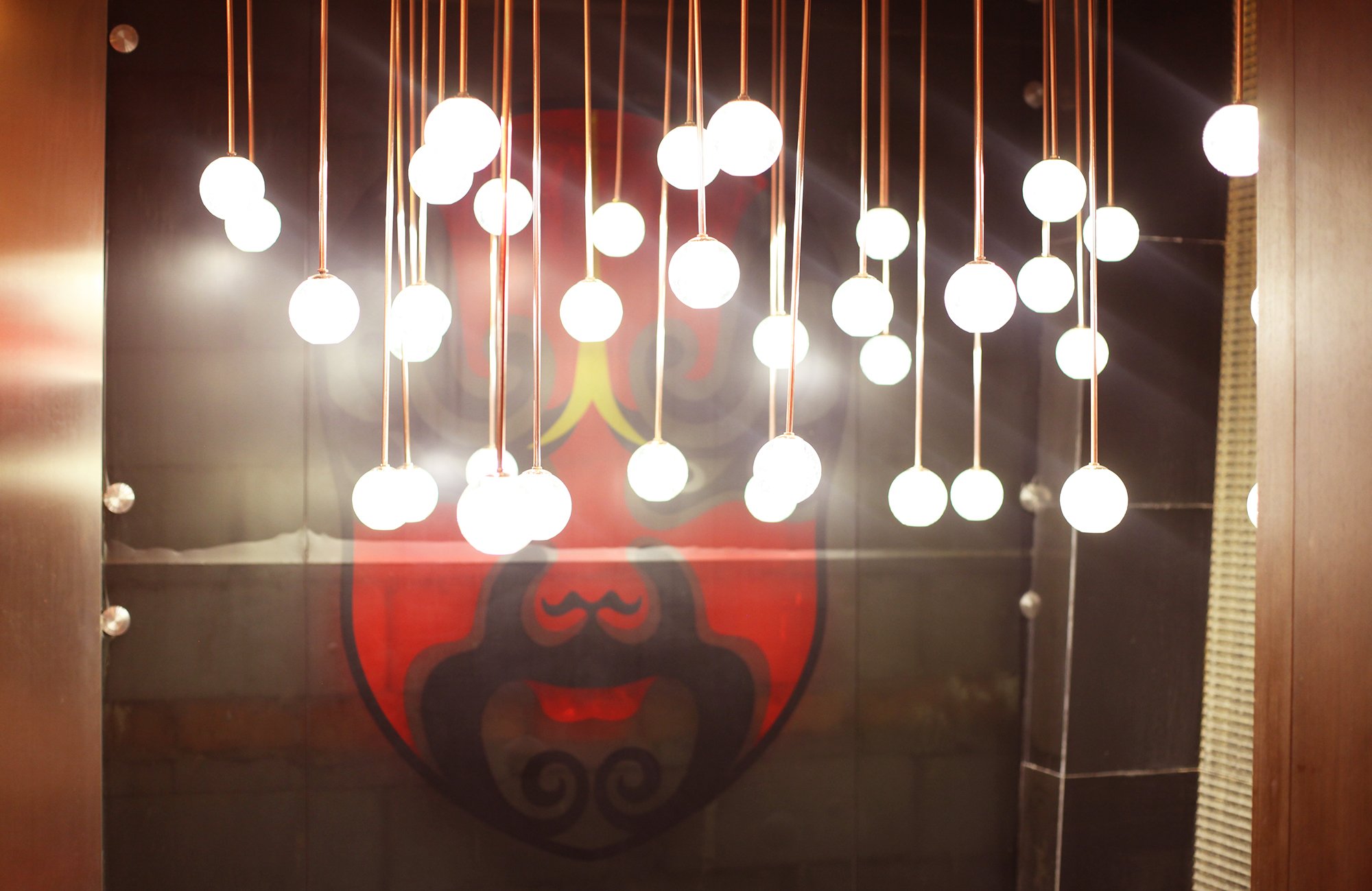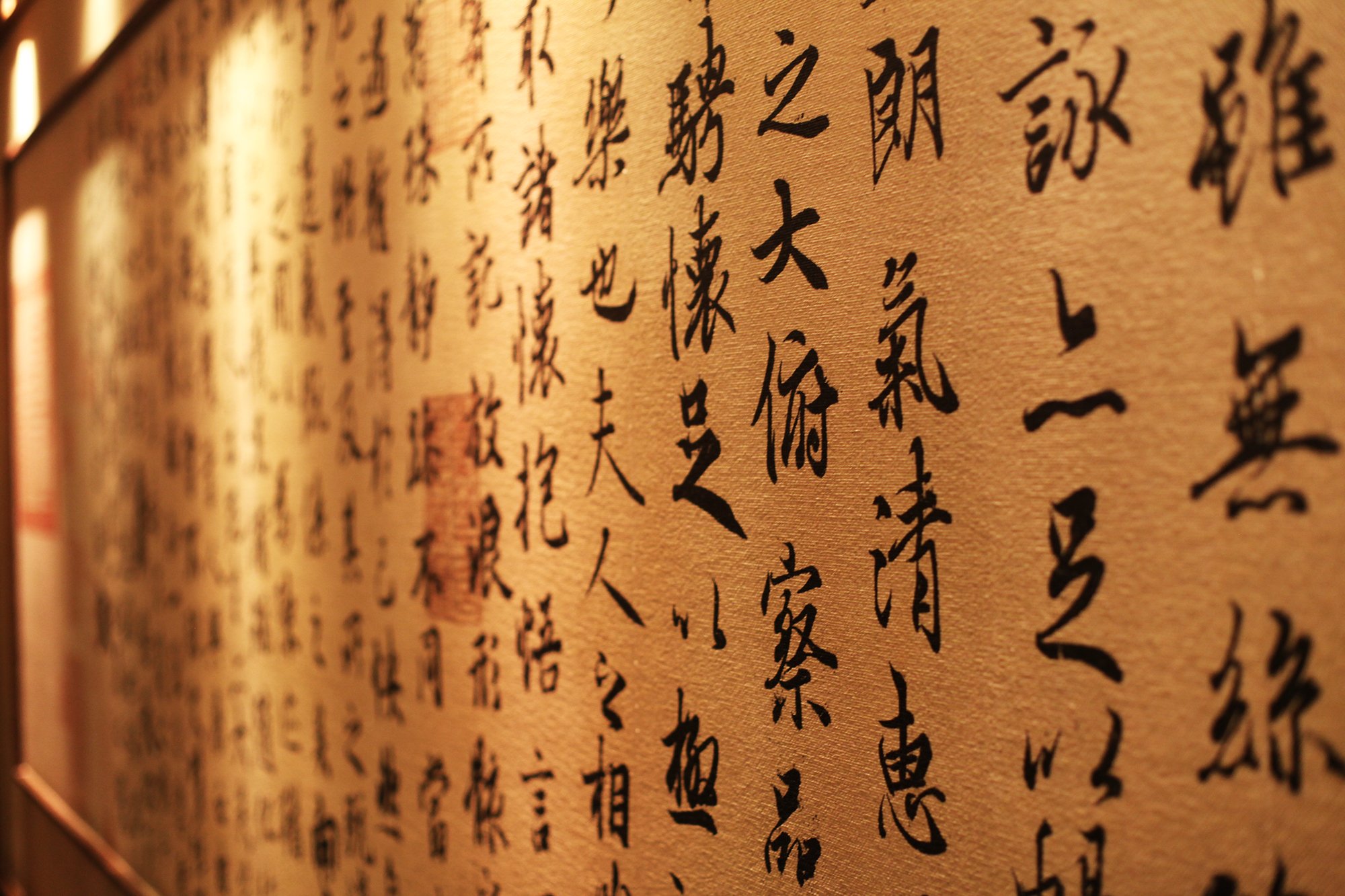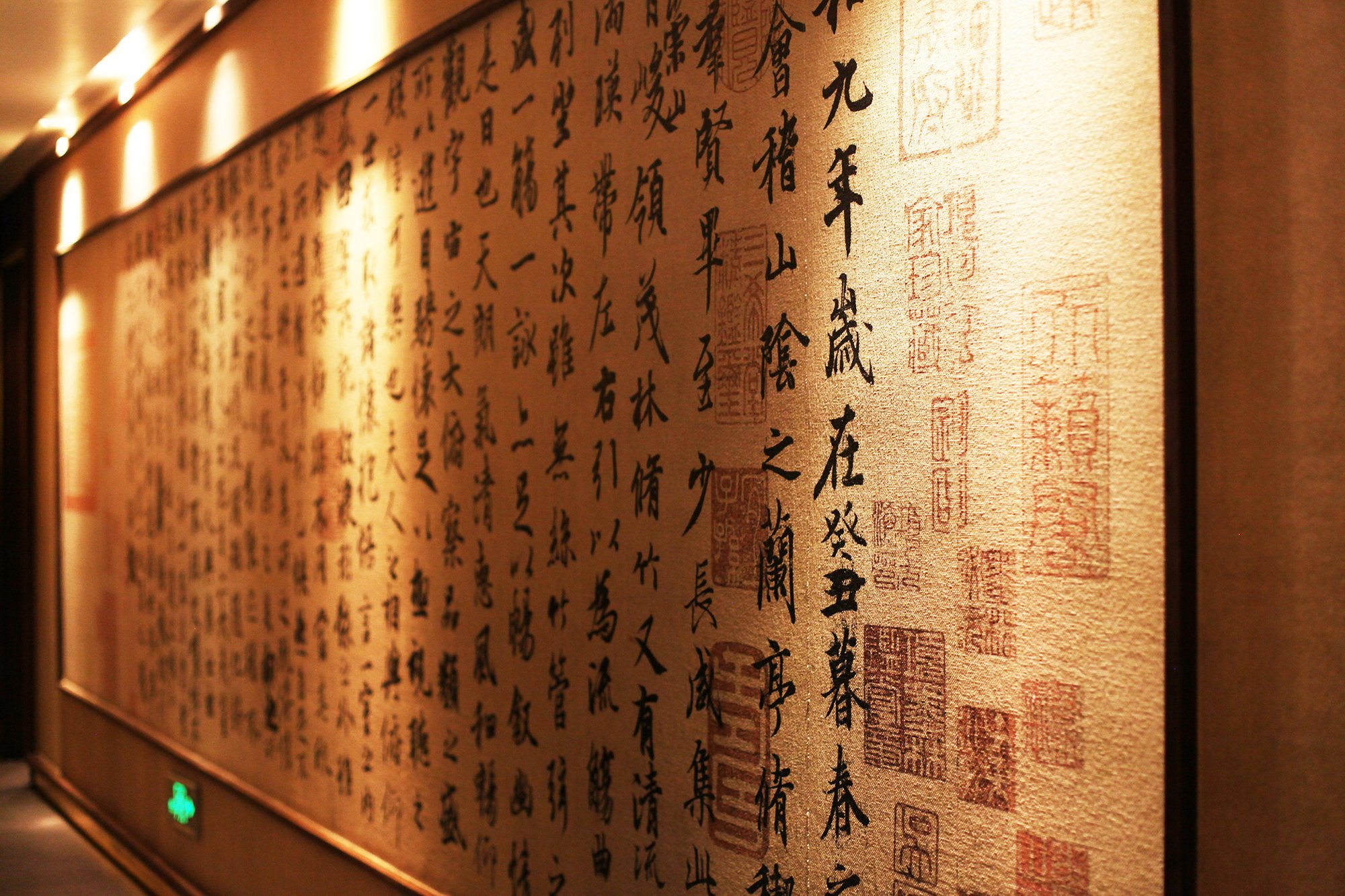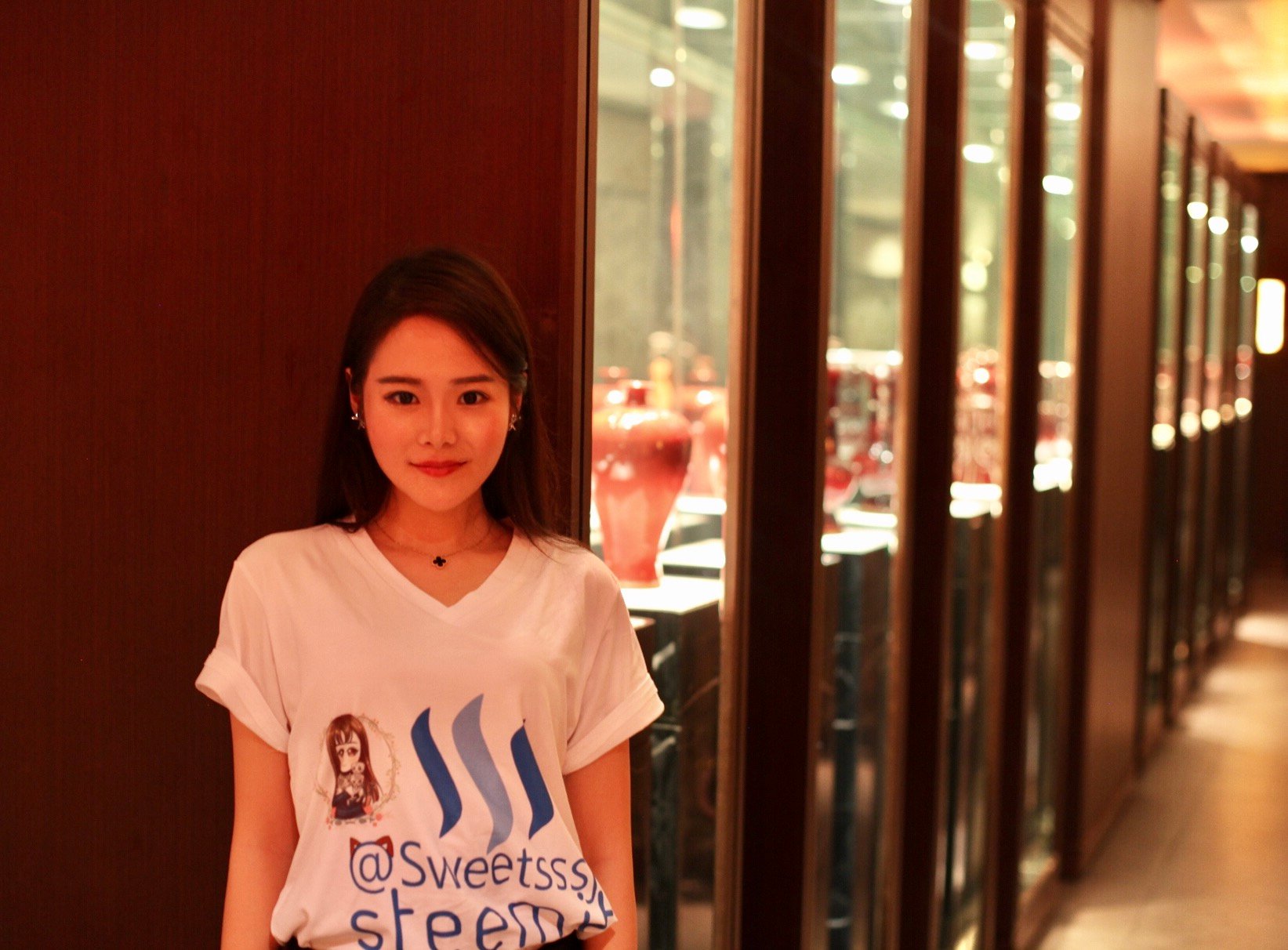 What's amazing is they continue to use this recurring theme of red for ancient ceramic household utensils.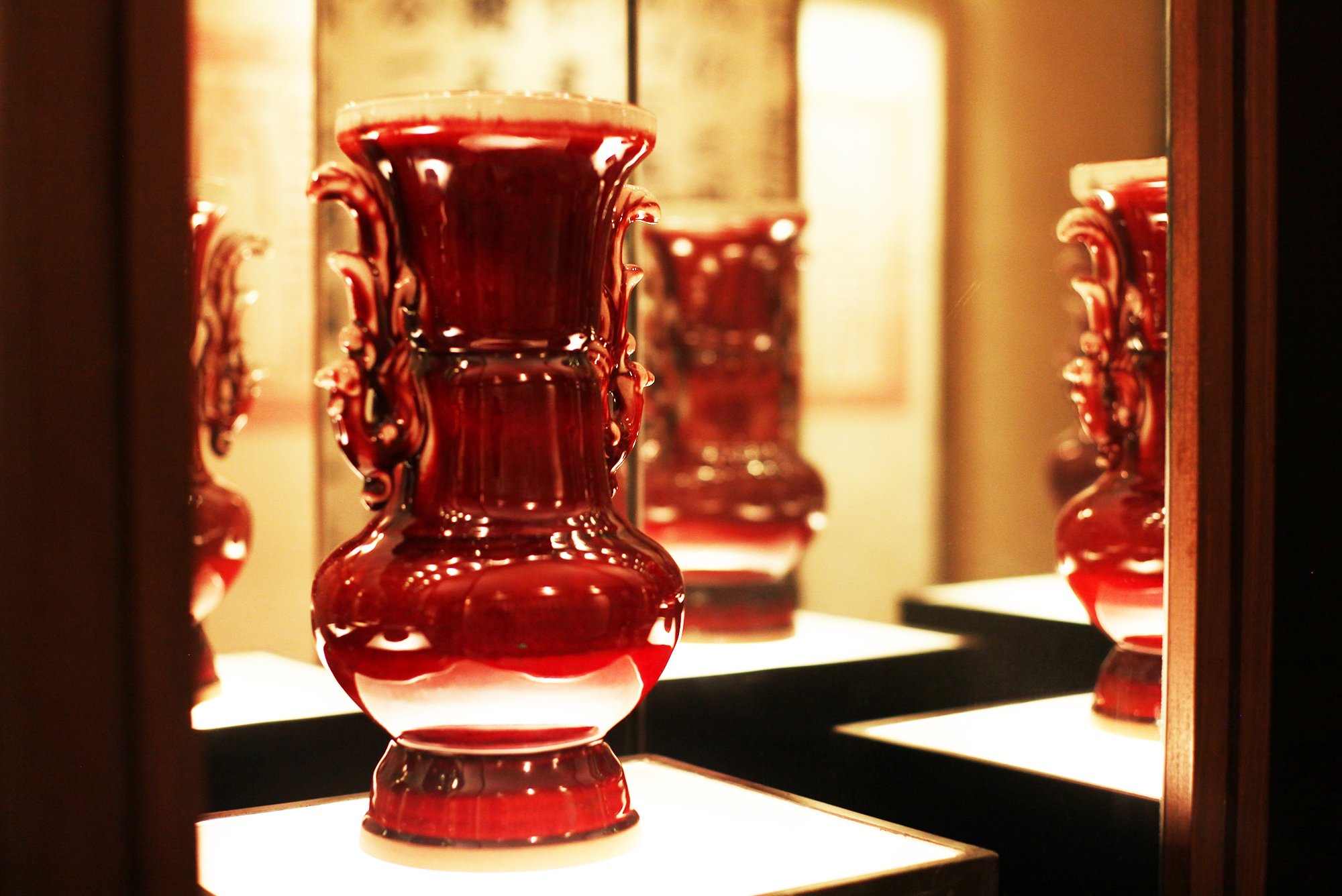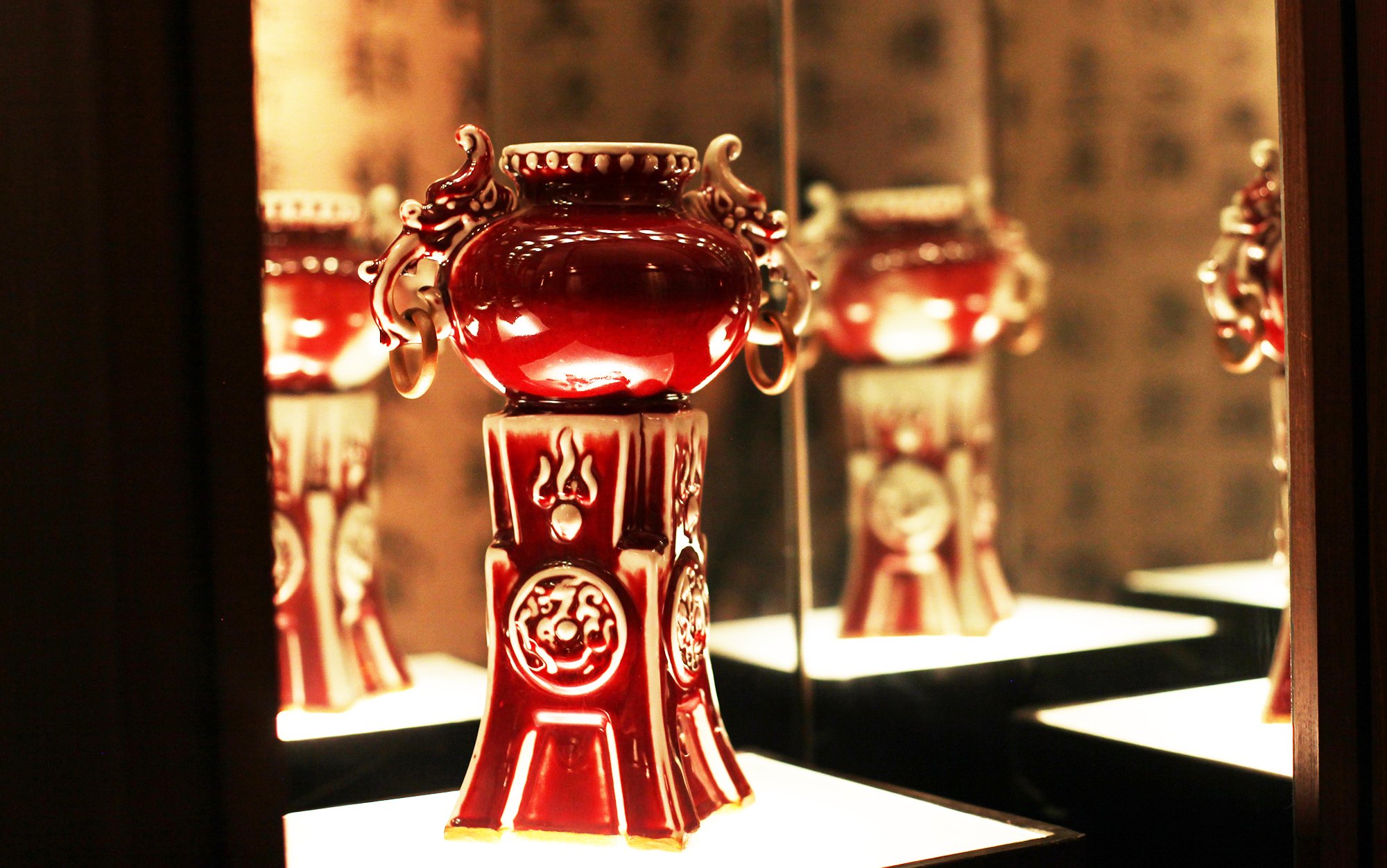 At the same time, they have concessions selling some of China's best alcohol.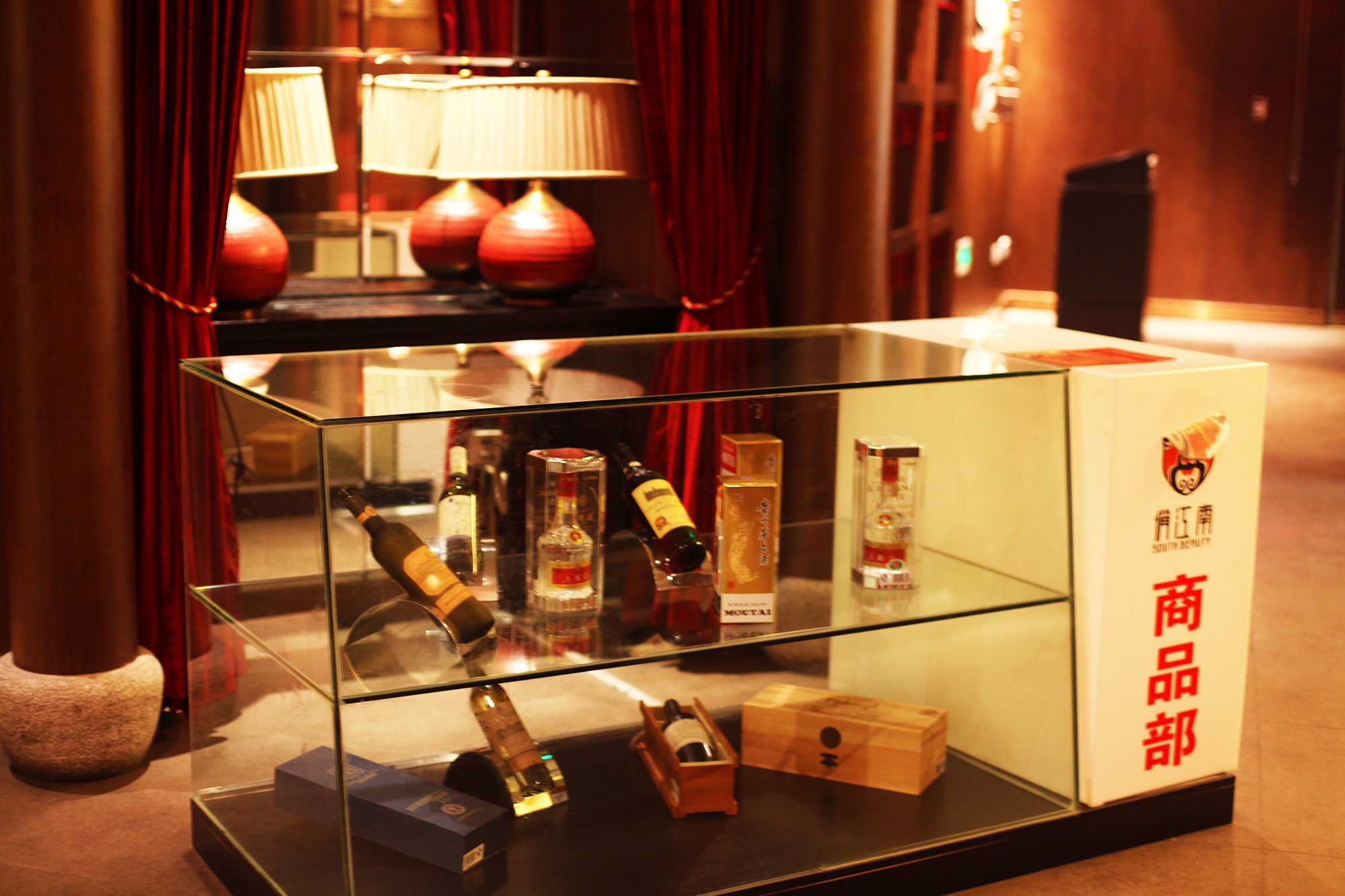 The patterns on the doors permeate with the implicit charms of the ancient South.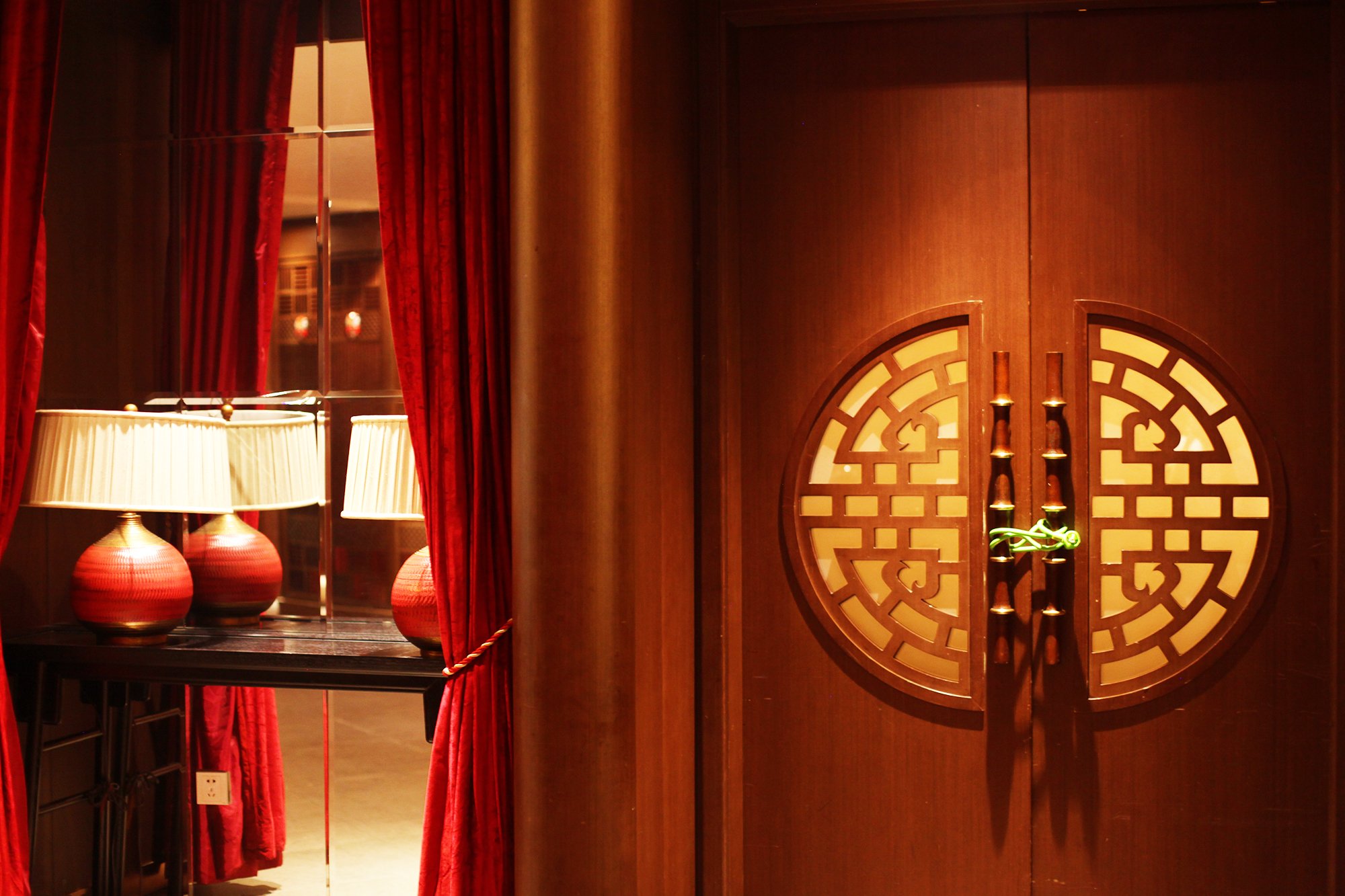 On some of the doors, the Sichuan opera masks make yet another appearance. This time, in smaller size compared to the one at the entrance.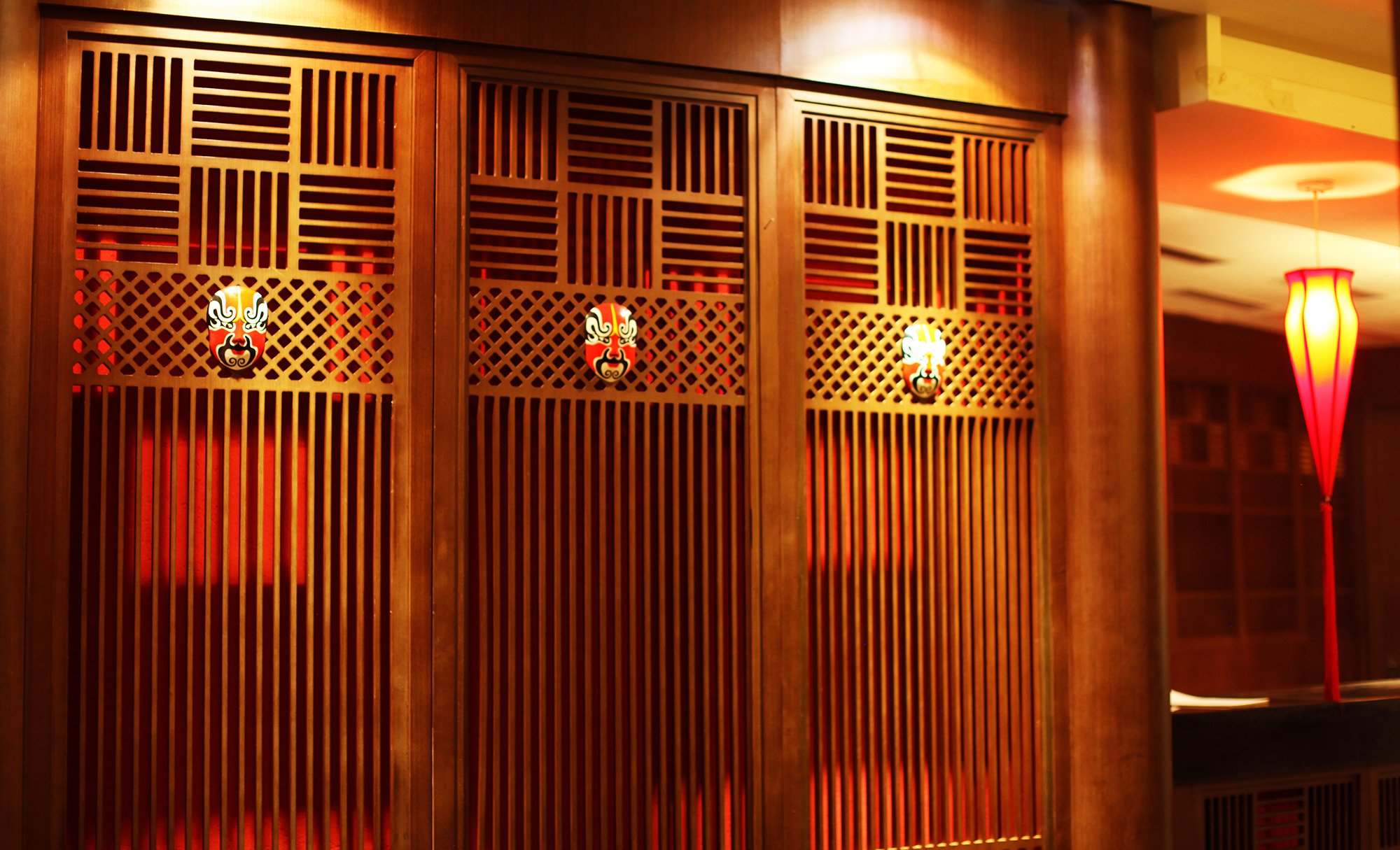 In one of my previous posts, I wrote about "Why Chinese people eat in private rooms ",to many of my new followers, you've probably not had the opportunity to see what these private rooms are like, so for you guys new to my blog, i've decided to use a private room to show you what it's like.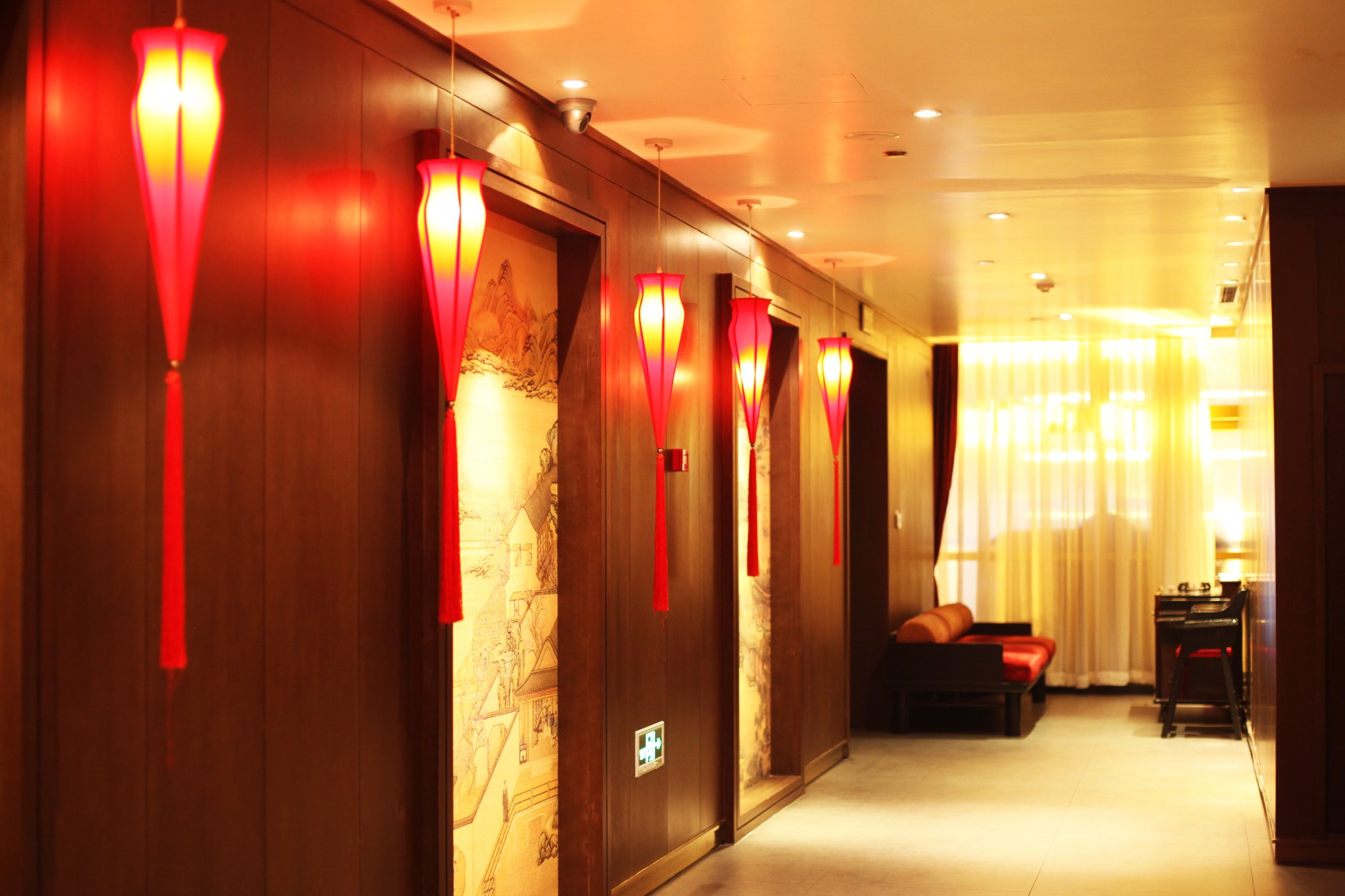 The most eye grabbing thing in the private room is no doubt the large crystal chandelier in the center of the room.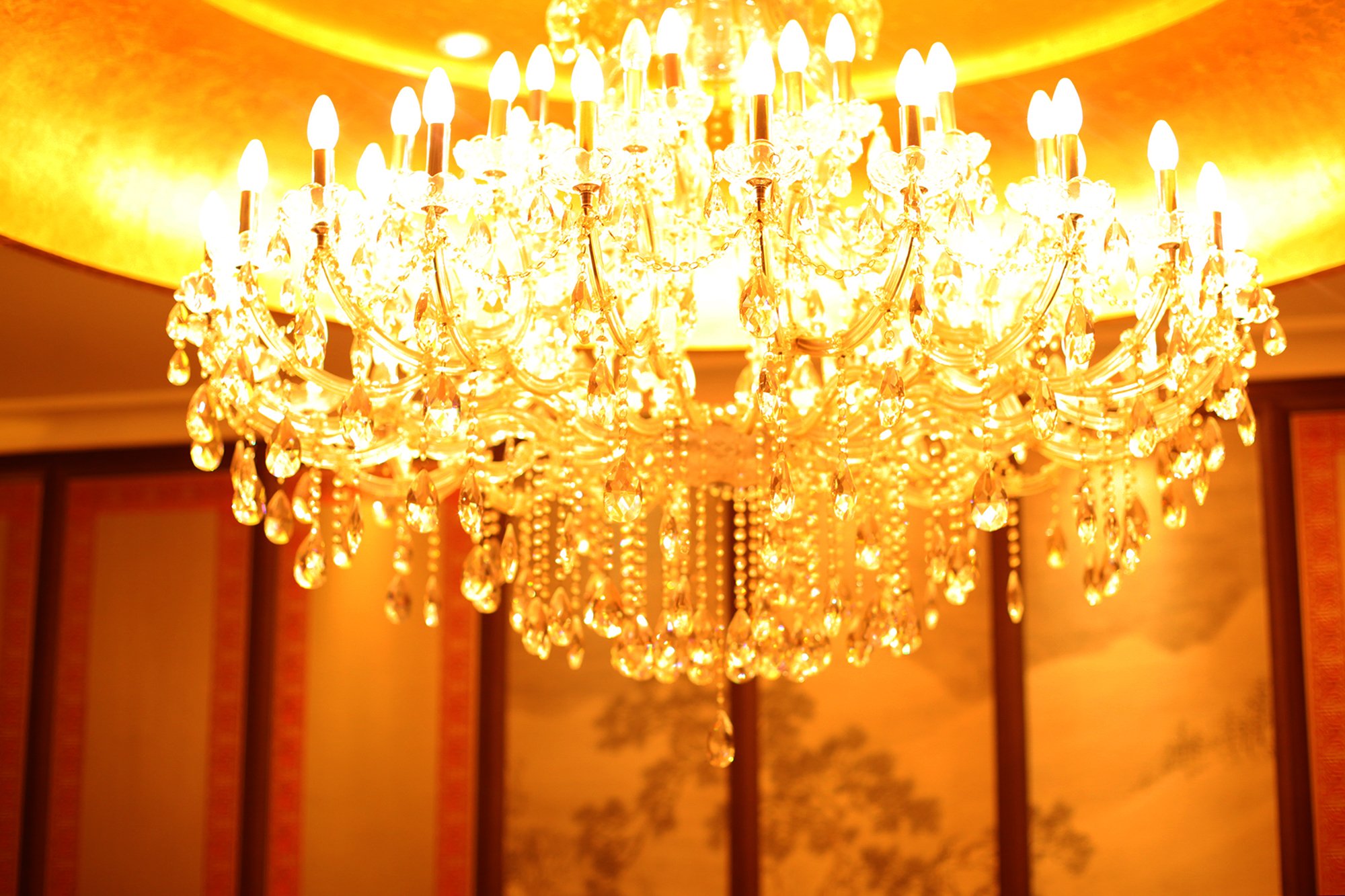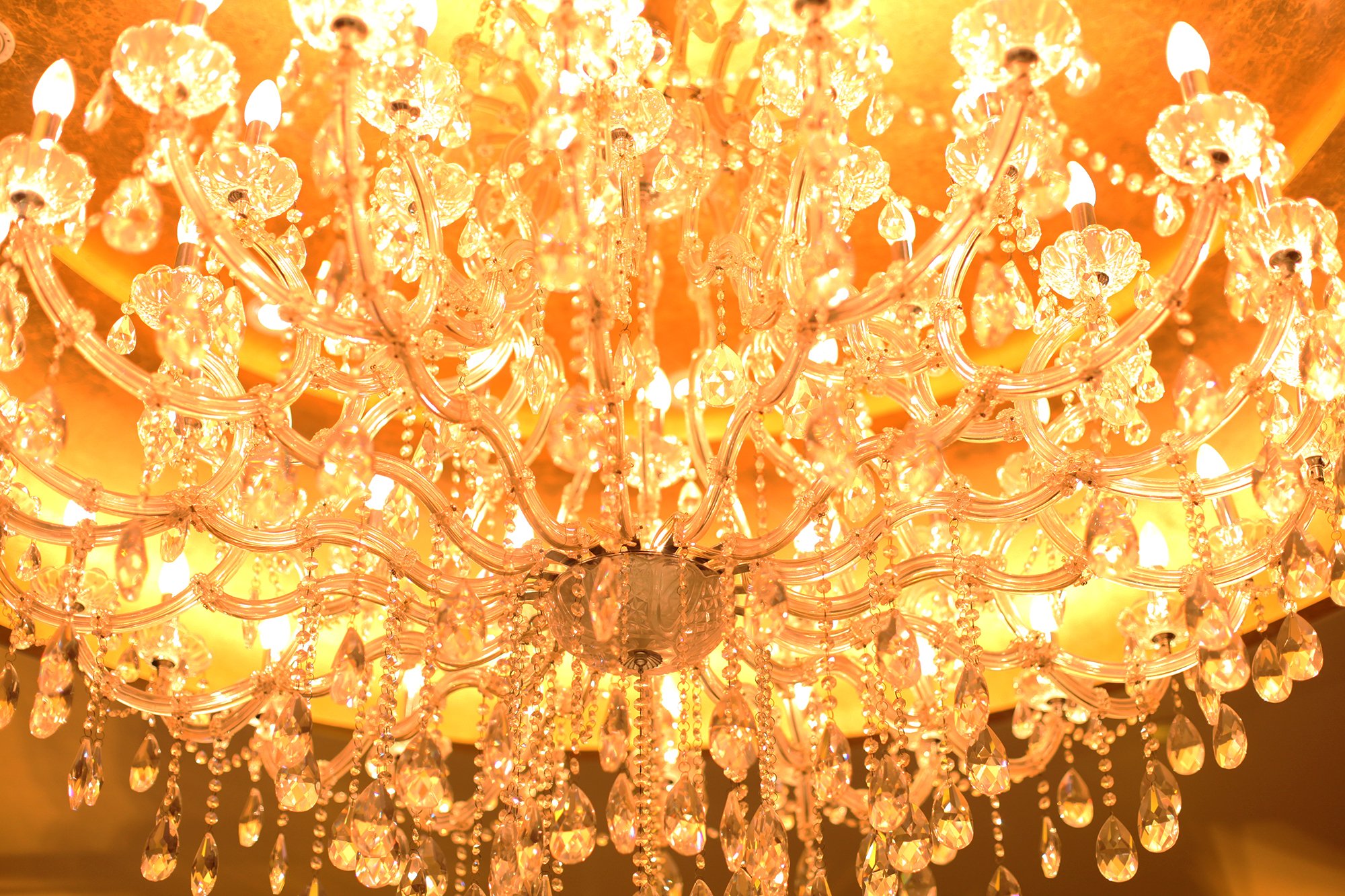 Combined with the Southern styles of lanterns and landscape paintings, the whole room feels like a fusion of anglo-sino cultures in the form of room decor!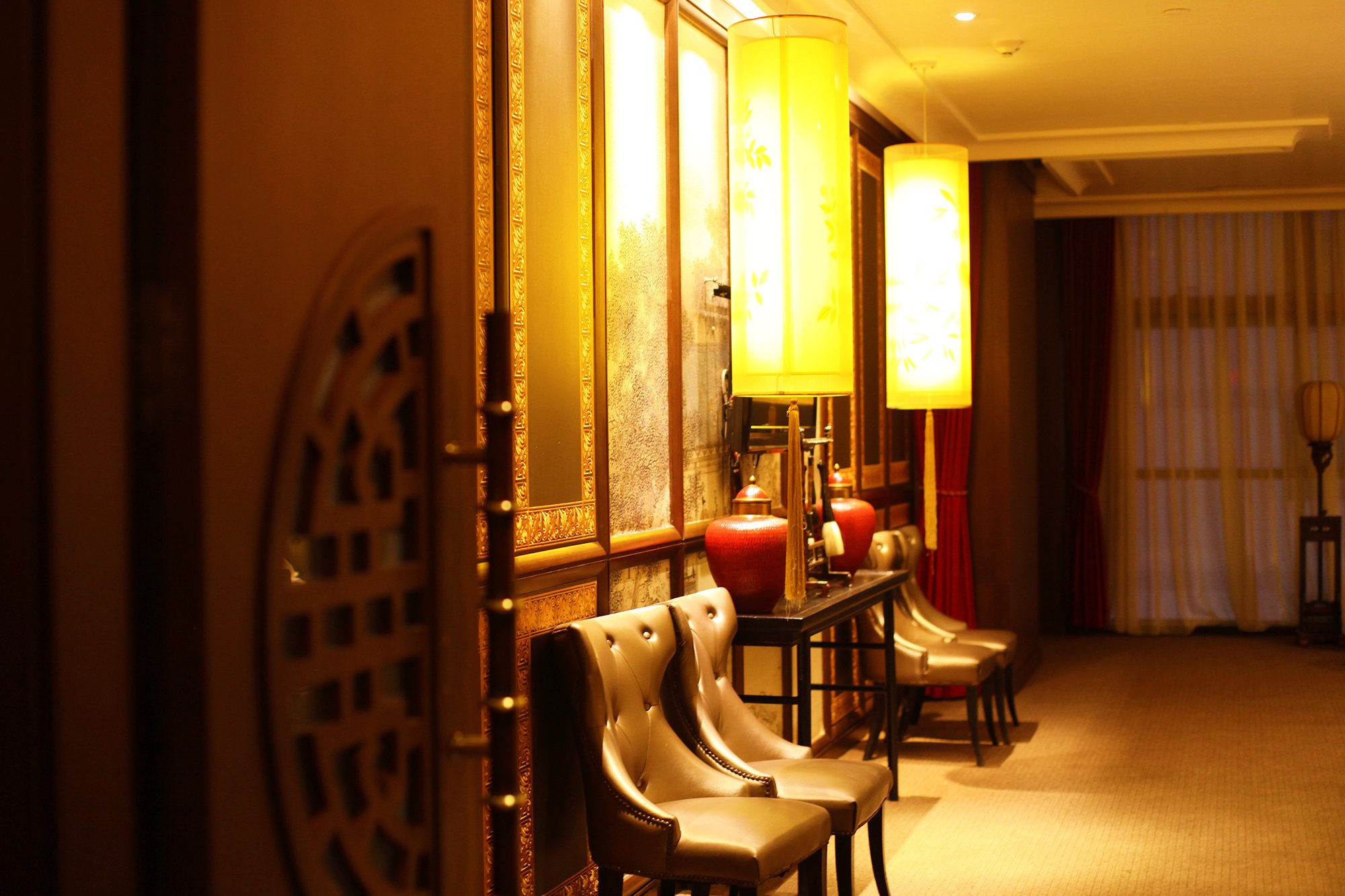 But it's not just a room for dining. No, inside a private room, you'll also find a sofa, and a tea table, and most of the time a TV!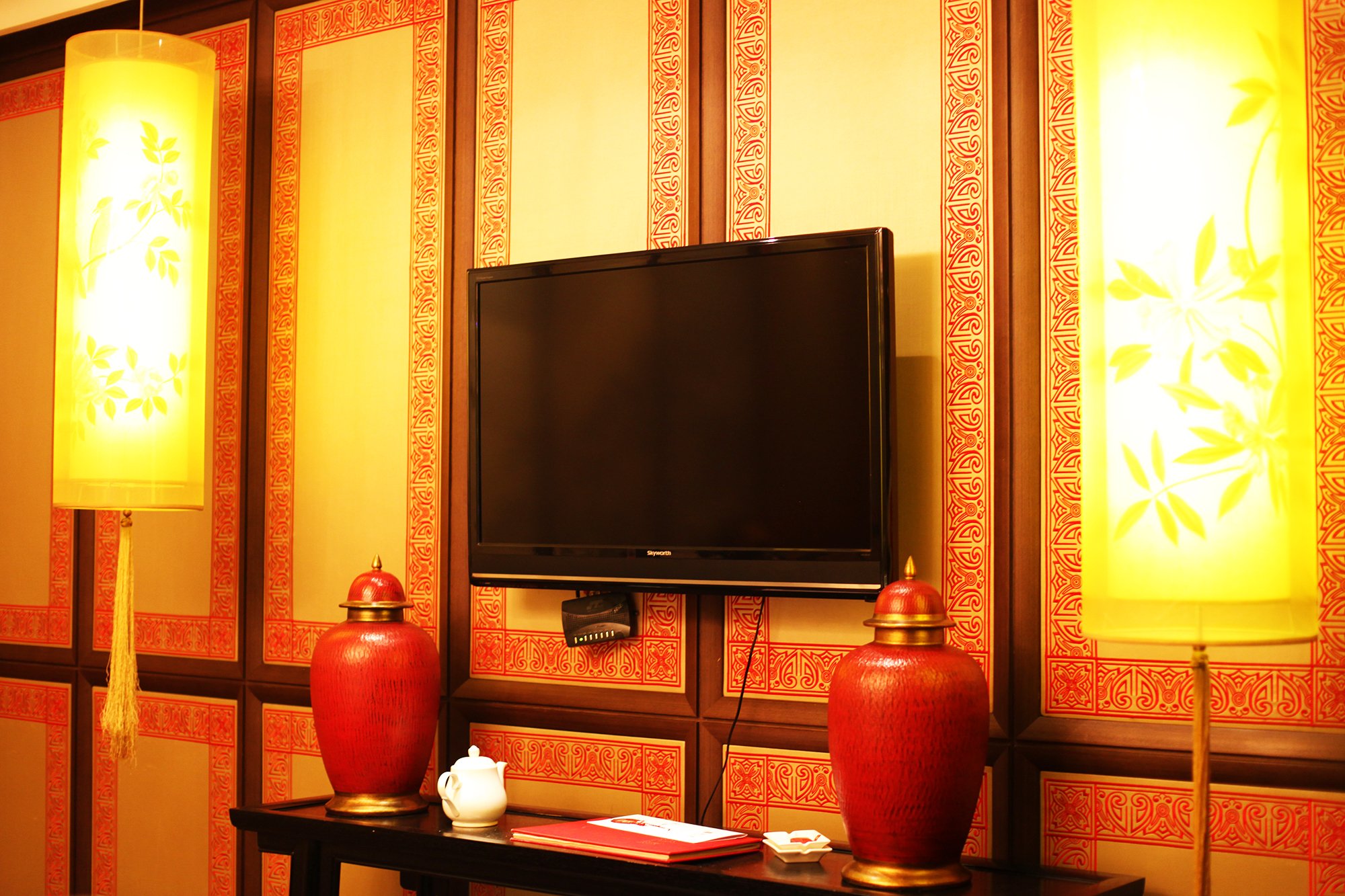 This white disc like antique attracted my attention. It reminds me of the infamous Spring and Autumn period relic called the "He Shi Bi".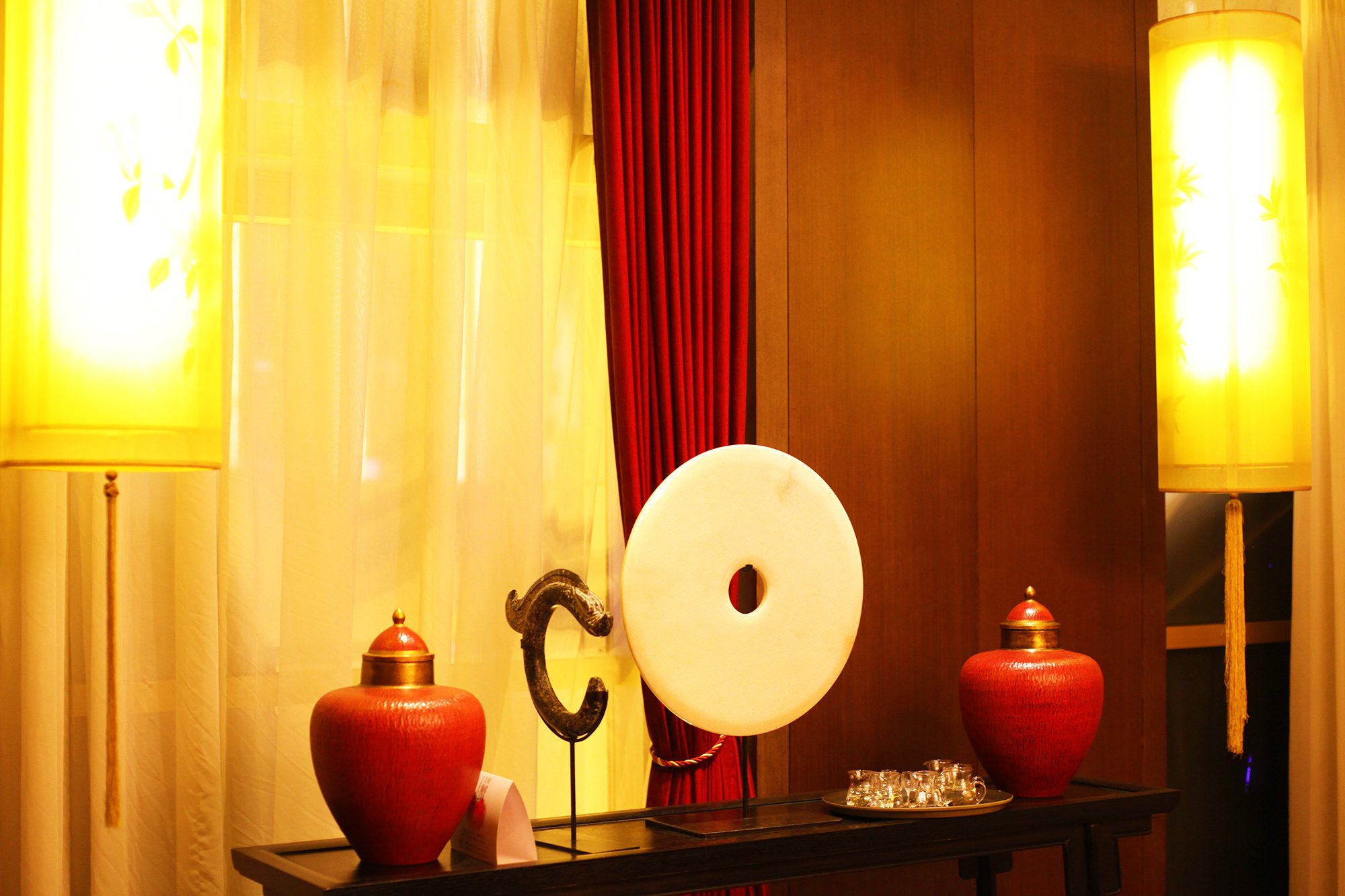 A cup of scathing hot tea signals the beginning of tonights feast.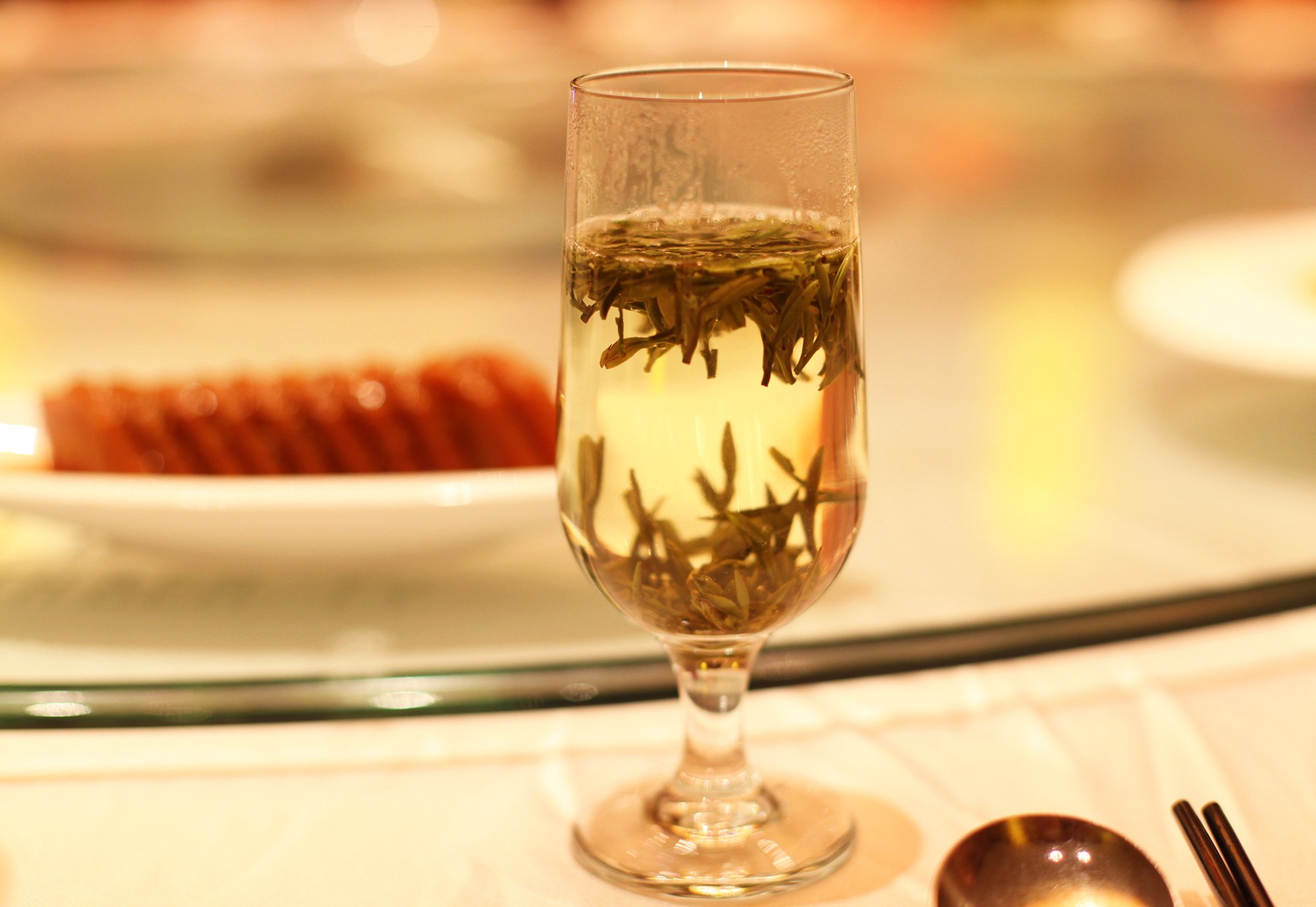 Of course, no Chinese banquet can go ahead without alcohol.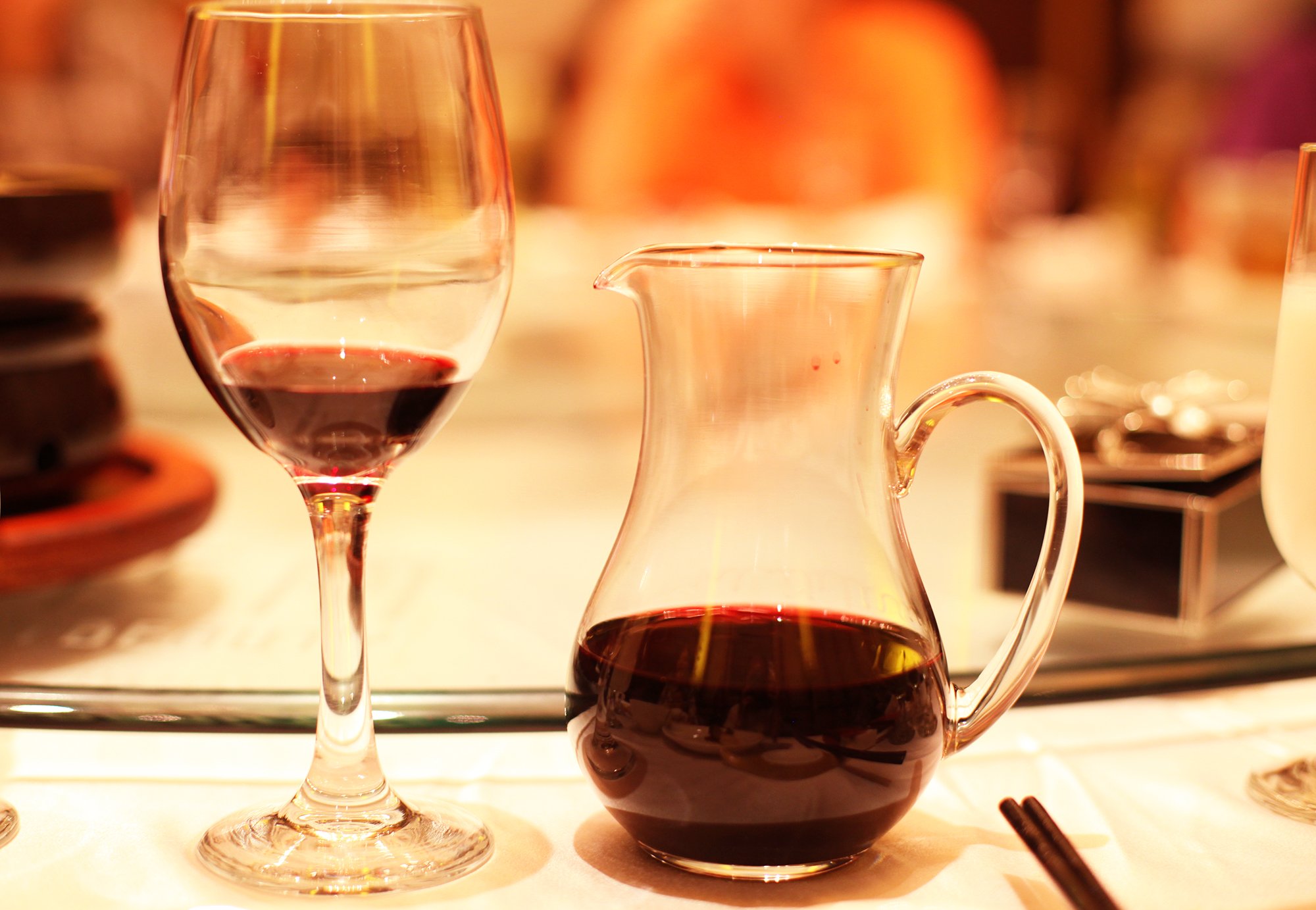 Friends coming from far to join us for dinner must be honored with the opening of a bottle of white spirit. Positive business discussions should also warrant the sharing of white spirits. Actually, there are few instances where dinner gatherings are not an overwhelmingly positive experience, one that creates stronger bonds between all the participants.
I actually wrote an article before about the etiquettes of dining in China. Feel free to review that if you're interested.
Meanwhile, I just noticed the Sichuan Opera mask logo reflecting in the glass wine cups. This restaurant sure does pay a lot of attention to details.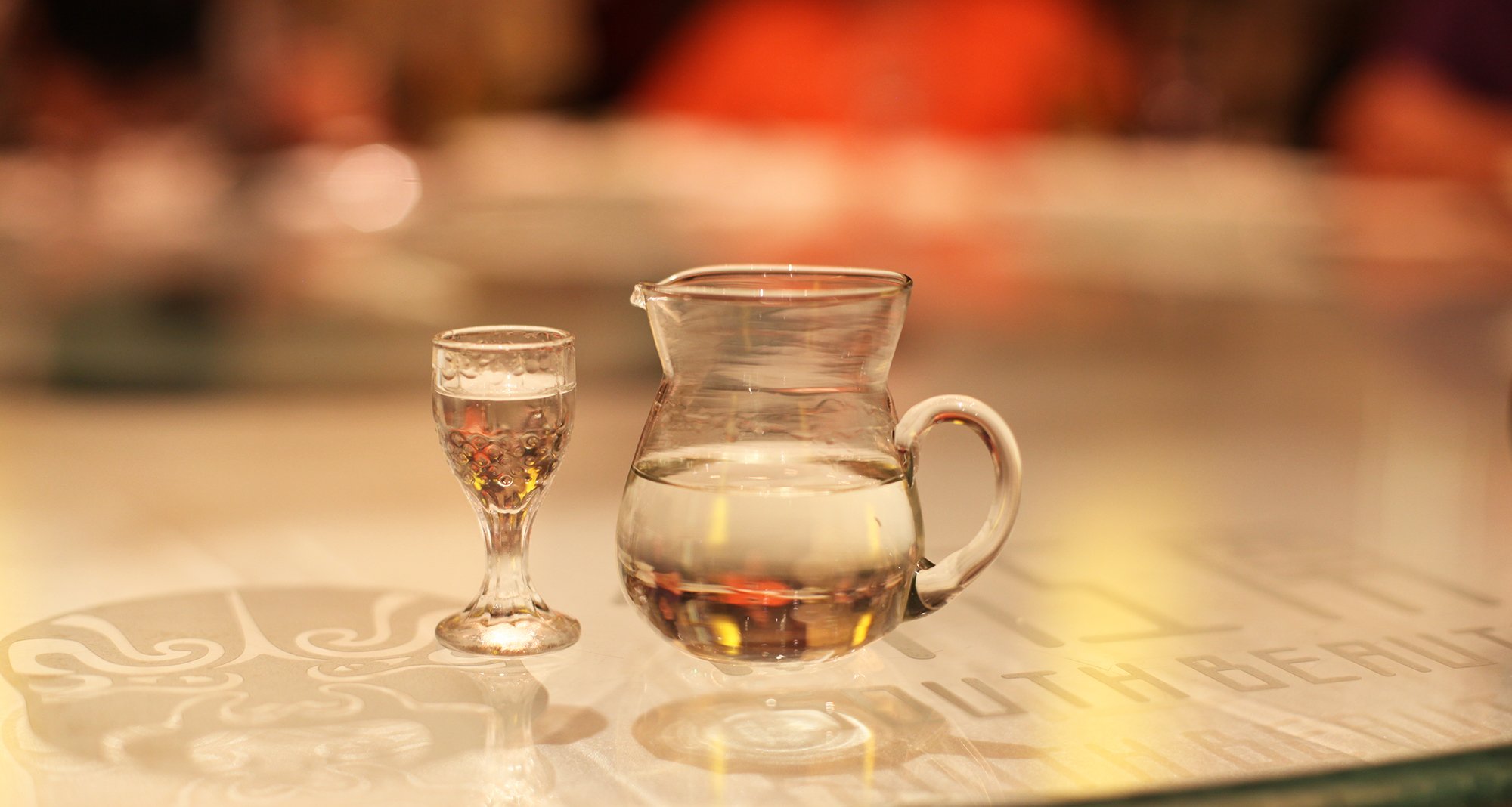 Let's check out the food and see if they are as impressionable as the rest of the restaurant would suggest..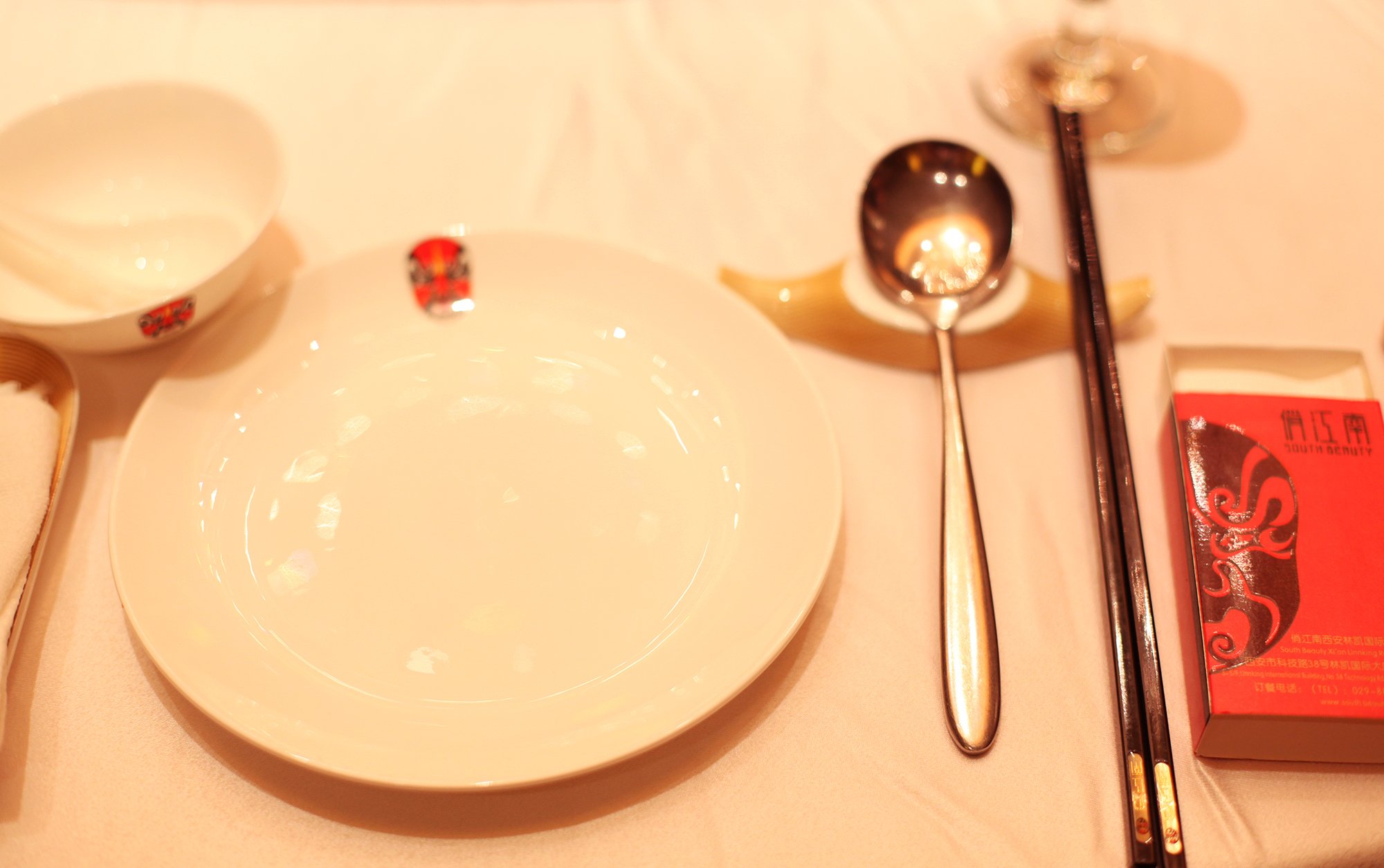 From the dish presentation, to the ingredients and sauces. Souh beauty makes it clear that they are attentive to
details, and meticulously design each dish with fine detail. Many of their dishes actually carry cultural parables and historical contexts.
Coriander Silk Belly Tripe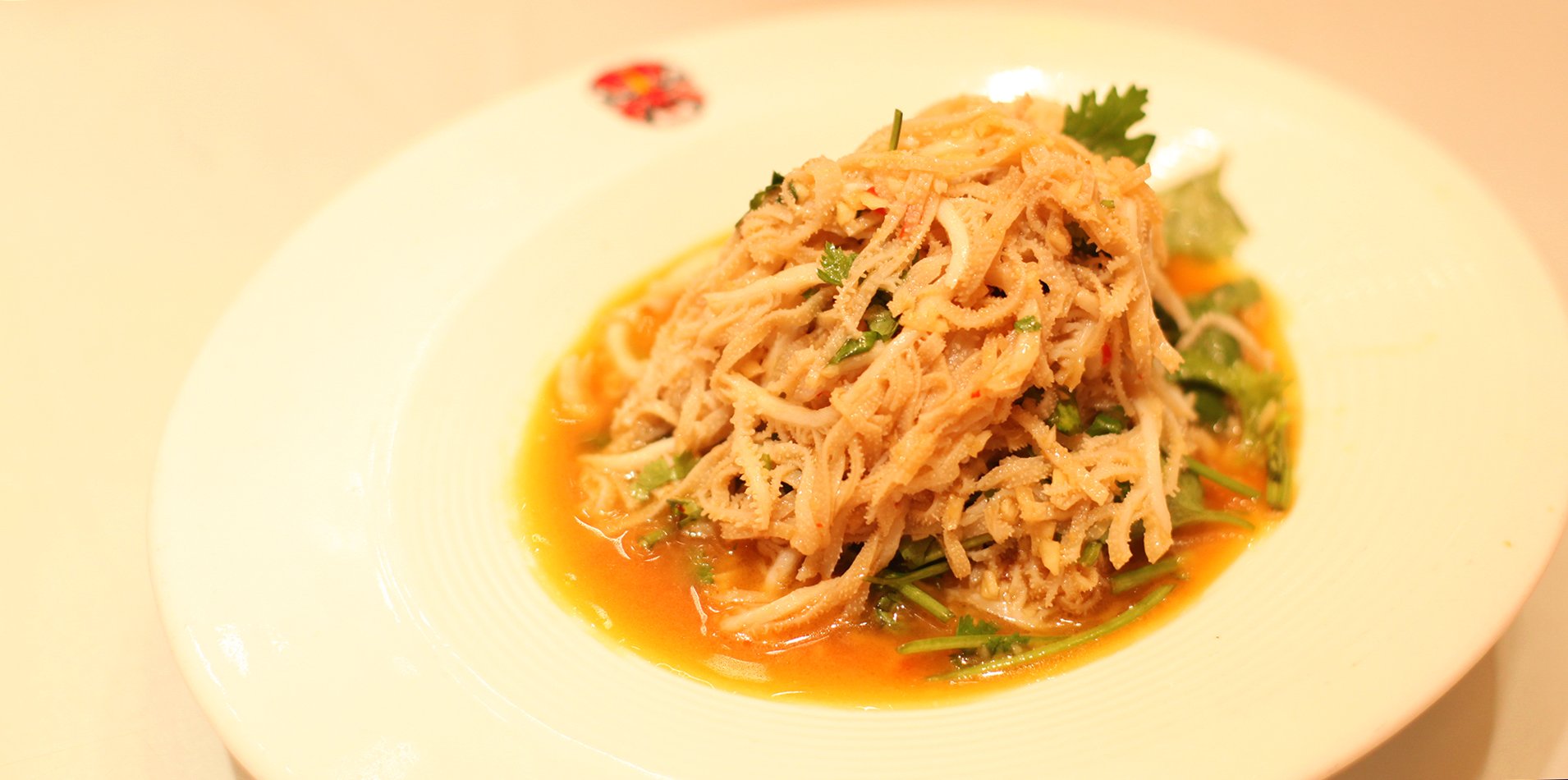 Sweet and Sour Lotus Roots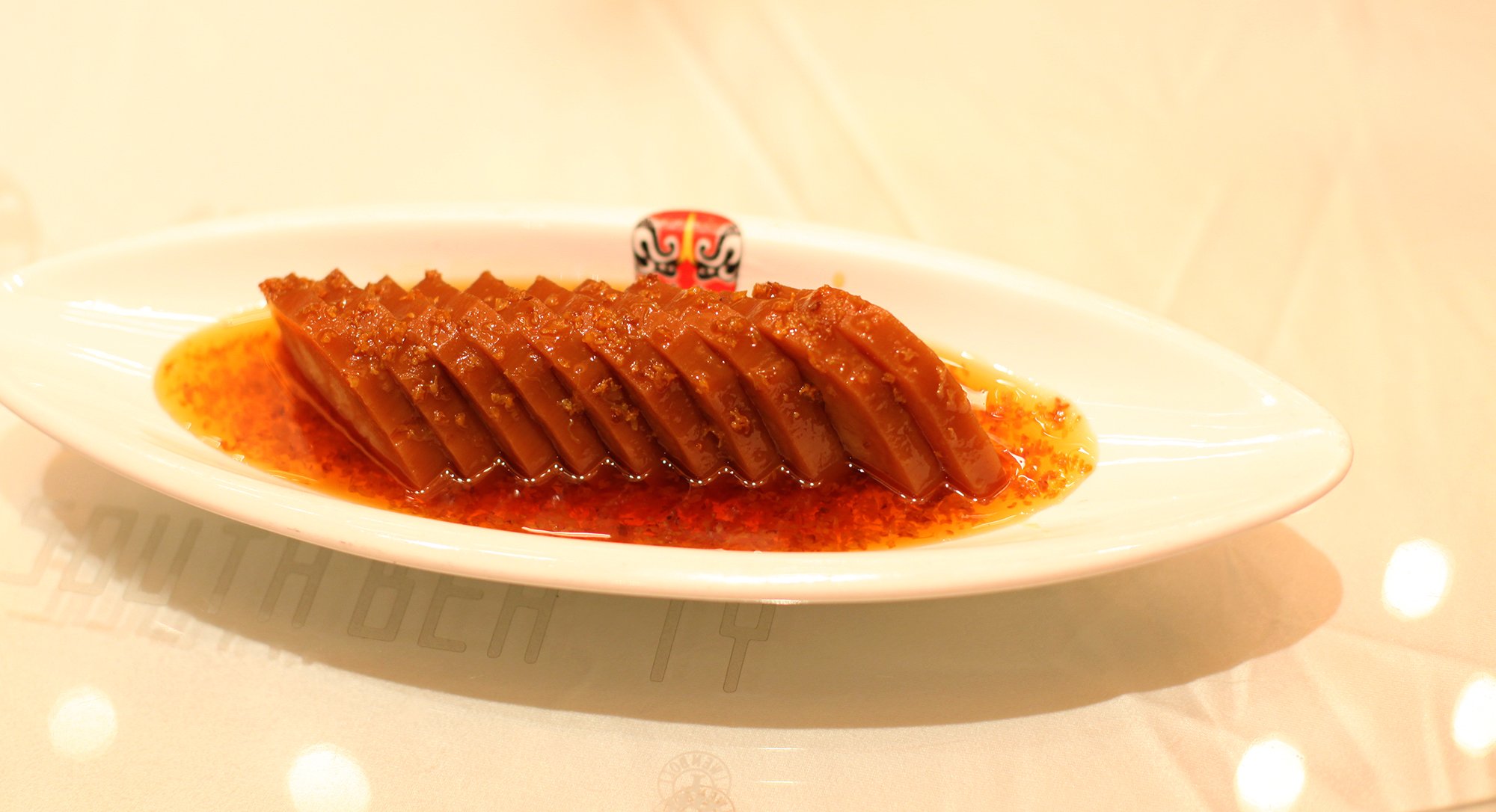 Diced Green Peppers with Beef in Vermicelli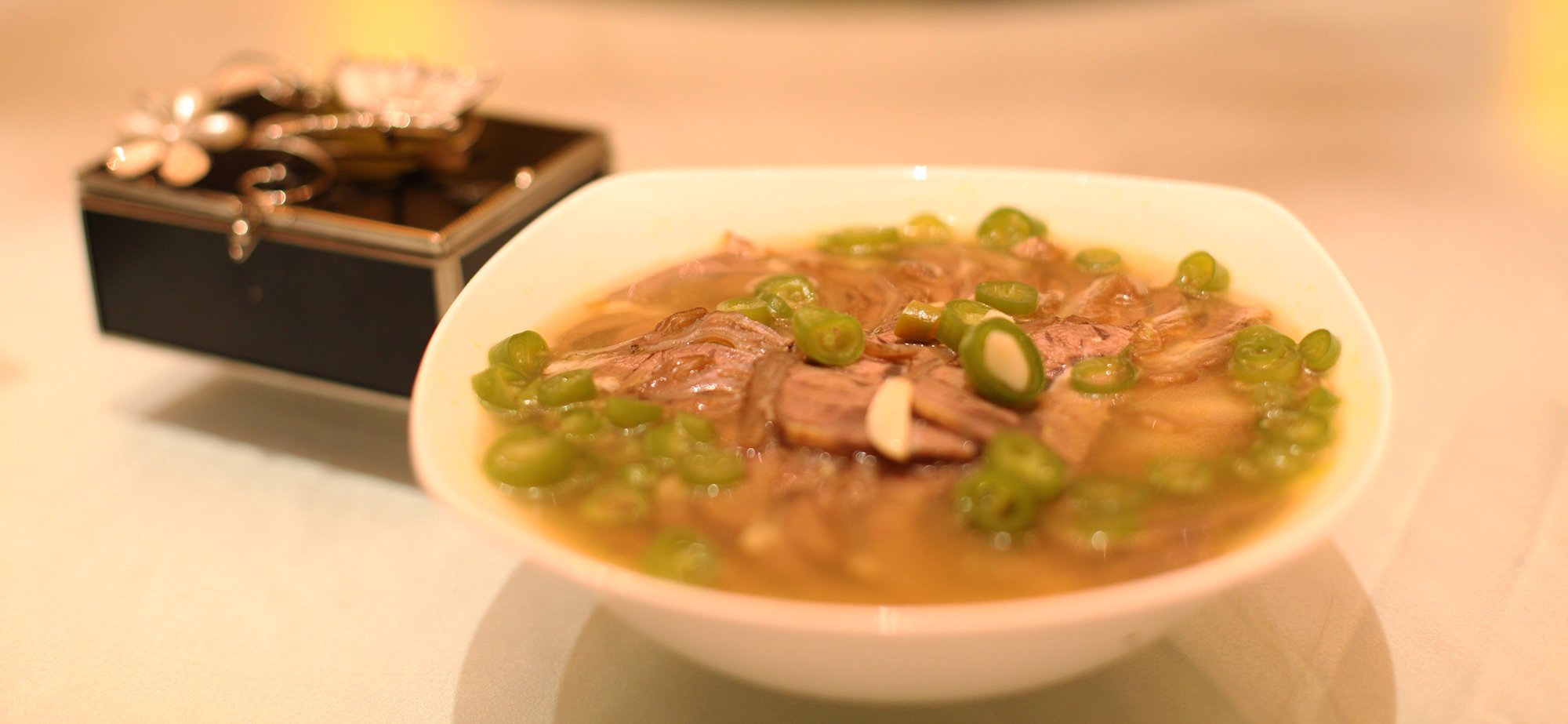 This is such a peculiar dish, it's actualy the first time I've ever seen something like it.
Dried Chilli Peppers with Okra
This is definitely a seasonal dish. Not only is it low in fat, it's also low in calories and cholestrol too.
Chinese people apparently love this dish very much. (And here I am tasting it for the first time !)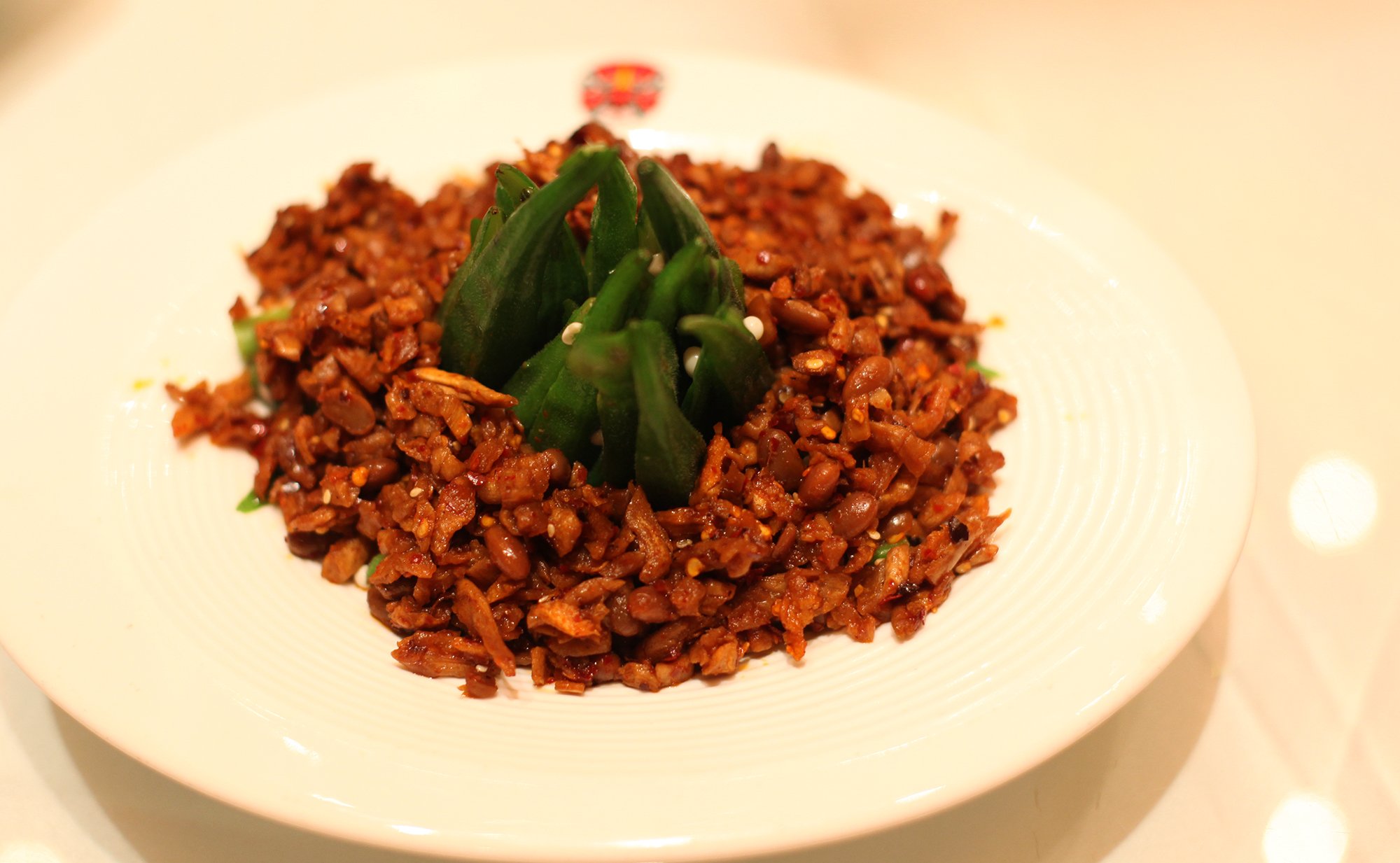 Walnuts with Garlic Chives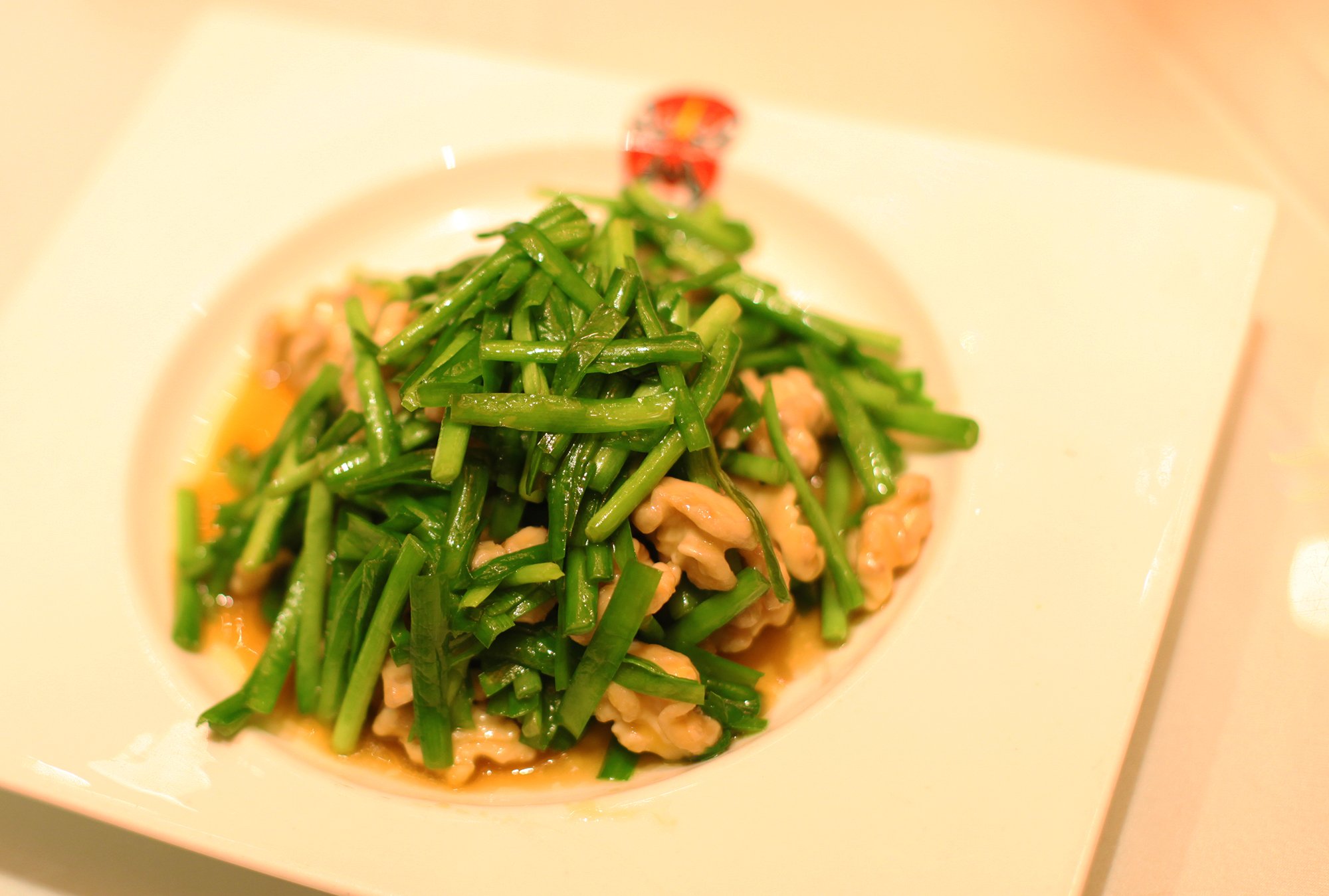 Beanshoots with Tofu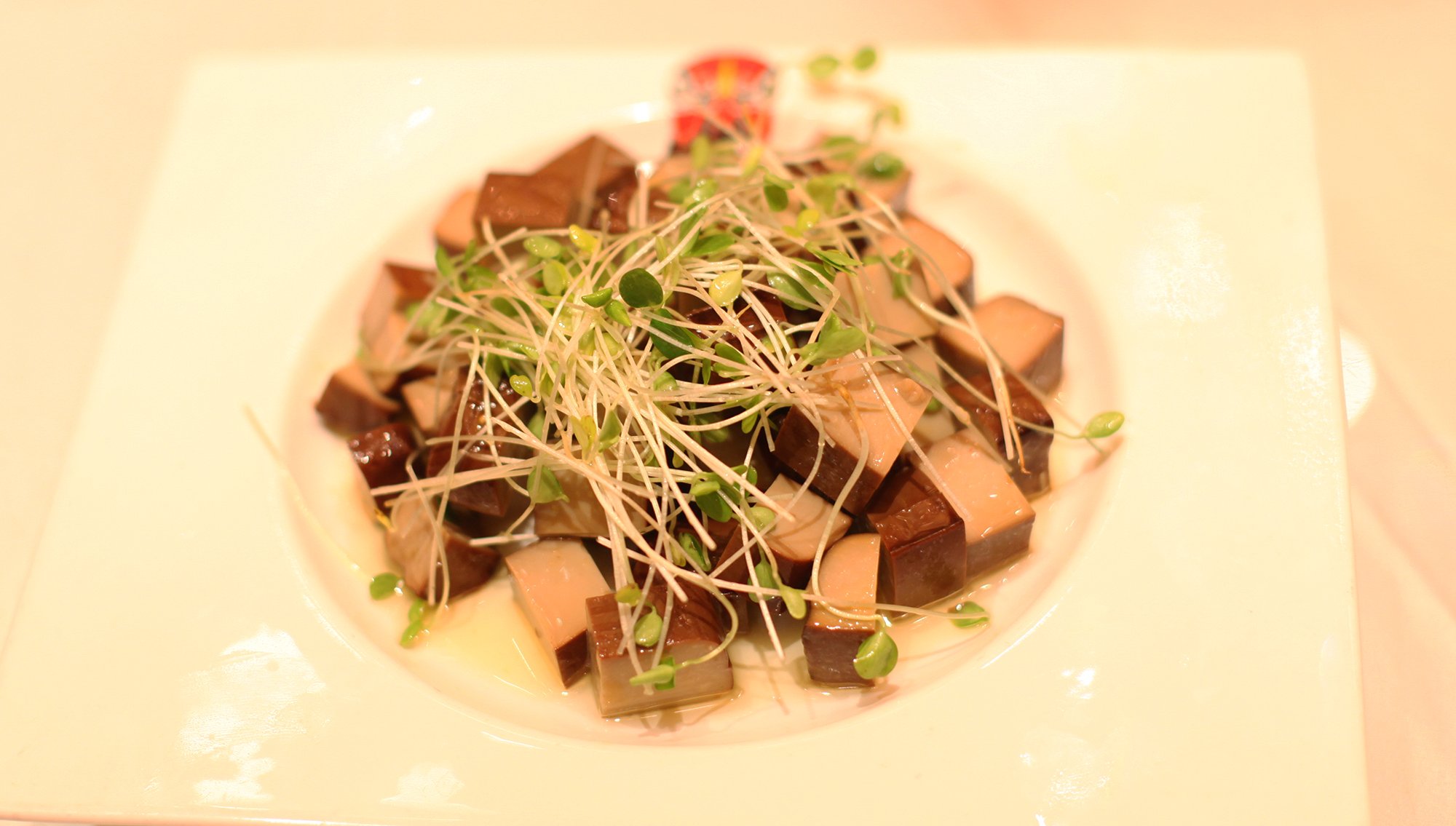 This platter of marinated dried meats is served with chilli powder suds.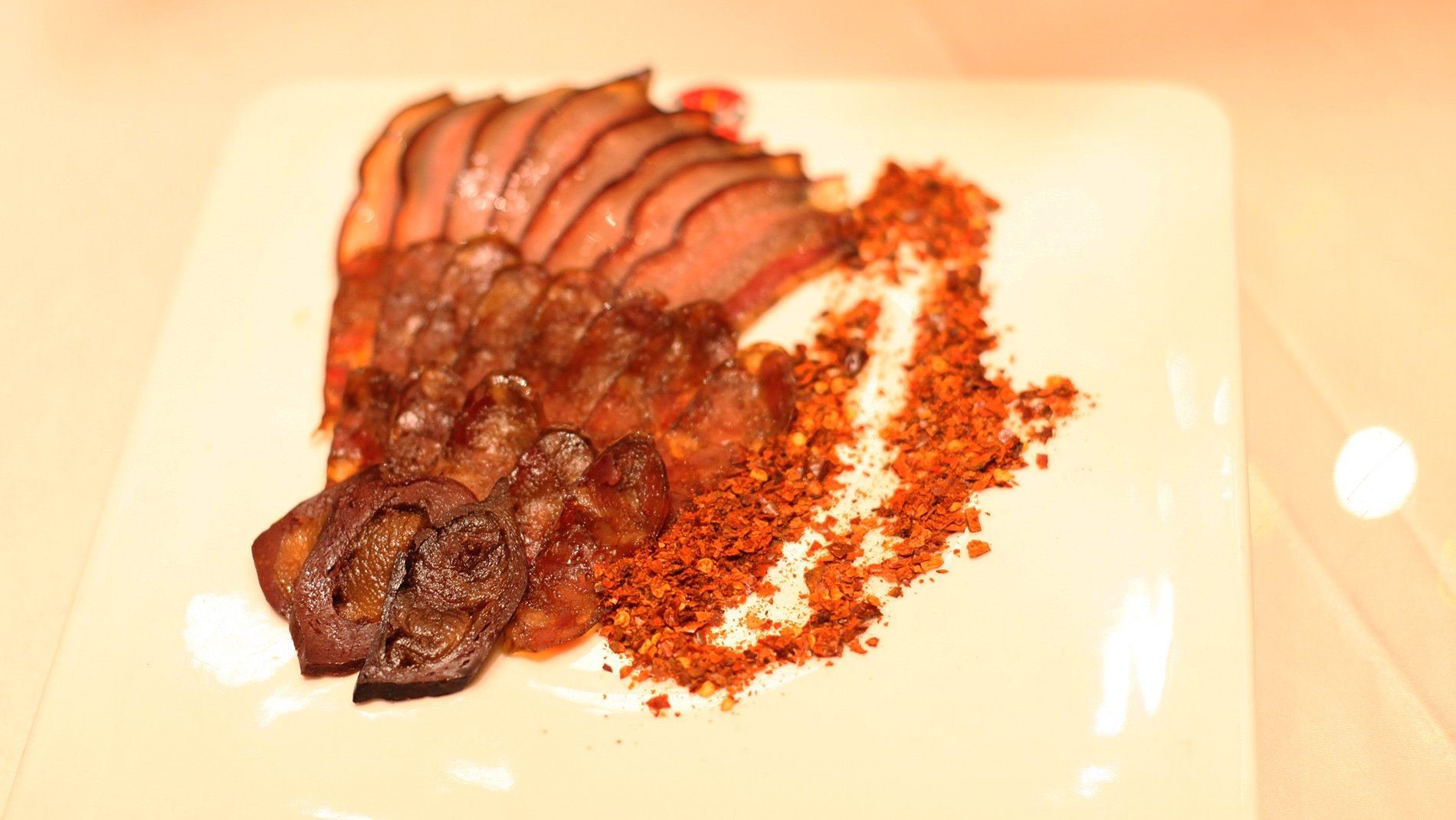 Naked Oat Lettuce with Sesame Paste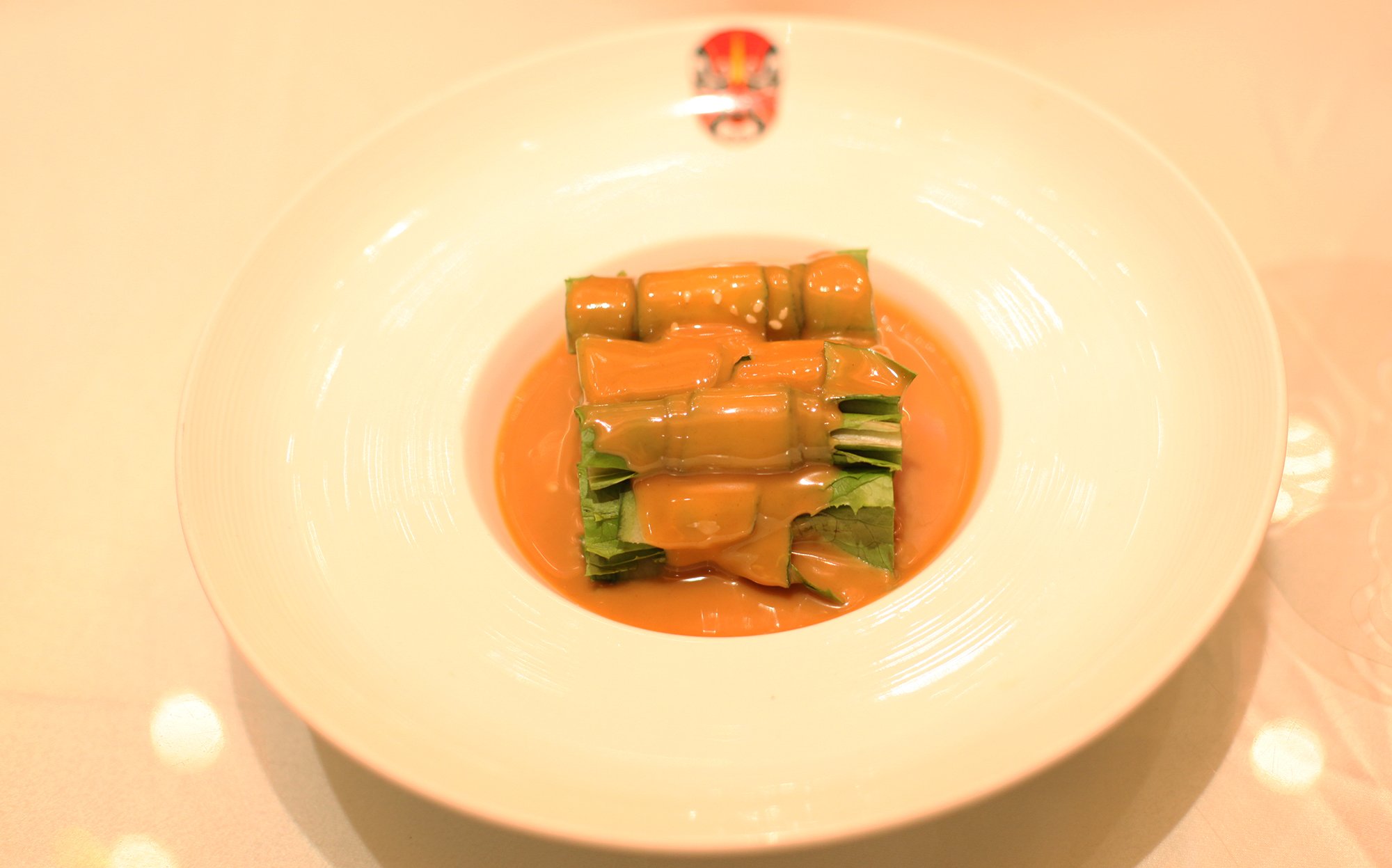 Have a guess what this beautiful box is used for?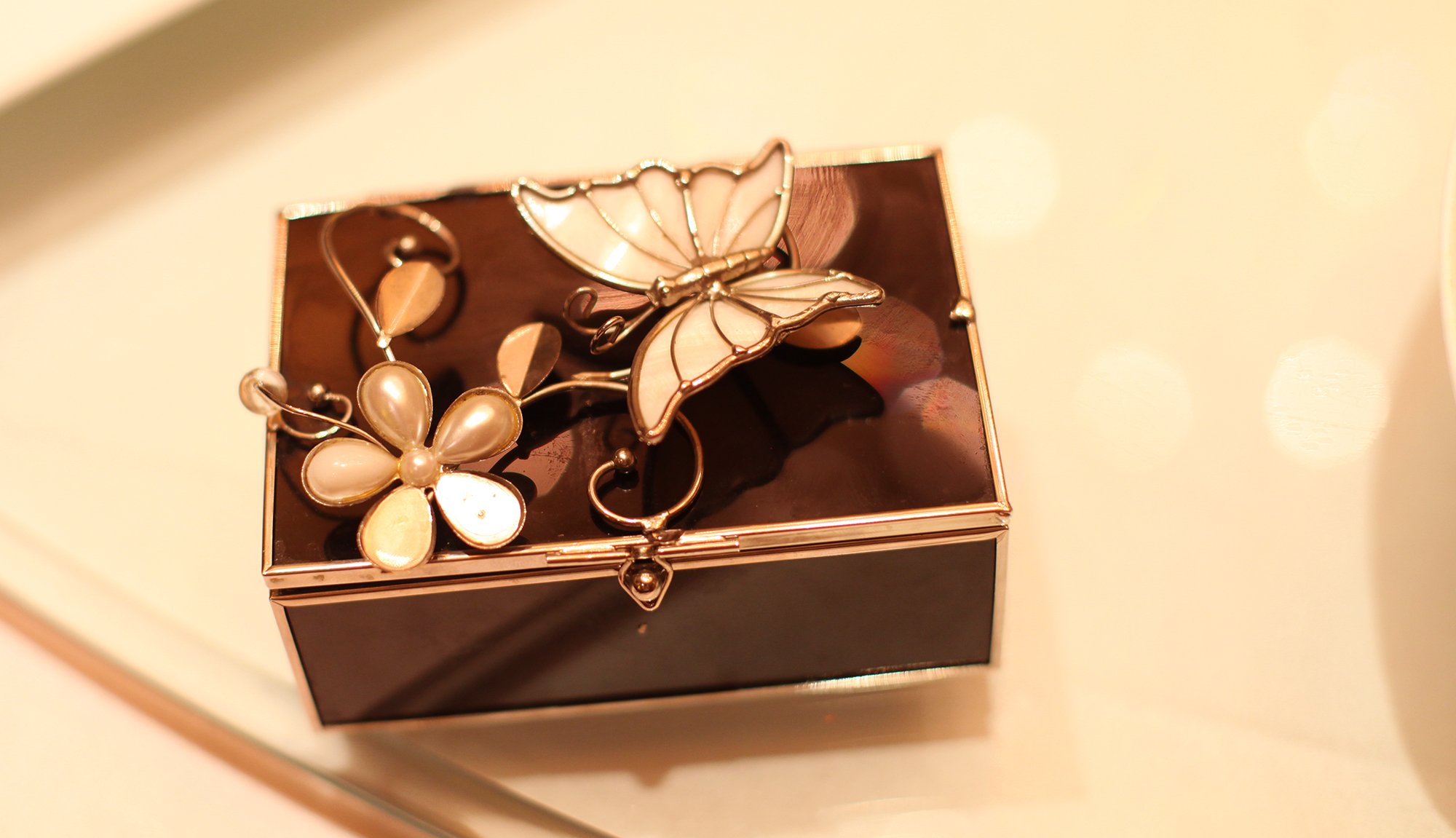 The next dishes will serve as the main 'hot' dishes. First up, we have Prawns with Peas. Very healthy and nutritious!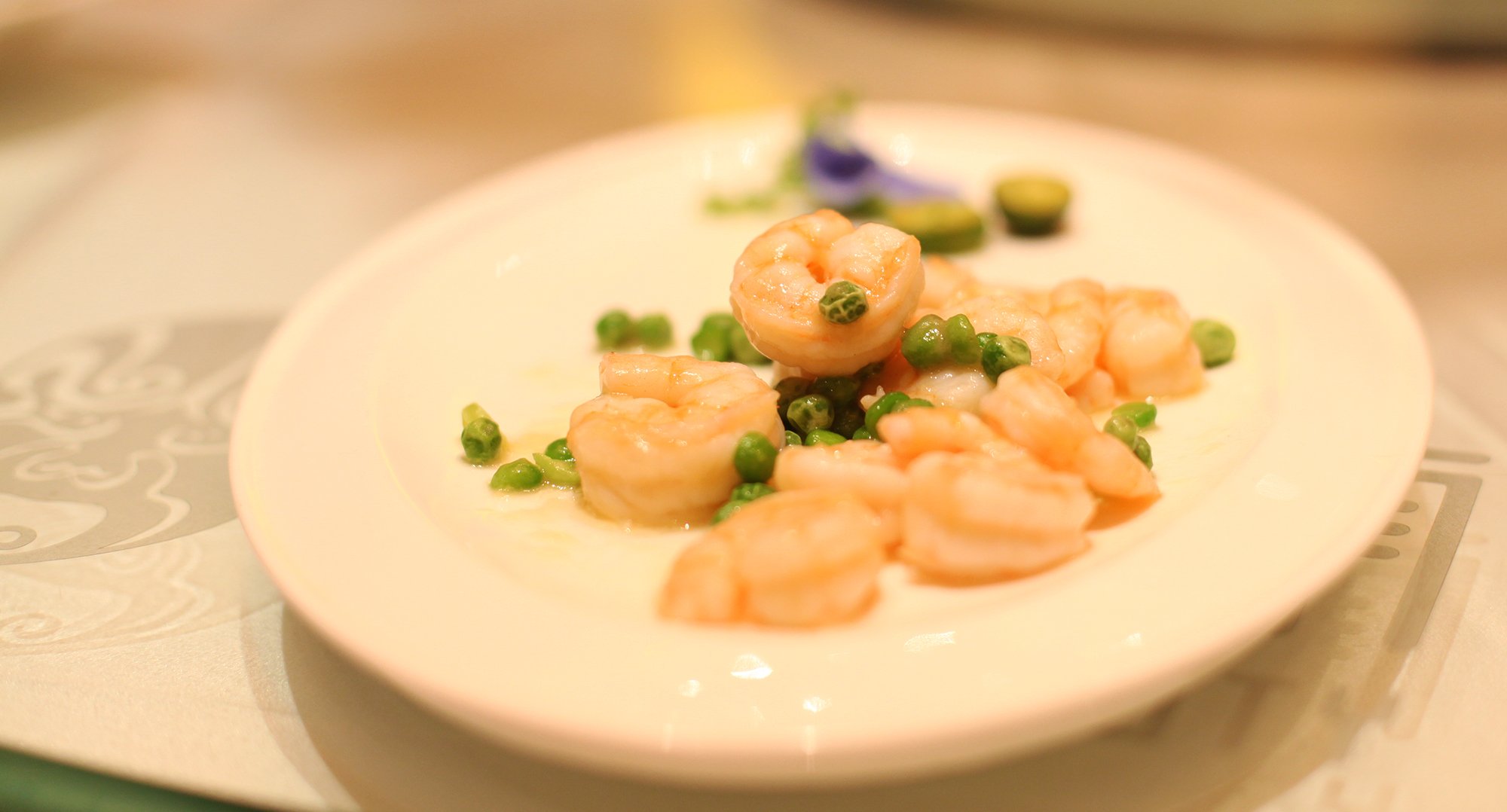 Stir fried fungus and vegetables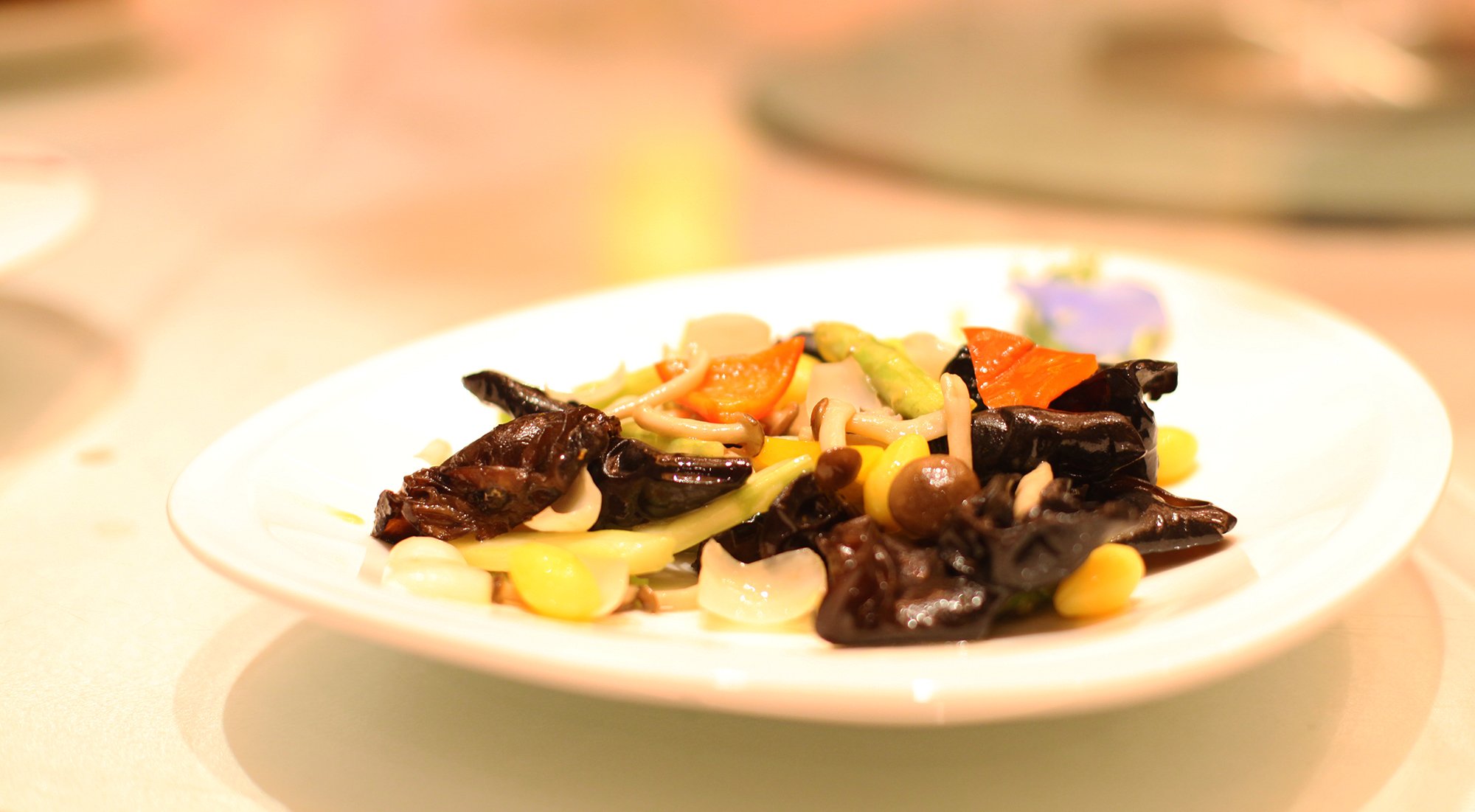 Abalone fish with Radish and Mushroom pot
A very flavoursome dish that goes well with some plain rice.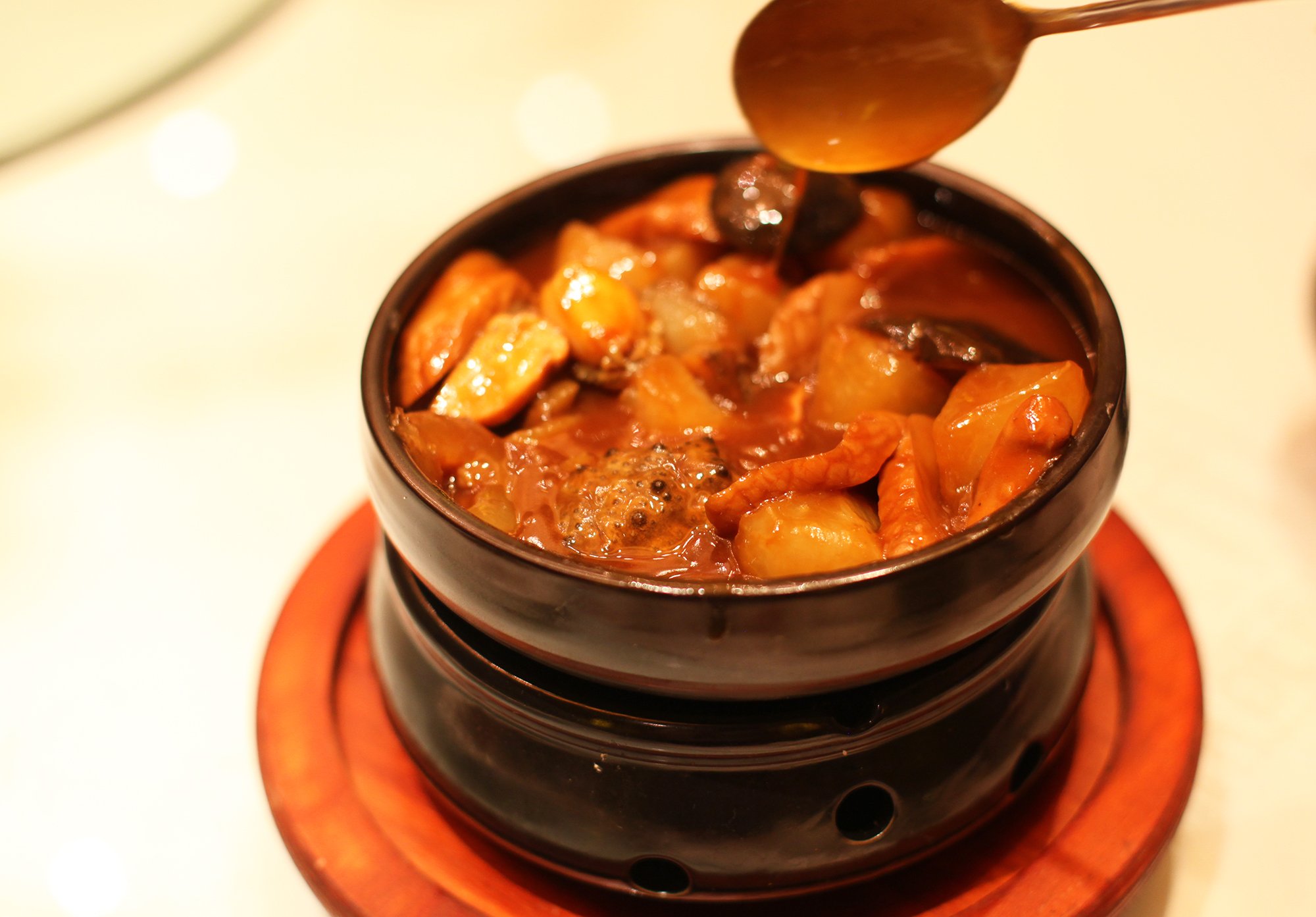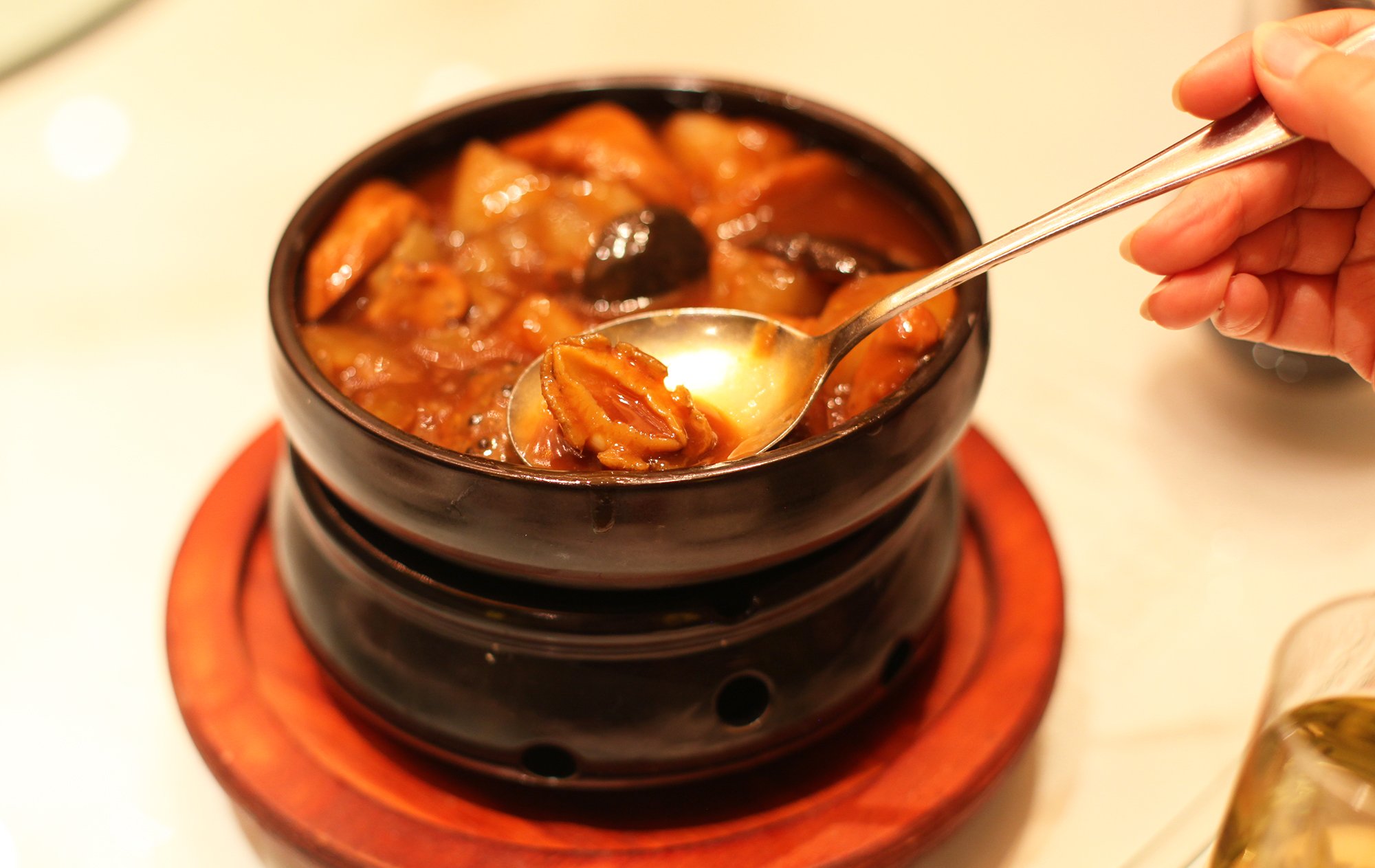 Scolded radish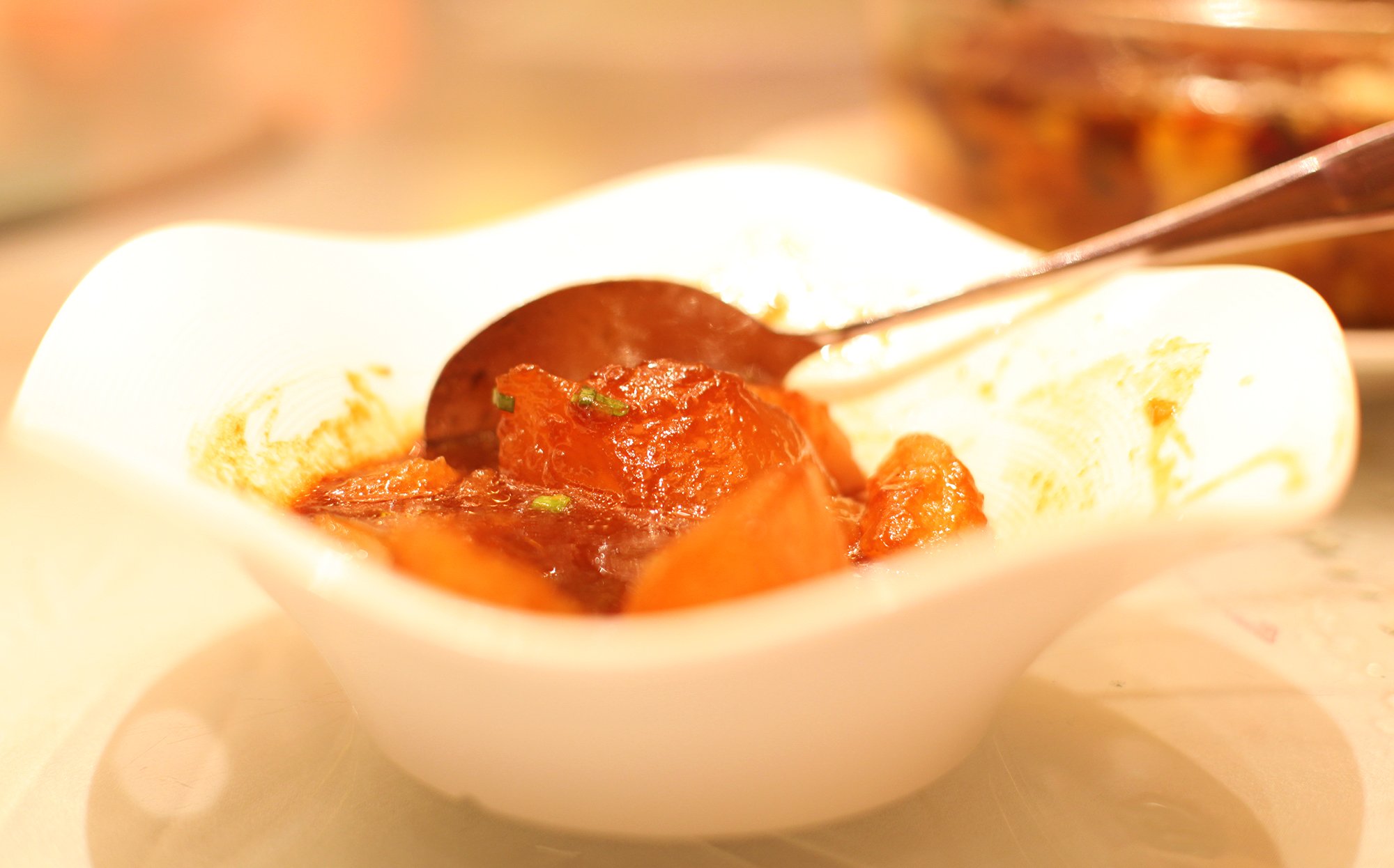 Sichuan poached sliced fish in chilli oil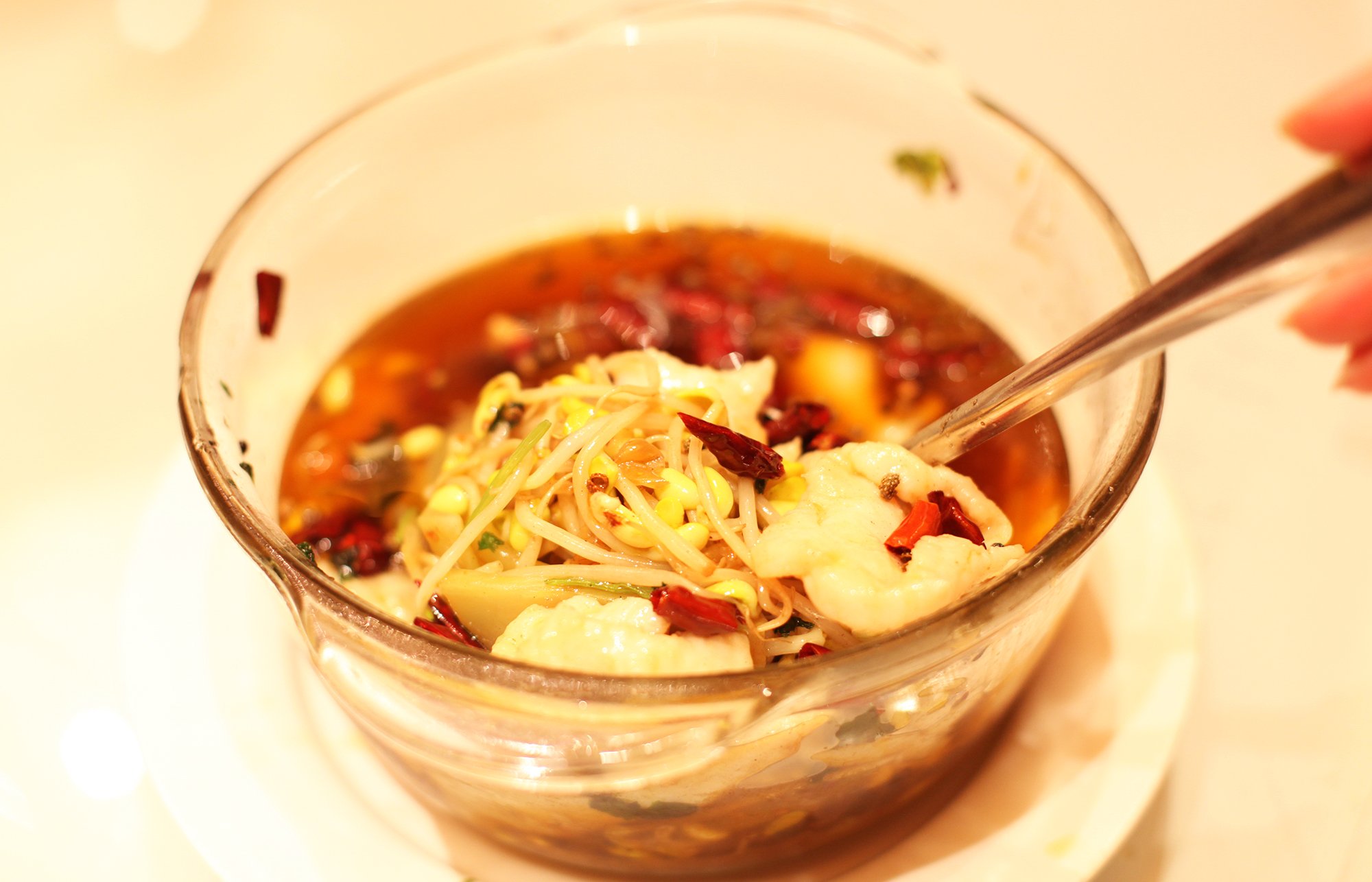 Simmer fried beancurd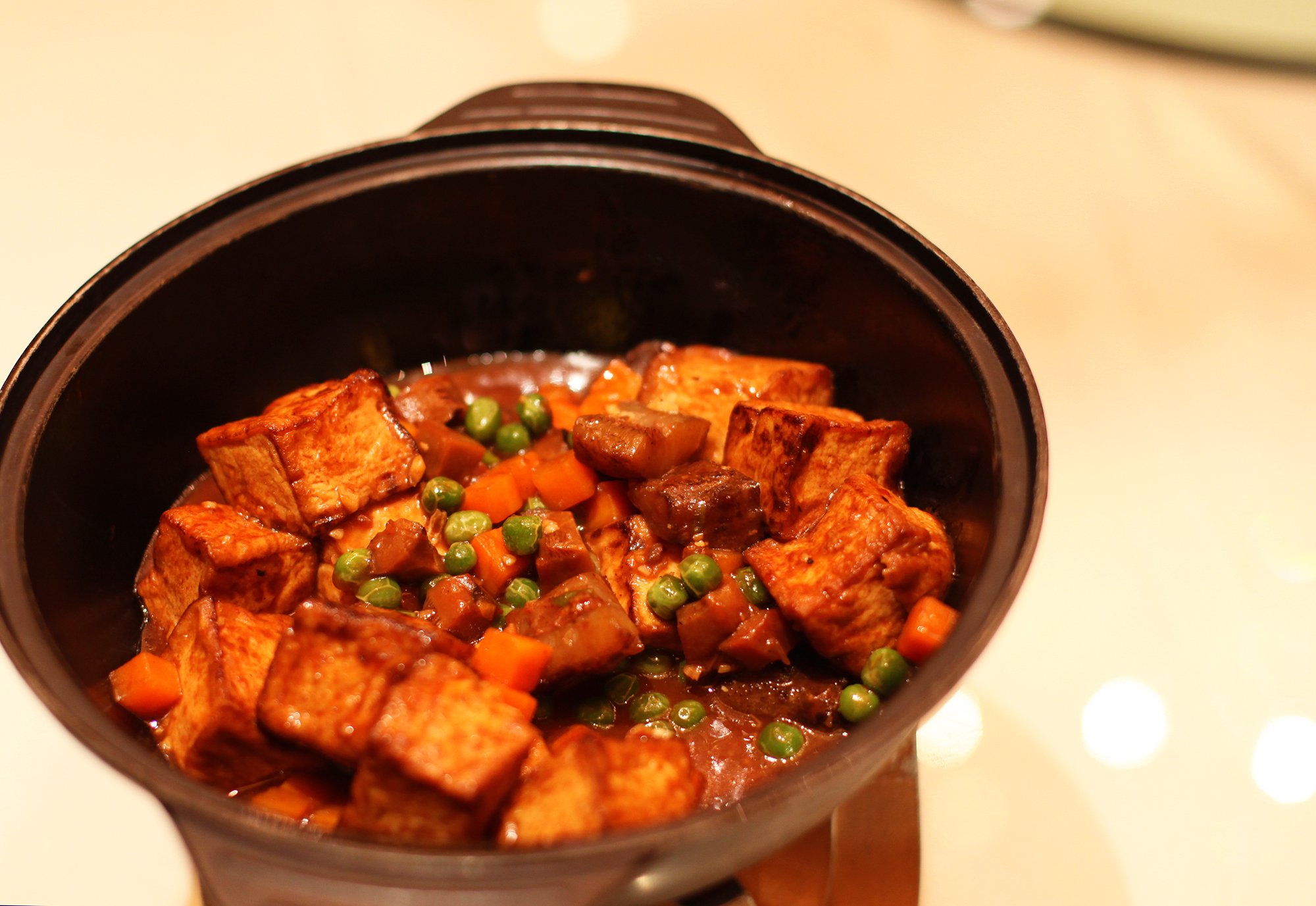 Lush green Chinese lettuce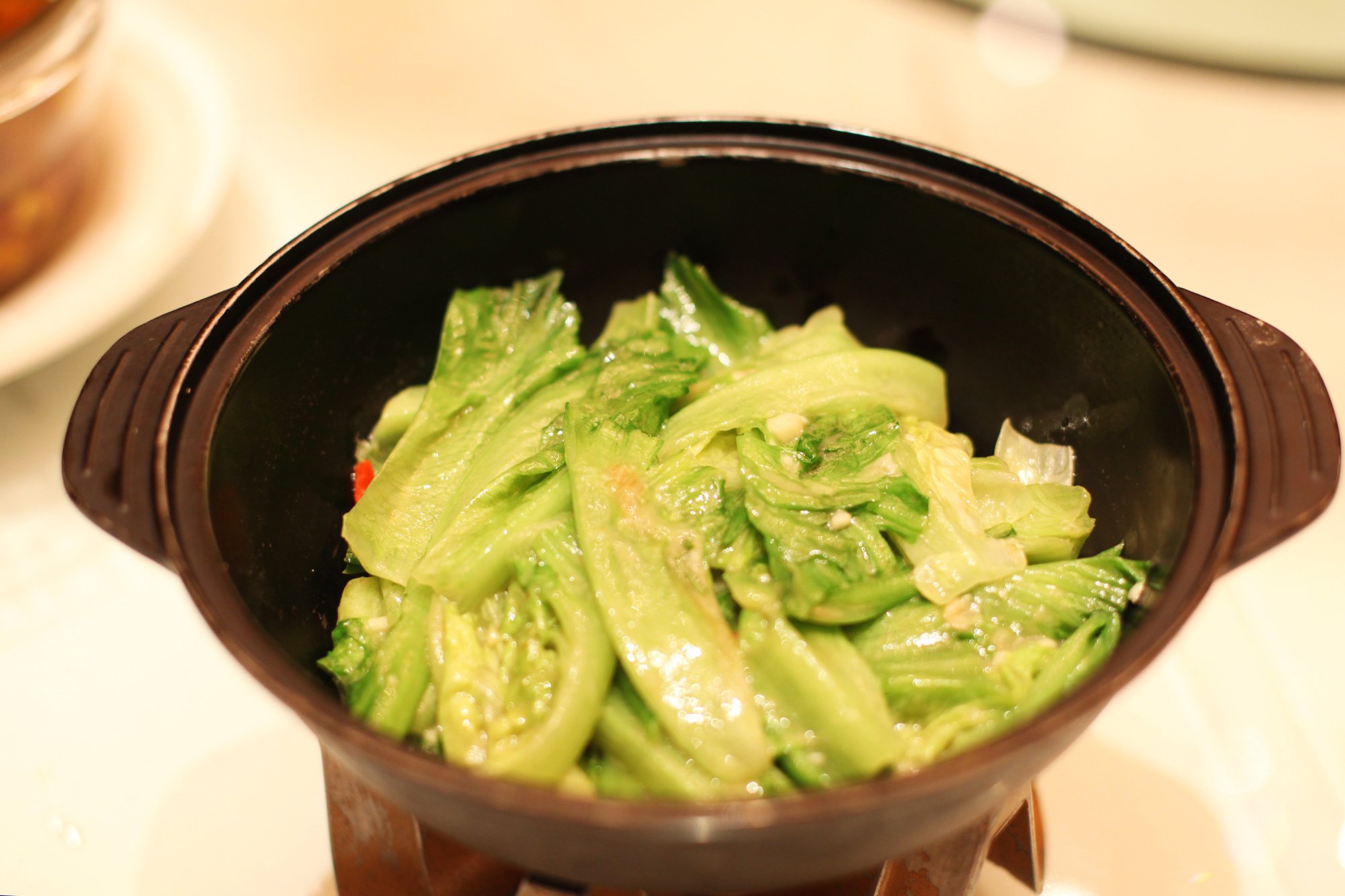 This is Bamboo Soup. Very healthy, very delicious.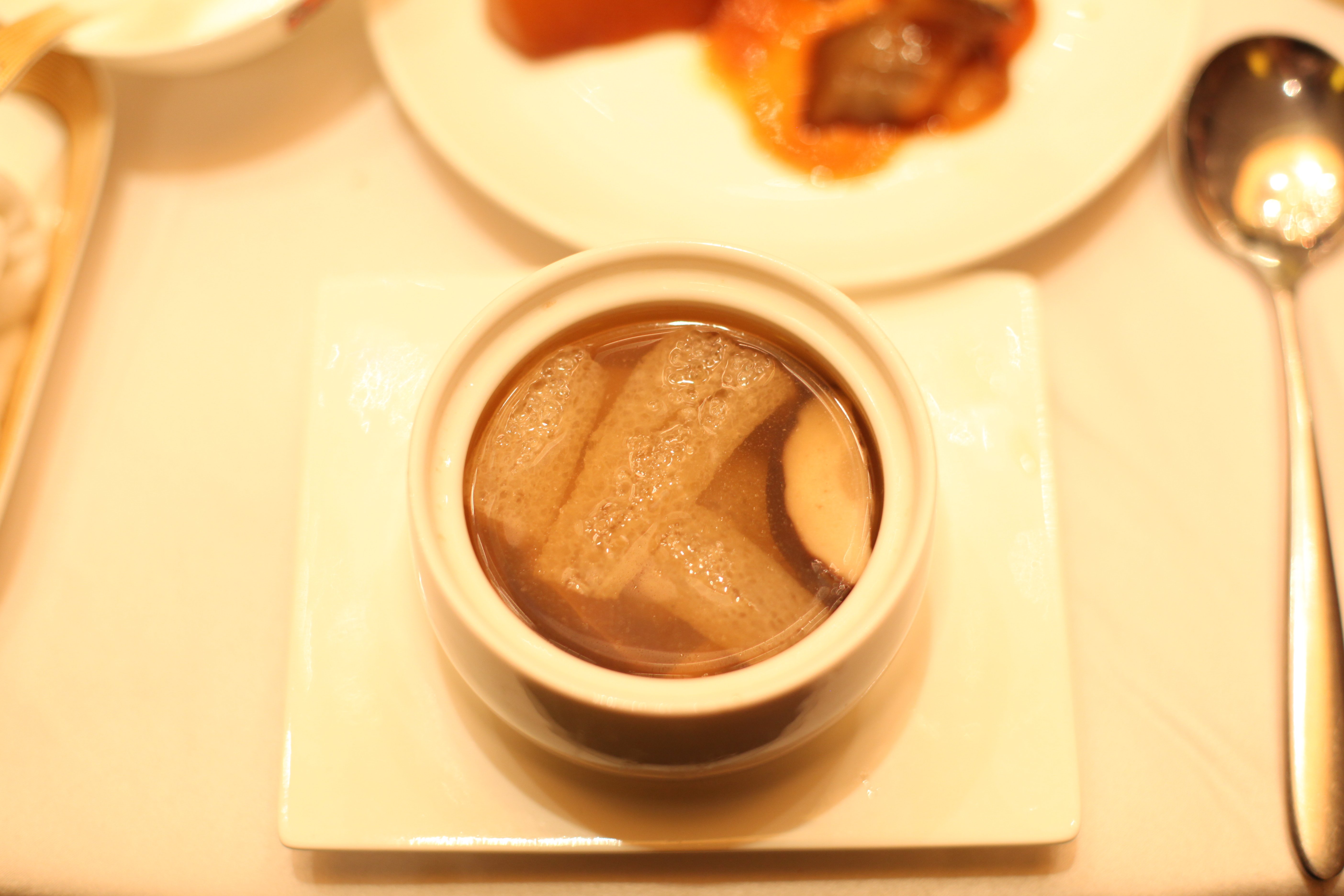 Vermicelli with seasonabe vegetables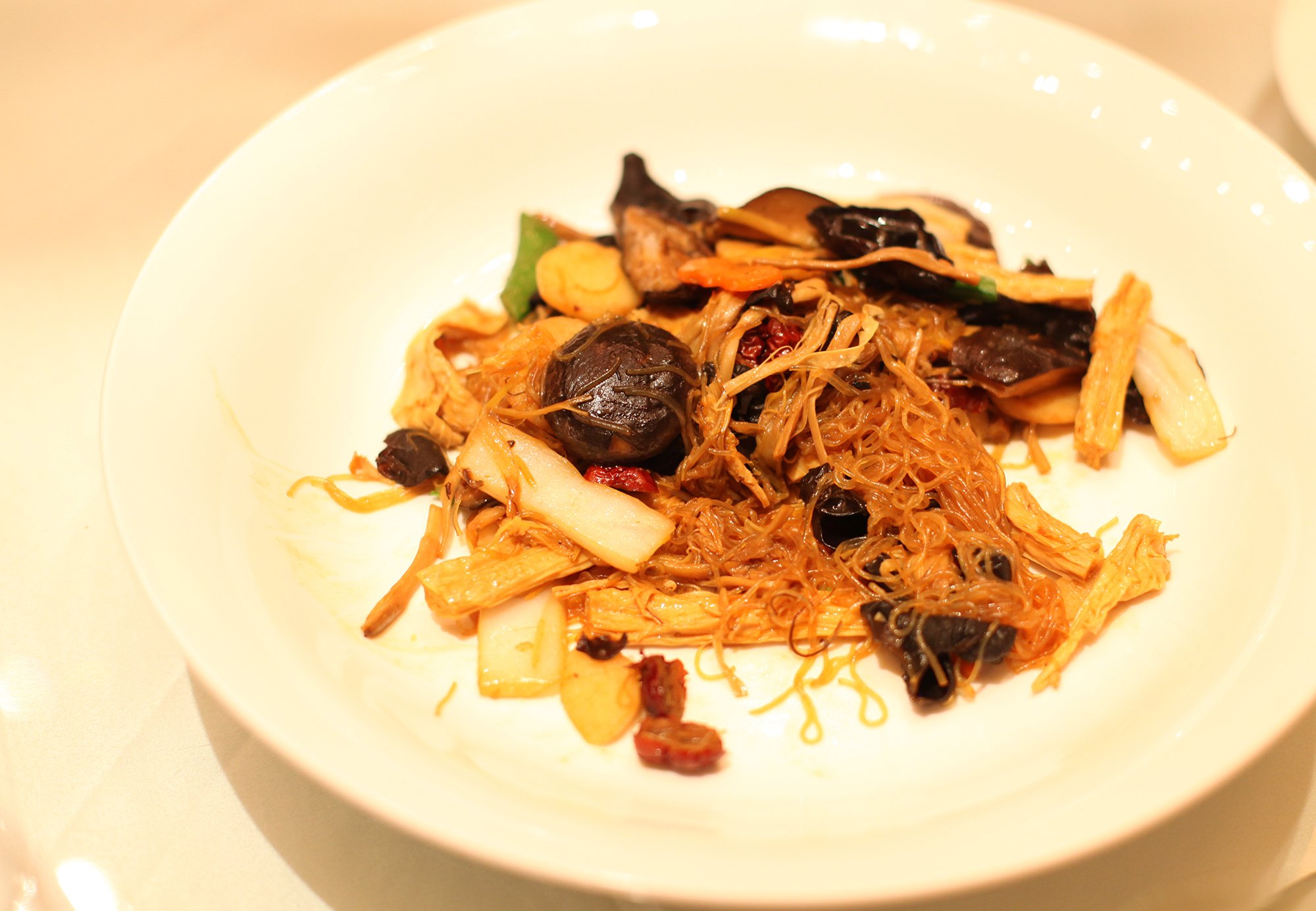 Finally, we have the Fruit Platter Supreme to finish off for dessert. It's pretty impressive, opening up like a flower.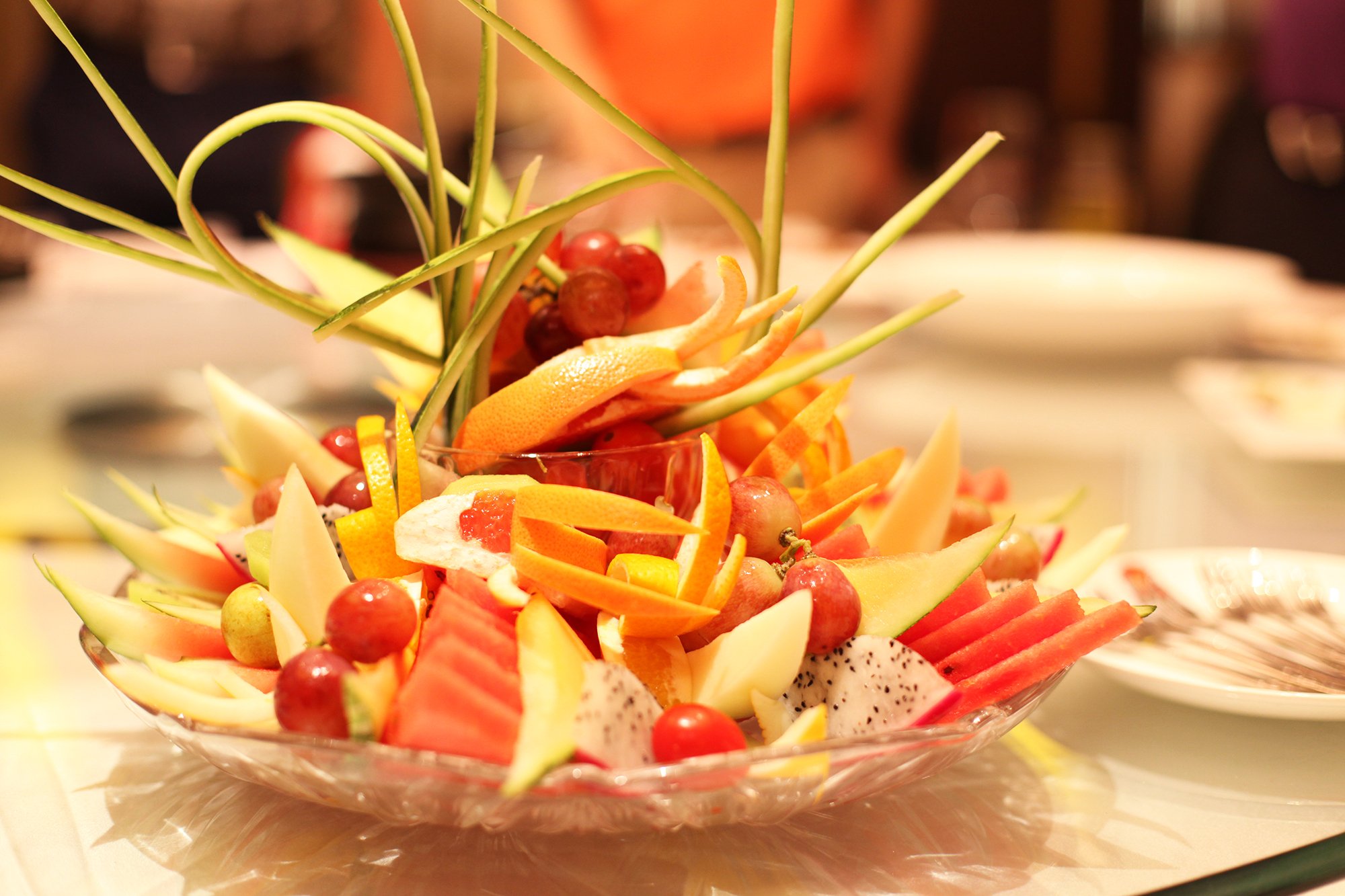 That wraps up our visit to the fine dining Sichuan restaurant, South Beauty. Once contracted as the sole caterer for the 2008 Olympics in Beijing, this establishment has made it's name from turning Sichuan food into a standardised fine dining recipe that can be appreciated by people all over China. Whether you're a fan of Sichuan food or not, you will no doubt enjoy their many other positive attributes like food presentation, restaurant service, private rooms etc.. as well as their superb takes on Sichuan cuisine.
Hope you enjoyed this post, and don't forget to upvote, follow and comment !
---
今天我想带大家去品尝一家很有特色的餐厅——俏江南South Beauty,听这个名字大概就知道吃的是江南地区的风味,它独特创新的菜系和有品位的餐厅装潢深入人心,从2000年成立,首家餐厅在CBD国际贸易中心开业,到2002年走出北京,全国拥有80家直营餐厅,俏江南在最短的时间成为中国领先的中式正餐连锁企业。现在我们就一起走进这家餐厅去探索一下美味的食物吧。俏江南以精品川菜为特色,创新推出了上百款经典菜式,继承和发扬了传统的川菜文化。所以一走进门就能看到最能代表四川的川剧脸谱。
因为川菜是以红艳艳的辣椒为最大特点,所以俏江南的装修是以"中国红"为基调的。红艳艳的灯笼陪着古代的山水画。还有漂亮的书法墙,整体的室内布置非常有文化的基奠,让你仿佛走进了一间复古的博物馆。还有同样红色漂亮的陶瓷器皿。同时还有卖酒的专柜。门上的花样,充满了江南的古代韵味。同样在门上的细节之处,也能看到小号的川剧脸谱。在之前的文章中我写过,中国人吃饭喜欢坐包间的文化,所以这一次来,为了和很久未见的朋友有更亲切私人的聊天环境,我们也选择了坐包间。走进包间,最抢眼的是这个漂亮的水晶灯了。再配上古典江南特色的灯笼和壁画,很有一种中西文化结合的特点。包间里有喝茶的沙发椅,还有电视方便大家边吃饭边看电视。这块圆形白色的古董吸引了我,造型很像古代春秋战国时期的和氏璧。一杯热腾腾的茶开始了今天的晚餐。当然,中国人吃饭怎么能少了酒。有朋自远方来必须开一壶白酒,谈生意谈得高兴,也要用白酒来分享快乐,吃饭聚餐总是开心事,总也离不开喝喝小酒愉悦心情。这是我之前写过的中餐喝酒有趣的礼仪
从摆盘到配料,俏江南的每道菜看上去都是精心设计过的,很有格调,不少菜的背后都藏着文化的内涵和典故。现在就感慨跟我,拿起筷子尝尝美味的食物吧。从凉菜上起,这个是香菜肚丝。糖醋莲藕。青椒牛肉片拌粉丝。韭菜核桃。这个菜的样式好特别,我也是第一见,干辣椒中间插着秋葵,这是一种季节性的蔬菜,是低脂肪。低热量。无胆固醇的健康蔬菜,深受中国人的喜爱。这一盘卤味拼盘边上撒了干辣椒沫,让人直流口水。豆苗拌豆腐。麻酱油麦菜。猜猜这个漂亮的盒子是干什么的。下面是热菜上来了,青豆虾仁,配得就好营养。菌类食蔬。鲍鱼萝卜蘑菇菌煲,好有味道非常下饭。辣味十足的水煮鱼。这是一罐竹荪老火汤,好鲜美。粉丝白菜。绿油油的青菜。红烧豆腐。最后还有一个像花一样盛开的大果盘,结束了今天的晚餐。希望你们喜欢我带你们探索的创意川菜餐厅,之后还有更多有趣的中餐要和大家分享。