what do you need ?
2 cups of rice
3 tablespoons of olive oil
2 chicken breasts
2 medium onions
2 to 3 cloves of garlic
300 g chopped fresh spinach
1 bunch of chopped flat parsley
2 carrots cut into small cubes
1 glass of peas
2 potatoes cut into cubes
1 glass of chickpeas in a box
½ can of crushed tomatoes or 2 medium tomatoes
1 tablespoon of tomato paste
1 teaspoon of cumin
1 tbsp ground coriander
1 tablespoon paprika
1 teaspoon of turmeric
salt pepper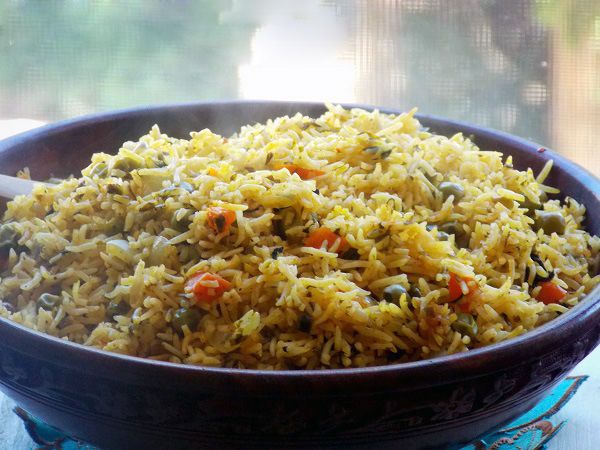 and now ...how to do ?
In a large skillet, place chopped onion in hot oil
leave to brown well until you have a beautiful translucent color
add the chicken breast cut into cubes of almost 2 to 3 cm
let it come back a little, add the crushed garlic, the crushed tomato and the tomato paste.
add the spices, and the chopped parsley and let it cook
This method of cooking gives a chicken more good and super tasty, better than a chicken just steamed.
cut the spinach and place in a large terrine
pour over the chicken and tomato sauce
add cubed potatoes, peas, and carrots.
rinse the rice under abundant water until the water becomes clear
add the rice on the water other elements, and mix well with a wooden spoon
place the mixture in the top of the couscoussier, make a small hole inside to allow the steam to escape well.
place it under boiling water, cover for a quick cooking.
When half cooked, put the contents of the couscous in the terrine, mix with the spoon, this allows the uniform cooking of all the ingredients.
add the chickpeas that are already cooked, mix again, and put back in the top of the couscoussier.
Serve immediately
and VOILA !
Your rice is ready
Share it with your loved ones!