WHY WE HOMESTEAD - CHAPTER 6 - A TRUSTWORTHY FOOD SOURCE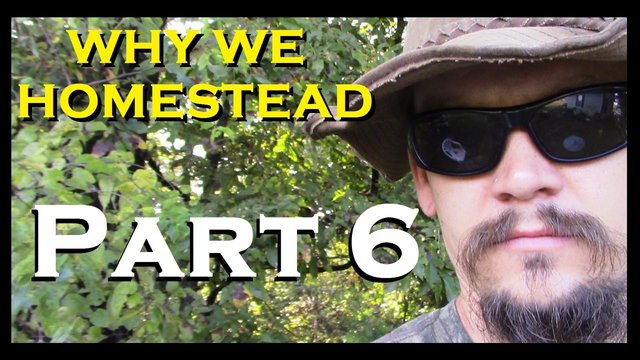 if you want something done right...
---
This is Chapter 6 of my current series designed to give others a deeper look into the lifestyle that we've chosen and why. It is simply made up of our own beliefs and decisions, but is shared with the hopes that it'll help some others to understand us better, or maybe even provide some good food for thought for others.

CHAPTER 6 - A TRUSTWORTHY FOOD SOURCE
Besides simply being more connected to the world around us and our own food supply, taking a more active role in providing an increased amount of your own food is also becoming just about the ony way to make sure that you actually have food from a trustworthy source. The old mantra "if you want something done right, do it yourself," comes to mind here.
In the midst of world where lobbying for being able to label any food with at least 1% organic ingredients as "organic" and where stripping the raw food of all nutrition and needing to "enrich" it in order for it to be accurately considered as a "foodstuff" is becoming the norm, a few thoughts immediately some to mind. "You are what you eat" is another common phrase that many have a certain understanding of. Basically, our health is dependent (at least in part) on what we eat. Our food can be our medicine, or it can be our poison. The options are limited.
Once things like GMOs are added into the mix, we've really got a lot to consider. While many believe that modifying the genetics of an organism is nonconsequential, it'll really be decades before I believe we could scientifically prove no lasting negative effects will occur, and I'd even refer to it as mutilation rather than modification, since man is technically mutilating the things that God created and designed for the nourishment of our bodies. My personally experience has been that man does not know better than God, and that he'll reap what he sows.
Ultimately, eating is a rather intimate experience since we are actually allowing something foreign to enter into our bodies. If we are not wise in what we what allow to enter in, the results can be devastating and disastrous. Unfortunately, many people have the odds stacked horribly against them in the battle to obtain real, healthy food, since there are only two real ways to get it; growing it or purchasing it.
In many places, many people simply do not have yards, and in some areas where they do, they aren't even really allowed to grow food. There is only so much you can do in an apartment window to provide yourself with fresh, homegrown produce and the situation does not get much better when the HOA only allows you to have neatly trimmed grass in your yard. This was a major factor in us deciding to leave the city life behind and purchase some rural property.
Another major factor was the financial aspect. Fresh, organic produce does not usually come without a price tag. Some people simply can't afford it, so they opt for obtaining a lower grade source of nutrition because it is more cost effective. A lot of very questionable "food items" can be purchased for very little money, and some would even speculate that such is part of an elaborate scheme to actually attack the lower "classes" of society. To acquire healthy food by monetary means may be less expensive than the health related hospital bills that could eventually some from eating less healthy and less nutritious foods, but in general we seem to have become a short-sighted people, which also compounds the problem.
For a growing family like ours with many little mouths to feed, our options were limited and it seemed like the best, most secure way to have frequent access to a trustworthy food source was to grow it ourselves. It can be grown for a fraction of the cost of what it would cost at the store, and, as previously mentioned, it also allows us to be connected to the real world as well.
Having a trustworthy food supply, even at home, requires attention to many variables like soil quality, pest control, and other aspects. Certain environmental threats may never be able to be completely eliminated, but it's a lot easier to avoid chemical fertilizers and insecticides when I can choose whether or not to douse the plants that I'll eventually eat with such products.
Having a trustworthy food source is area where the homesteading lifestyle seemed a much better fit than the way that we were living. While we really don't want to be consumers or dependent upon others just to successfully live through the day, we actually want to be able to trust that what we are putting into our bodies each day is actually food as well, so we are on a path to continually be progressing towards that goal as well.

Until next time…
STEEMIT LIKE YOU MEAN IT!

Want to sell sustainable, handmade products in the Homesteaders Co-op?