Delicious Pork Country-Style Ribs with Simple Rice and Green Beans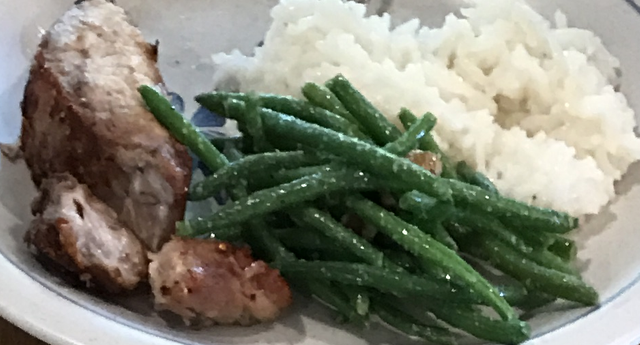 This is one of the easiest full dinners you can put together with very little effort and it is almost fail-proof. Nothing needs measuring and it's adjusted all to your taste. This is one of my favorite meals! It does take almost two easy hours to be done though, so make sure you have the time. It's all worth it, as it is as delicious as it looks.
You need a pound or so of pork country style ribs, a cup or so of Jasmine rice and one pound of frozen green beans.
It's really helpful if you have Trader Joe's Everyday Seasoning, but you can do it without it too!
Start by turning your oven on at 450 degrees Fahrenheit. Then place the ribs in an oven proof dish, making sure they aren't too crowded. Season them with the Everyday Seasoning, if you have it. If not, add the following to your ribs: salt, black pepper, paprika, mustard seeds (grinded), onion and garlic powder. Cover tightly with aluminum foil and place in the oven. Make sure you turn the ribs every 20 minutes or so, so they cook nicely on all sides. The first time you turn them, season them again. It will take them between one hour and a half to two hours to completely cook. Done.
Meanwhile, wash the rice, and place it in a pot on the stove to boil with 2-3 cups of water. If you have chicken stock, add that. Season with salt and pepper and let it boil for 20 minutes or so. If the water evaporates, add more. You're going for a softer rice, wet and fine. Also, add a drop of cooking oil. I prefer sunflower oil. Adjust the taste for salt and pepper. Done.
For the green beans, bring a pot of water to a boil and drop the beans in it. Let them boil for a few minutes, then take them out. You can put them in a ice bath, if you want them to have more bite to them. In a small pan, add a handful of raw walnuts, pine nuts, or peanuts, whatever you have. If you don't have any nuts, don't worry, try to add them next time. They do add a nice bite to this dish. Put them on the stove for 5 minutes or so. Move them around the pan constantly, so they don't burn too much, just slightly. Add some oil, garlic powder, salt, pepper, and heat it all up. Add this to the beans, along with some lemon zest and grated parmesan. Stir to combine and adjust for your taste. Done.
Plate it and enjoy!