SPICY BLOODY MARY COCKTAIL RECIPE! 🌶️🍸🔥 (PHOTOS + VIDEO TUTORIAL)
Happy Weekend Friends! 😉
Today, I'd like to share with you a favorite Hair of the Dog cocktail recipe, a Spicy Bloody Mary. 🌶️🍸
Without a doubt, if you need to know how to make one classic cocktail for your hungover brunch guests, this one tops the list!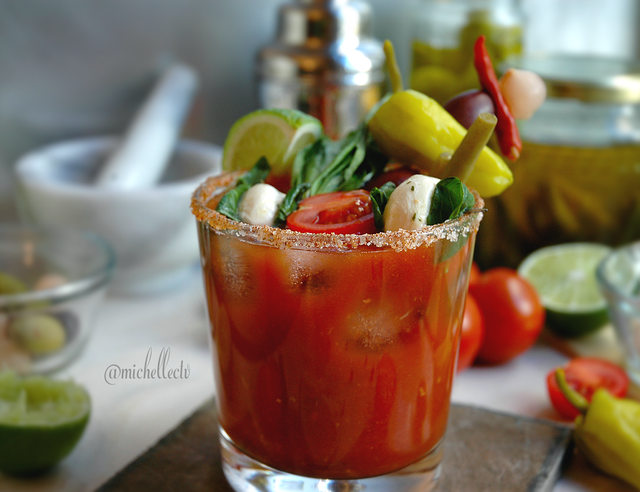 A Beverage with Benefits
---
The ingredients of a Spicy Bloody Mary blend several hangover remedies into one cure-all concoction.
Tomato juice is an excellent source of vitamins A, C, K and B6. It's also loaded with hangover healing minerals such as iron, magnesium and hydration regulating potassium.
In addition to tomato juice, ingredients like black pepper, horseradish and hot sauce add heat to really help sweat out that hangover. To make your Spicy Bloody Mary a total hottie, opt for a habanero chili pepper hot sauce rather than tobasco, and jalapeño-infused vodka.
In my how-to video below I use bacon as a savory, meaty garnish. Not only is bacon delicious, it's also an excellent hangover remedy. 🥓
According to scientific researchers in the U.K., protein-filled bacon contains a high level of amino acids needed to relieve your sloshed self. So, if you're planning to sip this libation to treat your post-partying veisalgia, don't forget to toss in a crispy strip!
---
Classic Spicy Bloody Mary Recipe 🌶️🥓🍸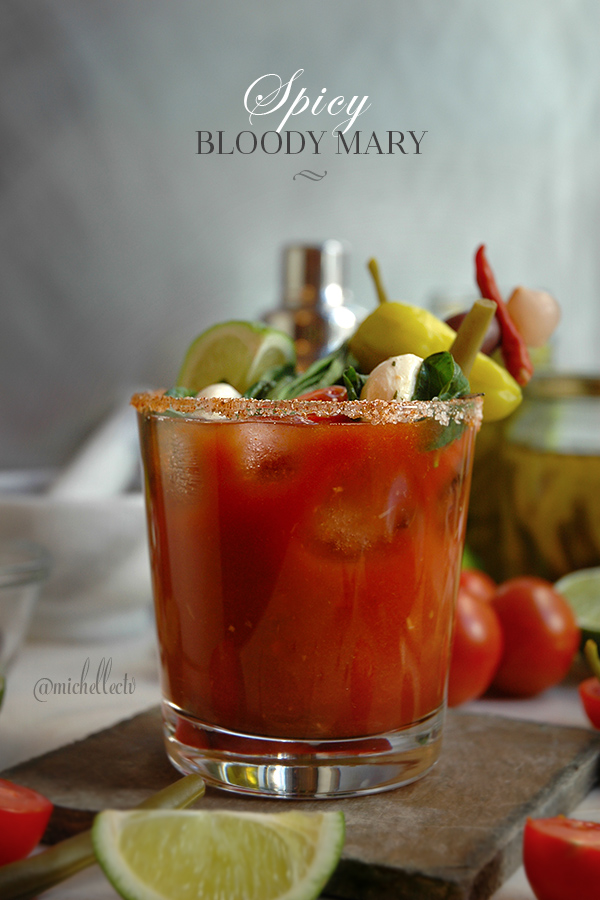 Ingredients
---
ice
1.5 fl oz vodka
4 fl oz tomato juice
1/2 tsp horseradish
2 tsps lemon or lime juice
few drops of Worcestershire sauce
few drops of habanero hot sauce
pinch of pepper (black, white or rainbow)
pinch of cayenne pepper
garnish with your preferred choice of toppings
---
Yield: 1 serving | 💡 Out of horseradish? Substitute with a pea-sized amount of wasabi paste.
---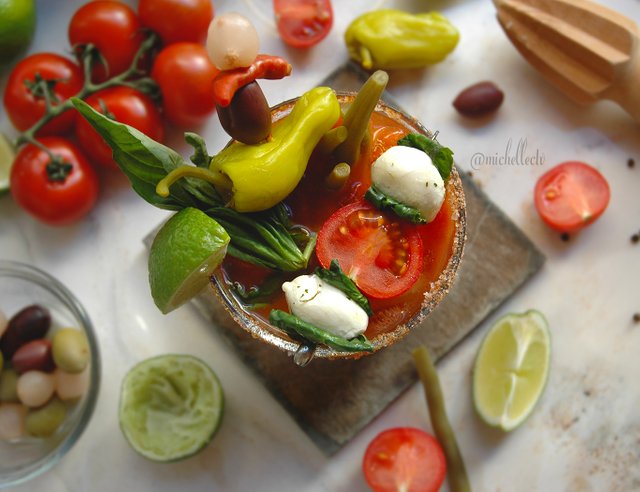 Directions
---
First, rim the edge of a rocks glass or highball glass with a lemon or lime wedge. Next, gently dip the edge of the glass into your homemade rimmer made of chili powder (or sweet paprika, ground pepper, cayenne pepper, garlic and onion powder) and sea salt flakes, celery salt and / or kosher salt.

Add a pinch of pepper to the bottom of your glass. Next, add half a teaspoon of prepared horseradish followed by a few drops each of Worcestershire sauce and habanero hot sauce.

Add ice until glass is half full.

Pour 1.5 fl oz of vodka into glass.

Pour 1/4 cup (out of 1/2 cup) of tomato juice followed by 2 teaspoons of fresh lemon or lime juice.

Mix all ingredients well with a bar spoon. Top cocktail with remaining tomato juice and add garnishes.
You're all done! Now, sip, serve and enjoy!
---
Garnish Substitutions
---
What I love about a Bloody Mary, is that you can make one with whatever garnishes tickle your pickle (and yes, pickles do make for wonderfully briny garnish)!
For my last creation, I used homemade Cajun pickled green beans as a substitution for classic celery stalks. Skewers of olives, pearl onions, pepperoncini peppers, mini vine tomatoes, Ciliegine fresh mozzarella and fresh basil made yummy and appetizing garnish options.
Oh, and no lemon? No problem! Limes will do just fine. Just remember to have fun experimenting!
Watch My Spicy Bloody Mary Cocktail Tutorial:
💡 Tipsy Tip: You'll want to pre-plan if you're using this cocktail recipe as a hangover remedy. Save yourself some time and pain and make your homemade mix before the big night out!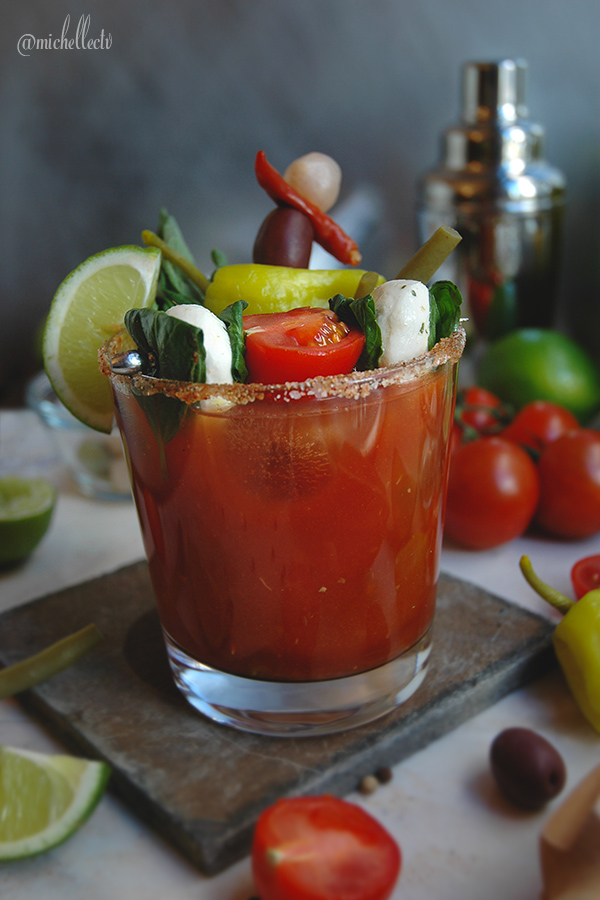 Thanks for
commenting, upvoting
and
resteeming
this post! I hope my post will
inspire you
to treat yourself to something delicious! Until next time...
Cheers!
Michelle
xx
---
P.S. If you enjoyed this post (and I hope you did!) FOLLOW @michellectv for more Fun, Food, Drinks, Beauty, Travel & Style! ❤
---
You may also like...
THE 5 MINUTE CHOCOLATE DESSERT! 🍫🍮😍 (PHOTOS + RECIPE)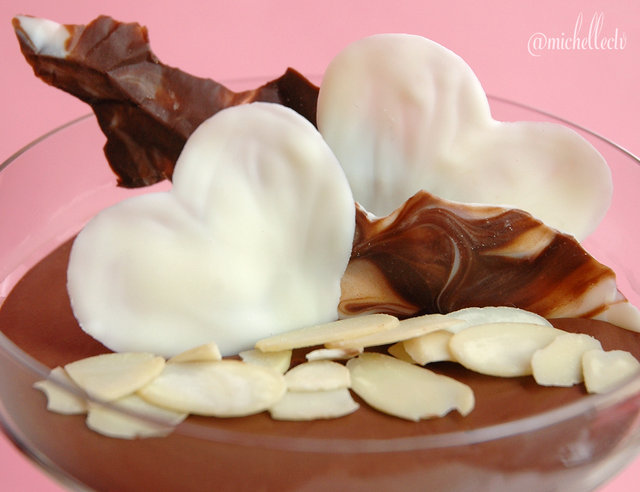 🔗 Recipe Link: https://steemit.com/food/@michellectv/the-5-minute-chocolate-dessert