DINE WITH ME AT TAPAS 24 & COMERÇ 24 IN BARCELONA 🦐🍷🍽️ (FOODIE TRAVEL REVIEW)
Greetings Steemit Friends! 😉💃🏻
Sampling yummy local cuisine is always at the top of my to-do list while traveling. Today, I'm sharing with you a few of my "foodie" photos from a springtime trip to Spain. 📷🦐🍷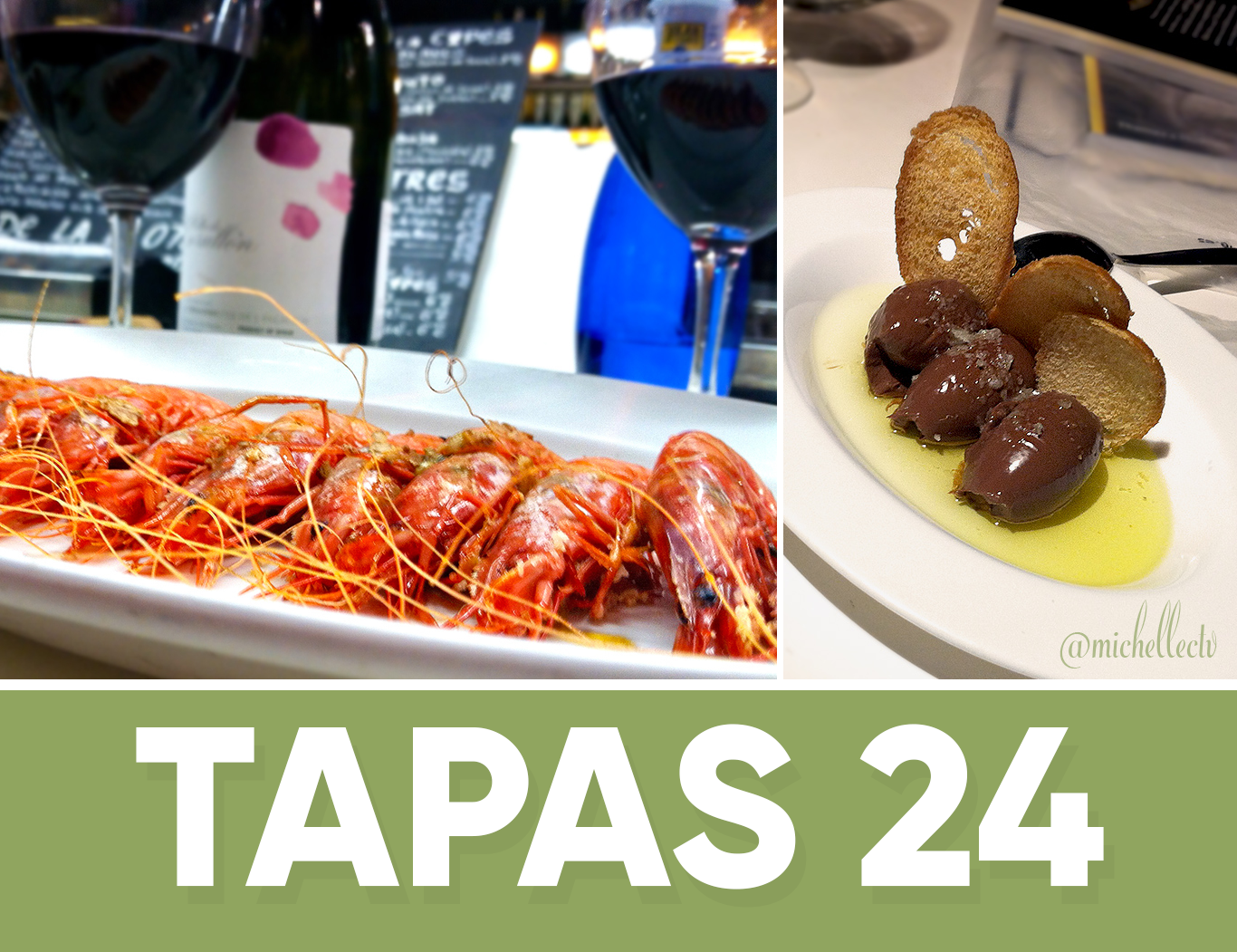 Every year Barcelona (the capital of Catalonia) tops the travel destination lists as one of the "the best of the best" to see, do and experience in Western Europe.
And for good reason! The city and region's delicious food and drink, spectacular art and architecture, sunny Mediterranean climate and warm hospitality are NOT to be missed.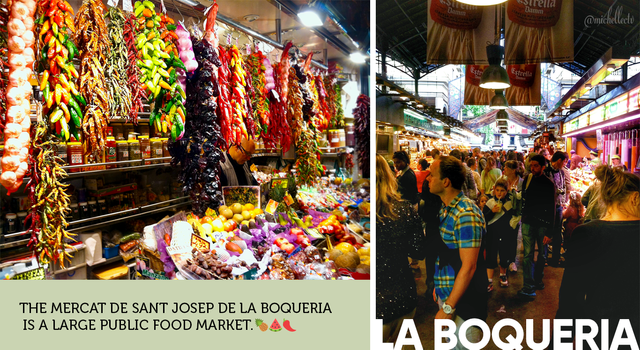 After a long afternoon of sightseeing the city's Modernista landmarks, squeezing in the Picasso Museum, and strolling through La Boqueria, I was STARVING....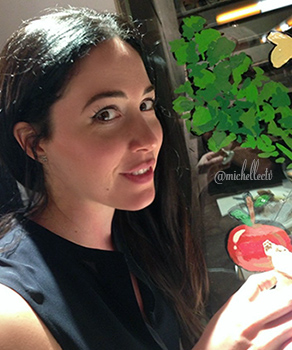 The buzz online from food bloggers was that Carles Abellan's Tapas 24 was a must-try. It's popular with ex-pats, tourists and locals alike so, the food should be on point.
And talk about buzzing! It's walk-in only. The line went out the door and snaked all the way around the block.
After a half-hour wait, I was finally seated. Judging by other patron's plates, the ham and cheese croquettes (Croquetes de Pernil Ibèric) were the first round of tapas (or tapes) I would order. Shortly followed by La Bomba de La Barceloneta, a potato and meatball stuffed croquette topped with a spicy sauce.
Next, my favorite tapa...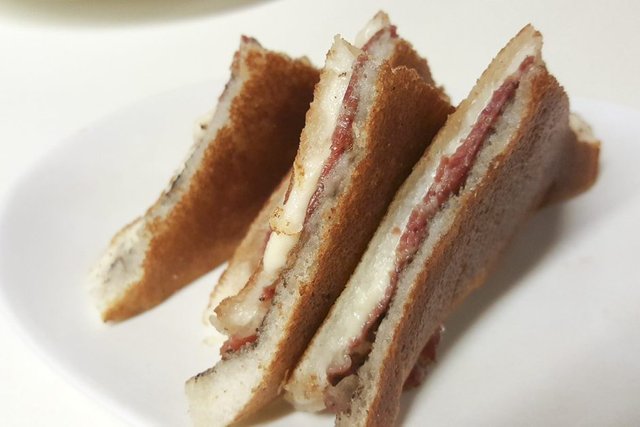 Photo courtesy of Food Barcelona.
The Bikini Comerç 24
A Catalan version of the Croque-Monsieur and just as irresistible. Melty goodness made with black truffles, cured Iberian ham and Buffalo mozzarella.
Next up are...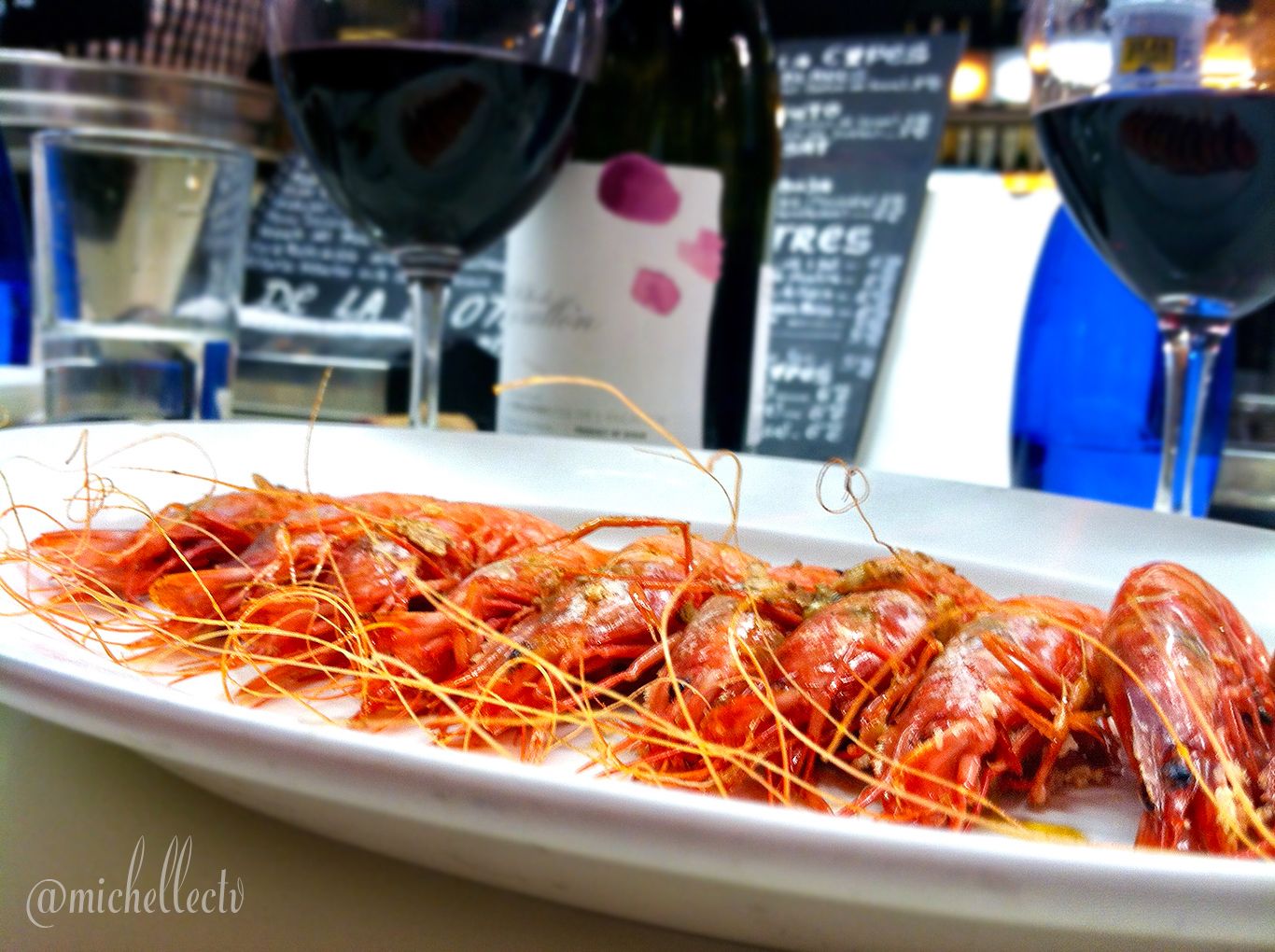 The Grilled Prawns
A simple dish that was simply delish. Also noteworthy was the Ous Estrellats al Gust. I ordered the full-sized entrée of smashed eggs with potatoes and Iberian ham.
If ham isn't your jam, you also have the choice of chorizo, bacon, sausage or decadent foie gras.
Next up is my favorite course... DESSERT!!!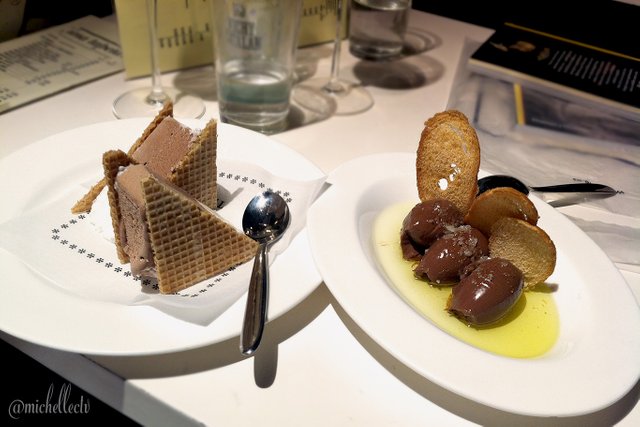 Chocolate, with another side of chocolate, por favor...
The dessert on the left is a gourmet interpretation of a classic wafer ice-cream sandwich with chocolate and vanilla. On the right, is a lil' somethin' somethin' sweet 'n salttyyyy...
A threesome of flaky sea salt sprinkled chocolate pudding quenelles. Each quenelle is drizzled with olive oil and is served with a simple slice of crispy crostini. So seductive!
The total Tapas 24 experience was totally ñam ñam (yum-yum)! So much so, I ate there twice!
This video captures Tapas 24's vibe perfectly...
I also dined at another Carles Abellan restaurant during my stay, the Michelin-starred Comerç 24.
The dinner tasting menu was a lenggtthhyyy gastronomic journey. To be honest, a little too long for my taste.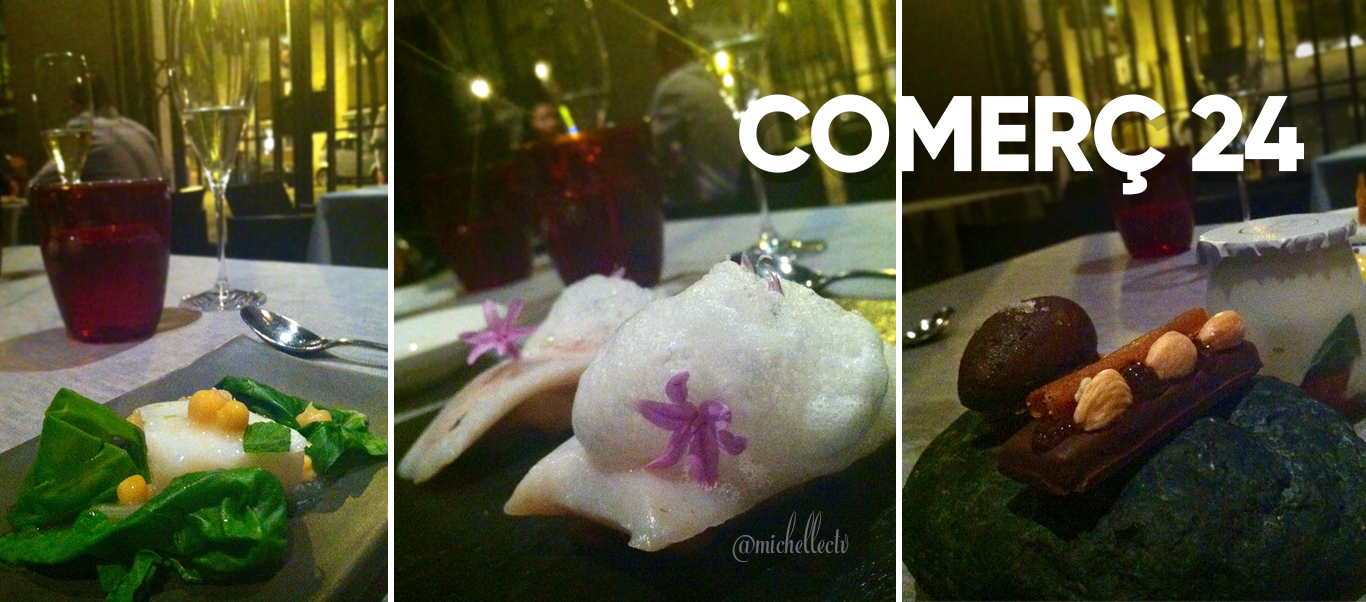 Unlike Tapas 24, the service and food felt like it was trying wwaayyy too hard to be AMAZING.
Maybe it was the slabs of stone and rock as dinnerware, or the very unflattering streetlamp lighting flooding the fancy dining room that made it seem so strange and off-putting for a pricey meal. Or, maybe it was the snooty waiter... or, all of the above.
Oh, and the food? It was forgettable. Here are my best shots in the photo above (from left to right)...
Fish with chickpeas, glass noodles and greens, more white fish on a slab with foam and edible flowers... and for dessert, chocolate and peanut butter nougat with chocolate gelato and a side of yogurt.
Oh, and a bottle or two of cava. That bit was the best part.
No yummy 'Bikini Comerç 24' sandwiches at Comerç 24. Needless to say, the dinner was a bummer. I've learned that this restaurant has now closed. Not surprising.
---
Now that I shared a small taste of my dining experience with you, here's my quickie review for Tapas 24...
The Good
Serving contemporary Catalan fare by renowned chef Carles Abellan.
Fantastic selection of local wine and beer on tap.
Attentive service.
Fun and unpretentious décor and lively ambiance.
Cost: $$ - $$$ (the average price is about €27 per person).
Conveniently located in the L'Eixample district.
Address: Carrer de la Diputació, 269, 08007 Barcelona, Spain
Hours of Operation: 9 a.m. - 12 a.m. Sun. - Sat.
Visit website for more information.
The Bad
No reservations. Walk-in only.
Long wait during peak hours.
The Ugly
None! Just yummmm! 😋
The Official @michellectv STEEMIT FOODIE FIND Rating Score is 4.5 / 5 PLATES! 🍽️🍽️🍽️🍽️.5
---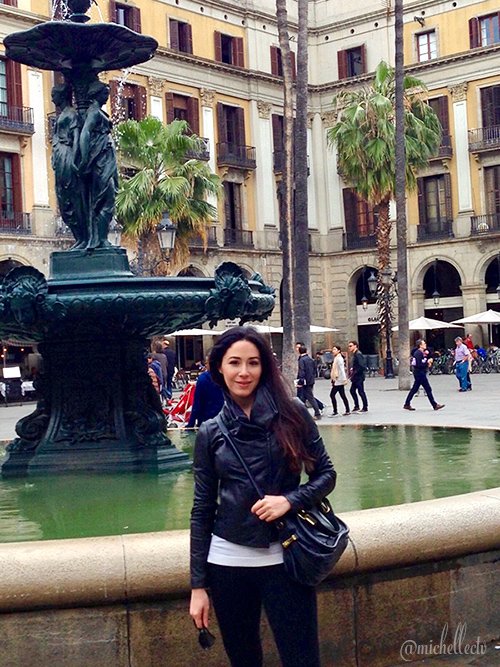 Thanks for commenting, upvoting and resteeming this post! I hope my post will inspire you to treat yourself to something yummy! Until next time...
Bon Appétit!
Michelle
xx
---
P.S. If you enjoyed this post (and I hope you did!) FOLLOW @michellectv for more Fun, Food, Drinks, Beauty, Travel & Style! ❤
---
You may also like...
GREEK YOGURT BANANA OATMEAL MUFFINS 🍌😊 (PHOTOS + RECIPE)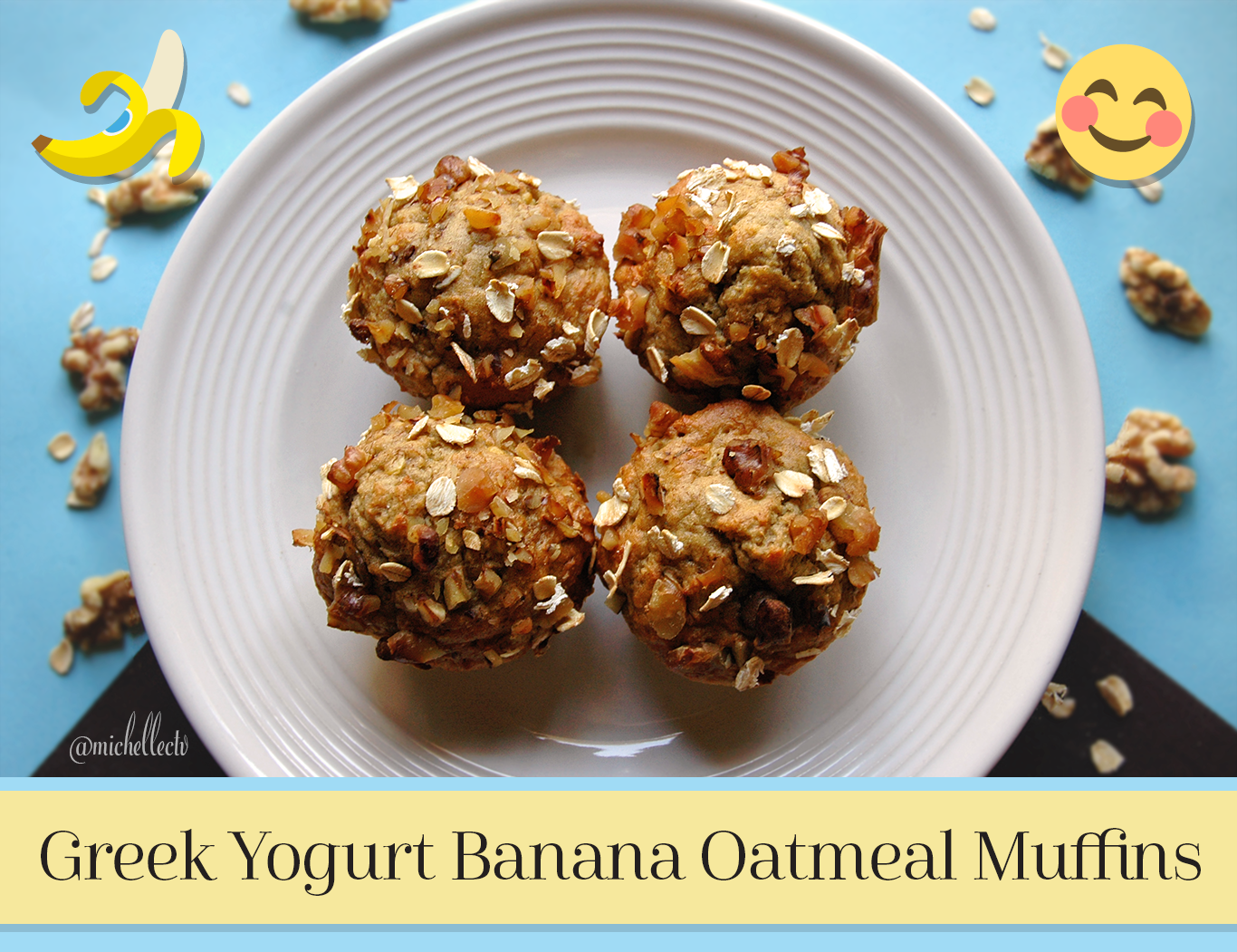 Link: https://steemit.com/food/@michellectv/greek-yogurt-banana-oatmeal-muffins-photos-recipe