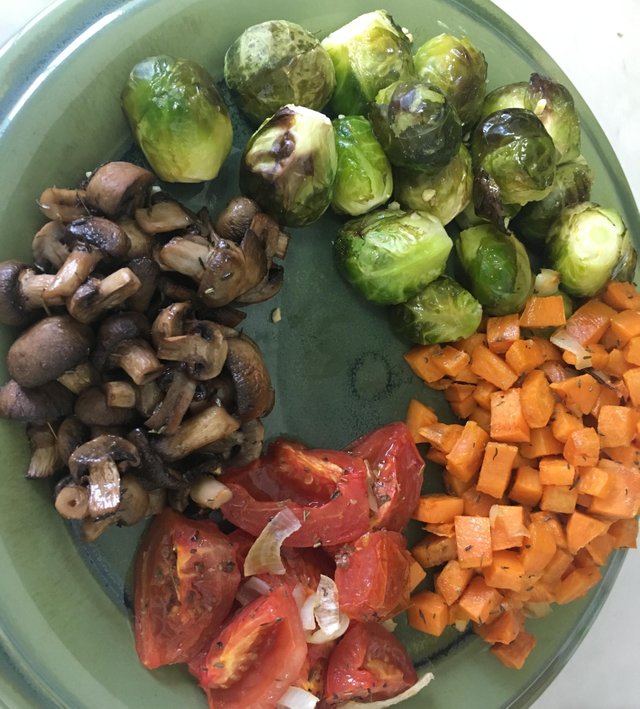 Roasted Vegetables in Olive Oil
One of my favorite things to make is roasted vegetables. I like to make a big batch on Sunday night, with the intention of eating them throughout the week. What commonly happens, though, is that the vegetables disappear much faster that I intend. I have every intention of making them last, but invariably, they shrink down when you cook them, they usually end up being quite tasty, and the bright colors are so enticing. This means that they don't last long.
Roasting vegetables doesn't have to be a big production. The most labor-intensive part is chopping them up, but if you work diligently, you can prepare several roasted vegetables in 20 minutes. For this dish, I decided to work with tomatoes, sweet potatoes, brussels sprouts, and mushrooms. I got it into my head that I wanted to eat the rainbow, so I walked to my local Co-Op and bought the ingredients.
In this post, I'm going to show you how to duplicate these simple and festive recipes, suggest which knives are right for each job, and give you some roasting tips.
Tomatoes
Choose four plum or Roma tomatoes that look ripe. They should have a rich, red color, but they shouldn't be too soft. If you can't find decent tomatoes of this variety, then consider springing for vine-ripened tomatoes. To prepare your tomatoes for roasting, wash them in cold water and then slice them into quarters with a serrated knife. Drizzle some olive oil over the tomatoes, and sprinkle a little oregano on top. If you want to add a sweet flavor, you can thinly slice some onions (as I did) and lay them over the tops of the tomatoes before you add the oil and spices.
Sweet Potatoes
These are probably the most labor intensive. Raw sweet potatoes are tough, and in order to roast them quickly, you will need to first peel and then slice them into small pieces. I aim for 1/2 inch. To aid with slicing, use a large chef's knife. If you encounter a thick part of the potato that you cannot easily slice, rock the knife gently back and forth, applying downward pressure as you cut.
Once your potatoes are sliced, you can add some peppers or onions if you'd like. I had some scallions on hand, so I used those. They added a sweet flavor and helped them caramelize.
Next, add your sweet potatoes to a mixing bowl. Mix liberally with olive oil and sprinkle with thyme.
Mushrooms
Mushrooms are a great addition because they don't take much time to prepare. You will just need to make sure you wash them well because dirt often gets trapped in their crevices and at the ends of their stems. Once the mushrooms are clean, use a utility knife to slice them in half (lengthwise). You will want to use a knife without teeth. Cutting mushrooms with a serrated knife (with teeth) will produce jagged edges.
Once your mushrooms are cut, add them to a mixing bowl. Stir in a generous amount of olive oil (they will absorb a lot of the oil) with one clove of diced garlic. Once they are coated in the oil, sprinkle some thyme in and stir.
Tip: Cut more mushrooms then you think you need. They shrink a lot during the roasting process.
Brussels Sprouts
These might be the star of the show. I used to hate brussels sprouts growing up because they were usually prepared in a microwave or thrown into boiling water. It wasn't until I was an adult and tried them roasted that I was able to get on board with brussels sprouts. Try them roasted with the right spice combination, and they are very tasty.
To prepare the brussel sprouts for this recipe, wash well and drain any excess water. Remove the tough outer skins as you would peel an onion. You shouldn't have to remove much more than the two most outer layers. Once you've done that, place in a mixing bowl. Mix with olive oil, diced garlic, and a little bit of lemon juice.
Roasting
Each of these veggies has a distinct flavor, so I divided up two roasting pans into four sections so they could roast in their own respective corners. You will also notice that I did not specify set amounts of spices and oil. Unless you seriously over-season, it will be hard to ruin any of these recipes. The only thing I'd say is be careful of using too much lemon juice on the brussels sprouts. One to 1-1/2 teaspoons should be plenty for each pound that you roast.
Prepare two roasting pans by lining them with aluminum foil. Gently add vegetables to pan, being careful to keep them separate. Roast in a 425-degree oven for 30-45 minutes. When they have a deep rich color with slightly burnt edges, they are done roasting. Remove from oven, and while they are still on the roasting pan, sprinkle with finishing salt. One that I like to use is pink himalayan salt, but you can also use sea or kosher salt if that's what you have on hand. It's important to sprinkle with salt after they are done because adding it before the roasting process will dehydrated the vegetables, causing them to shrivel.
The veggies will cool quickly, so serve them while they're hot and enjoy. For breakfast the next morning, I like to eat my leftover veggies with eggs, a meal that keeps me going for at least four hours.
You can, of course, add any protein that you wish. I mentioned eggs, but for a quick week night meal, you can buy a rotisserie chicken. I use 1/4 of the meat and mix it with Mayonaisse, some currie powder and sea salt. It's delicious this way and will compliment the flavors of these vegetables well.
Frequently Asked Question: Can I use Extra Virgin Olive Oil?
I recommend using virgin olive oil. The reason is that extra virgin olive oil has a low smoke point, so it doesn't stand up particularly well to roasting. I will be publishing a piece soon on the differences between virgin olive oil and extra virgin olive oil, so be sure to watch for that.
Thanks for reading, and I hope you enjoy adding these roasted vegetables to your meals.