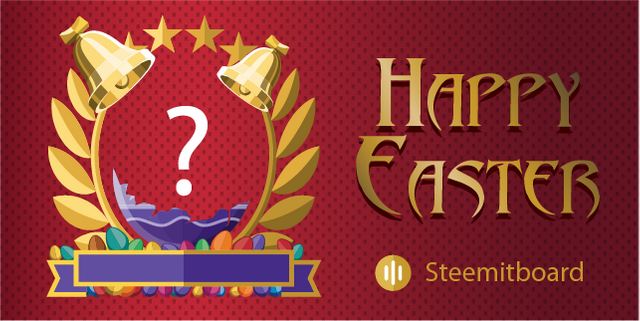 Easter is coming and SteemitBoard has prepared a funny experience for you.
You may already noticed that there were some changes on your Board of Honor.
A few words about Easter Bells
Church bells are silent as a sign of mourning for one or more days before Easter in The Netherlands, Belgium and France. This has led to an Easter tradition that says the bells fly out of their steeples to go to Rome (explaining their silence), and return on Easter morning bringing both colored eggs and hollow chocolate shaped like eggs or rabbits.
In both The Netherlands and Dutch-speaking Belgium many of more modern traditions exist alongside the Easter Bell story. The bells ("de Paasklokken") leave for Rome on Holy Saturday, called "Stille Zaterdag" (literally "Silent Saturday") in Dutch. In the northern and eastern parts of the Netherlands (Twente and Achterhoek), Easter Fires (in Dutch: Paasvuur) are lit on Easter Day at sunset.
In French-speaking Belgium and France the same story of Easter Bells (« les cloches de Pâques ») bringing eggs from Rome is told, but church bells are silent beginning Maundy Thursday, the first day of the Paschal Triduum.
source: wikipedia
What did the bells bring back?

Looking at your board, you can see that the bells have sown eggs everywhere. What will these little eggs become ?
To get the answer to this question, you will have to wait a little longer. And once again, we won't reveal anything now to keep the surprise … but you might get some clues starting March 31 at 00:00 UTC time!
We invite you to check your board on SteemitBoard every coming days!
Spread the fun! Upvote and resteem this post!
@steemitboard wish you fun and an Happy Easter!
---
Support the SteemitBoard Project and all Steemit users. Vote for its witness!
Steemitboard is a project created by @arcange