It's the perfect combination of a cold salad with warm rice. The salad can be prepared earlier, and then the preparation of a meal will only require cooking rice.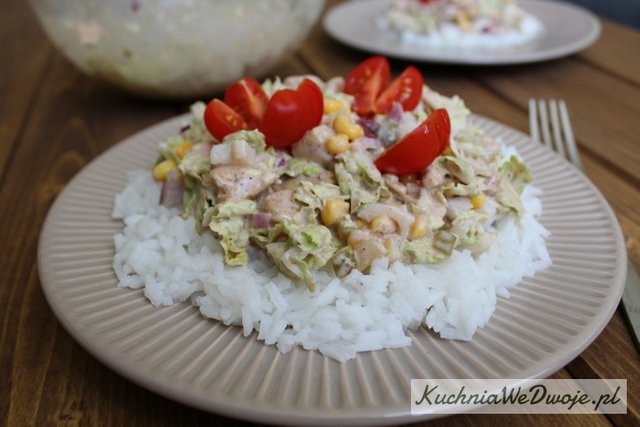 Time of execution: 30 min
Servings: 6 servings
Components:
300 g of rice (3 bags)
600 g chicken fillet
5 large pickled cucumbers
2 onions
a can of corn
Beijing salad
6 - 7 spoons of mayonnaise
6 - 7 tablespoons of ketchup
2 tablespoons of oil
Gyros spice
pepper
Step by step recipe for a kebab salad with hot rice
Cut the chicken into small pieces and fry in oil, sprinkling with 2 tablespoons of gyros spice.


Cook the rice


Slice the lettuce, cucumber and onion. Pour the water out of the corn. Mix all ingredients in a large bowl. Put the roasted chicken into and mix. Add mayonnaise and ketchup. Season with pepper as desired.


Serve with rice

Enjoy your meal,
Sylwia and Krzychu
Blog: http://kuchniawedwoje.pl/
Facebook: https://www.facebook.com/KuchniaWeDwoje
Instagram: https://www.instagram.com/kuchniawedwoje.pl/
Pinterest: https://www.pinterest.nz/KuchniaWeDwoje/boards/
If you are interested in further verified recipes in the STEP BY STEP FORM, we encourage you to follow our Steemit channel.