There are so many sensible choices today when dining out if you have a basic awareness of how food is prepared and what you need for your own health. Restaurants are now offering more vegan options, gluten free options, dairy free options, etc. It used to be that you had to go to a plant based restaurant to get healthy food or great salads.
When I left the airport yesterday, I was very hungry because I had eaten an avocado, some kale and some roasted almonds for breakfast. By the time that I reached my destination, it was lunch time so I treated my son to lunch since he picked me up from the airport. We had to figure out what restaurant would be suitable for both of us. One of my favorite Mediterranean restaurants does not appeal to my son who wanted a turkey or beef burger and not a salad.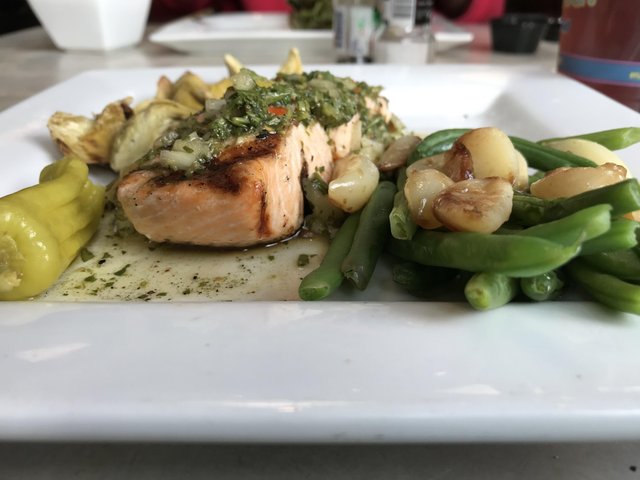 We settled on a local eatery that satisfied both of our requirements for food. I ordered grilled salmon with french style green beans and grilled artichokes. The salmon was prepared with a spicy lemon parsley sauce that had an olive oil base. I added roasted garlic to my string beans for extra flavor. My son ordered a turkey burger with a fruit cup as a side dish instead of french fries which was a better choice.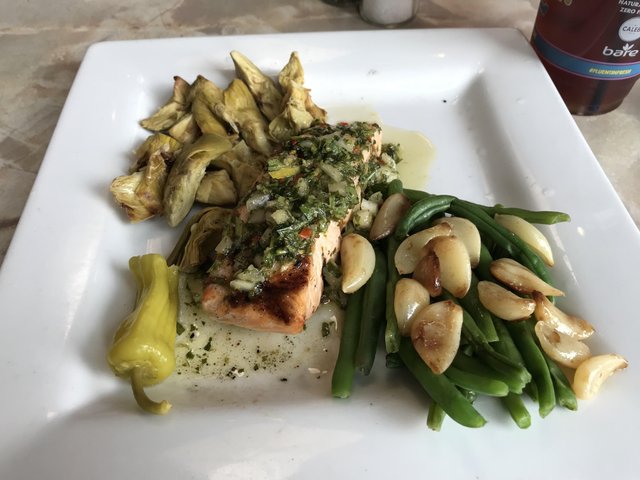 I have a doctor's appointment tomorrow about the high glucose level in my blood. I have doing a lot of research about causes, and treatment alternatives. Most people who have high glucose levels are obese or overweight, and live a sedentary life style. I am none of that. I have struggled all of my life with keeping my weight up. When I was a child, I was called "skinny minny" all of the time.
No matter how much I ate or what I ate, I could not gain a lot of weight. One summer when I was in my teens, I ate a strawberry sundae every day for a week to no avail, trying to gain weight because one of my friends said that they were very fattening. I even asked my father why I was so skinny since he was also a small frame man. He told me that I ate so much I had to be skinny to carry it. 😕 (What does that mean?) Go figure.
I am hopeful that the doctor will be able to give me some answers. If not, I will change physicians and find one closer to where I live most of the time now which would be more convenient anyway. I used to spend half of my time in each of my homes. I now spend more time in one location than the other.
I have some decisions to make but I am hoping for a solution soon. I don't want to be on a restrictive diet when I go on vacation in about a week to Spain.
Know your "numbers" so that you can be pro-active with your health. Don't just leave it up to health care professionals because they do not know your "whole story". It is up to us to communicate to the best of our ability who we are beyond our numbers. Have a great day.